What is flattened rice / Poha?
Flattened rice (also called beaten rice) is dehusked rice which is flattened into flat light dry flakes. These flakes of rice swell when added to liquid, whether hot or cold, as they absorb water, milk or any other liquids. The thicknesses of these flakes vary between almost translucently thin (the more expensive varieties) to nearly four times thicker than a normal rice grain.
It is known by a variety of names: Poha or Pauwa in Hindi, Baji in Newari, Pohe in Marathi, Chindé in Bengali, Chira in Assamese, Phovu in Konkani, Chudaa in Oriya and parts of Bihar and Jharkhand, Atukulu in Telugu, Bajeel or Bajil in Tulu, Chudwey in Urdu(Dakkani), Aval in Malayalam and Tamil, Avalakki in Kannada, Pauaa/Paunva (પૌંઆ) in Gujarati, and Chiura (चिउरा)in Nepali, Bhojpuri and Chhattisgarhi.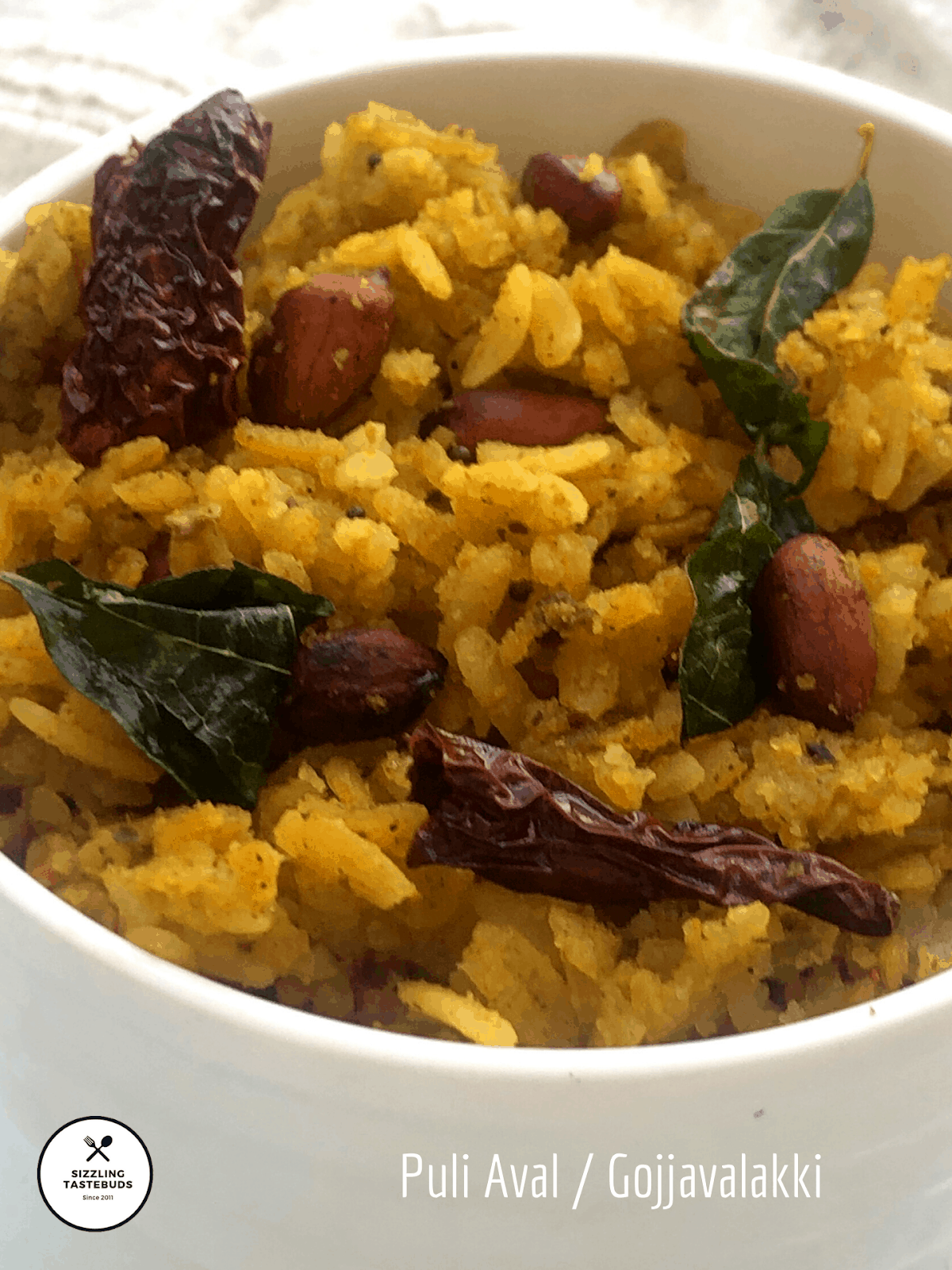 What other varieties of Poha are made ?
Zucchini Red Poha Recipe | Flattened Rice Breakfast with Zucchini
Flattened Red Rice Breakfast with Zucchini, veggies and spices
Check out this recipe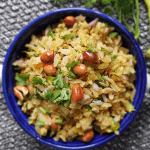 Milagu Aval | Pepper flavoured Poha
Milagu Aval or black Pepper flavoured Poha is a delicious satvik, Gluten Free and Vegan breakfast or snack made in less than 10 mins. Does not contain onion garlic too.
Check out this recipe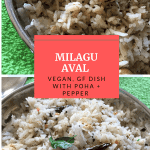 Soaked Sweet Poha or Vella-aval (as called in Tamil) was thick mixed with grated jaggery and freshly coated coconut spiced lightly with elaichi (cardamom) powder was a yummy staple food offered on Krishna Jayanthi festival at my grandma's. Similarly savoury Microwave Poha Chivda or the mahashtrian Patal Pohyachi Chivda is a favourite snack for the young and old alike at home!
We use the ingredient Poha / Aval /Avalakki a lot in our breakfast menu, adapting it to the following varieties of poha (also the name of the dish) based on the region / cuisine.
What is Gojjavalakki / Puli Aval ?
Puli Aval (Tamil: Puli – tangy, Aval – flattened rice) OR Gojjavalakki (Kannada: gojju – tangy sauce made of tamarind, avalakki – flattened rice) is a snack that can be prepared very easily either for breakfast or evening snack. We even have this for dinner with sweet curd, and the carb requirement are well taken care of. If you are like us, we love to have this for breakfast also sometimes 🙂
This is my mom's recipe again, and she is a pro making this in a jiffy! 
PIN FOR LATER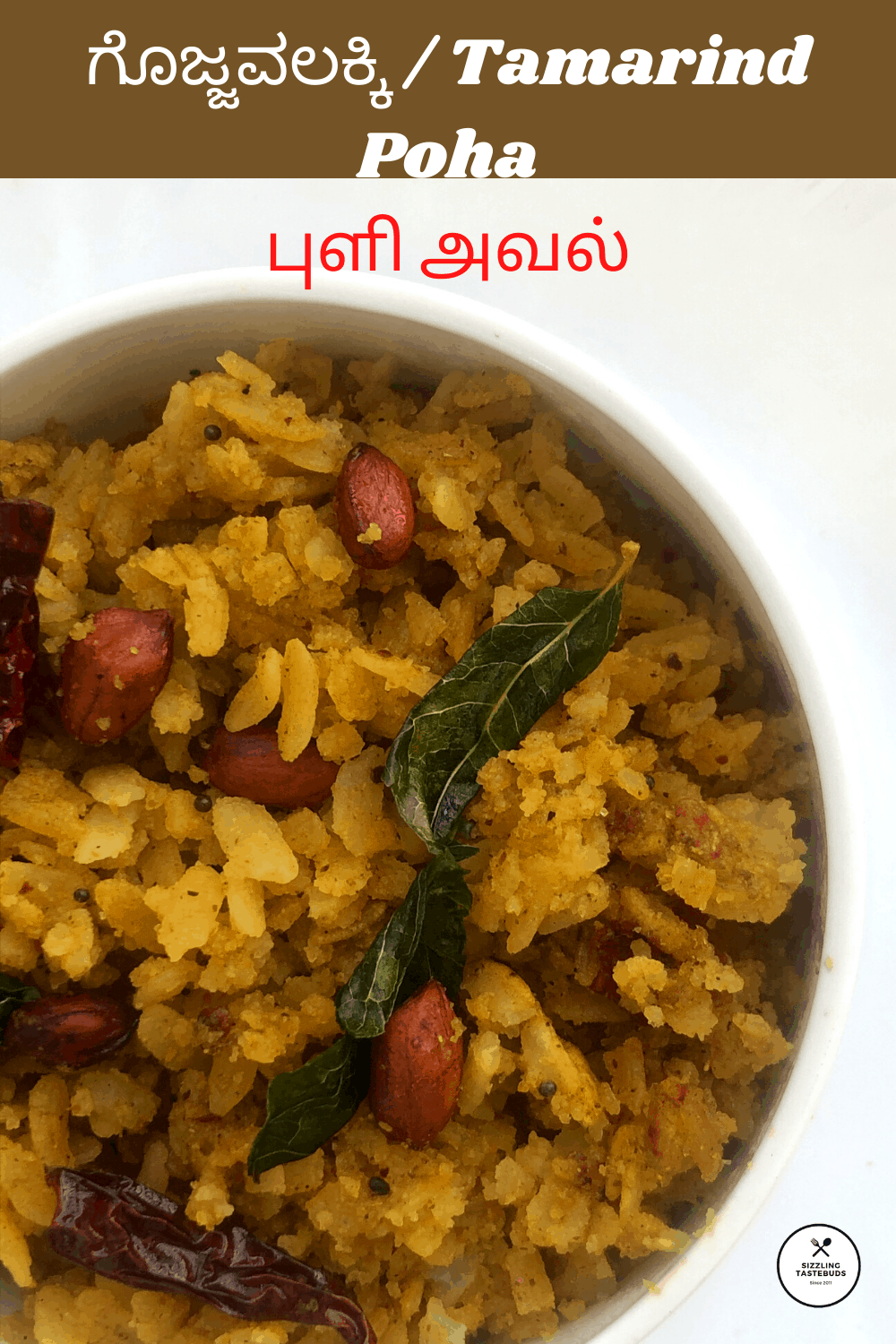 Preparation time: 15 mins ; Cooking time : 10 minutes ; Serves : 2 generously
Ingredients
Poha / Avalakki / flattened rice / Aval – 1 cup
Mysore style Rasam powder – 2 tsp (click

here

for the recipe).

If you don't have Mysore Style Rasam Powder, you can sub with

Sambhar Powder

.

Salt – 1/2 TBSP
Jaggery – 2 tsp
Thick Tamarind extract – 1/4 cup
Turmeric – 1/8 tsp
Mustard seeds – 1/2 tsp
Broken Red chillies – 1 or 2
Curry leaves – 1 sprig
Peanuts – 2 tbsp
Optional for tempering – Urad Dal 1/2 tsp
Method: Click on this YouTube video for the method. If you are visiting the channel for the first time, please do subscribe and click on the bell icon for notifications. Would be highly grateful if you can leave comments on both the channel video and the blog link.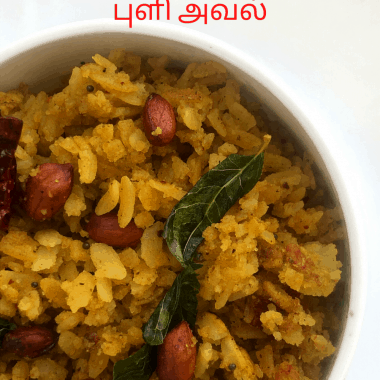 Gojjavalakki | Puli Aval Upma | Tamarind Poha
Gojjavalakki or Tamarind Poha is a quick, No Onion No garlic Gluten free breakfast or snack from Karnataka cuisine.
Ingredients
1

cup

Poha / Flattened Rice / Aval / Avalakki

Use only thick variety

2

tsp

Mysore Style Rasam Powder

Click for recipe

1/2

tbsp

salt

2

tsp

Grated Jaggery

1/4

cup

Thick Tamarind Extract

Sub with 2 TBSP tamarind paste diluted with 1/4 cup water

1/8

tsp

Turmeric

1/2

tsp

Mustard Seeds

2

Dry Red Chillies

1

sprig

Curry Leaves

2

tbsp

Raw Peanuts

Can use Toasted too

1/2

tsp

Urad Dal
Instructions
Click on the following video to view the complete procedure. Like, share and comment on the video. Also, if you are visiting our channel for the first time, take a moment to subscribe and click the Bell ???? icon for more updates.
Video
Notes
Thick poha / flattened rice is used in this recipe
Use of Jaggery is optional but recommended as it balances out the tanginess and spice beautifully
One may also pulse the dry poha slightly (just 1 pulse) before using it in the recipe.