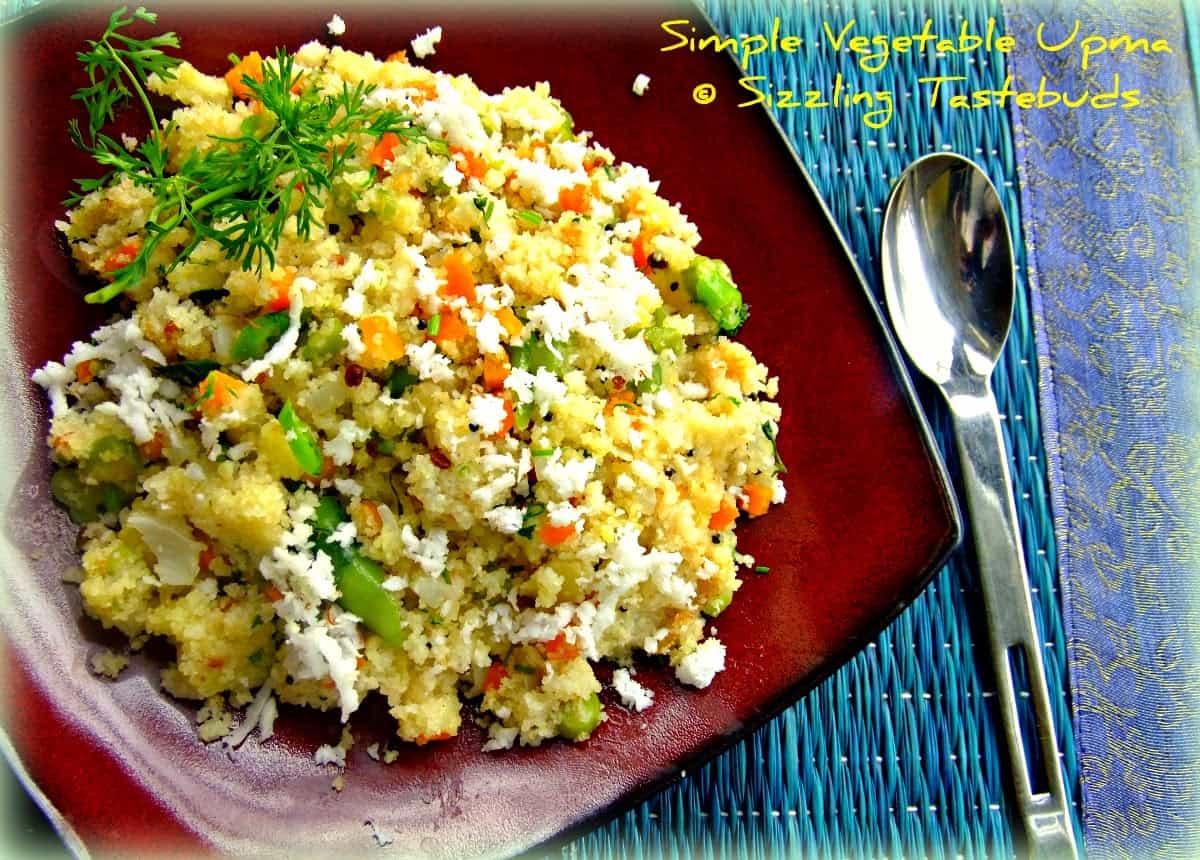 PinPin

There are very few Upma loving persons in this world , and I am happy to be one of its fans .. Now, this is a dichotomy : because its really really simple to make (at the same time can turn mushy / hateworthy if not made well !!) For some strange reason, people are both sceptical of making it or eating this – even relegating it to the 'forever hate list' category. But me ? Nada. Nope. My mom says that even if I was to be drop dead tired to eat or cook anything, the first thing I would think of is Upma. For me to like it so much, the credit has to go to her – got used to eating this so often since childhood, that i never thought this as 'hateable' (is that a word??!!).. Interestingly, Wikipedia tells me that the general name of the dish in most languages is formed from two words : salt and flour. E.g., In Tamil, the two words uppu (உப்பு) + maa(vu) (மா(வு) form upmaa(vu).

Anyways, I remember S teasing me that when he came down to my house as part of the 'see the bride' ritual before the wedding, my mom had made this along with Semiya Payasam (Sevai Kheer) –both of which he didn't quite prefer- .So he called it 'double torture' 🙂 It was only later that I realised that the "double" included meeting the prospective bride 😉 he he !! LOL !! But who was to know that Upma would be rendered world famous as in the recent past, thanks to MasterChef , by a Mumbai born chef Floyd Cardoz!! Now, that's global cuisine coming of age !

I generally make Upma healthier by adding in veggies (and a whole lot of them – S has even added brocolli once, and it was yum!) and usually make Lapsi Rava Upma or even Oats Upma . But today's post is a Simple Vegetable Upma that we like it mildly flavoured with lemon juice ! I wasn't sure I should post it from my drafts as it was seemingly too simple a recipe. Serve it with plain curd or even lemon pickle, and it is perfect for dinner too (my fav combo with Upma  – a child hood memory – is sugar & chilled curd). Simple food is usually the most delicious – so here it goes, and off to Radhika's Scrumptious Breakfasts along with Nayna's Flavours of South India.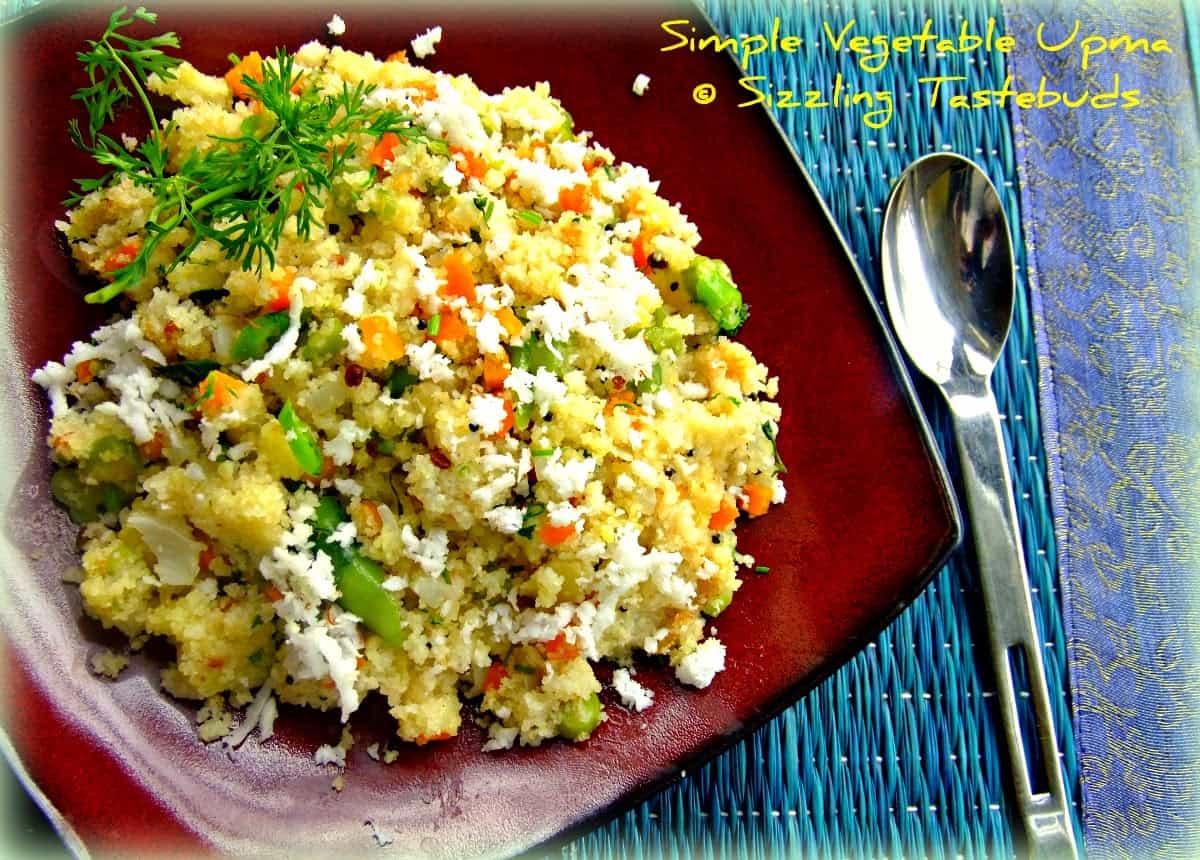 PinPin
Prep time : 20 mins ; Cooking time : 10 mins. Serves : 3
Ingredients:
Rava / Sooji / Cream of Wheat – 2 cups
Mixed vegetables – 1 cup (Carrots / Peas/  french beans / cabbage)
Onions – 1 or 2
Oil – 3 TBSP
Salt – to taste (approx 1 tsp)
Green chillies – diced – 4 or 5 (adjust accordingly)
Ginger  grated – 1 tsp (opt.)
Tomatoes – 1 no. (opt)
Tempering : Mustard seeds, Urad dal, channa dal, curry leaves & Coriander
Asafoetida – a generous pinch
Lemon juice – 1 tsp (opt. but recommended)
Method:
1) Blanch all vegetables in 3.5 cups of boiling water with a pinch of salt for 10 mins. Drain and retain BOTH the water and the veggies separately.
2) In a pan, heat 1 TBSP of oil. Add the tempering, chillies and ginger. Once the dals start browing, add the asafoetida and rava. Fry well till the rava / sooji gives out a nice warm aroma. Transfer to a dry plate and cool.
3) In the same pan, now add remianing oil. Add chopped onions and fry till translucent. Now add the tomatoes, blanched veggies and the boiling water (from the veggies). Mix well and cover and cook for 4 – 5 mins.
4) Now uncover and add the roasted and tempered rava in a steady stream into the boiling pan with the water and stir briskly. Cover at once to avoid any lumps. Mix thoroughly and cook on medium – low with a tight cover on for 6 – 9 mins. 
5) Open the lid, mix once more. Fluff it up lightly with a light spoon. Garnish with green coriander and lemon juice after taking it off the fire.
6) Serve hot / warm with curd / home madelemon pickle.