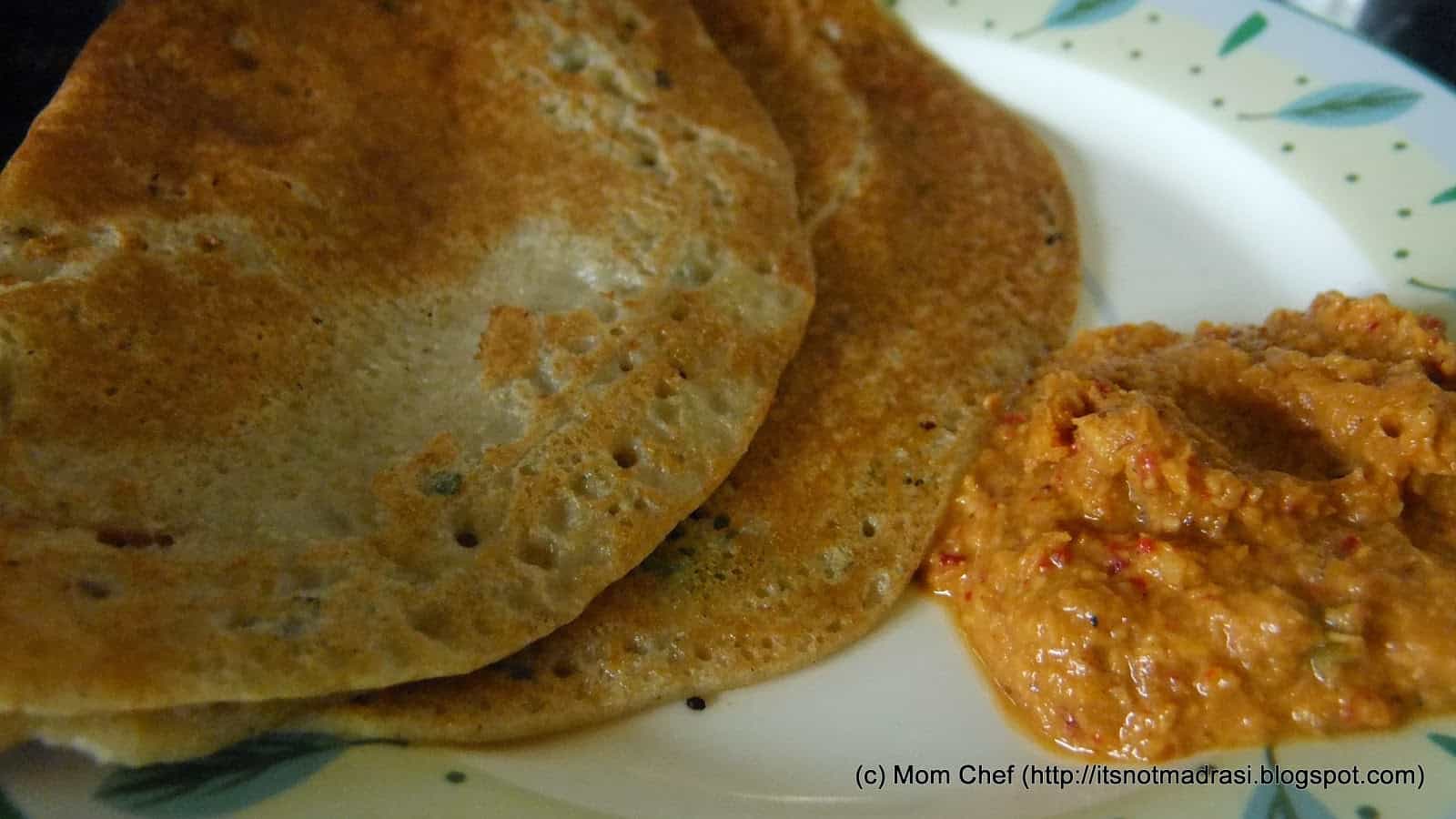 Pin

This must be one of the easiest Dosas I have made, and its super healthy and nutitious too 🙂 Needs very minimal soaking time, and is a great breakfast option when you pressed for time, or need a break from the normal Urad dal – Rice Dosas ! I have made this a spicy version with ginger, green chilli , and the same may be omitted / reduced if you need to serve this to small kids 🙂 When I first made this many months ago, S couldnt believe it was Oats – based : so fluffy and light, esp on rushed Monday mornings :-)Its a good option for diabetics as well, and may substitute 1/2 portion of the rice flour with wheat flour.

This goes well with Spicy Onion- Tomato Chutney / Veg Kurma / Veg Peel Chutney or just Molagapodi (Gun powder)

Preparation time : 30 mins (incl Soaking) Cooking time: 10 mins

Makes: 10 Dosas

Ingredients:
Oats – 1 measure ( I used 1 cup of Quaker quick rolled Oats)
Rice Flour – 1/2 measure
Rava / Semolina – 1/4 measure
Salt – to taste
Grated Ginger – 1 tbsp
Chopped green chillies – 3 nos
Chopped green coriander + curry leaves – little
Oil – 1 tbsp + reqd amt to cook the dosas
For tempering (opt): Mustard seeds, jeera, hing
Method:
1) Lightly soak Oats and Rava in about 1/2 cup of water for 15 – 20 mins (water should be just above the mixture)
2) Slightly dampen the Rice flour in another bowl with a sprinkling of water.
3) After 20 mins, grind the Oats, Rava, Rice flour with the soaked water to very fine.
4) Transfer to a bowl. Make tempering with oil, splutter mustard seeds, jeera, hing. Add to the batter
5) Add salt, chopped ginger, green chillies, coriander and curry leaves. Mix well.
6) To make Dosa : Pour a ladleful of this batter to a slightly greased hot tava.
7) Spread dosa batter lightly. Cook on medium flame (without covering) by drizziling oil along with border
8) Once done, flip on the other side and cook.
9) Serve hot with any chutney / kurma / Molagapodi.
Tips:
1) This instant dosa batter does not keep well overnight. Use the batter immediately after you make it, or better still prepare the batter in small quantities as and when you want it.
2) I have used a measure proportion rather than cup because the Oats : Rice Flour : Rava proportion is 1 : 1/2 : 1/4 irrespective of what measure you use.
3) You may also add grated carrots / chopped onions / shredded fenugreek or greens to sneak in the veggies to kids.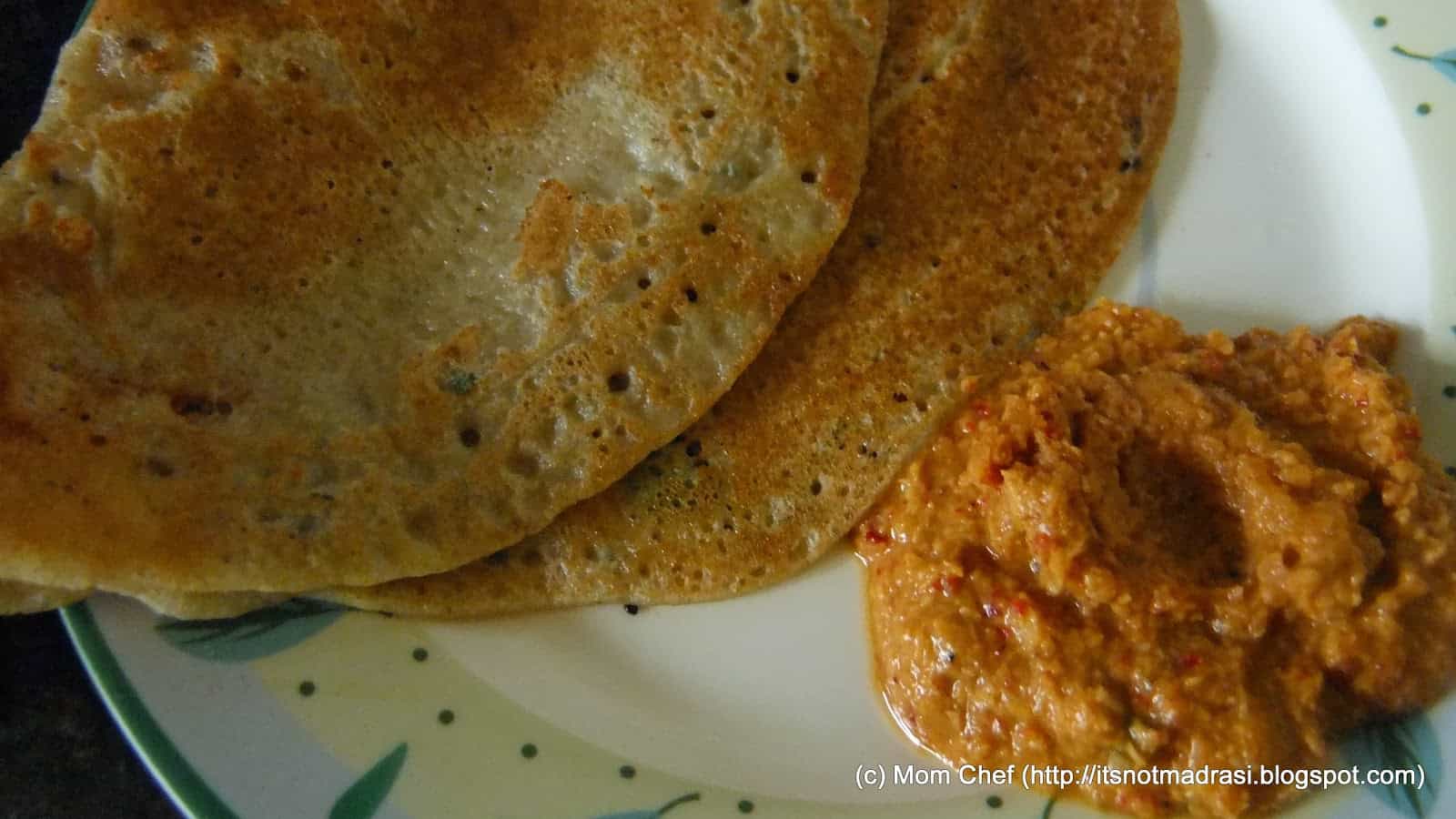 Pin

Sending this to Srivalli's Breakfast Mela