Kollu or horsegram is a protein rich lentil, and consumed for its diuretic properties, it's also known for allievating mild skin allergies. Today we have an aromatic broth (aka Rasam) made from these lentils. As with most Rasam varieties, this tastes best when eaten piping hot with rice and ghee along with a simple stir fry. 


Today's recipe can also be made vegan if using vegan butter / ghee. Other dishes made with these legume are upperi (stir fry), Chutney, Uluva Chaaru biryani, Sundals (steamed salads) and added to salads. 
Though not as popular as other lentils like Black gram (Urad dal) or Channa dal, this is usually eaten in rural areas for its healthy properties and is slowly making a comeback to urban kitchens now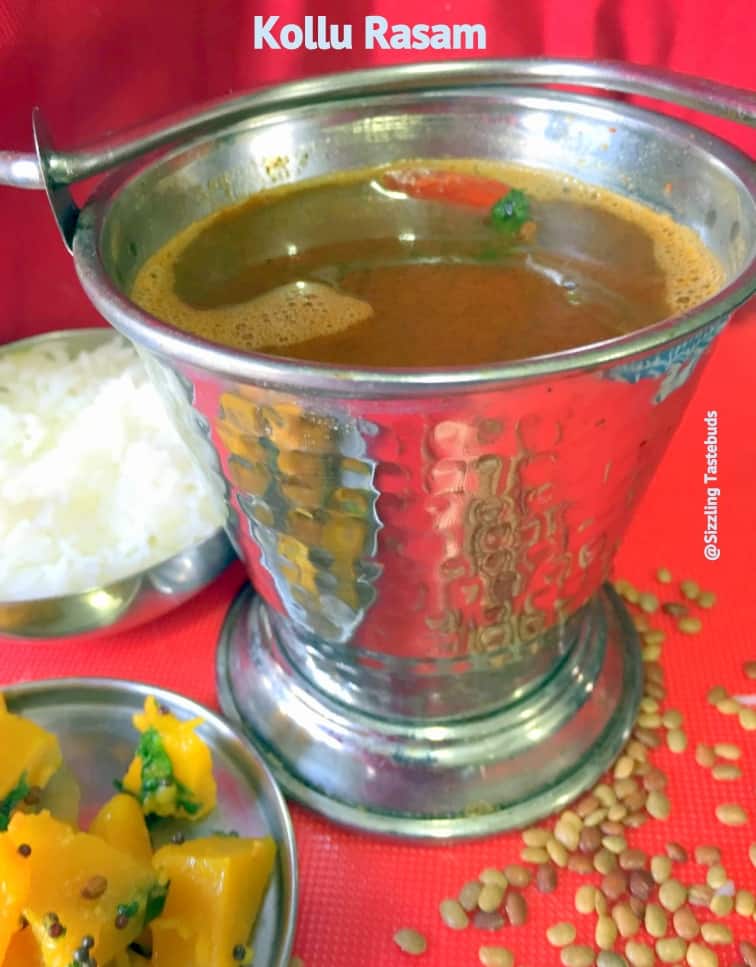 Pin



Horse gram derives its English-language name from its use as a staple food for horses and cattle. The green plant—its leaves and branches, as well as the beans—are highly nutritive and are used as fodder. These small and somewhat kidney-shaped beans, which are greenish brown to reddish brown, are equally good for human consumption. In comparison, horse gram ranks as high as "super foods" such as quinoa and chickpeas that only health advocates have known about for years, but which have become common fare now.
Horse gram is gluten-free, high in iron, calcium, and protein, and contains no fat, cholesterol, or sodium; horse gram has the highest calcium content among pulses. It is also a good source of natural antioxidants. One-hundred grams of cooked horse gram has 22 grams of protein, 57 grams of dietary carbohydrates, 287 milligrams of calcium and 7 milligrams of iron.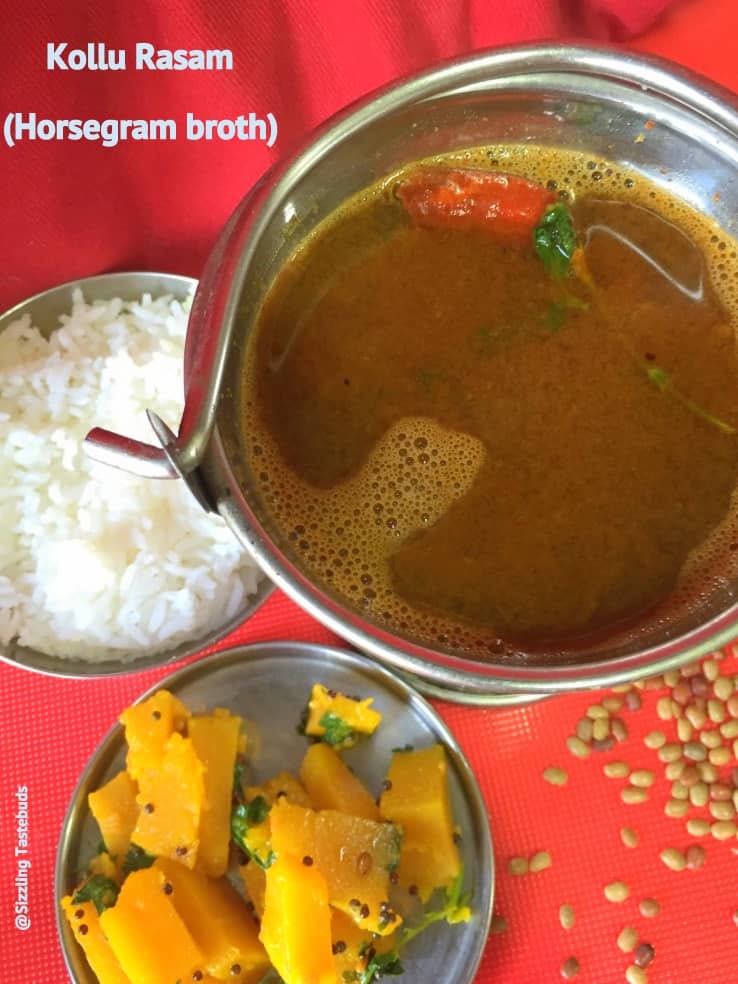 PinPin
The health benefits of horse gram have been well-known since ancient times. It is used in Ayurvedic medicine for the treatment of asthma, bronchitis, cough, gastric and urinary problems, and kidney stones. Studies by scientists at the Indian Institute of Chemical Technology have found that unprocessed horse gram seeds not only possess anti-hyperglycemic properties but also have qualities which reduce insulin resistance. 
The study found that horse gram is rich in polyphenols, which have high antioxidant capacity. It also found that horse gram has the ability to reduce high blood sugar following a meal by slowing down carbohydrate digestion and reducing insulin resistance. The majority of antioxidant properties are in the seed coat, and any dish made of whole grain horse gram is better than dishes made from the sprouts, which have less of the anti-diabetic medicinal property. 
Source – here
Note :
Cooking Horse gram is tricky, because of its hard texture , so be sure to soak it in warm water for at least 30-60 minutes before cooking. Pressure cooking works best for cooking this legume, although you can use stove top method with a large pan of boiling water for smaller quantities.
Lets get to the recipe then…
PIN FOR LATER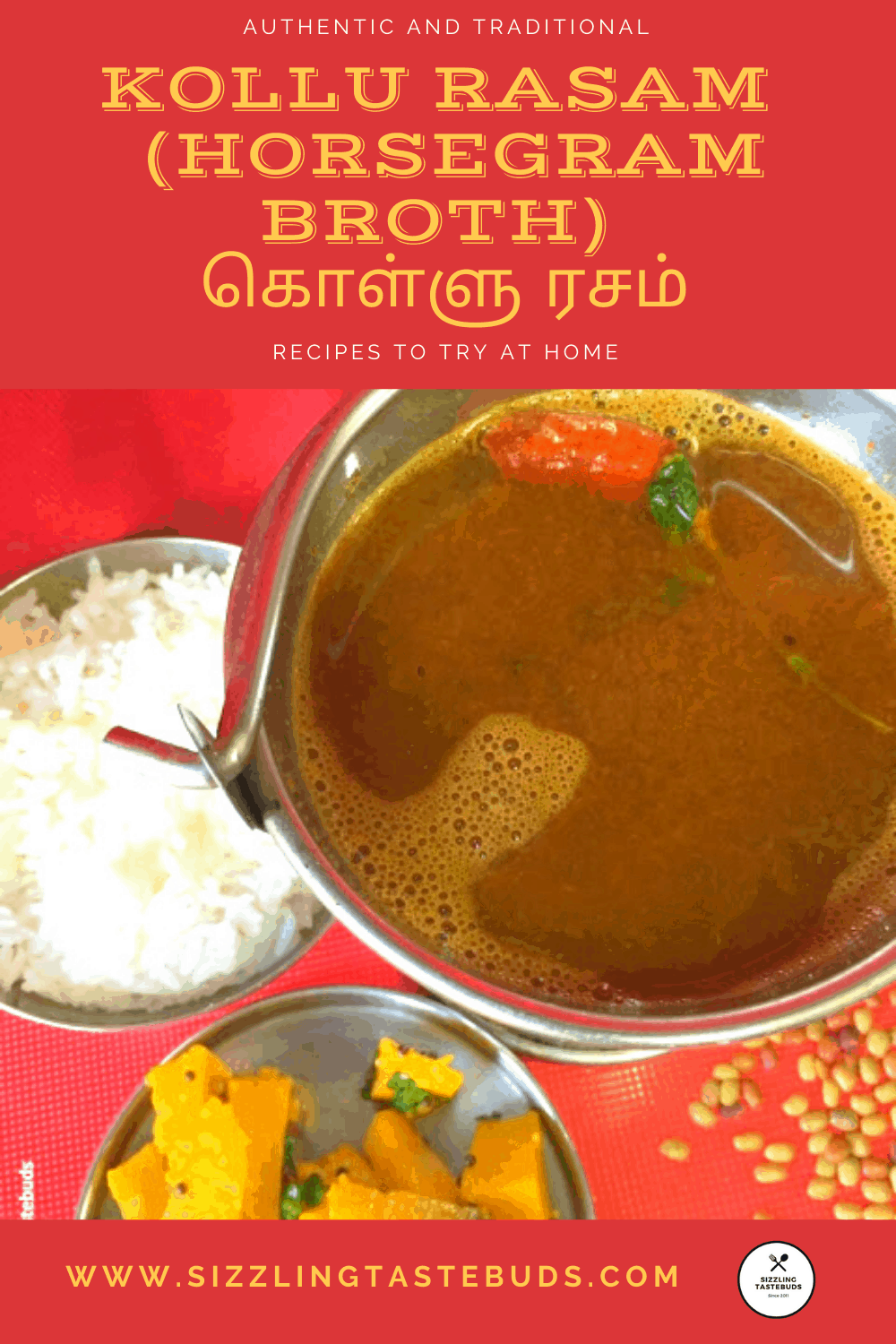 Pin
Kollu Rasam – Horsegram Spicy Broth
Best served with Hot rice and ghee (clarified butter)
Prep time : 15 mins, cook time : 10 mins, Serves :4
Ingredients:
Kollu / Horsegram – 1/4 cup – soaked for 1-2 hours in hot water. 
Hot water – 300 ml
Salt- to taste
Sesame oil or Ghee (skip ghee for vegan) – 1 tsp
Jaggery – 2 tsp
Turmeric powder -1/4 tsp
Tamarind paste – 1 tsp (or you could use 1 large tomato, minced fine or pureed)
To grind:
Jeera / Cumin – 1/2 TBSP
Milagu / Whole Black pepper – 1/4 tsp
Coriander seeds – 1 TBSP
Dry Red Chillies – 2 nos or to taste
Tempering:
Ghee – 1 tsp (sub with vegan option if required)
Mustard seeds – 1/2 tsp
Cumin seeds – 1/2 tsp
Asafoetida / Hing – 1/8 tsp (skip if GF version if needed)
Curry leaves & coriander leaves – few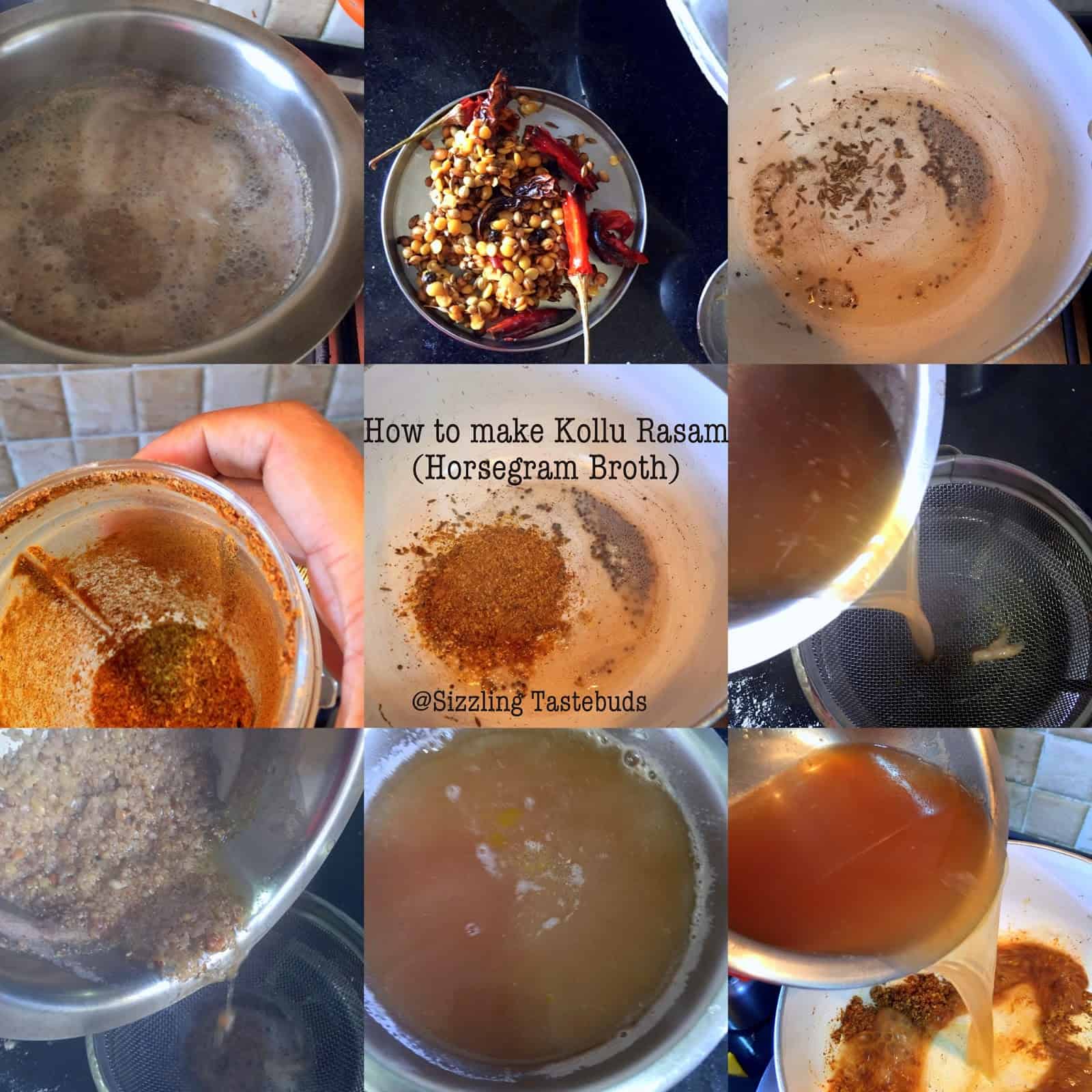 Pin


Method:
Drain the soaked horse gram and boil in a open pan with hot water for 10-15 mins, drain the water and slightly mash up the horse gram with the back of a spoon.
In a pan, roast all the ingredients to grind, one by one till aromatic. Cool and powder.
In a deep bottomed pan, add 2 cups of water, tamarind paste, turmeric, salt, jaggery, ground spice powder and bring to a rolling boil. Now add the boiled horse gram and boil for 3-4 mins more.
Prepare tempering with the tempering ingredients and add to the rasam.
Adjust salt and spice and serve hot.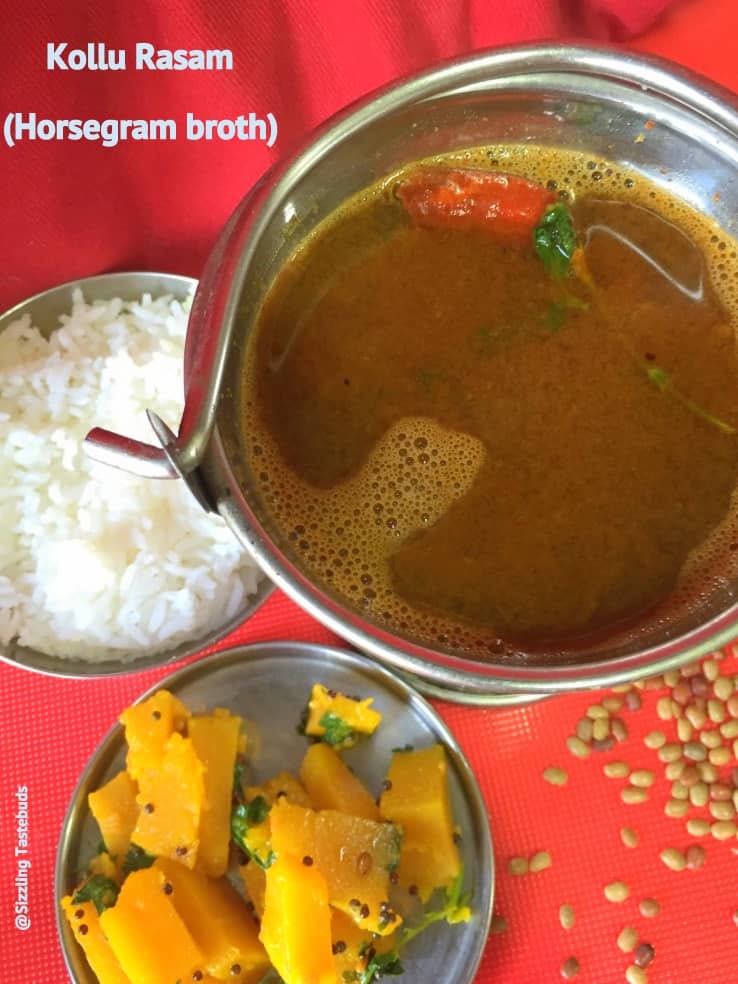 PinPin