Inspiration to cook comes from so many places – books / shared recipes / blogs / bookmarked recipes – and this was from here. Emily's recipe had me hooked from the start. Moroccan cuisine is quite close to Indian with some common spices.


The last time we made this chickpea Broth called Moroccan Harirawe all loved it. And so It was natural to try out something from the same cuisine as a combo meal – light, filling and refreshing Quinoa with chickpeas curry and coriander curd – Moroccan style !!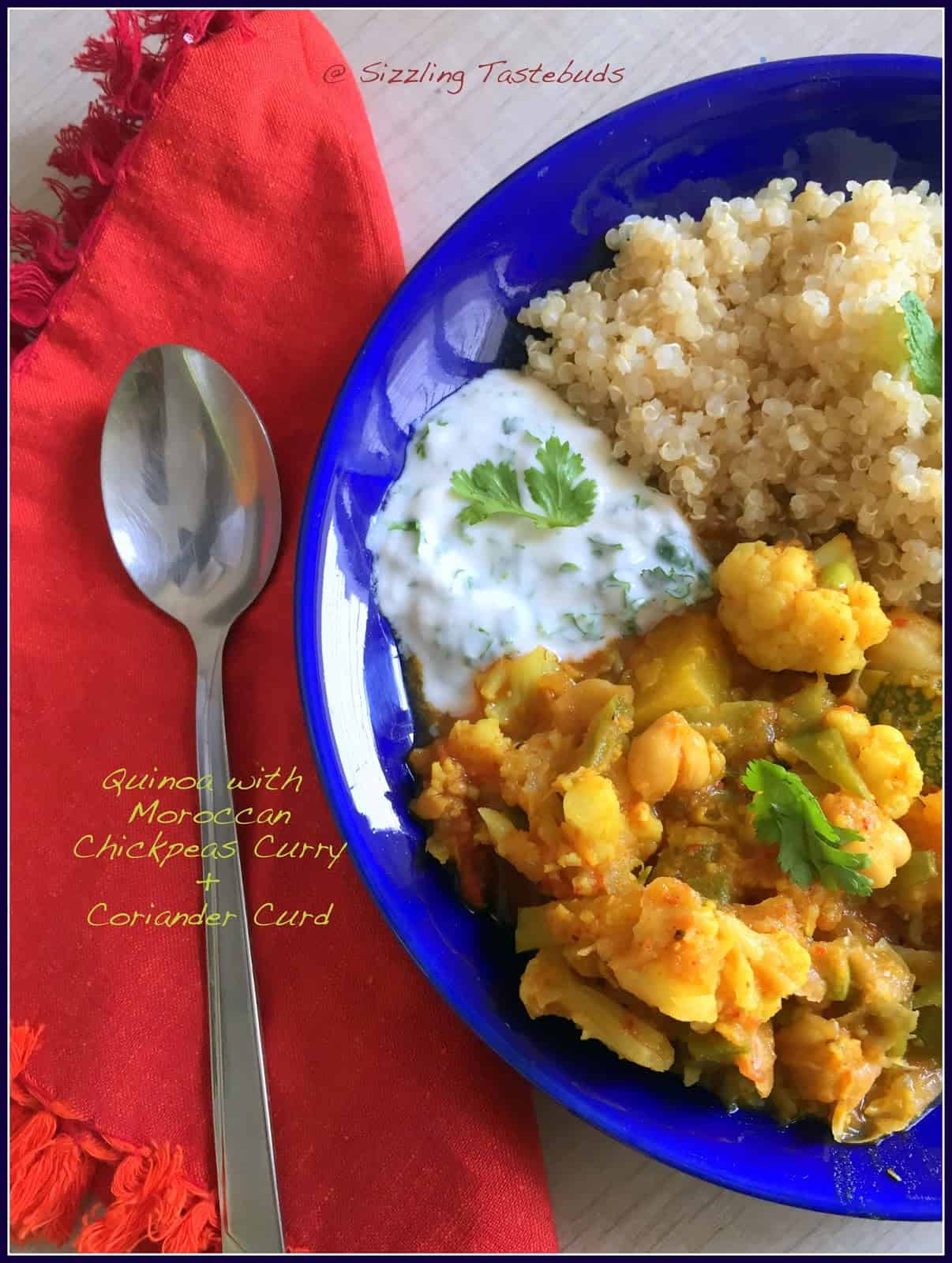 Pin


I am starting to like Quinoa a lot after the Mexican Sizzler Patties, Columbian Quinoa – Mango Salad & Bolivian Quinoa Stew. I have another dish with this versatile grain coming up this month… So, if you are a fan of Quinoa or are starting to explore out options, do try this recipe…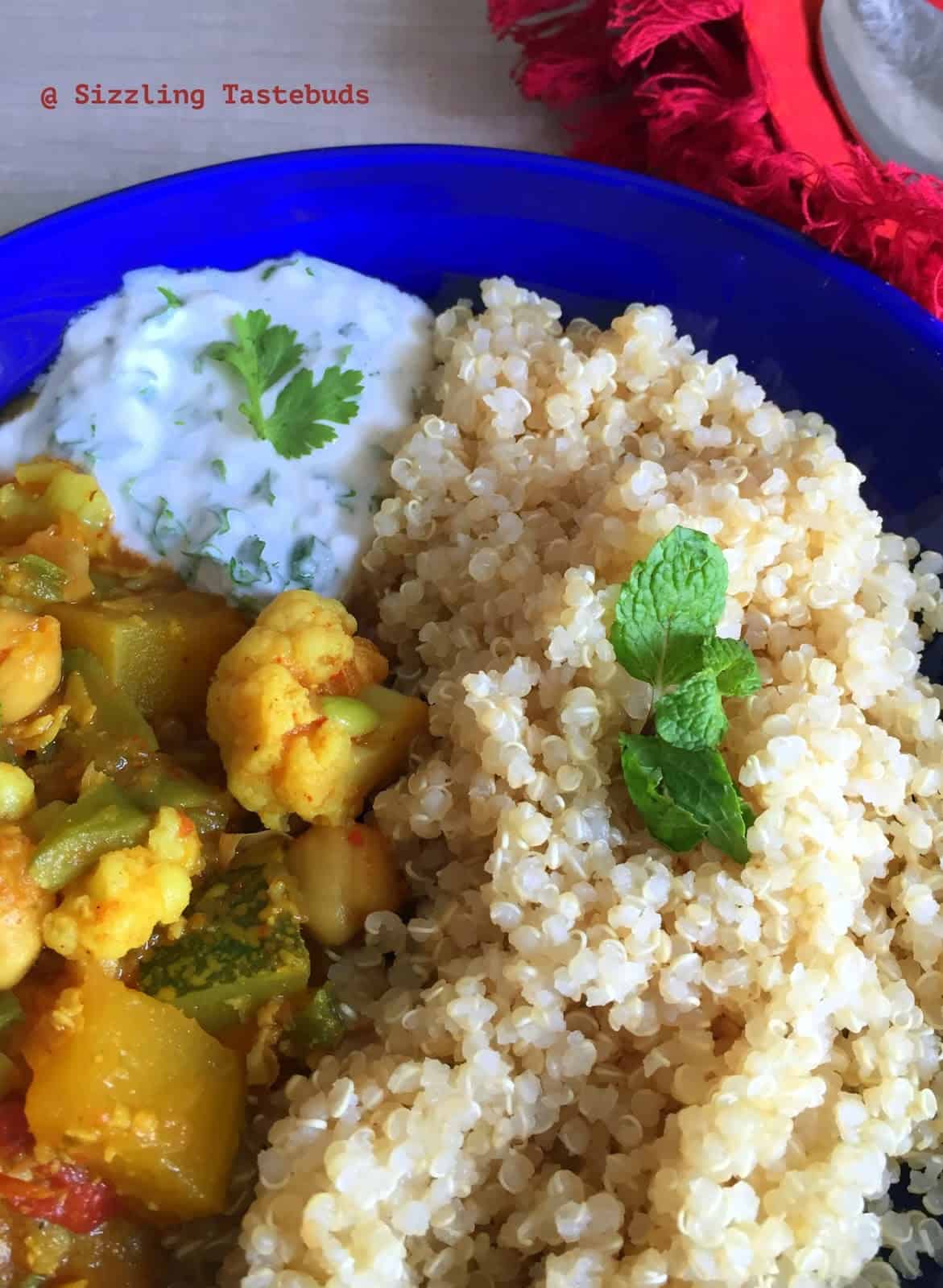 Pin
Coming back to today's dish : I almost skipped making this coriander curd, but thankfully it did not – the smooth velvety curd cut through the protein laden plate of curry with quinoa and it looked and tasted like it might have been cooked and presented on masterchef !
My kiddo looked at the pics after her school and although I had made just one portion she said I need to apply for the next Masterchef season :-)) wonder what Matt and Gary would say to that :-))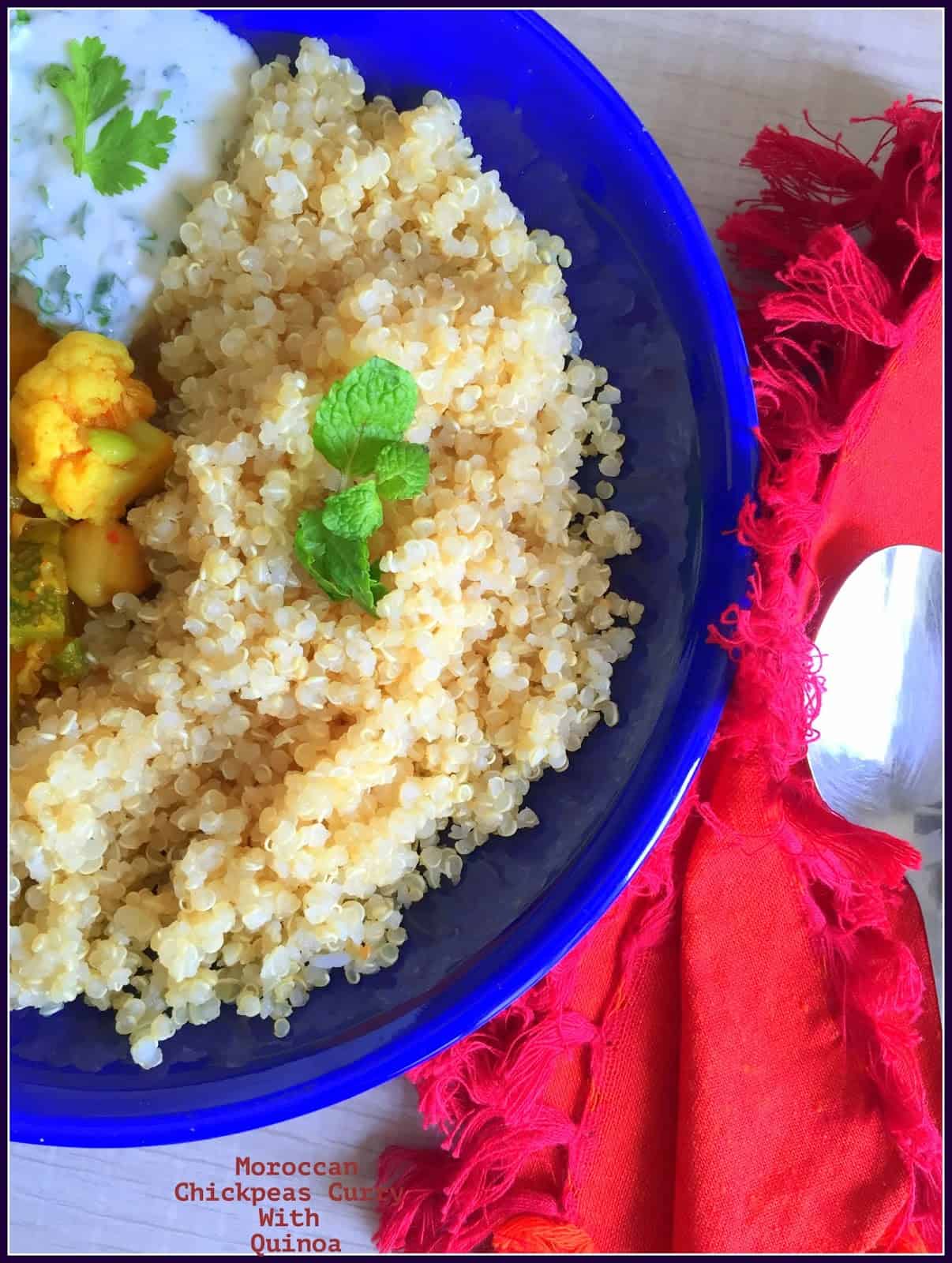 Pin
Till then enjoy this combo ! I made some personal changes to the original recipe and added some additional veggies for some fibre.. Do give it a twist when you make this and tell me how you liked it..
Prep time : 15 mins | Cook time : 15 mins | Serves : 2
Ingredients:
Quinoa : 1/4 cup + 1/2 to 3/4 cup water
Curry:
Oil – 1 tablespoon
Cooked Chickpeas (Kabuli Channa) – 1/4 cup
Chopped Veggies : Cauliflower, Carrots, Summer Squash, Flat beans – 1/2 cup
Tomatoes – 2 nos
Onion – 1 no (I skipped this)
Salt – to taste
Spice powders : Cumin powder, coriander powder, paprika – to taste
Crushed Ginger – 1/2 tsp
Crushed black pepper – 1/2 tsp
For the Coriander Curd : Hung Curd (4 TBSP), chopped Coriander and mint, 1 tsp of lime juice , Pinch of salt and white pepper.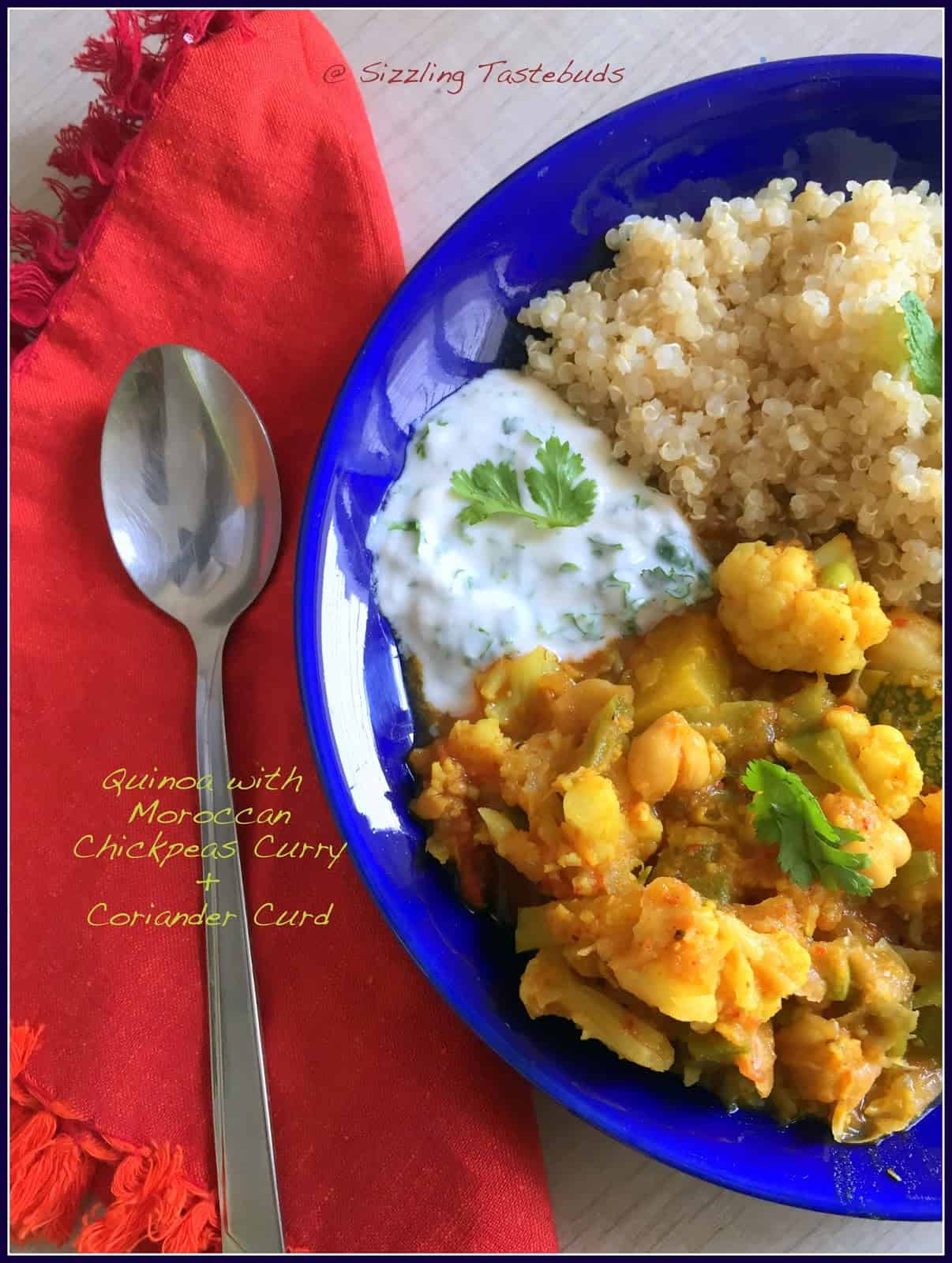 Pin
Garnish / Accompaniments : Lemon wedges, chopped figs / sultanas (I skipped both)
Method:
Soak Quinoa in warm water for 15-20 mins, Cook and drain. Fluff with a fork and reserve.
Blanch tomatoes and puree them . Also blanch the veggies with a pinch of salt. Drain and retain the water.
In a pan, heat oil, saute ginger and onion (if using). Now add the pureed tomatoes, cooked chickpeas, blanched veggies, retained water from boiled veggies and let it simmer. Mash the chickpeas slightly to give it a little volume.
Add the spice powders, salt and adjust the consistency and taste. (The original recipe had this curry dried up completely, but mine was slightly runny / gravy). Finish with crushed black pepper and adjust spice and top with celery or coriander. Transfer to a serving bowl.
To make the coriander curd : Mix all the ingredients for the same, chill before serving.
Assembling : Plate up a portion of the Quinoa with the curry on the side and Coriander curd, lemon wedges and top with chopped nuts if using.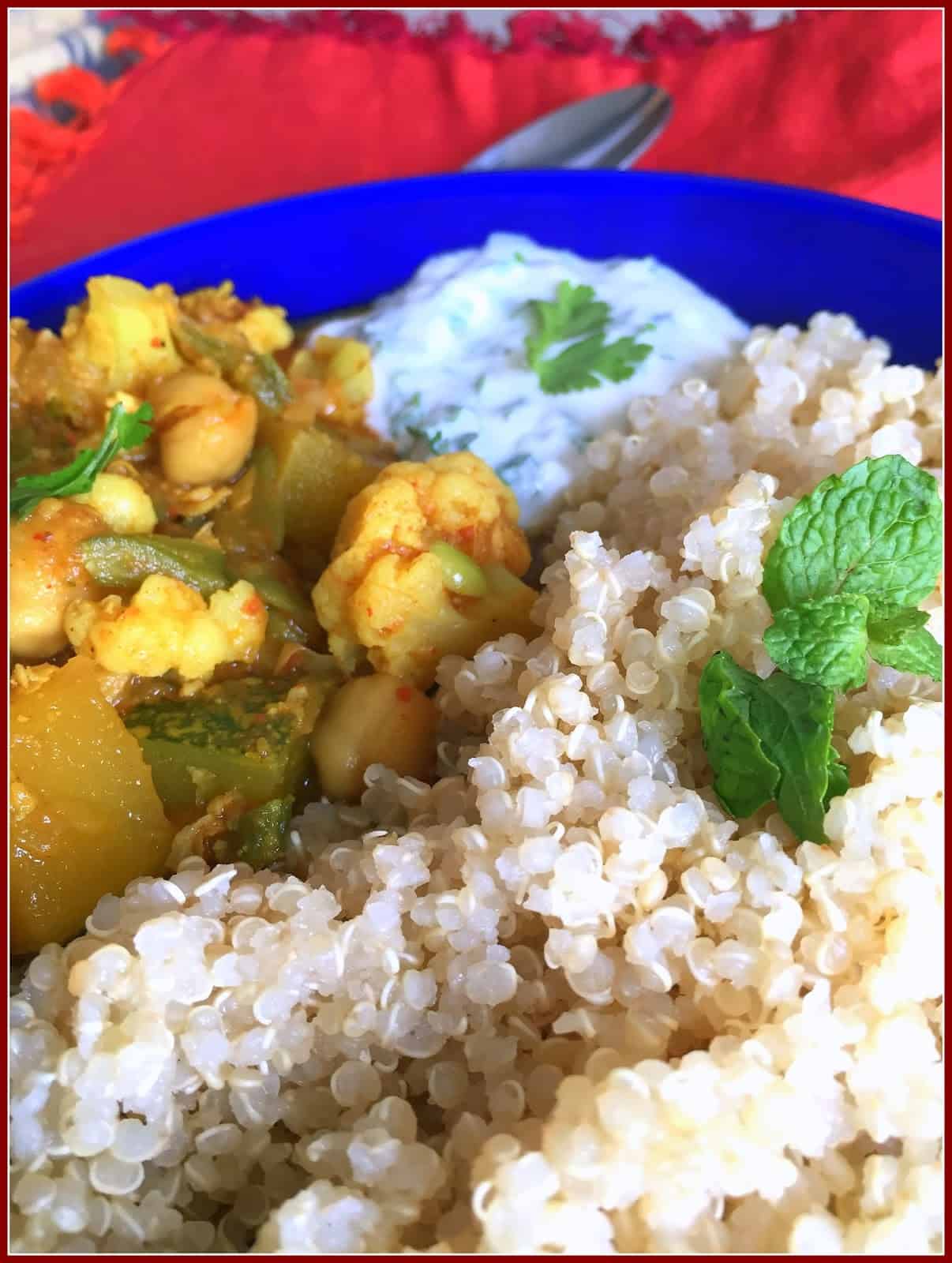 Pin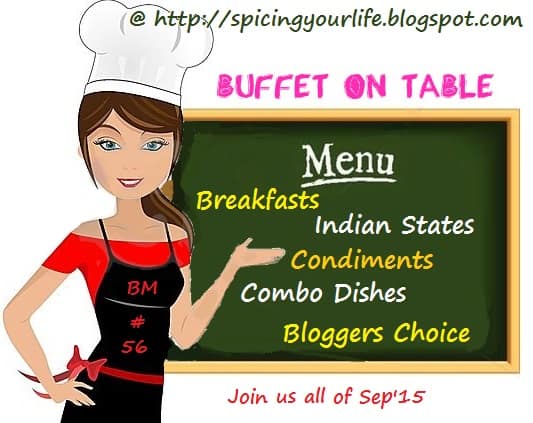 Pin
Check out the Blogging Marathon page for the other Blogging Marathoners doing BM# 56