Sometimes a soup can be a wholesome dinner / supper option like today's Quinoa Minestrone Soup. We took a liking to Quinoa after we made Colombian Quinoa Salad, Bolivian Quinoa Stew, Moroccan Chickpeas Curry with Quinoa and Coriander Curd and the recent addition of the Indian-inspired Quinoa Adai (healthy quinoa n lentil crepes) that Mom made.
Wiki says "Minestrone is a thick soup of Italian origin made with vegetables, often with the addition of pasta or rice. Common ingredients include beans, onions,celery, carrots, stock, and tomatoes.There is no set recipe for minestrone, since it is usually made out of whatever vegetables are in season. It can be vegetarian, contain meat, or contain a meat-based broth (such as chicken stock).Because of its unique origins and the absence of a fixed recipe, minestrone varies widely across Italy depending on traditional cooking times, ingredients, and season. Minestrone ranges from a thick and dense texture with very boiled-down vegetables, to a more brothy soup with large quantities of diced and lightly cooked vegetables;"
So, all in all, I wanted to experiment more with this and stumbled upon this wonderful Minestrone Soup wiith Kale and Quinoa. I made some minor variations and it was not only delicious, but vegan, gluten free and very filling.
Hope you enjoyed this week's series of Soups and Salads with Cream of Corn Soup with Bell Peppers & Melon ball Salad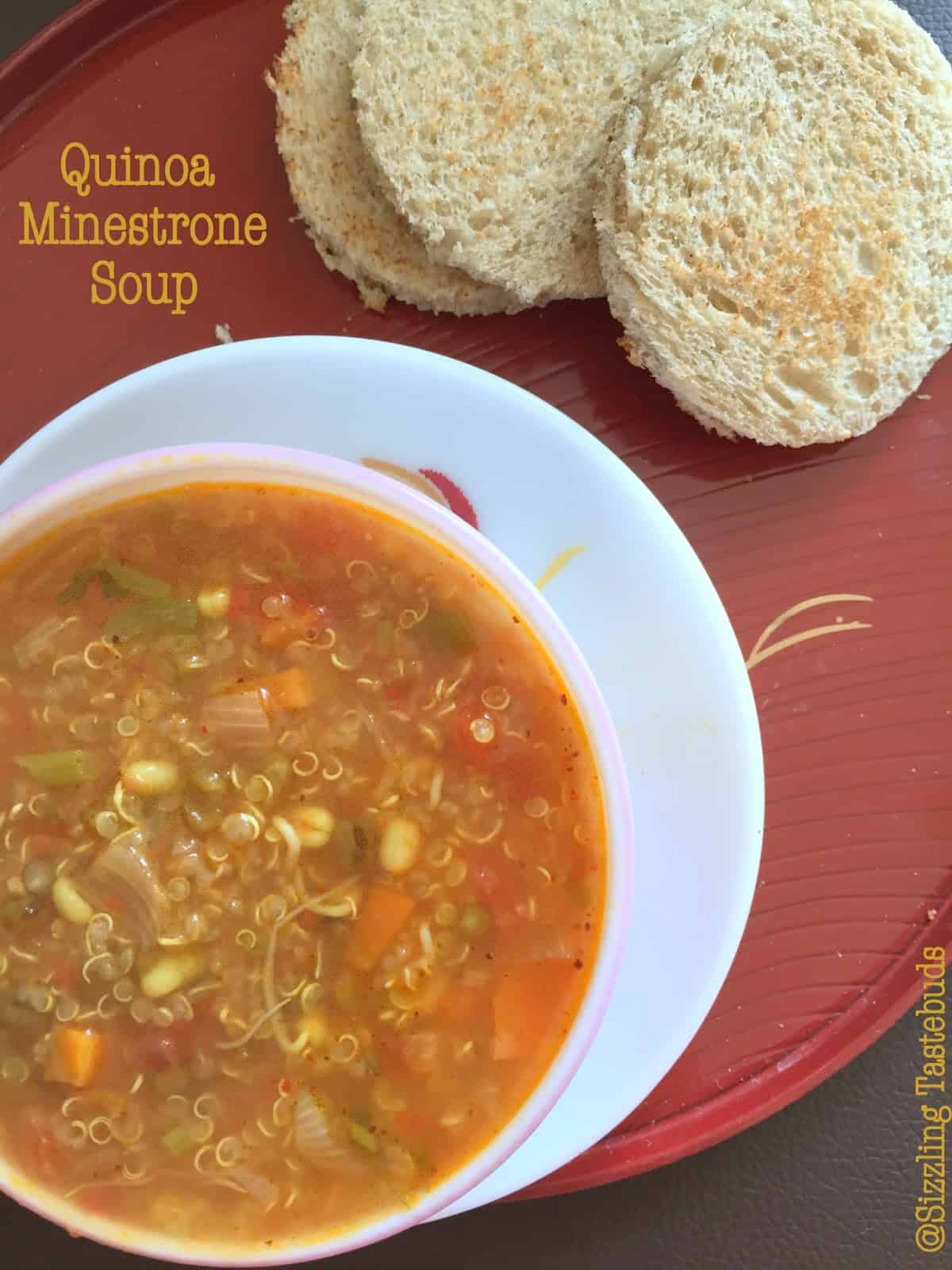 Pin
Prep time : 10 mins , Cook time : 20 mins , Serves : 2
Ingredients:
Quinoa – 50 gms (3 TBSP)
Tomato – 3 large (or 200 gm of unsalted tomato puree)
Onions minced – 1 medium
Garlic – 2 medium pods
Carrot – 1/2 no.
French Beans – 8 to 10
Yellow pepper – 1/2
green Moong sprouts – a handful
Yellow Squash / Pumpkin / Kaddu / Parangikai – 50 gms
Veg Stock – 1 cup (unsalted) – sub with water if needed
Red chillies – halved (opt.)
Paprika – 1/2 tsp
Olive oil – 2 tsp
Salt / pepper – to taste
Lemon juice – 1 tsp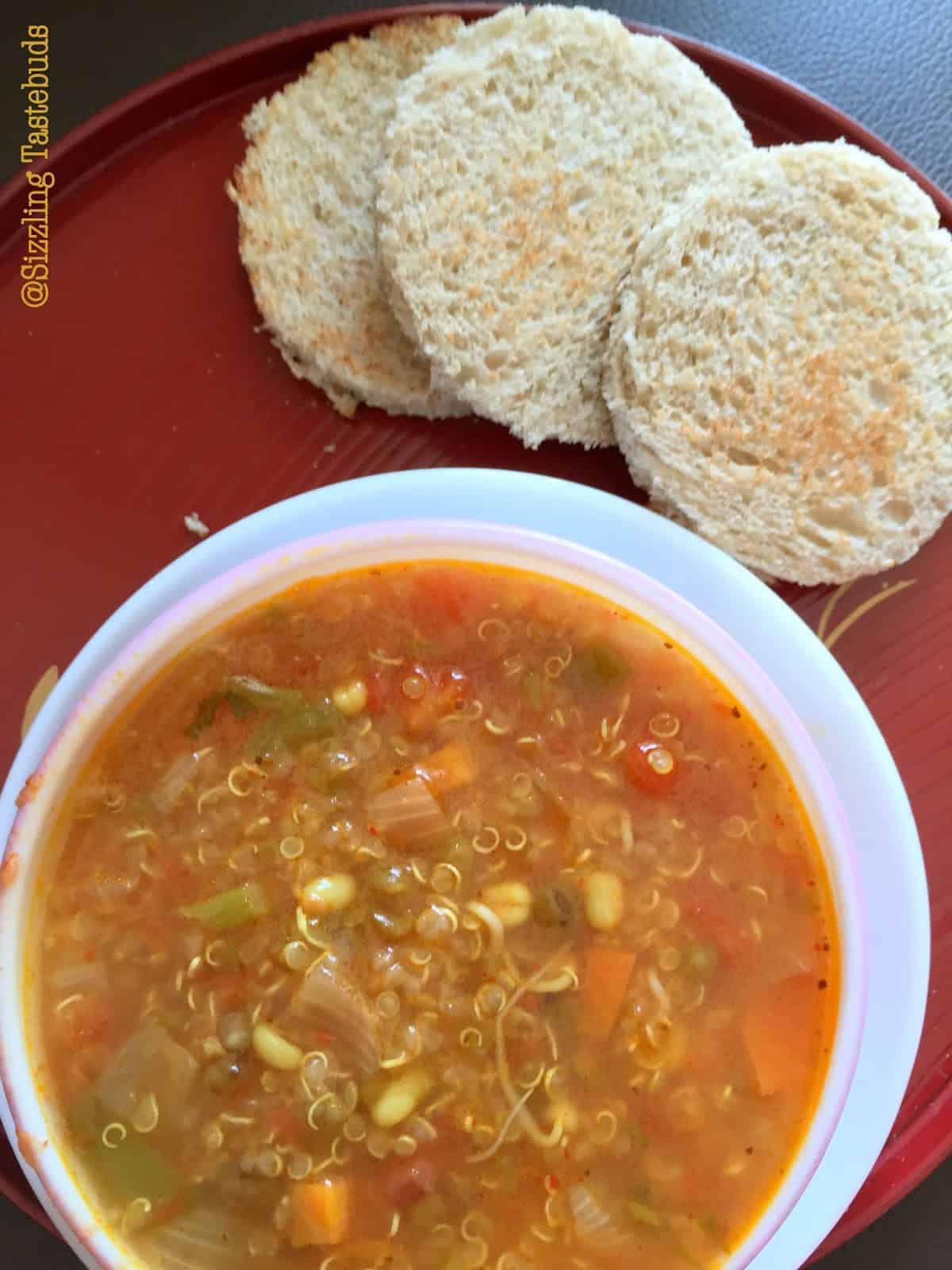 Pin
Method:
Dry roast quinoa for 30 seconds and soak. Boil with 3 times water till cooked. Drain and retain the water.
Blanch the tomatoes and puree them. Add the water from the quinoa and make a thickish broth and keep aside
In a large pan, heat olive oil. Saute onions and garlic. Add the veggies one by one and saute the for 2-4 mins. Pressure cook them along with moong sprouts with a pinch of salt for 2 whistles.
Once cool, mash them up slightly.
Return the veggies, tomato puree, quinoa, salt, veg stock, crushed black pepper, paprika and let it slowly simmer covered for 8-10 mins
Once done, finish with lemon juice & serve hot with warm bread.
Sending this to BM65 under Soups and salads theme, Also Linking this to Archana's Soups and Salads Kids Delight event , created by Srivalli.