Moong little millet khichdi is again adapted from Suma's blog where she had posted it as Hare moong ki chaashwali khichdi . I simply subbed the rice with millet and after a great success with little milet pongal posted earlier, I was confident the millet would work here too, and it did .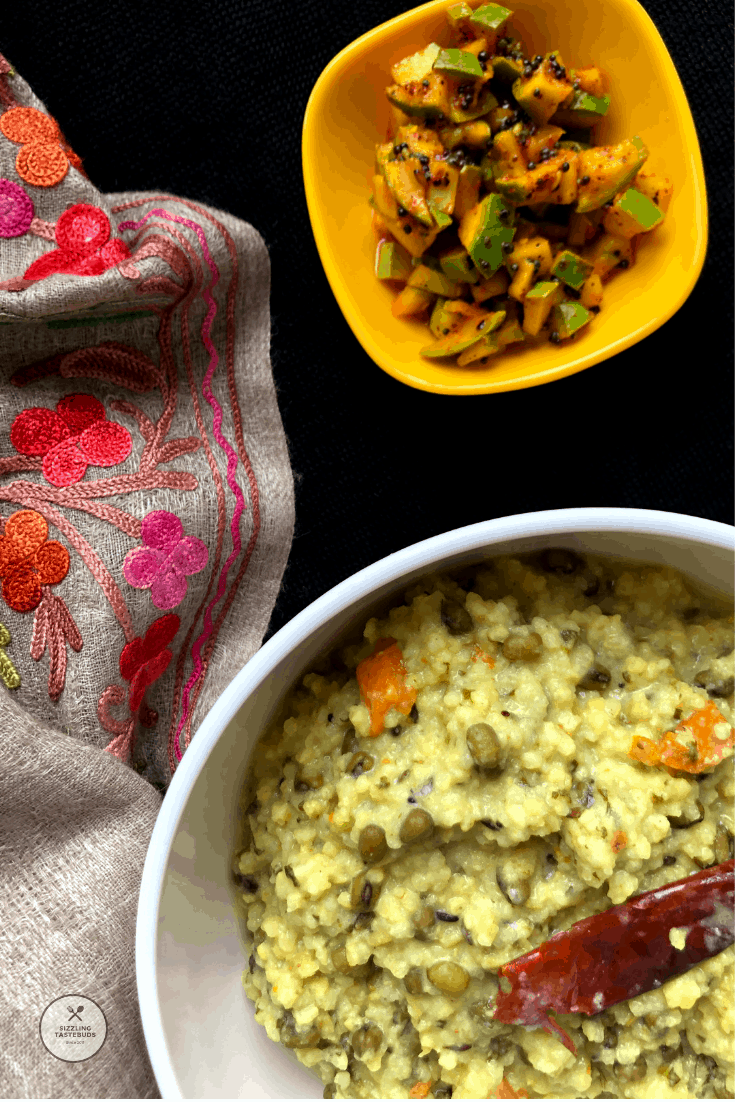 Pin

As it's scorching hot right now and being in the kitchen for more than 20 mins is not feasible, this is again a life saver kind of meal where dump it all and cook works brilliantly. Suma's recipe had a lot of Masala and veggies , but I toned it down as it was to be quick meal. It's also Satvik (free of onion-garlic) and am sure to make it in larger quantities as the husband also would relish this.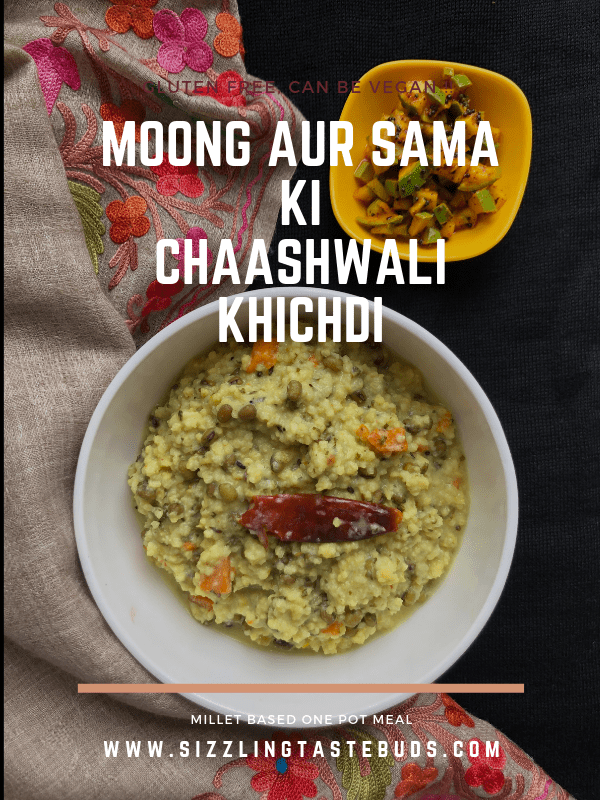 Pin
So far in the A-Z Grains Mega Blogging Marathon all April, I have dished the following 12 recipes over the past 2 weeks. Do take a quick look if you have missed the series:
C – Cabbage Khichdi
F – Fried Rice
H- Hara Pulav
 I – Iyengar Chakkara Pongal with Brown Rice
J- Jalapeno Mexican Fried Rice
K – Karivepaaku Mamidikaaya Chitrannam
A quick GF khichdi recipe made with buttermilk, let's see how to make it 
What you need:
Samai / Little millet – 1/2 cup
Ghee / oil – 1/2 tsp
Jeera / cumin – 1 tsp 
Buttermilk – 2 cups
Soaked / cooked whole green moong – 2 handfuls
Tomatoes – 1 medium (I didn't use)
Salt to taste
Broken red chillies – 1~2 
Slit green chillies – 1 or 2 
Crushed black pepper – 1/2 tsp (optional)
Grated ginger – 1/4 tsp (optional)
Turmeric 1/4 tsp
Veggies – carrot cubed 1/2 cup (you may add potatoes, green peas, french Beans etc)
Chopped greens – 1/4 cup (I used amaranth/chawli/arakeerai)-optional 
PIN FOR LATER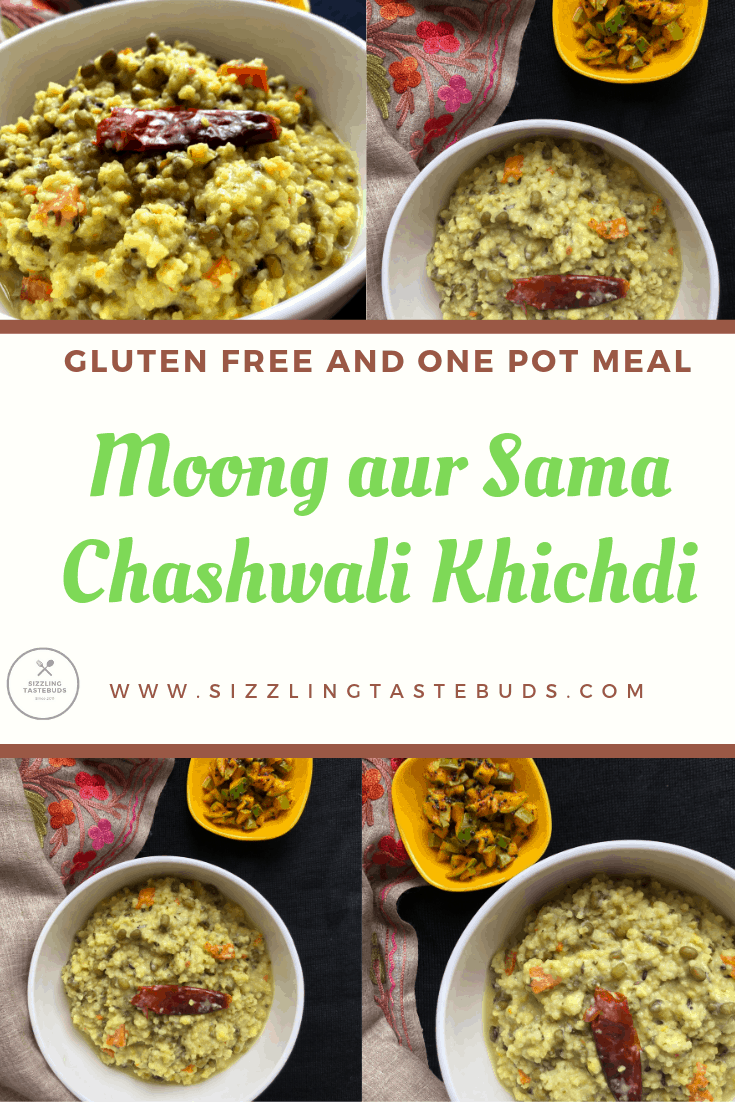 Pin
How to:
Wash and rinse samai (soak for 5 mins while the veggies are getting chopped) 
In a pressure cooker, add ghee or oil. Splutter jeera, both the chillies. Add the carrots and chopped greens, sauté for 1/2 mins. 
Add salt, Turmeric, ginger , black pepper and sauté for further 2 mins 
Now add the soaked and drained Samai, soaked moong (moong needs to be soaked for at least 6-8 hours or overnight, at this stage if you have previously cooked moong, you can add it too) and mix thoroughly. 
Add buttermilk and pressure cook for exactly 2 whistles. 
Let the pressure drop on its own. Mix / mash up a bit. Serve hot.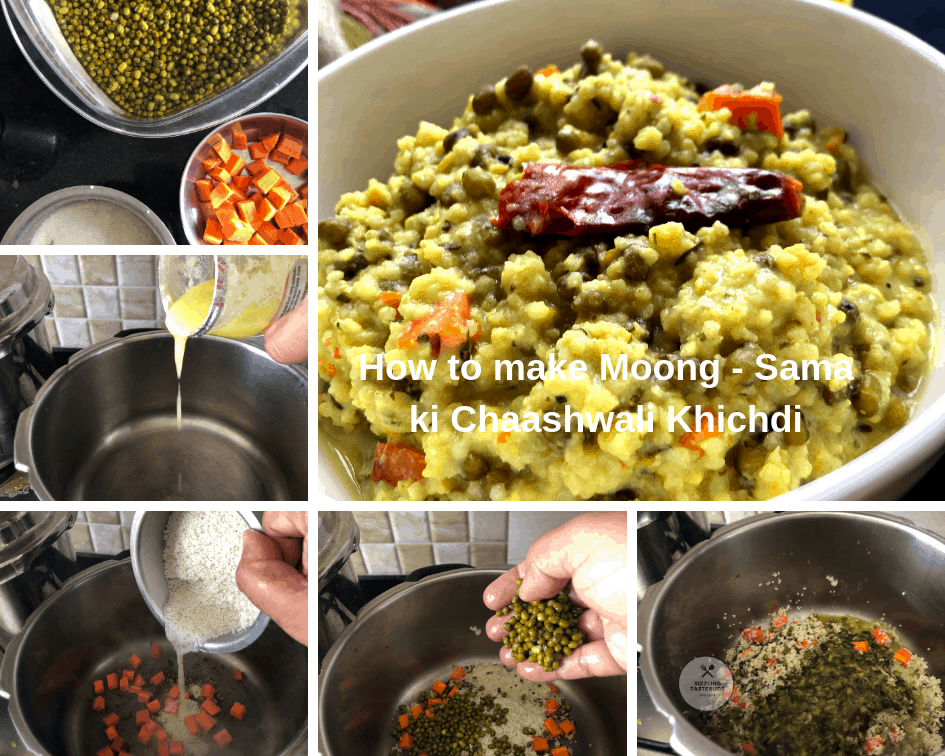 Pin
Notes 
Use slightly sour buttermilk if you are not using tomatoes.

 

Little millet can be subbed with any millet or rice with varying cook time and water / liquid proportions
PinCheck out the Blogging Marathon page for the other Blogging Marathoners doing BM#99