Pulikaachal was the first dish that I cooked once I finalised Tamilnadu theme for the mega BM – JTTC (Journey Through The Cuisines)…
Pulikaachal comes from Puli =Tamarind, and Kaachal = to heat. so basically, tamarind paste is spiced and preserved as a spicy , comforting paste . Pulikaachal is the paste that is mixed with rice to make tamarind rice aka Puliyodharai, offered as prasad or naivedyam in most South Indian Vaishnavite temples – A specialty of the Iyengar community, it even finds mention in 10th Century inscriptions and the literature of the 4th Century A.D.
It took me a little over 2 years to understand this dish (no, not to cook it, but to understand it better) and a further 10 years to make it from scratch…. read on to learn more….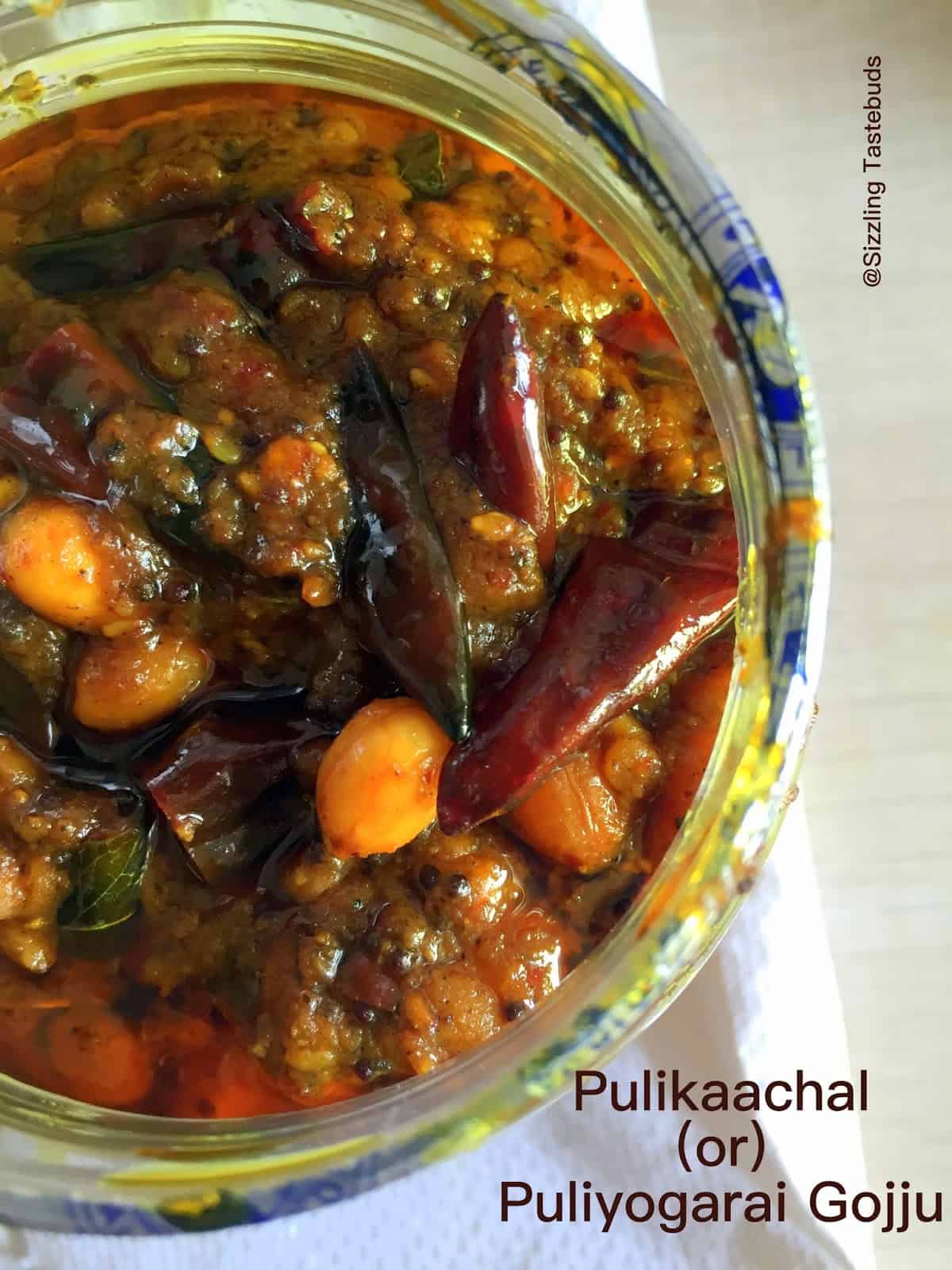 Pin

Fundamentally, for the Non-Tamilnadu cooks, Puliyogarai (made in the Kannada / Mysore style) as described here – with what is called Puliyogorai gojju, which was what amma used to make for most festival spreads.

But Pulikaachal …. well…. was another Tamilnadu beast waiting to be tamed.

In the pre-blogging days, and when we still craved to access the internet in a cyber cafe, emailing was considered a luxury, so there was no whatsapp or emails from mom or MIL to bail me out 😀

Well, am digressing.

Having the Convenience (??!!) of not living with my in laws, I still didn't know how to make this condiment considered by many Tamil brahmin households as a delicacy, no less 🙂 It took many years of prodding by the husband, and many more years of procrastination later, I finally decided to make this

(I couldn't imagine a Tamil based Mega BM without a pulikaachal recipe, so you know what the real driver was !! Shhhhh.. lets keep that secret amongst ourselves, shall we ? :))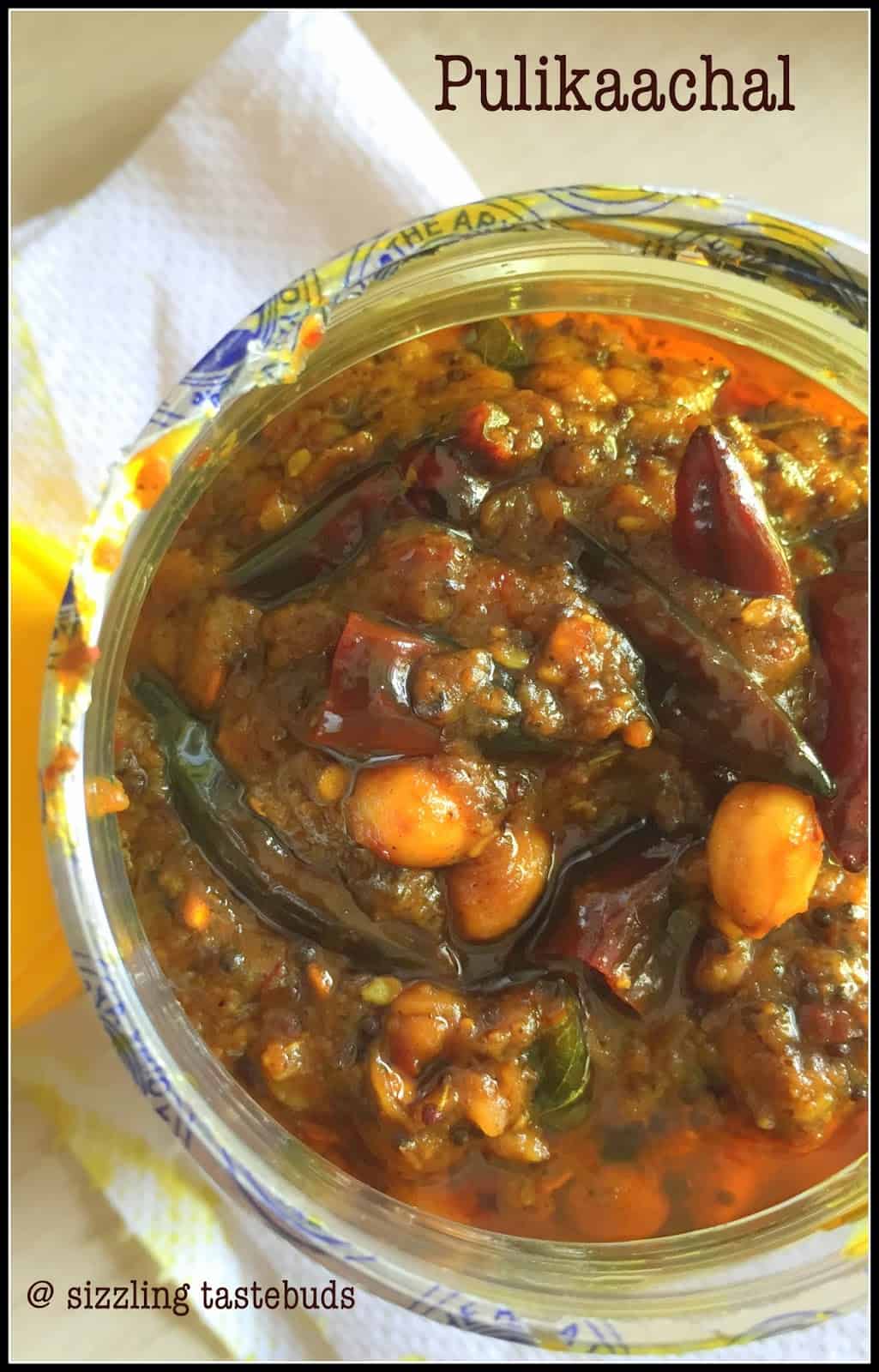 Pin

Recipe books without pictures dont interest me, however rich the text is. and I was looking for an authentic dish made by Chennai / Tamilnadu based authors / foodies / bloggers. So stumbling upon this recipe, this was one of the recipes I actually read and re-read atleast 9-10 times before attempting it. I made my little variations based on what I had tasted before.

And the husband couldn't actually believe I had made it. A bucketful of compliments later, I was ready to make a second batch soon, and here are the step by step pictures which helped me as a novice cook – which would help another of our guild in search of authentic Tamil recipes.

PS : There are probably a hundred different ways to make this, each varying from household to household (including differing what my MIL makes too !!) , but the husband said this is exactly how he remembers savouring this condiment mixed with hot rice and topped with sesame oil.

So, lets get to the recipe, shall we ?

Pulikaachal – a Tamarind based condiment / Dip , also a base paste to make Puliodhorai (a rice based offering to God)

Prep time : 20 mins, Cook time : 30 mins ; Makes : approx 200-225 gms of Pulikaachal

Keeps upto 2 months under refrigeration

Ingredients:
Sesame Oil / Nallennai / Til ka tel – 1/2 cup + 4 TBSP
Tamarind / Imli / Puli – 100 gms
Channa dal / Bengal gram / Kadalai paruppu – 2 TBSP
Urad Dal / Ulutham paruppu – 2 TBSP
Whole red chillies – 15 nos (I used pandi variety mirchi – you could sub with Guntur variety)
Mustard seeds – 1 TBSP
Peanuts – 3 TBSP
Turmeric – 1 tsp
Asafoetida – 1 TBSP
Jaggery – 2 TBSP
Curry leaves – 4 to 5 sprigs
Salt – to taste (about 1.5 tsp)
Ellu / Sesame seeds – 1 TBSP (opt.) – black works better than white here
Dry Copra – 2 TBSP
For Spice powder: (Adjust spice according to taste)
Coriander seeds / Malli – 3 TBSP
Black pepper – 2 TBSP
Fenugreek seeds / Vendhayam / Methi dana – 1/2 tsp
Curry leaves – 2 sprigs (opt.)
Red chilli – 5 to 6 (I used 2 kashmiri and 4 Guntur variety)
Method:
Stage 1 : Roast all spices for spice powder separately in 1 tsp of oil. Cool and grind. Divide spice powder into 2 parts : 2/3 and 1/3 portions respectively.
Soak tamarind in hot water for 1/2 hour, extract the pulp
Roast dry copra and sesame separately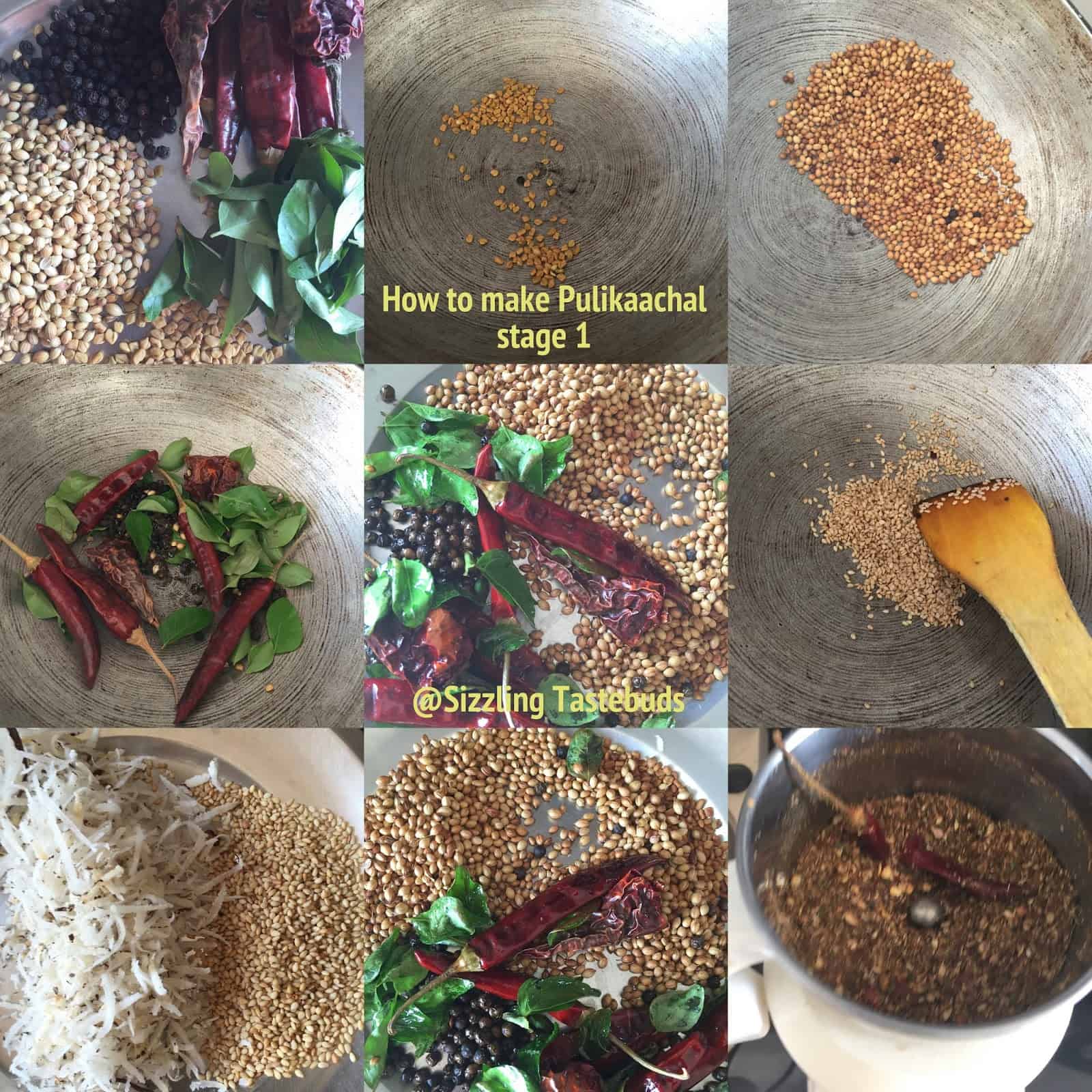 Pin
Stage 2:
Heat the deep bottomed thick kadai (if you have a cast iron pan, it works best). When the oil is heated, add peanuts and fry well till golden brown. remove only the peanuts to a plate with a slotted spoon,
Now add mustard seeds, turmeric, hing, curry leaves, broken red chillies, Urad and Channa dal and fry till dals turn golden brown, Now add the tamarind pulp with the water too. Add salt, 2/3 of the ground spice powder and jaggery.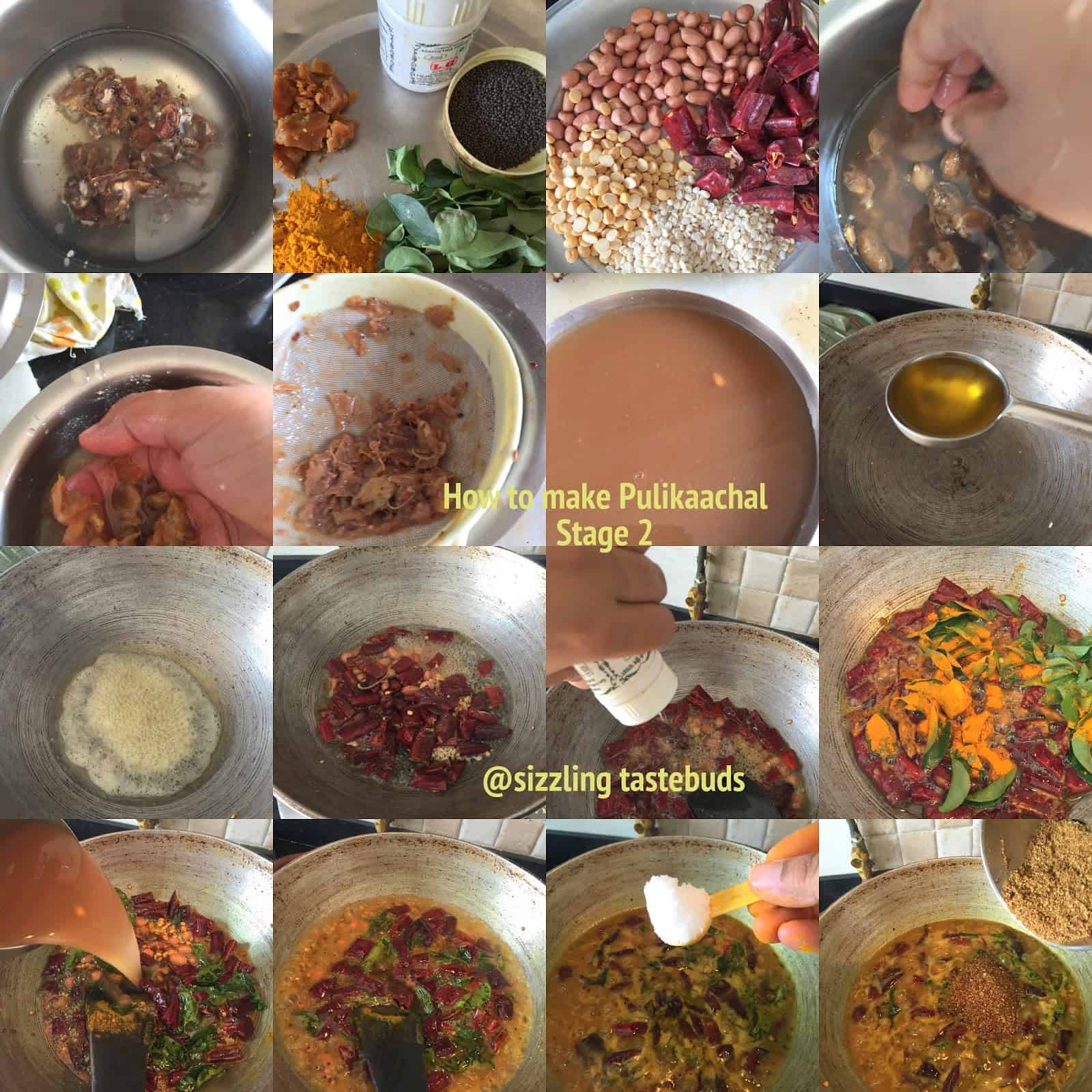 Pin
Stage 3;
Let it cook on medium flame for 10-12 mins till the water evaporates and it becomes a thick pulp, the oil will spurt quite a bit so place a lid halfway, and away from your face.
Once the mixture thickens even further and coats the back of a spoon (alternatively, the oil starts leaving the sides and the mixture starts simmering in slow spurts), turn off and add the fried peanuts , roasted copra and sesame seeds and mix well
Let it completely cool.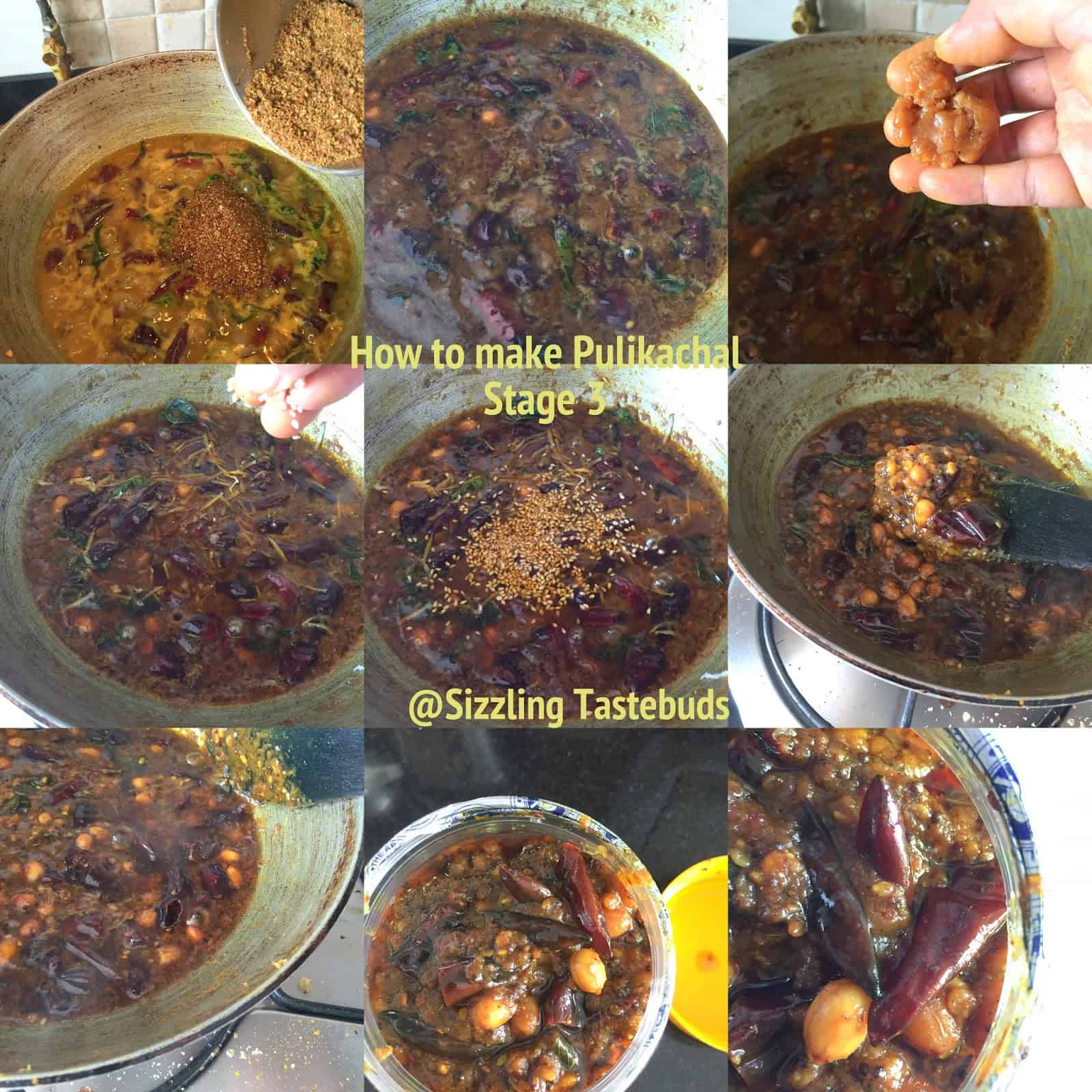 Pin
Transfer to airtight sterile steel / glass container.
If you feel the gravy has thickened too much, heat addition 1/4 cup sesame oil, cool COMPLETELY and add to the mixture before bottling.
Keeps for upto 2-3 months under refrigeration.
Apart from making Puliogorai, this is also a great side dish for Curd Rice.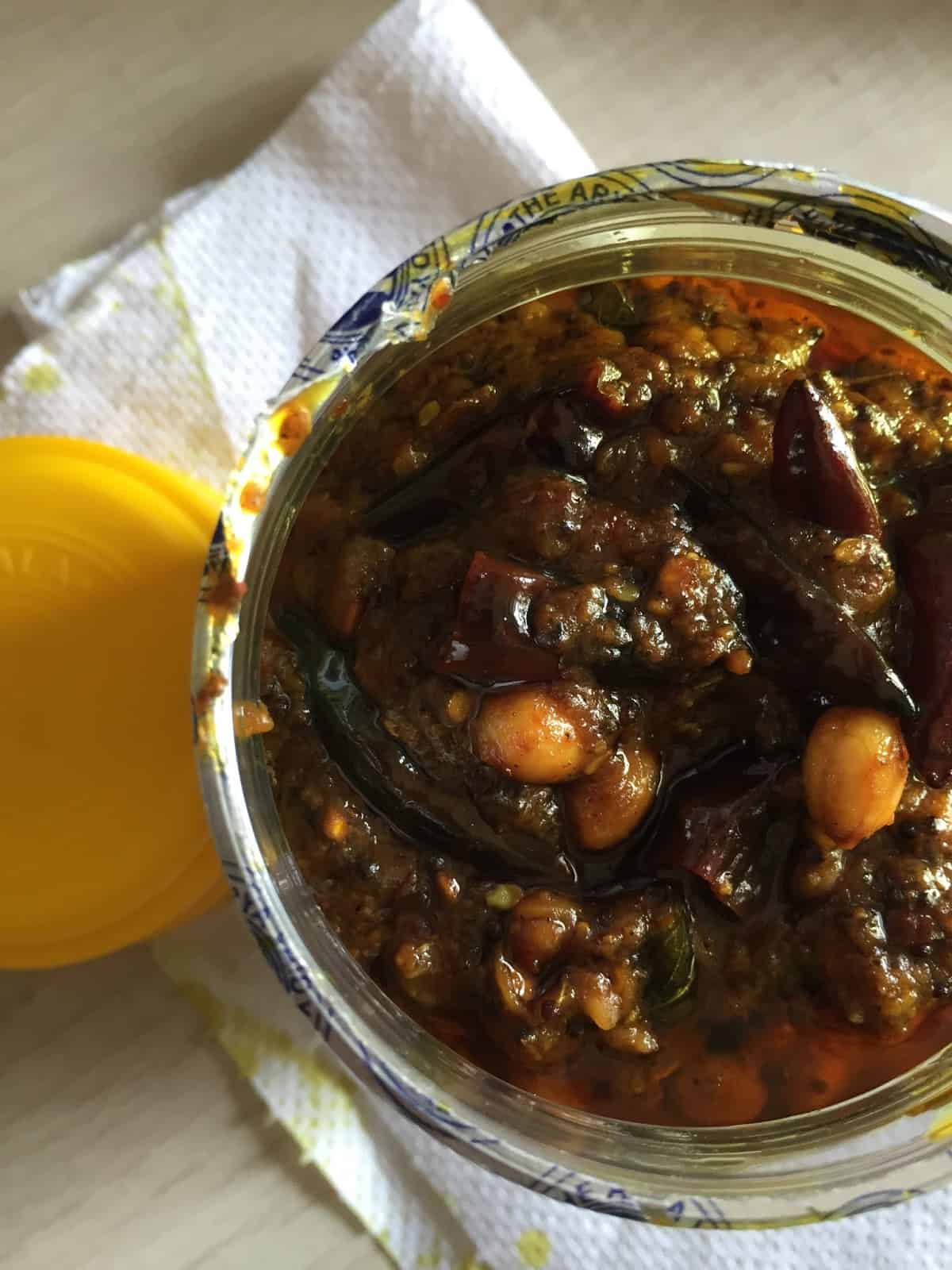 Pin
To make Kovil Puliyodharai / Puliyogarai, Cook rice into separate grains, Add requisite Pulikaachal paste, the remaining spice powder and mix well. Serve immediately.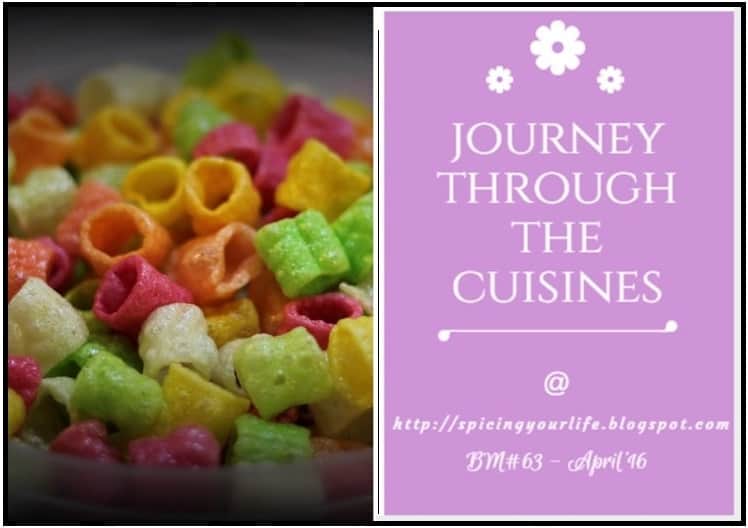 Pin
Check out the Blogging Marathon page for the other Blogging Marathoners doing BM# 63