Our kitchen is primarily a medley of Tamilnadu and Karnataka food sprinkled with cuisines from rest of the country (and the world) . Today's dish – Heerekai Huli Thovve (Heerekai = ridge gourd ; Huli = tangy ; Thovve = lentil based) is a favourite that I ate, growing up in Bangalore. Served at most Kannada weddings, this is a staple that goes great with Majjigehuli and Ambode (paruppu vada) as a classic combo. 
I was paired with @Veena for this month's edition of Karnataka cuisine for the Sshhh Cooking Challenge. I wanted to post this recipe for long, and the ingredients that Veena gave me – Ridgegourd and Chillies was the perfect foil to make this . 
I served this with Karuppu Ulundogarai(Whole black lentil flavoured rice) , Vellarikai Inji Pachadi (Cucumber Raita in a coconut-ginger-cumin yoghurt gravy) and that was a yum meal by itself.  Glutenfree, wholesome (and vegan too , if you would sub the yoghurt in the raita with a plan-based one)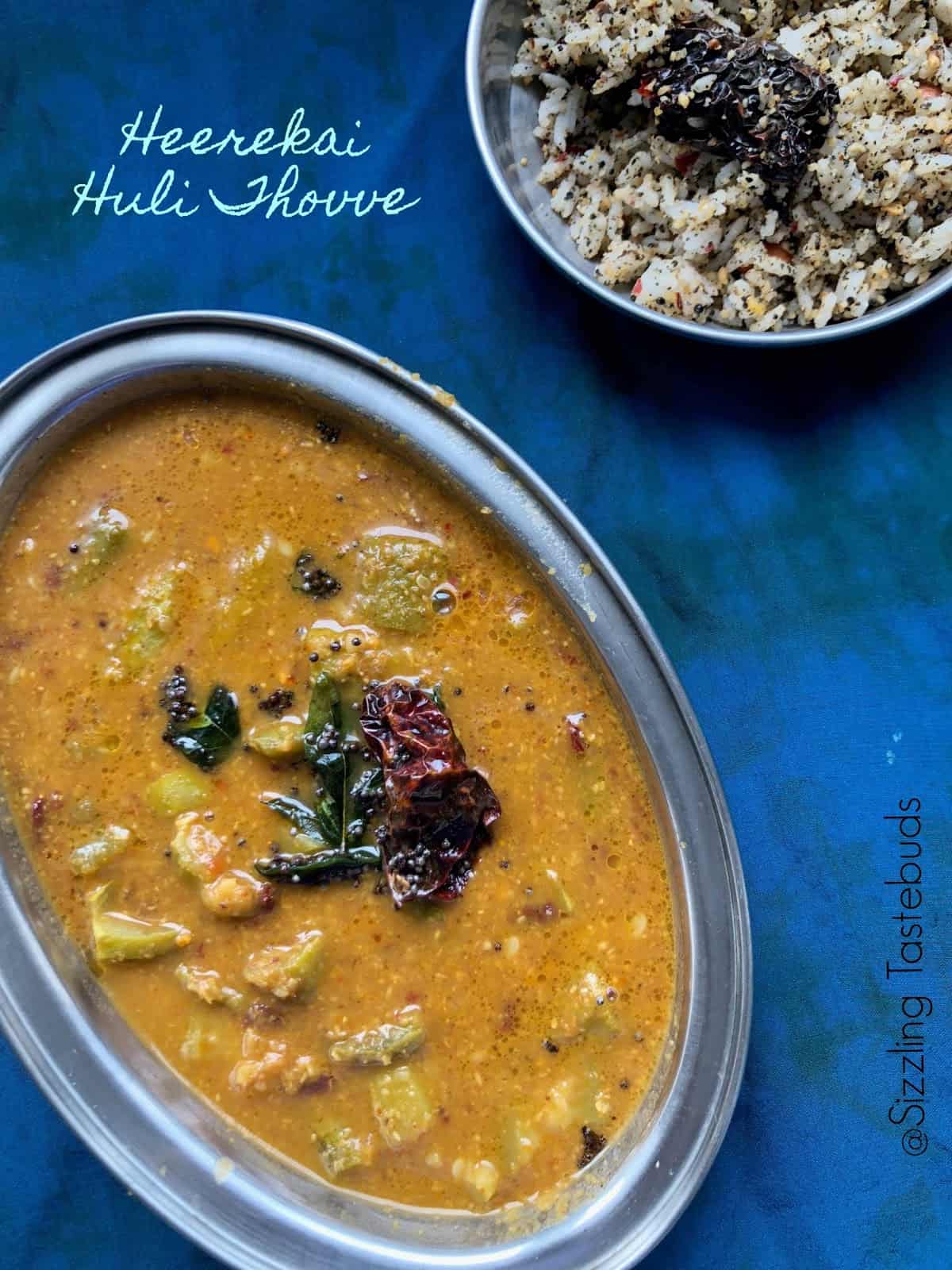 Pin

This is a quick side dish that goes well with steamed rice, and flavoured rice, chapati, poori or even theplas (as we discovered the next morning with leftovers). I usually make this in slightly larger quantities so as to serve us for 2 meals (for 4 people), but you may scale up or down the proportion. This is best made with fresh ridge gourd (and I was very lucky to find fresh baby ridge gourd in the market which promptly went into making this dish). 

So, lets get to make this yummy dish : Heerekai Huli Thovve

Prep time – 15 mins, Cook time – 10 mins, Serves – 4

Cuisine : Karnataka, Course: Side dish; Vegan and GF too !!

Notes:

1. Use the fresh gourd with very little or no seeds. Taste a piece of the raw vegetable , if its bitter (some varieties are utterly bitter), discard and start afresh. 

2. The consistency of this gravy is between a sambhar and a rasam, albeit on the thicker side. So adjust water accordingly. 

3. Tastes best with hot rice and roasted papad. Keeps for upto 2-3 days under refrigeration if the masala including fresh coconut is roasted well before grinding. Always cool the roasted masala mix before grinding. 

4. Tadka is best done with ghee for this dish, but I used oil to make it Vegan. It is your personal choice to use ghee too 🙂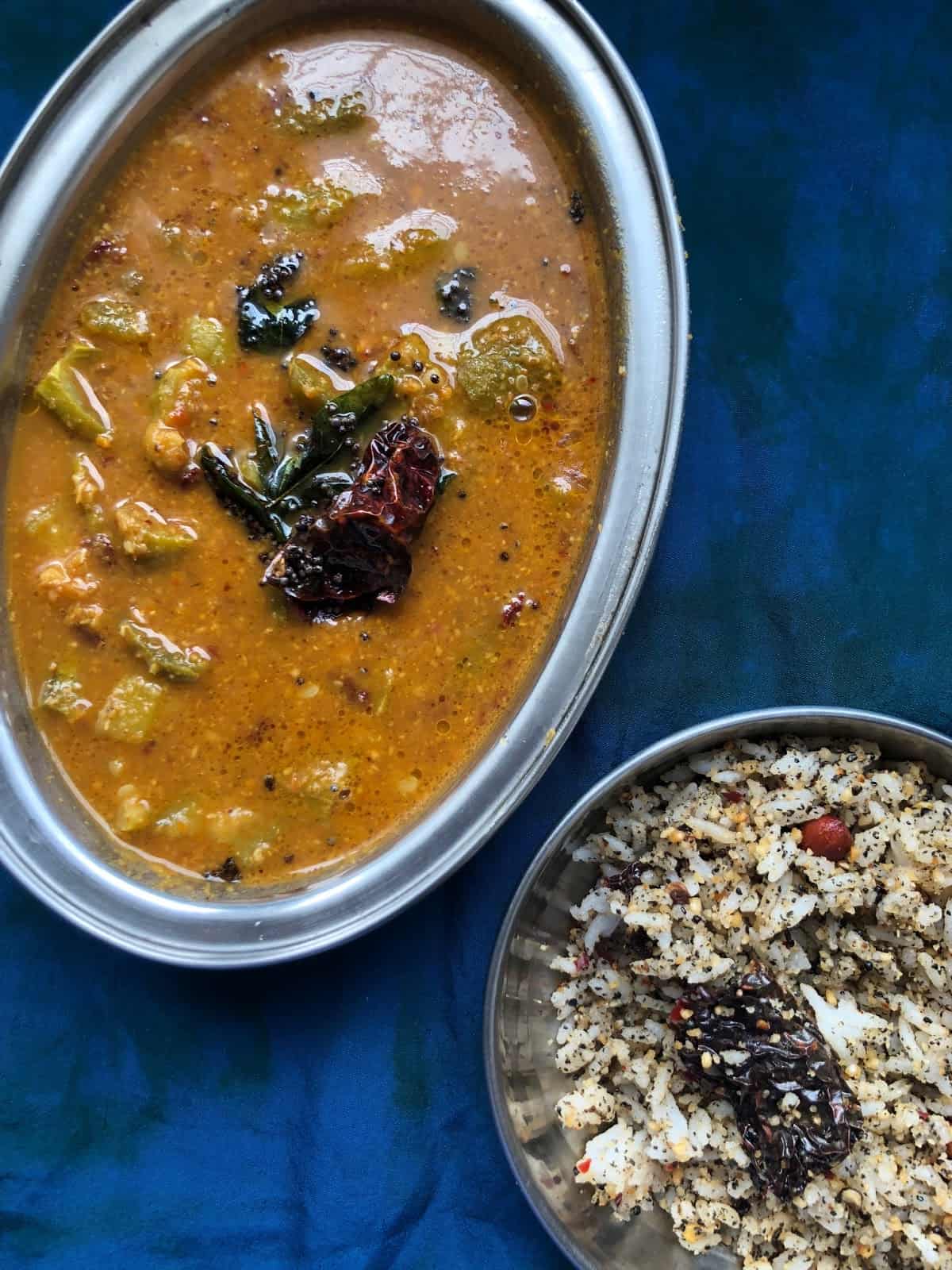 Pin
Ingredients: (Serves 4)
Ridge gourd- 250 grams (I used baby ridge gourd, so scrape lightly, but don't peel. If using normal ridge gourd. scrape the thorns / hard ridges out and peel the skin but not fully – the ridge gourd needs to hold shape even after slightly cooked) : Cut into medium sized chunks.
Oil – 1 tsp
Salt – to taste
Turmeric – 1/2 tsp
Jaggery – 1/2 tsp
Tamarind  – 1 small gooseberry sized
Toor Dal – 1/2 cup (1 cup= 200 ml)
To grind (masala):
Fresh Coconut – 1/4 cup
Whole coriander seeds – 1 TBSP
Byadgi / Bedgi / Kashmiri Chillies – 2 nos
Pepper corns – 1/2 tsp
Cloves – 1 or 2
Cinnamon – 1/2 inch stick
Mustard seeds – 1/2 tsp
Urad dal – 1 tsp
Channa Dal – 1/2 TBSP
Cumin Seeds – 1/2 tsp
Sambhar powder – 1 TBSP (optional but recommended)
Tempering:
Oil – 1 tsp
Mustard seeds – 1 tsp
Broken Red chillies – 1 or 2
Curry leaves – few
Asafoetida / Hing- a generous pinch
Method: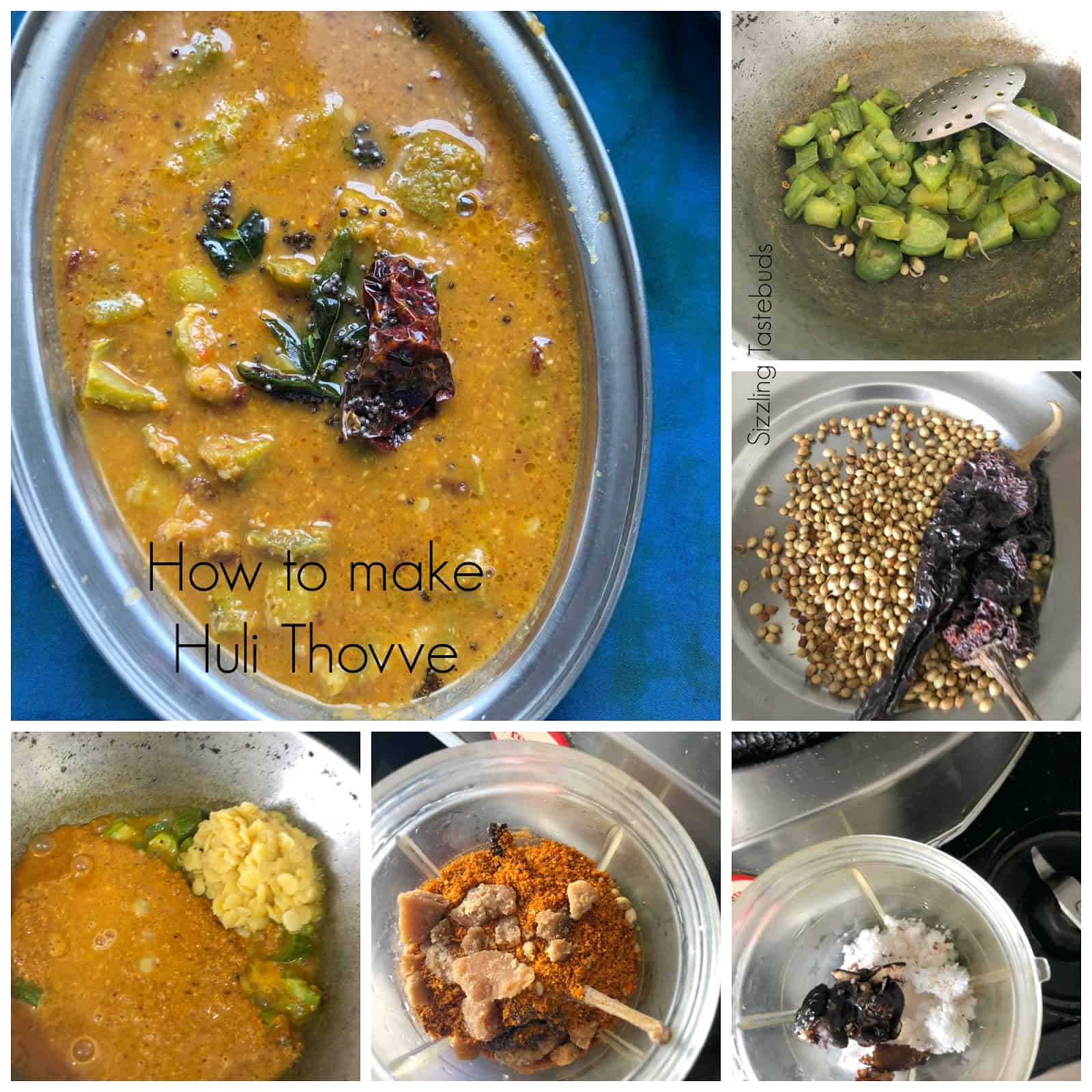 Pin
Pressure cook the toor dal with 1/4 tsp of turmeric , and the tamarind (chunk if using) separately in a  till soft and mash the toor dal well and keep aside. If using tamarind paste, don't pressure cook. 
Meanwhile, in a pan, boil the ridge gourd chunks with minimal water, salt and a dash of turmeric till the vegetable is soft but not mushy. Turn off the heat.
In a seperate oan, add 2 tsp oil and roast all the ingredients except coconut and sambar powder of the masala ingredients ONE by ONE. Do not roast them together. Now turn off the heat and add coconut and sauté well for 2-3 mins . Cool, grind with the Coconut- masala mixture along with the sambhar powder and the tamarind (paste or cooked) into a smooth thick paste adding adequate water.
Add this paste into the cooked ridge gourd and add requisite salt and let it come to a slow simmer. 
Now add the cooked dal (reserve a little if you feel the gravy is too thick), jaggery and a little water (I used about 1/2 cup again) to get to a thickish gravy.
Let it simmer for 4-5 mins till the raw smell disappears. 
Make the tempering (tadka) with the mentioned ingredients. Pour into the gravy and serve this side dish hot with Chapatis / Poori / Phulka / Steamed Rice.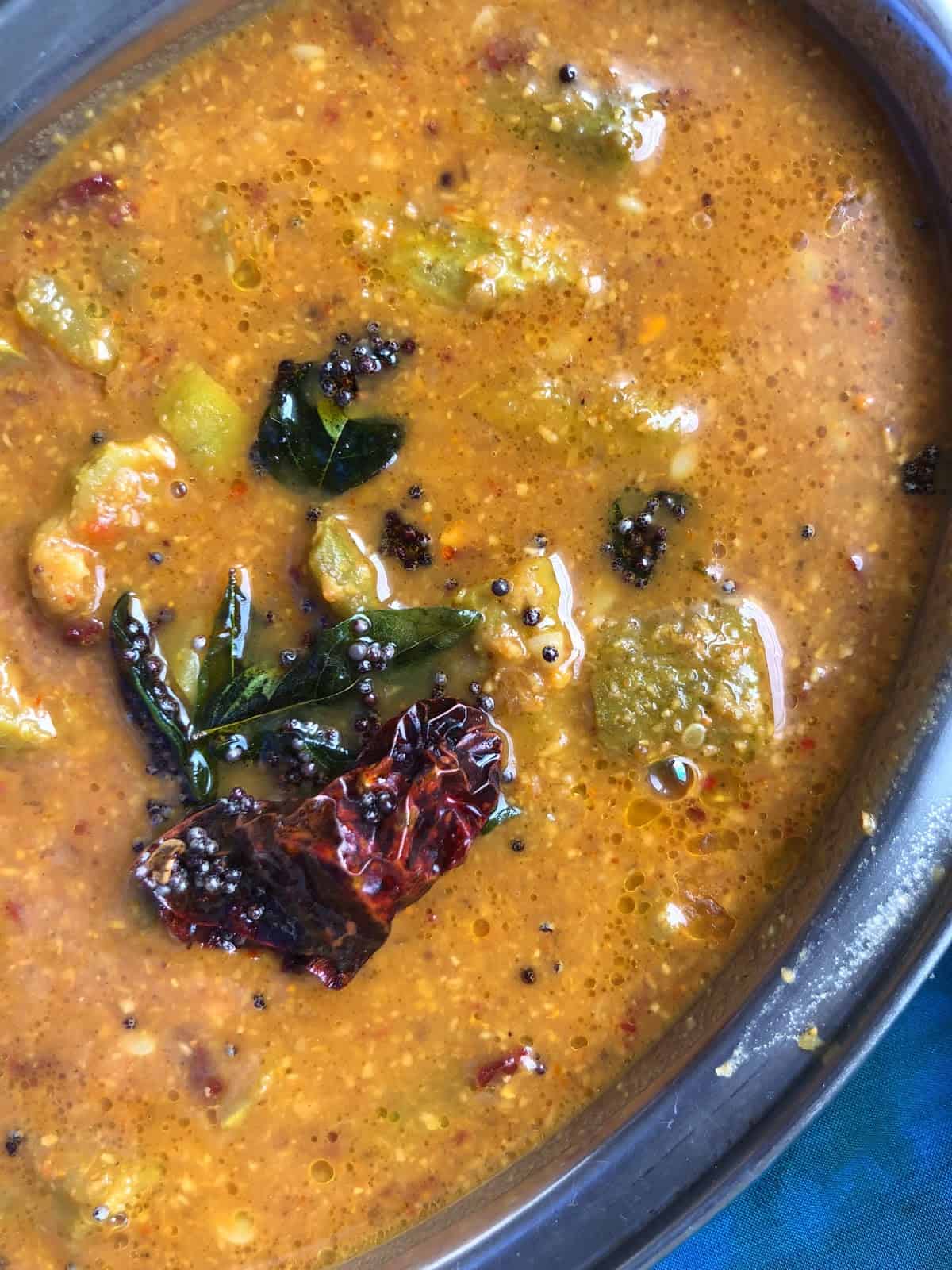 Pin