Pickles and Indian food are an ubiquitous combo. Eaten with Rotis or Parathas or steamed rice, this particular condiment – Pickle – is an
accompaniment in every Indian Thali. My idea of pickle is instant, quick and
spicy. Although S does swear by Maavadu (baby mango pickle in brine) or even
Narthangai (unripe citron) varieties, my personal favourites are QuickMango pickle, Cucumber Pickle and today's post – Quick Amla Pickle. 
Needless to say, mom makes
these, and I get to post them. Although it tastes equally good in tamarind brine,
soaking these beauties in lemon juice and tempering them with freshly ground
spices is a heaven by itself. So, without much ado, lets get to the recipe.
Thanks to mom for the recipe.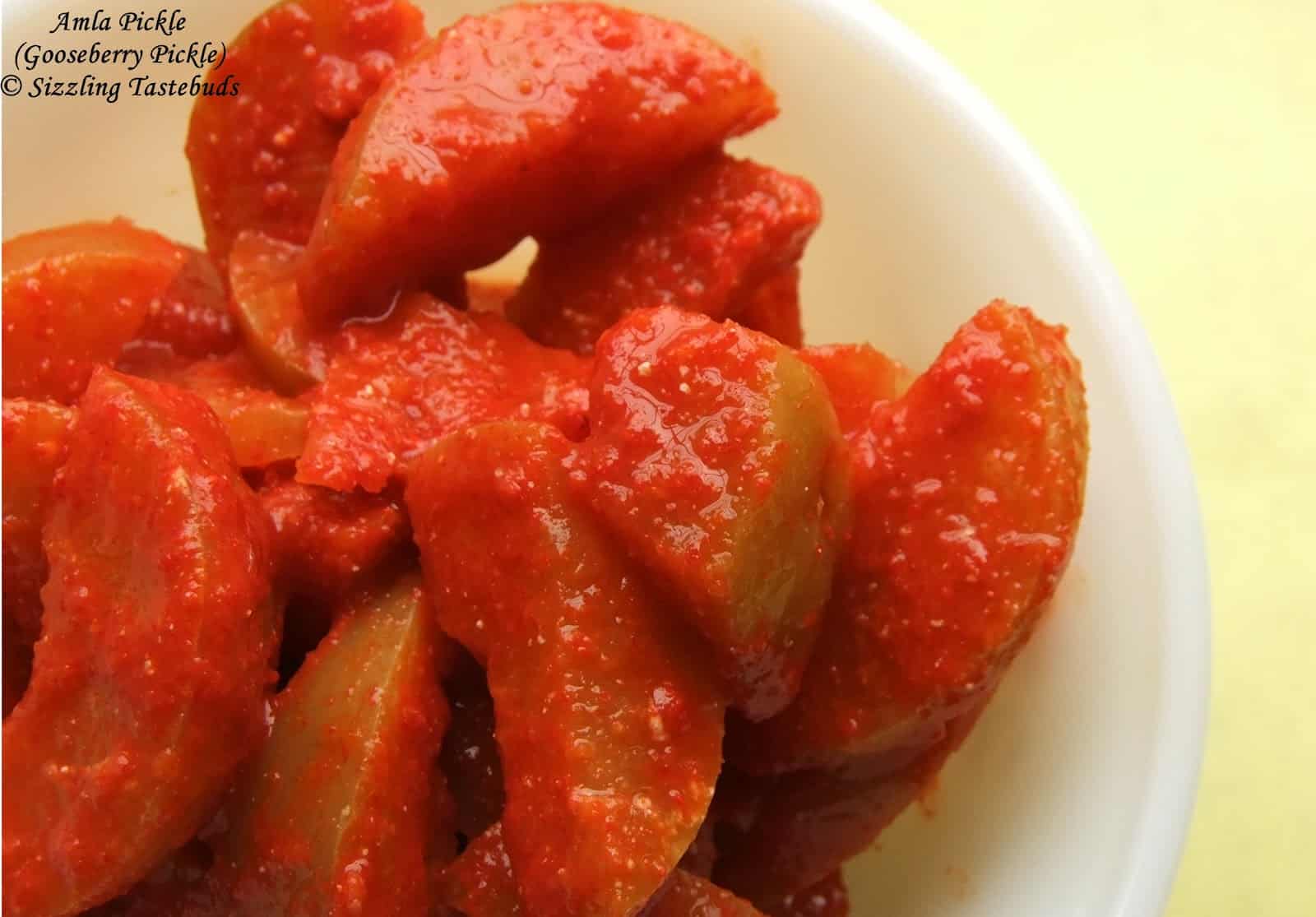 PinPin

Note: 

This pickle keeps
for around 3 – 6 months under refrigeration. The quantities indicated below are
for 150 gms of ready pickle (~ 125 gms of Indian gooseberry / Amla is used).
Spice can vary according to the palate.

————————————————————————————————– 

Prep time – 30 mins

Cook time – Nil

Difficulty level – Medium

Makes – 150 gms of Pickle,
can be kept for 3 – 6 months under refrigeration

————————————————————————————————– 

Ingredients:
Amla / Indian Gooseberry –
125 gms (or 4 to 5 large ones)
Red chilli powder – 3 TBSP
Rock Salt – 4 to 5 TBSP
Lemon juice – 1/2 cup
Fenugreek seeds – 1 TBSP
Mustard seeds – 1 TBSP
Turmeric powder – 1/2 TBSP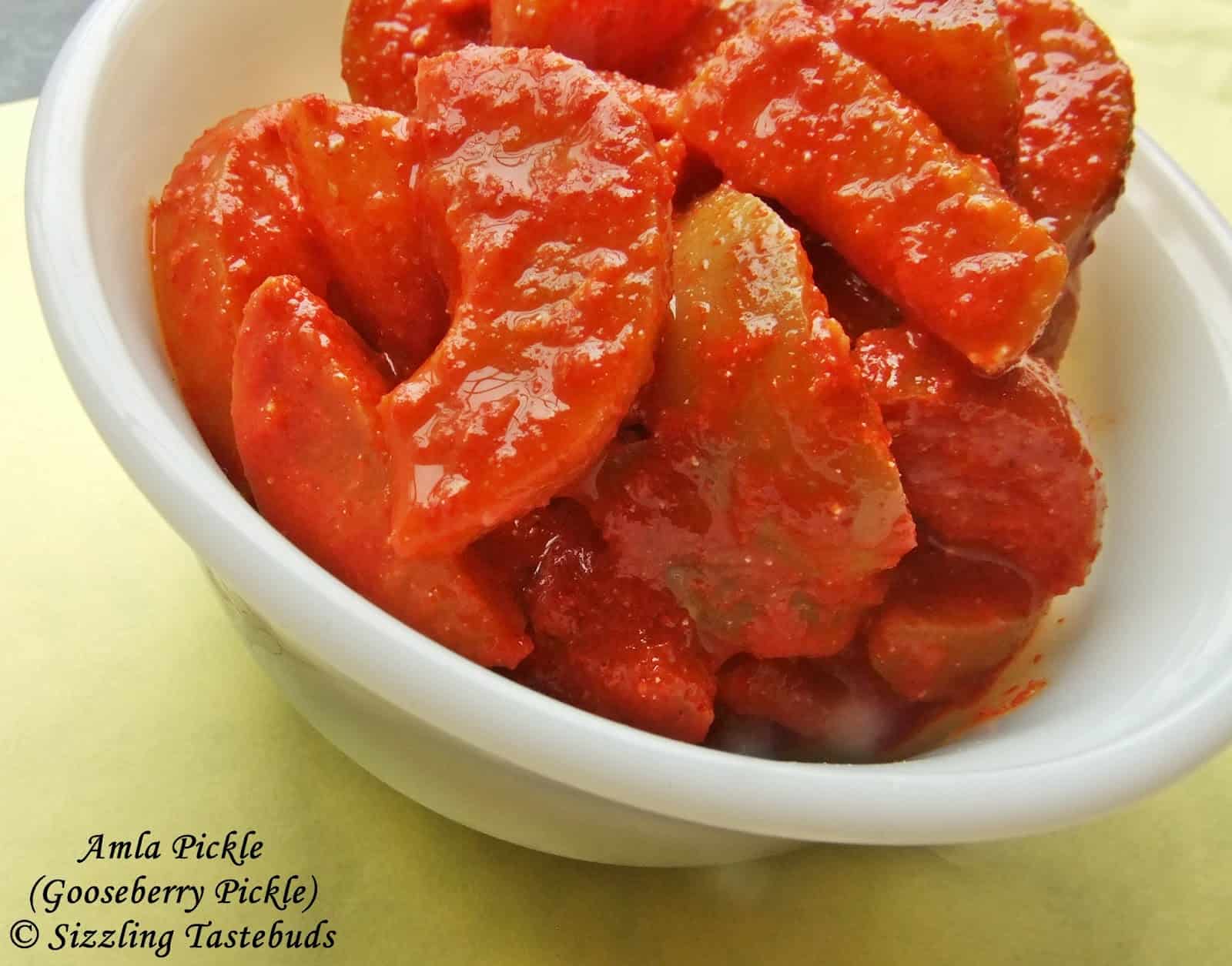 Pin
Method:
Wash and pat dry the Amla.
Cut into quarters deseeding the core
Dry roast the fenugreek
and mustard seeds separately. Keep aside
Dry roast the red chilli
powder and turmeric powder one by one on a medium flame for 10 – 15 seconds
each. Reserve aside.
Powder the fenugreek and
mustard seeds separately in a spice grinder (or preferably a pestle mortar)
with the salt.
In a large dry bowl, add
the quartered Amla. To this, add the ground spice powder and the roasted chilli
powder and turmeric powder.
Add salt and lemon juice
and mix well.
Leave aside for 1 – 2
days, mixing every 4 – 6 hours.
On the 3rd day, serve with
hot steamed rice or even Curd Rice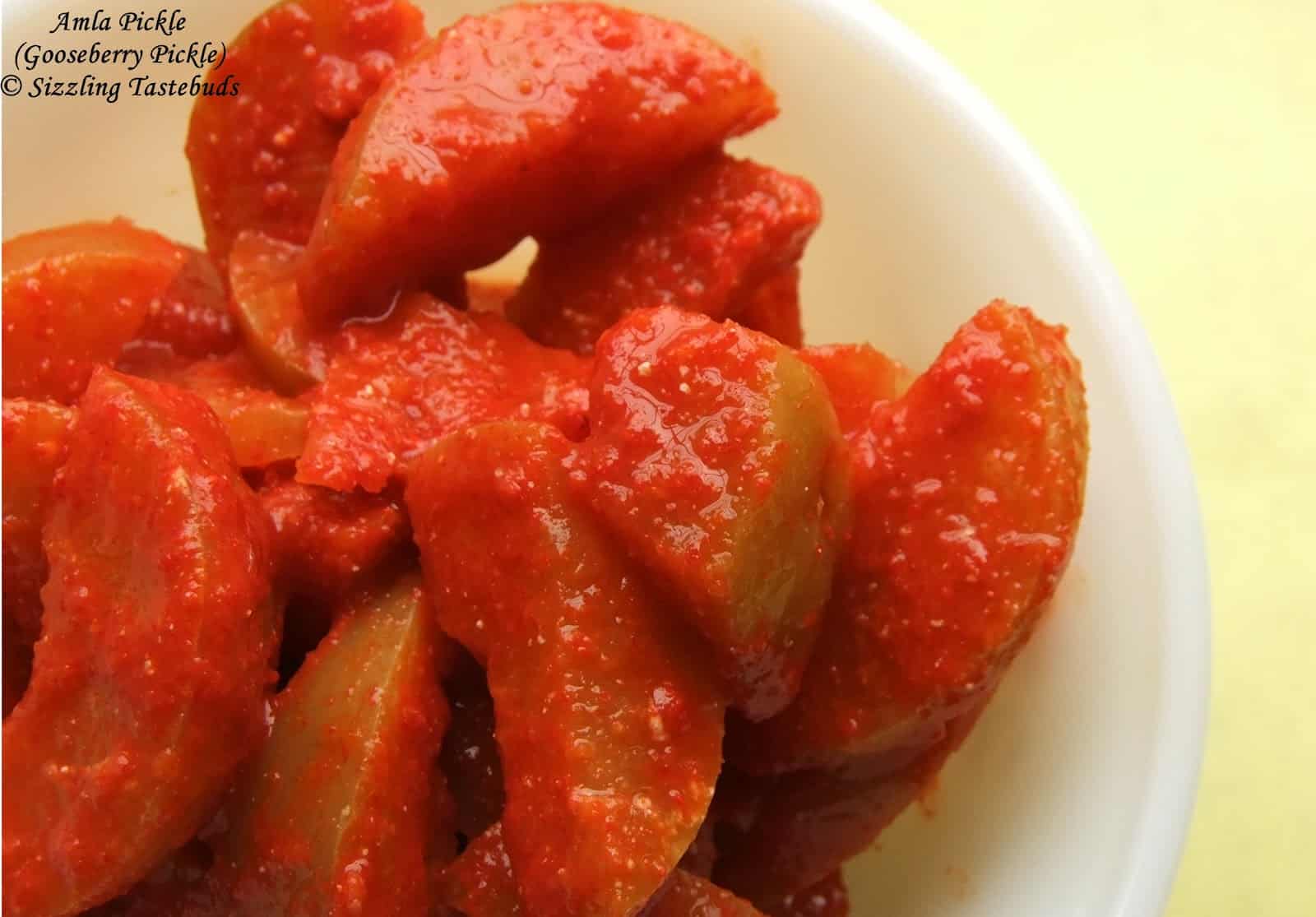 PinPin