Sakkarvalli Puli Kuzhambu is a traditional Vegan tangy-spicy curry made with Sweet Potatoes in a Tamarind sauce-served with hot rice
That header sure must have been a tongue twister (the tamil names usually are a challenge for native speakers too). But as I am recording these traditional dish recipes for posterity, I have tried to use as many authentic Tamil names for the dishes presented as possible, and attempted to make everyday cooking simplified for home cooks and those attempting Tamil Cuisine at their homes.
Let me demystify the title for you:
Sakkaravalli Kizhangu = sweet Potato / Rathaalu / ShakkarKhand
Puli = Tamarind
Kozhambu OR Kuzhambu = a gravy generally made without pulses / lentils or in a yogurt sauce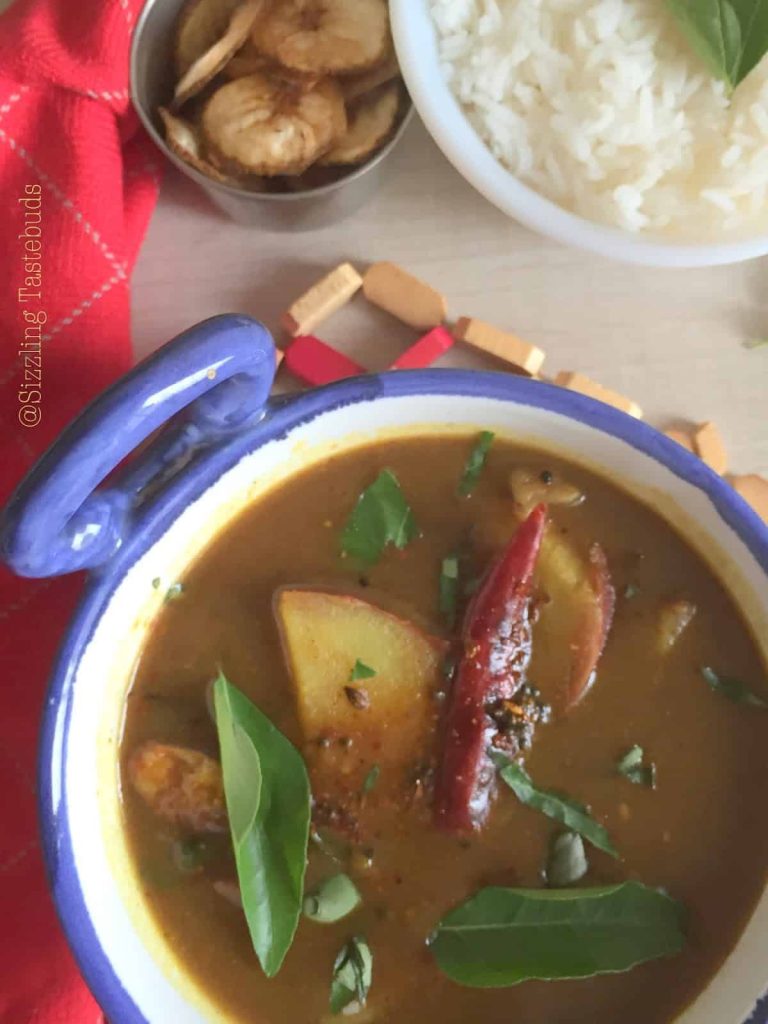 As this tuber is low in GI (Glycemic Index), diabetics can also indulge this gravy with steamed brown rice or Cooked Lapsi (broken wheat)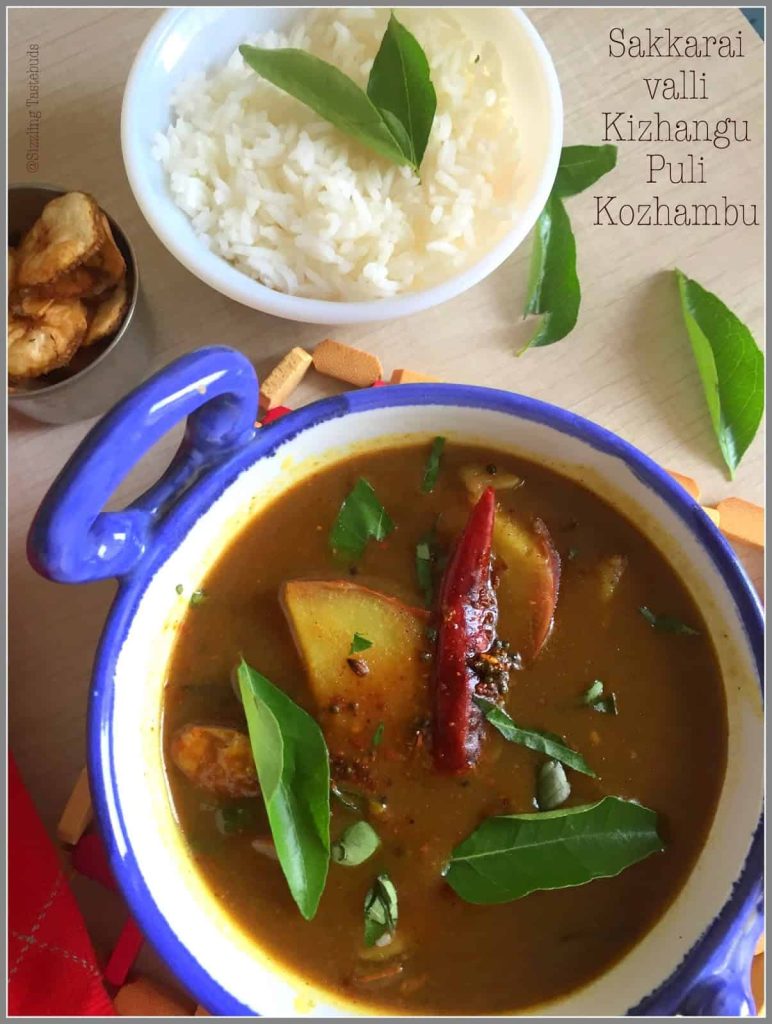 So there you are Sweet potato in tangy Spicy Gravy : Makes for an excellent side to Steamed rice or Curd Rice. Tastes even better the next day.
Other Kuzhambu / Gravies eaten with Rice that you might like:
Arichuvitta Sundakkai Vathakuzhambu | Tambrahm special
Arichuvitta Vathakuzhambu is a Tamilnadu special dish made with tamarind base, sun dried condiments and a specially ground spice powder. Served with rice and Usli.
Check out this recipe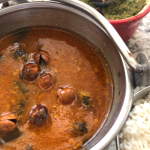 Kathrikkai Karamani Kootu
Katrikkai Karamani Kootu is a delicious South Indian dish made with Aubergines and Cow peas with a spiced masala paste. Served with Rice or flatbreads.
Check out this recipe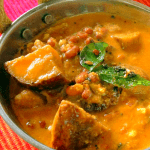 Iyengar style Kadag Puli / Kadugu Puli- a Traditional Curry
Kadag Puli is a traditional Iyengar dish which is satvik (No Onion No garlic) curry. Best served with steamed rice /chapatis. It is a medley of native veggies in an umami-tangy sauce
Check out this recipe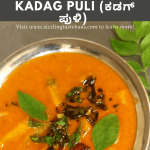 Vazhai Thandu Mor kootu | Banana Stem in Spiced Yoghurt Gravy
Vazhai Thandu Mor Kootu is a spiced curry made with yoghurt and tender banana stem. This is usually served with Sambhar and steamed rice.
Check out this recipe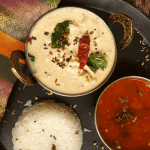 If you are a regular reader of this blog, you know how much my family loves this tuber. While you are contemplating making this sambhar, do have a go at other dishes using this Sweet Potato like :
Prep time: 15 mins , cook time : 20 mins , Serves : 4
Vegan Tamarind Spicy Gravy with Sweet potatoes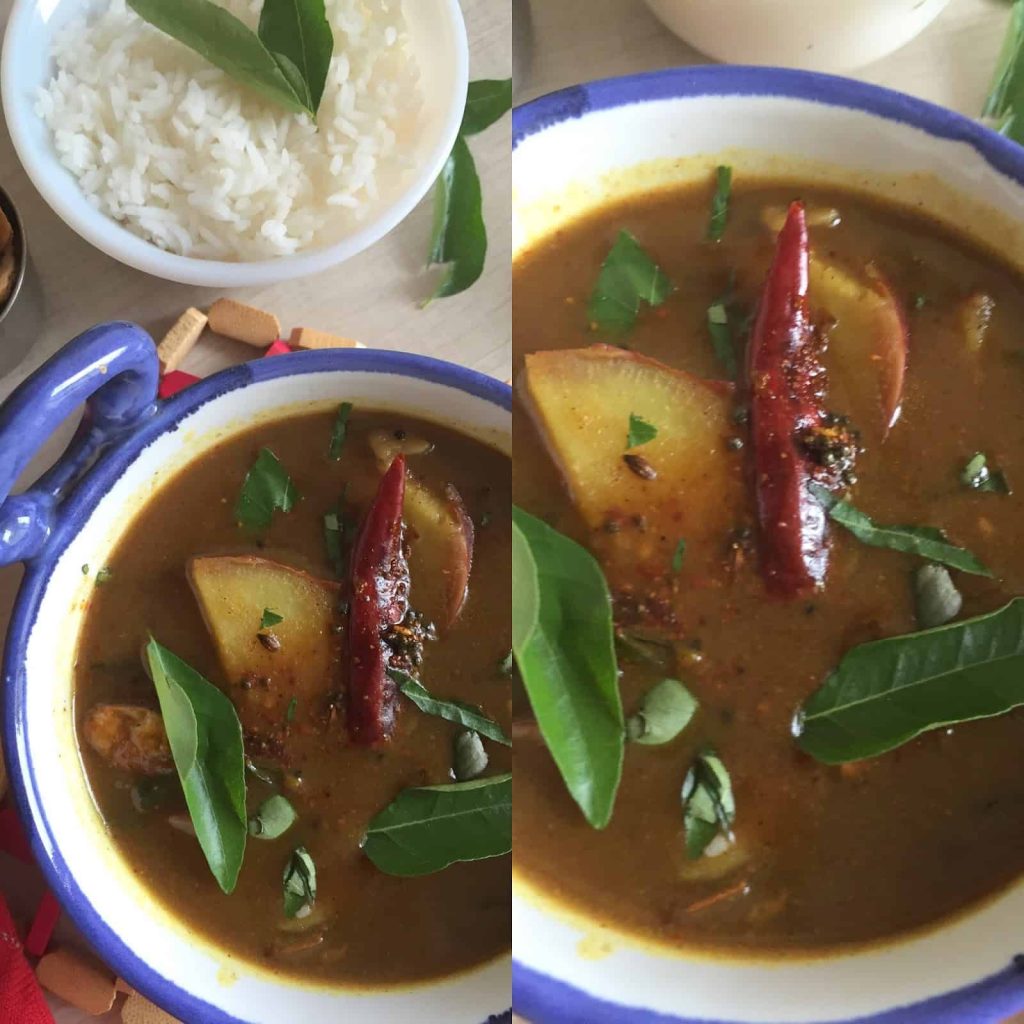 PIN FOR LATER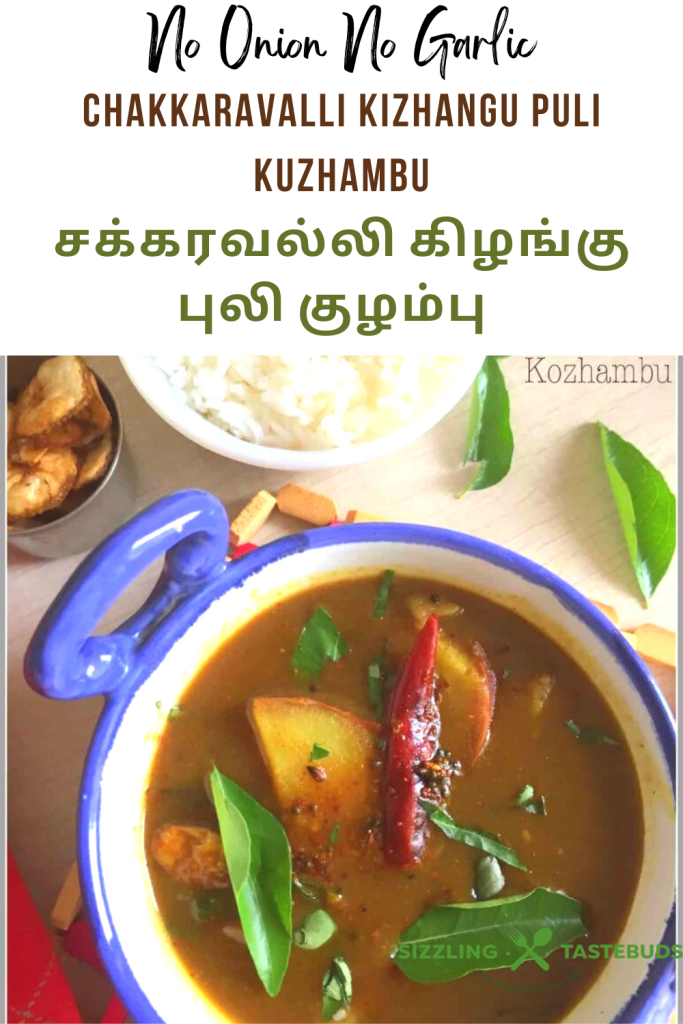 Serving Suggestions : Steamed Rice / Curd Rice / Pongal / Upma
Ingredients to make :
Sweet potato – 250 gms (1 large tuber or 2 medium)
Tamarind – 1 large lemon sized, about 40 grams
Salt – to taste
Sesame oil – 3 TBSP
Turmeric – 1/2 tsp
Sambhar powder ** – 2 tsp
Jaggery – to taste (opt.)
Tempering :
Oil (1 tsp)
Mustard seeds (1 tsp),
Broken Red chillies – 2 nos,
1 sprig curry leaves (few)
Methi seeds – 1/2 tsp
Toor dal / thuvaram paruppu – 1/2 TBSP
Asafeotida – a generous pinch (1/8 tsp) – skip for GF
** if not using readymade powder, roast 2 tsp of dry coriander seeds, 1 tsp of jeera (cumin), 3 red chillies, 1/2 tsp pepper in 1 tsp oil separately. Cool and powder and use for the above recipe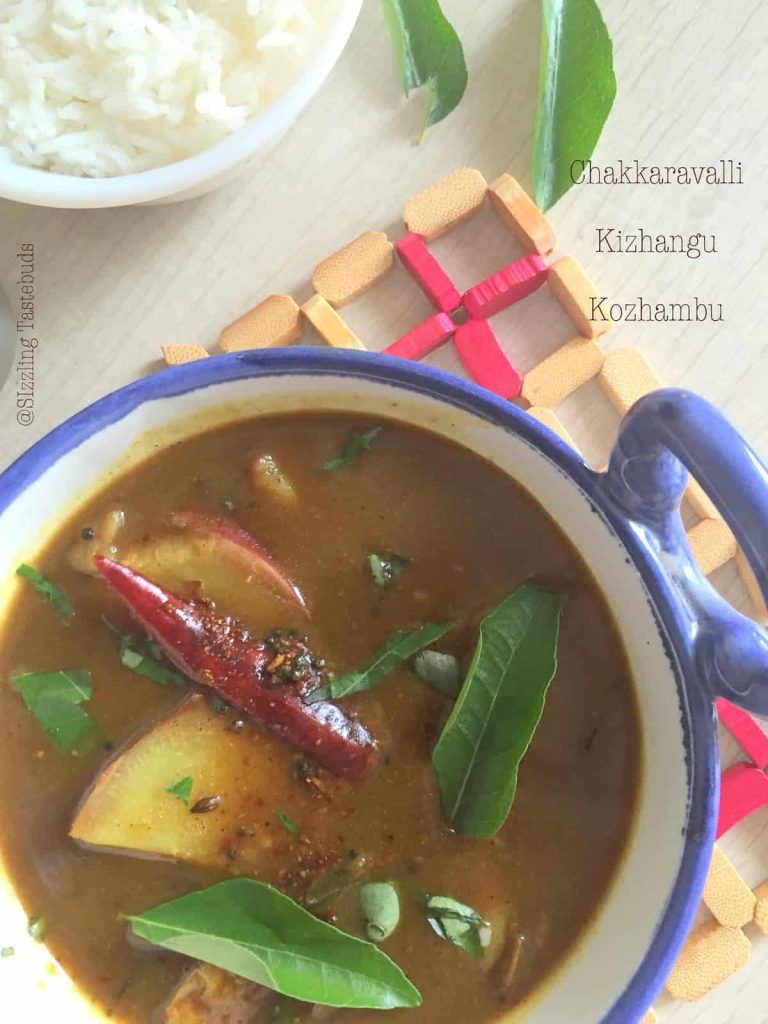 Method:
Wash, and chop Sweet potatoes into thickish roundels (any shape works fine as long as they are evenly cut).
Pressure cook for 1-2 whistles until done but not mushy (alternately, you can boil them in a large pan with lots of water and its fork tender).
Meanwhile, Soak the tamarind in 2 cups of HOT water for 15/ 20 mins and extract the pulp.
In a deep bottomed pan, heat the sesame oil, splutter the tempering ingredients on a low flame, once the toor dal slightly browns, add the spice powder and turmeric and fry for 15-20 seconds.
Now add the tamarind pulp (strained of all dirt), add the salt and let it simmer for 10-12 mins.
Then add the cooked sweet potato, jaggery and let it cook for further 1-2 mins
If at this stage, the gravy doesnt thicken, add 2 tsp of rice flour in 4 tsp of water and mix well. Add this slurry to the simmering gravy.
Let it thicken till a spoon appears glossy and oil separates.
Serve hot / warm with above suggested dishes. Tastes great especially with rice and pongal too 🙂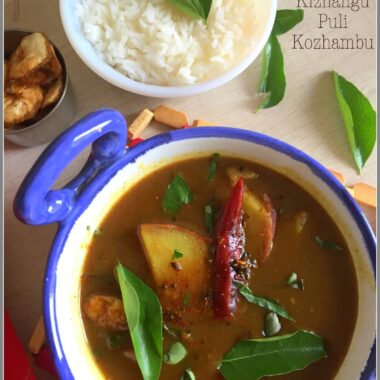 Sakkaravalli Kizhangu Puli Kozhambu | Sweet potato in tangy Gravy | Satvik Side Dishes | No onion no garlic recipe
Sakkarvalli Puli Kuzhambu is a traditional Vegan tangy-spicy curry made with Sweet Potatoes in a Tamarind sauce-served with hot rice
Ingredients
200

grams

Sweet Potato

1 large tuber or 2 medium

40

grams

Dry Tamarind

1 large lemon sized

1

tsp

salt

4

TBSP

Sesame oil

1/2

tsp

Turmeric

2

TBSP

Sambhar powder

1

tsp

Jaggery

or to taste, opt.
Tempering
1

tsp

Sesame oil

1

tsp

Mustard Seeds

2

Dry Red chilli

broken

1

sprig

Curry Leaves

1/2

tsp

fenugreek seeds

Methi/ Vendhayam

1

TBSP

split Pigeon Pea

Toor dal / thuvaram paruppu

1/4

tsp

Asafoetida

skip for GF
Instructions
Wash, and chop Sweet potatoes into thickish roundels (any shape works fine as long as they are evenly cut).

Pressure cook for 1-2 whistles until done but not mushy (alternately, you can boil them in a large pan with lots of water and its fork tender).

Meanwhile, Soak the tamarind in 2 cups of HOT water for 15/ 20 mins and extract the pulp.

In a deep bottomed pan, heat the sesame oil, splutter the tempering ingredients on a low flame, once the toor dal slightly browns, add the spice powder and turmeric and fry for 15-20 seconds.

Now add the tamarind pulp (strained of all dirt), add the salt and let it simmer for 10-12 mins.

Then add the cooked sweet potato, jaggery and let it cook for further 1-2 mins

If at this stage, the gravy doesnt thicken, add 2 tsp of rice flour in 4 tsp of water and mix well. Add this slurry to the simmering gravy.

Let it thicken till a spoon appears glossy and oil separates.

Serve hot / warm with above suggested dishes. Tastes great especially with rice and pongal too 🙂
Nutrition
Calories:
150
kcal
Carbohydrates:
14
g
Protein:
2
g
Fat:
10
g
Saturated Fat:
1
g
Polyunsaturated Fat:
4
g
Monounsaturated Fat:
4
g
Sodium:
410
mg
Potassium:
168
mg
Fiber:
2
g
Sugar:
5
g
Vitamin A:
4788
IU
Vitamin C:
8
mg
Calcium:
21
mg
Iron:
1
mg