Iced tea and some wonderful nostalgia
Iced Tea takes me back a decade ago when S (the husband) and I were engaged to be married. The tetotaller in me was totally ignorant about black Teas or for that matter, coffee, for I drink neither.
For me, the whole universe of Tea was the milky version made at home with varying strengths for my maternal grandpa and the rest of the family. Even Filter Coffee was a morning ritual that grandpa used to take charge and serve the rest of the family (yes, even grand-mom was to be woken with 'bed-coffee' :-)) My grandparents were blissfully married for over 60 years, and they spent their entire lifetime pampering each other with little good deeds throughout the day. No wedding manual for them.
Ahem! coming to my story : S suggested I have Kashmiri Kahwa (a saffron and spice induced black tea) as we talked in a coffee shop (with a bookstore to boot). Nervous about meeting someone in person and deciding whether to spend the rest of my lifetime with a person not even from Bangalore (my hometown) shook me off my guard. So the Kashmiri Kahwa was a definite no-no, as I wasn't sure about the name, or the ingredients.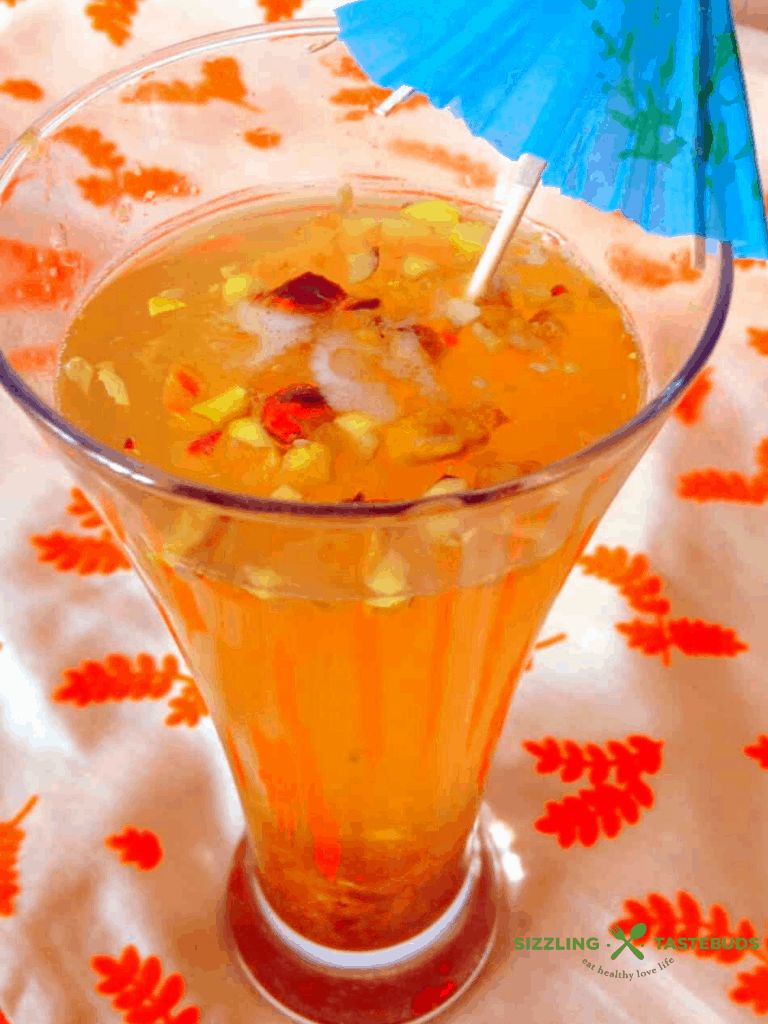 And I choose the next best comfort thing : Spiced Lassi. And spent the next hour (or couple more) sipping the icy cold Lassi in a totally air conditioned place, all the while taking no notice when S proposed we get married in a couple of months. Lol !! ????
All I knew was that the Kashmiri Kahwa that S was sipping looked and smelt delicious and I was too petrified to change my mind 🙂 That was 10 years ago (now 18 years- ago when I re-write this post) , and I have come to believe that a teetotaller like me does well to sip unsweetened Lemon Tea / Peppermint Tea(my favourite) as a comfort.
And guess what, on some lazy weekends, S does pamper my 4 pm cravings with today's post – Pistachio Rose Flavoured Tea. Guess its our way of ensuring some marital bliss without a manual 🙂
Few Summer Coolers that you may enjoy
Sugar free Saunf ka Sherbet | Sugafree Fennel Iced Cooler
Saunf ka Sherbet is a sugar free (no sugar, no jaggery) Summer cooler made with Fennel seeds and basic kitchen staples. Makes for a refreshing Summer Mocktail.
Check out this recipe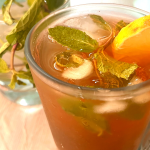 Classic Jal Jeera | Summer Coolers
Jal Jeera is a classic Indian Beverage served during summers and parties alike. Made with homemade spices and topped with ice and mint
Check out this recipe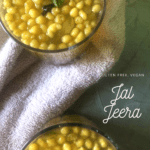 SugarFree Carrot Raisin Ginger Smoothie | Summer Coolers
A healthy smoothie with carrot and raisins, perfect as a beverage or a post workout snack too
Check out this recipe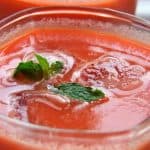 Kokum Jeera Soda | Kokum Fizz
Kokum Soda is a naturally cooling Summer Beverage which has medicinal properties to cool the body, aid digestion and help prevent inflammation.
Check out this recipe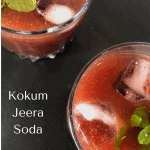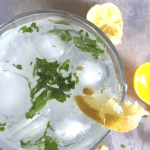 Amrud ka Panha
Amrud ka Panha or Panna is a delicious Summer beverage made with pink guava pulp and basic seasonings. Served chilled
Check out this recipe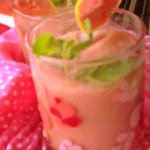 And a brief history of how Iced Tea became popular and when …
(Reproduced verbatim from the source)
1800's – English and American cookbooks shows us that tea has been served cold at least since the early nineteenth century, when cold green tea punches, that were heavily spiked with liquor, were popularized. The oldest recipes in print are made with green tea and not black tea and were called punches. The tea punches went by names such as Regent's Punch, named after George IV, the English prince regent between 1811 until 1820, and king from 1820 to 1830.

By the middle of the nineteenth century, American versions of this punch begin to acquire regional and even patriotic names, such as Charleston's St. Cecilia Punch (named for the musical society whose annual ball it graced), and Savannah's potent version, Chatham Artillery Punch.

Iced tea's popularity parallels the development of refrigeration: The ice house, the icebox (refrigerator), and the commercial manufacture of pure ice, which were in place by the middle of the nineteenth century. The term "refrigerator" was used for the first patented ice box in 1803 and were common in the mid 19th century in the United States. (Source – Iced Tea History)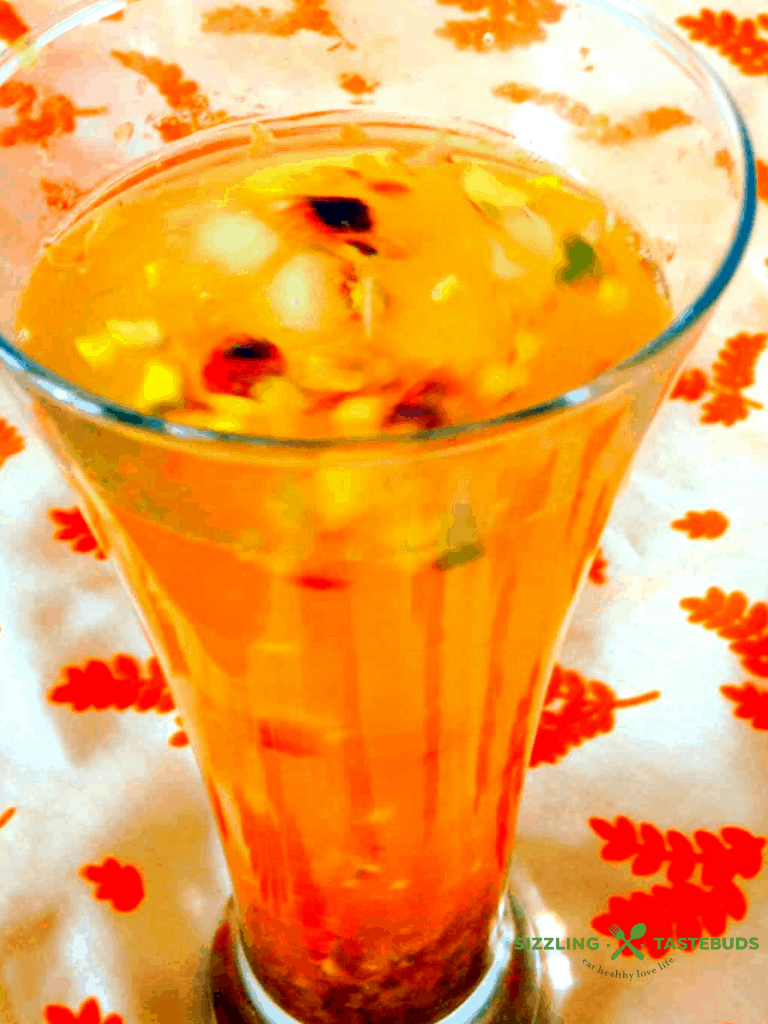 Its a super simple recipe, and I have basically converted it to an Iced Tea version to beat the summer heat thats
already upon us. The hot version tastes equally nice.I have sweetened this tea with Gulkand (rose petals preserve), but feel free to add more sugar if you wish 🙂
Prep time : 10 mins | Steeping time : 2 – 3 mins | Serves : 2
Difficulty level : Super Easy
Ingredients:
2 sachets Assam Black Tea (or 2 tsp if using loose tea)
2 cups Hot water
1 tsp Gulkand (Rose preserve)
2 tsp Pistachios (blanched and slivered)
2 cloves
1/2 inch cinnamon
1 Cardamom
1 tsp Sugar – (optional)
1 pinch Saffron Strands
6 Ice cubes
PIN FOR LATER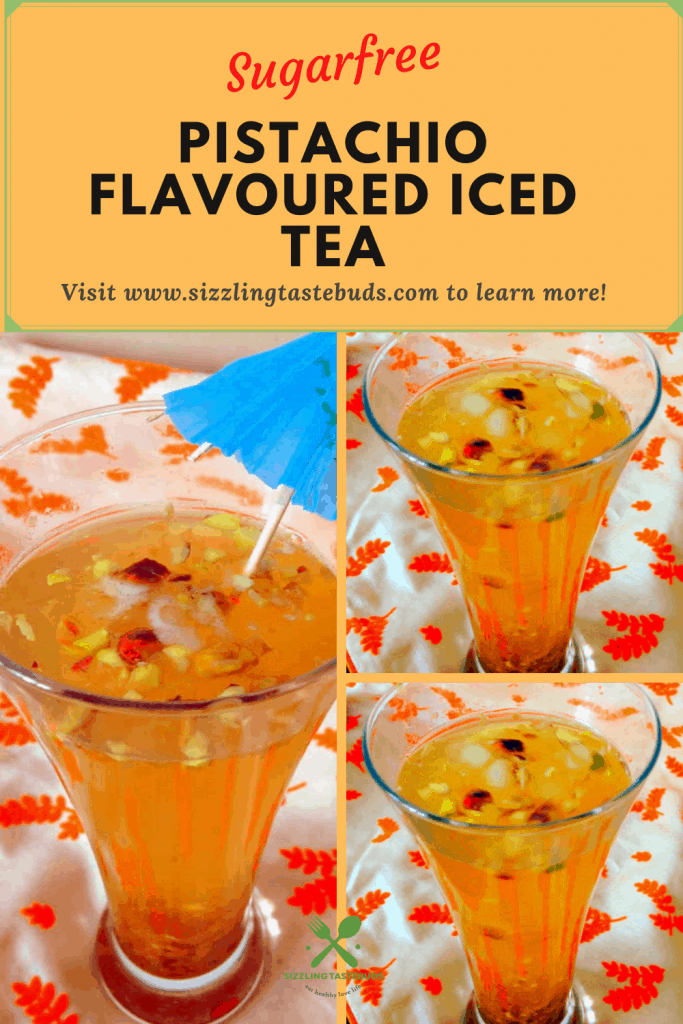 Method:
Freeze the serving glasses in the refrigerator for 10 mins. It works wonderfully well for any cold beverage you wish to serve.
Tie the whole spices and the tea in a small muslin cloth.
Bring the water to a rolling boil. Add the muslin cloth to the boiling water.
Let the tea bags and the spice bag steep for 4- 5 mins.
(If using loose tea leaves, boil the leaves along with spice mix for 4 – 5 mins)
Strain into a bowl. Add the gulkand and extra sugar if using. Mix in half the pistachios and stir well.
Pour into the frozen glasses. Tip in few more cubes if required. Top with the remaining pistachios and saffron.
Serve chilled immediately. Enjoy 😉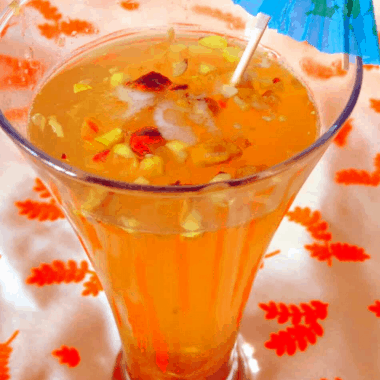 Pistachio Flavoured Iced Tea
A delicious Iced Tea with a sugar-free option, perfect for parties or to sip on a hot summer day
Ingredients
2

sachet

Black Tea

Assam Tea / 2 tsp if using loose tea

2

cups

Hot water

1

tsp

Gulkand

Rose preserve

2

tsp

Pistachios

blanched and slivered

2

cloves

1/2

inch

Cinnamon

1

Cardamom

1

tsp

sugar

optional

1

pinch

Saffron Strands

6

Ice Cubes
Instructions
Freeze the serving glasses in the refrigerator for 10 mins. It works wonderfully well for any cold beverage you wish to serve.

Tie the whole spices and the tea in a small muslin cloth.

Bring the water to a rolling boil. Add the muslin cloth to the boiling water.

Let the tea bags and the spice bag steep for 4- 5 mins.

(If using loose tea leaves, boil the leaves along with spice mix for 4 – 5 mins)

Strain into a bowl. Add the gulkand and extra sugar if using. Mix in half the pistachios and stir well.

Pour into the frozen glasses. Tip in few more cubes if required. Top with the remaining pistachios and saffron.

Serve chilled immediately. Enjoy 😉