The global Skin care market is poised to rise from USD 135 billon to $180 billion as per this link, and the market only seems more and more flooded with quick-acting skin care products.
So, what are these statistics doing on a food blog, you may ask. Well, as much as synthetic and chemical products are ruling the roost for skin care at upmarket supermarkets, beauty lounges and parlours, we have a plethora of natural ingredients , mostly homegrown, to take care of our skin and heal from within.
Honey, Turmeric, malai (milk cream), curd, rose water, Kasturi Manjal (wild turmeric), Sandalwood etc are proven skin embellishers over hundreds of years. Mythology also has it that princesses and queens alike took bath in scented baths and had elaborate massages to keep their skin glowing. However, the key to blemish free skin is being healthy from within which can be done by keeping the colon and liver toxic free. The dish today is a step in that direction.
Today, we look at a natural smoothie made with natural ingredients. As a family, we can't live without hot breakfast (idli / dosa / pongal/ upma/poha) , but we have made a conscious effort to introduce vegan and gluten free smoothies such as these at breaky time (consumed 10~15 mins before breakfast) so the carbs consumption comes down.
These smoothies are great for after workout too but works best on an empty stomach.  Let's get to make Sugarfree Vegan and GF Papaya Ginger Apple smoothie. The ginger clears the toxins in the body, papaya is great for blemish free skin as it removes to reduce liver toxins and apple binds them all while providing a mild sweetness to this smoothie.  If you are like us, and want to use Papaya in its natural form, why not try this delicious Homemade Papaya Ginger Jam with absolutely no preservatives.!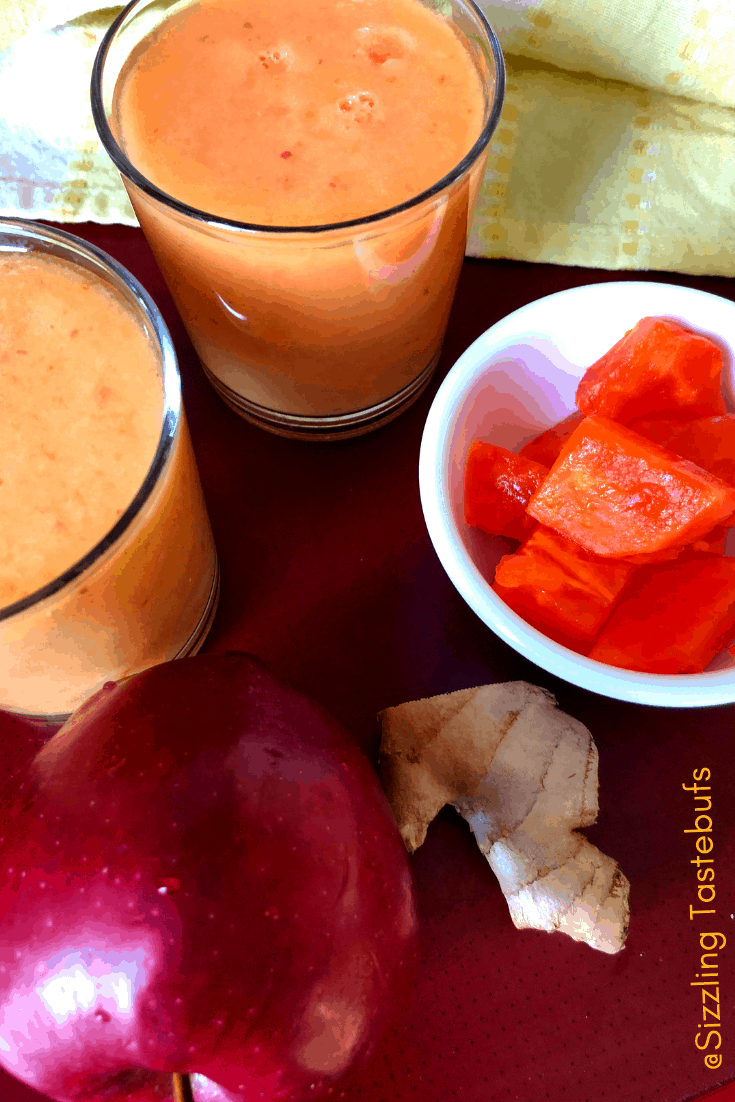 Prep time – 5 mins, zero cook, Serves -2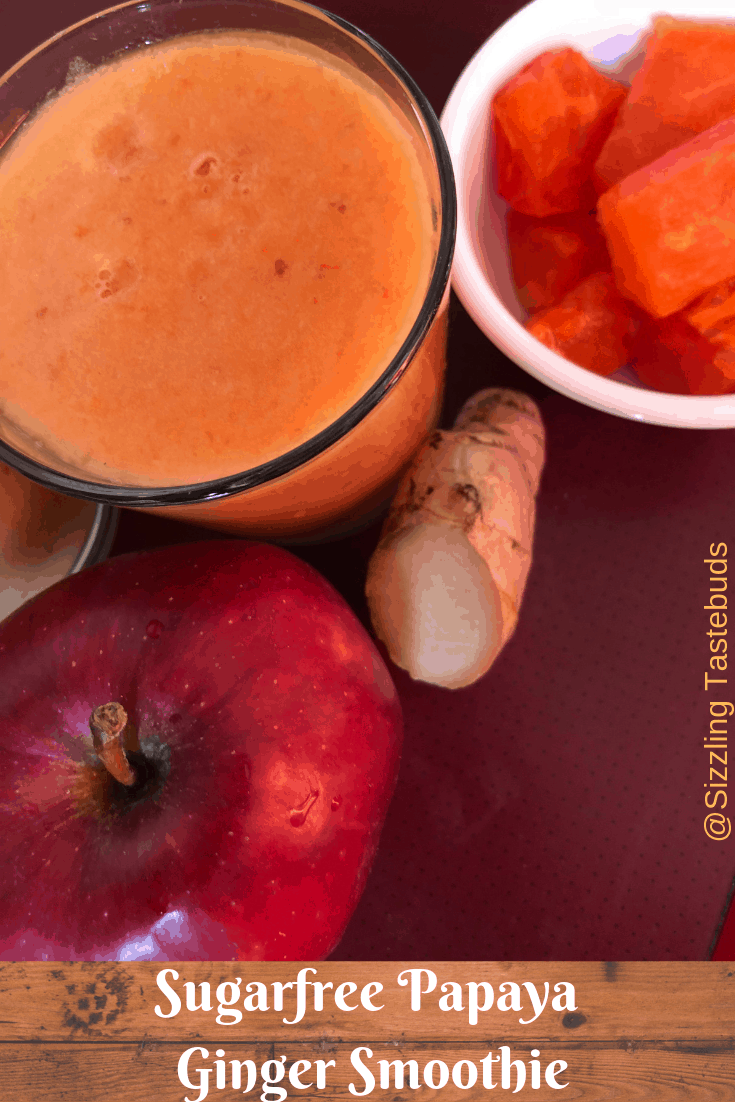 You would need:
Chilled papaya – 2 cups (240 ml)
Cubed apples – 1/2 cup
Ginger – 1 inch
Ice cubes – as required.
Lemon juice – add to taste
How to:
Blitz all the ingredients except the lemon juice. Don't strain. Add the lemon juice and serve immediately.
PIN FOR LATER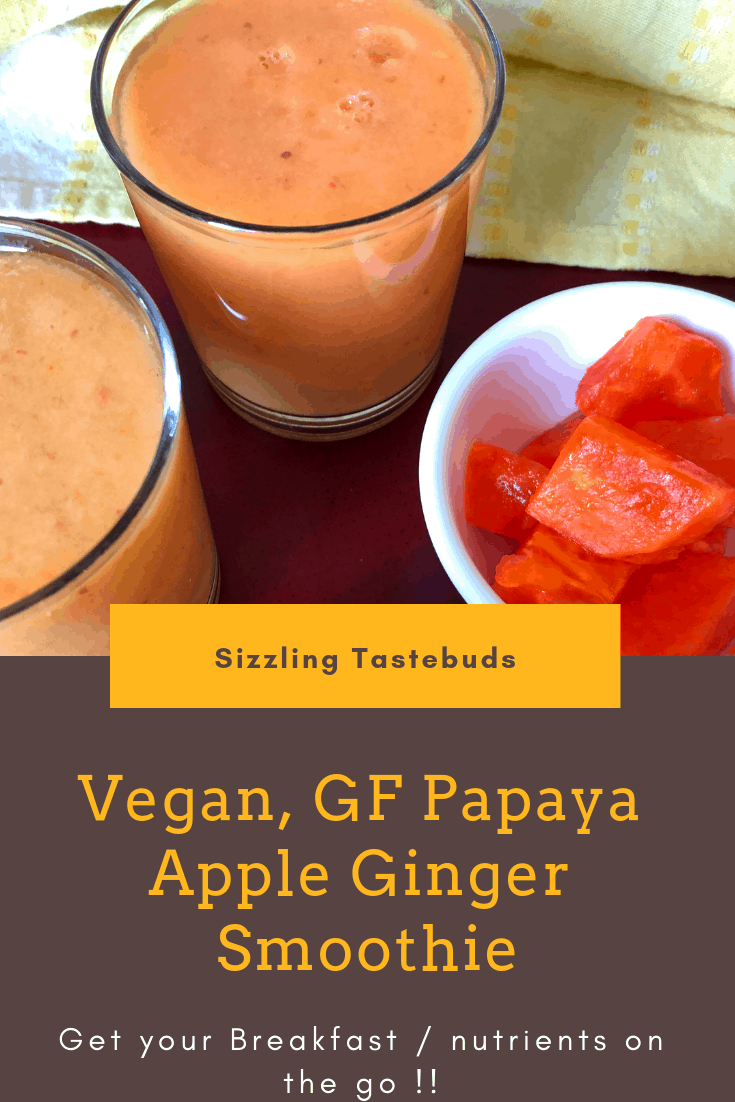 Notes:
As with most other smoothies I have seen on the blogosphere and otherwise, I don't add ANY dairy (milk or curd) to the smoothies.
I prefer Sugarfree smoothies and don't add any sugar. One may add stevia or any plant based sugars to sweeten them or add honey if one is not vegan
don't strain any smoothie as the fibre would be lost
if serving to kids add a tsp of sugar,but my kids appreciate the sugar free versions, naturally sweetened by the fruits themselves !