Pizza is one of the most sought after take-away / home delivery options for a busy weekend night. The kids absolutely love it . Although the younger one is very partial to Penne Arrabiata, the elder would love to have pizza everyday! Guess its the age we live in, so this is one pizza that both girls love to order out, with the younger one simply picking out the paneer pieces to gobble them up 🙂
So, if you are a pizza lover or have someone at home who loves pizza, jazz up your everyday pizza with this fusion version. You wont be disappointed with the flavours 🙂 
I used the homemade wholewheat base here, but you can use any base that you use or get even storebought base to just top it and bake.
More Pizza ideas here:
Mini Quick Pizzas
Grilled Methi Bhakri Pizza Bites
Broccoli Pepper Corn Pizza
Wholewheat Margharita Pizza
Herby Cheese Pizza
Wholewheat Cheese Pizza
Corn and Spinach Pide (Turkish Pizza)
Dominos Style Garlic Bread Sticks
Wholewheat Thin crust Corn Cheese Pizza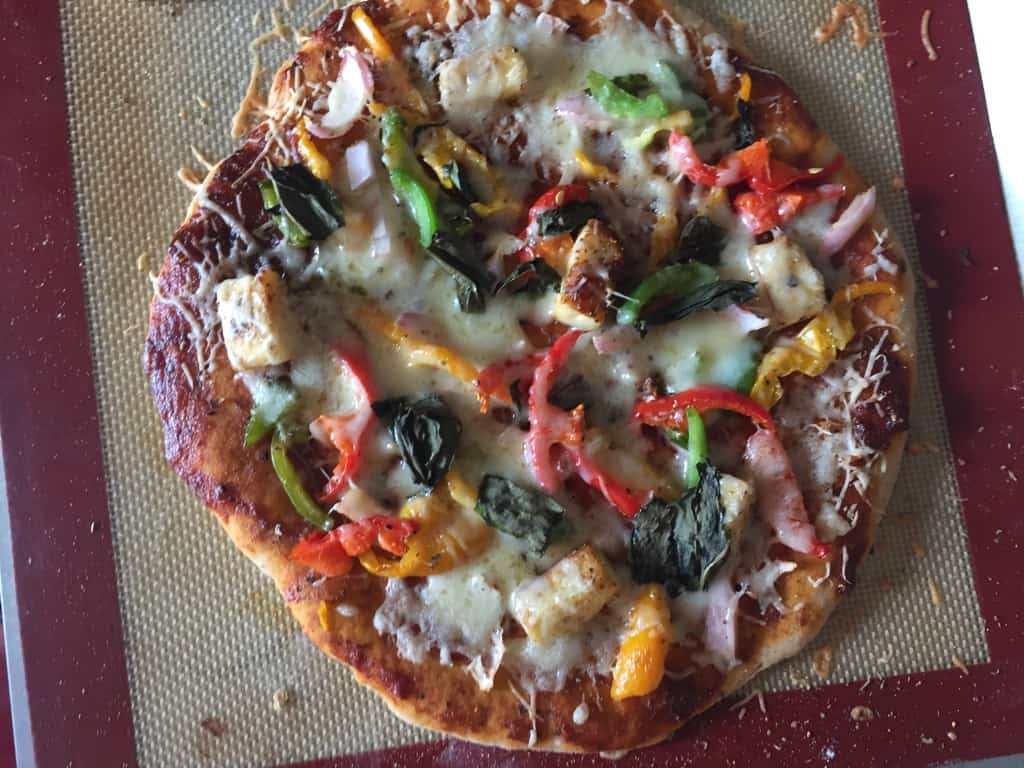 Pin

Prep time : 1 hour+ 45 mins,  Bakign time : 20 mins ; Makes :2 medium sized pizzas

you would need:

1 portion Wholewheat Pizza base – about 400 gms of proven dough


Topping:
Cheese (I used Mozarella) – 1/2 cup
Red chilli flakes – 1/2 tsp
Baked Paneer – 1/2 cup (see recipe below)
Bell pepper – 1/2 no – chopped
Onions – 1 medium – sliced (opt.)
Crushed black pepper – 1/4 tsp
Salt and pizza seasoning – to taste
Olive Oil – 1 TBSP

basil leaves – few

Marination: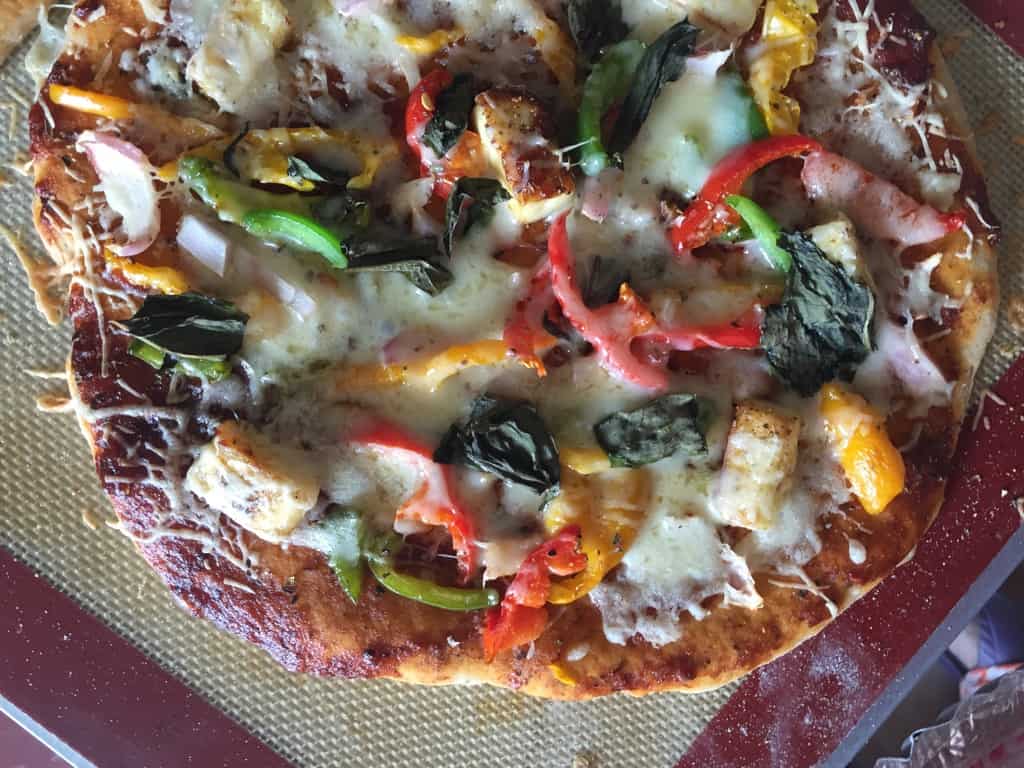 Pin
Cube the paneer, add 2 TBSP Curd, 1 tsp red chilli powder, 1/2 tsp garam masala powder, a dash of crushed kasuri methi, 1 tsp of lime juice. Mix well, marinate for 45 mins in the fridge, bake for 8 mins at 200C till golden brown, keep aside. 

Method:Once the pizza dough has risen, pre heat oven to 200 C.
Punch the dough slightly and roll into an oblong or round thin crust disc 
On a layered baking tray, place the rolled out dough, brush with olive oil.
Arrange the baked paneer, peppers, onions and sprinkle some salt. Bake for 10 mins
Now top with shredded cheese , basil and bake again for 7-8 mins or till cheese melts
Sprinkle pizza seasoning, crushed black pepper ,and chilly flakes and serve immediately.
Sending this to BM#81 under Takeaway recipes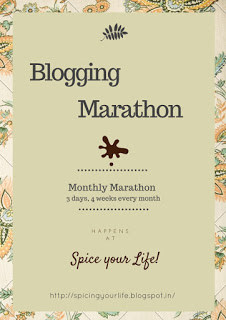 Pin