At the outset : Long Post Alert !!
And rightfully too. If this is to be a tribute to that wonderful lady – my maternal grand mom with whom I have very fond memories : A gutsy lady who was so much ahead of her times, and fed people amazing food , lovingly too, no matter what time of the day.
If I may say so, she was the Raymond Blanc of her all time 🙂
Back from, and prior to school, sis and me used to spend all our time with our grandparents ; and while there was never a harsh word spoken, love-dipped discipline was the key : be it to rinse clean the school lunch box no matter how old one was (no child labour here!! :D)., keep the house spic and span, finish homework before heading out to play, be back home at the stroke of 7pm for the evening prayers and shlokas (hymns) recitals for half an hour, while she taught us so many songs as she was multi tasking in the kitchen preparing the evening dinner.
Pin
One had to learn by watching her cook : no cups or ladles were used for measurement : her fist and fingers were more precise than a weighing scales, and once the dish was made, all she would give out was tips to create them the perfect way. She made sure we helped her cook doing some hands-on jobs like chopping the cucumbers perfectly thin sliced for the Kosambari, the coconut grated without any brown scales for the dishes, how to watch the homemade butter turn into golden ghee, sun dry and only then dry roast the spices for the various home made spice powders / condiments / Sweetmeats, especially the hallmark dishes like Chutneypudi , Thengai Barfi (Coconut Sugar fudge), Kothamalli Thokku and which were always in demand with visiting guests (of whom we had aplenty, through the year).
Her making Ellu Bella (a sesame based trail mix) & obbattu (Poli) especially on the festive days, with Amma (mom) is completely etched in my mind.
Her cooking knew no bounds, and I remember way back in the 80s she even attempted making puff pastry at home, coz she wasn't a fan of bakery stuff, but was keen to learn how to re-create outside food stuff at home, healthily.
Nostalgia strikes :))
Truth be told : I cooked today's dish for the first time after Paati (grandmom) passed away in 2012, till then I had a vague idea of how this dish tasted, for I wasn't much of a fan when she used to make it.
Without refrigerators in her time, she devised ways of keeping this dish fresh in multiple water cooled containers so it tasted better the next day (it still does!!)
So, Urundai Kuzhambu a.k.a Paruppu Urundai Kuzhambu it is for Journey Through the Cuisines (JTTC) as we enter the last week today.
It has a relatively long prep and cook time, but totally worth the time.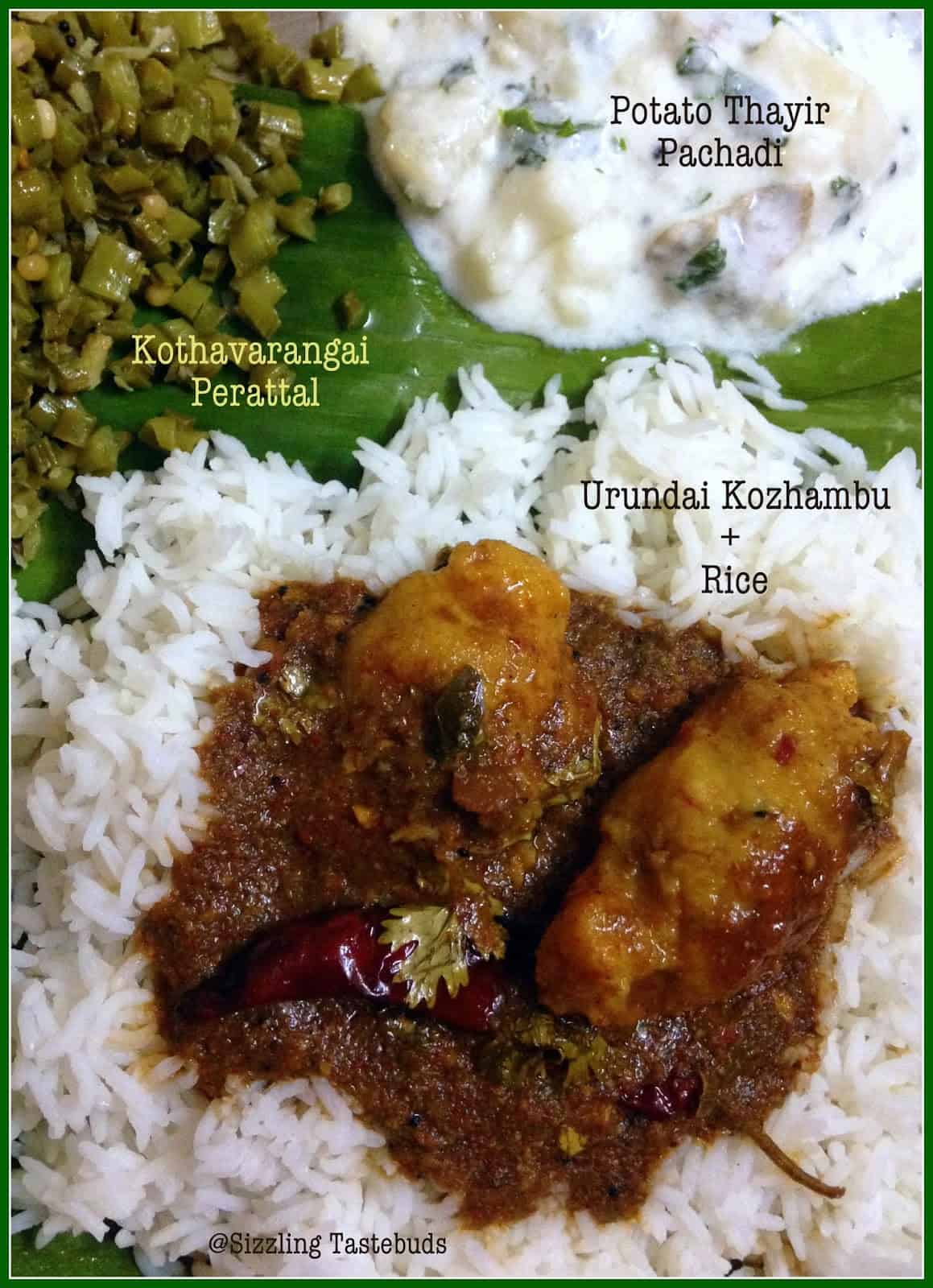 Pin
Prep time : 20 mins ; Cook time : 30 mins ; Serves : 6
Paruppu Urundai Kuzhambu – Steamed spicy Lentil dumplings in spicy tangy tamarind sauce
Vegan, can be made GF if needed
Side dish for steamed rice
Served here with Cluster beans stir fry (kothavarangai poriyal) , steamed rice, Potato raita (Urulaikizhangu Thayir Pachadi), Quick Amla pickle.
Ingredients:
For the Urundai (dumplings):
Toor dal / Thuvaram Paruppu / split pigeon pea -1 cup (1 cup = 200 ml)
Salt – to taste
Rice flour – 2 tsp (opt.)
Coriander leaves – few – finely chopped
Turmeric – 1/2 tsp
Red chillies – 6 nos
Oil – 3 tsp
Kuzhambu / Gravy:
Oil – 2 TBSP
Methi / fenugreek seeds – 1/4 tsp
Turmeric – 1/4 tsp
Tamarind – 1 big roundel (about 30/35 gms)
Hot water – 2.5 cups
Sambhar Powder – 2 TBSP
Salt – to taste
Jaggery – 1 TBSP
Rice flour – for thickening – 2 tsp
Tempering:
Sesame oil – 4 TBSP (dont scrimp)
Red chillies – 2 nos (broken)
Asafoetida – 1/4 tsp (skip for GF version)
Curry leaves – few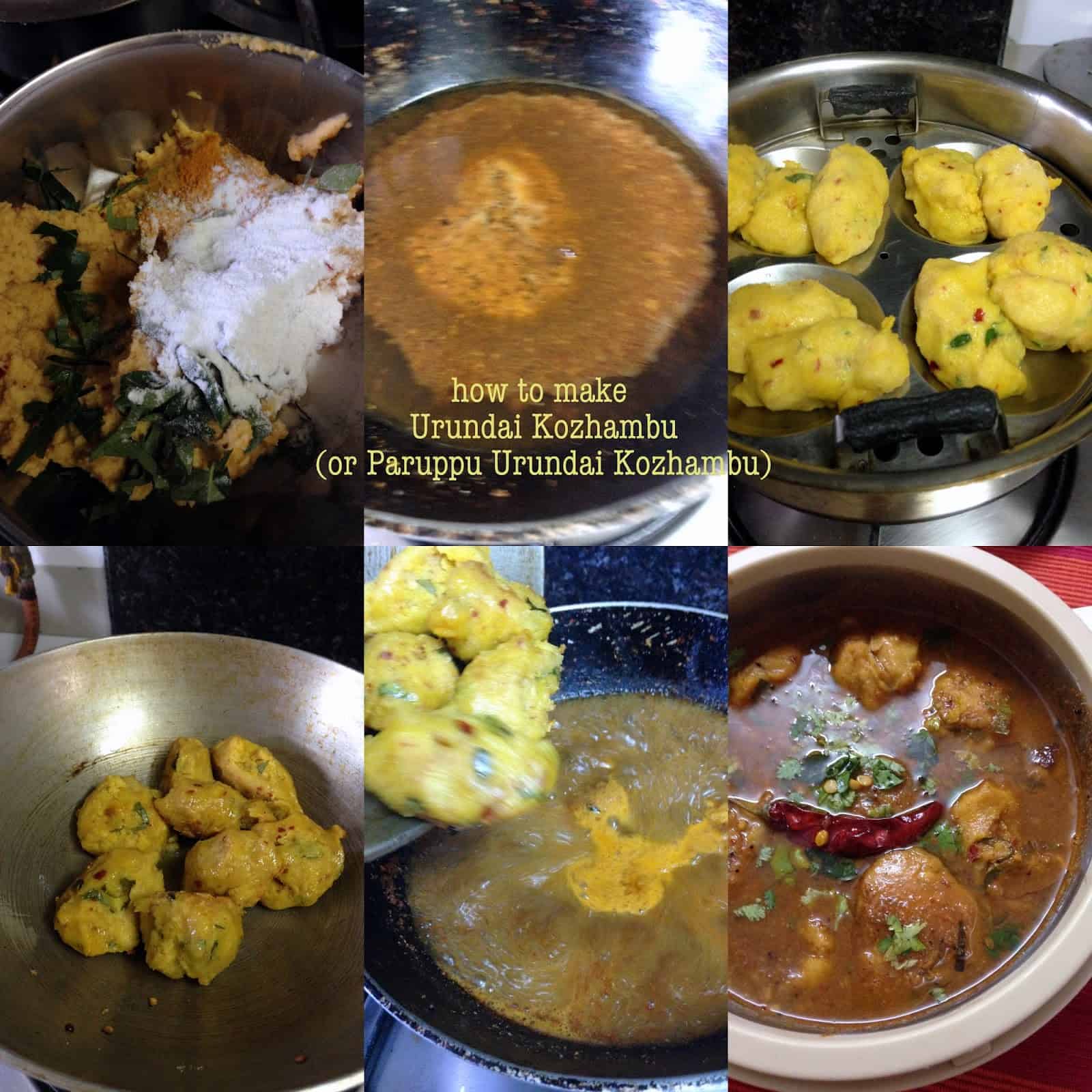 Pin
Method:
Pre-Preps :
1) Soak toor dal with the red chillies in hot water,kept covered for 30-45 mins.
2) Soak Tamarind in hot water for 20-25 mins, Extract pulp after draining seeds / impurities if any. Keep aside.
For the Urundai :
Drain water from soaked dal, Grind to a very smooth paste, add salt, rice flour, turmeric, coriander leaves and mix well. Make them into dumplings with wet hands, steam in a idli steamer / cooker without whistle for a good 15-17 mins. Cool and lightly saute them in 2 tsp of oil for 1 -2 mins and keep aside.
Kuzhambu / Gravy:
While the dumplings are steaming, prepare the kuzhambu : In a pan, heat 2 TBSP oil, add methi seeds , let it brown a bit , add sambhar powder, tamarind pulp and hot water, let it come to a rolling boil. Once the tamarind cooks, and the oil starts to leave the sides, Make a paste of rice flour in 4 tsp of water and add to the gravy, cook for further 5-6 till the gravy thickens. Now add the jaggery, steamed dumplings / Urundai and let it simmer for 3-4 mins more till it absorbs the flavours.
Tempering:
Once the kuzhambu is cooked, make a tempering with the ingredients and pour over the kuzhambu , rest the dish for atleast an hour before serving. It tastes better after a few hours.
Keeps under refrigeration for upto 4-5 days.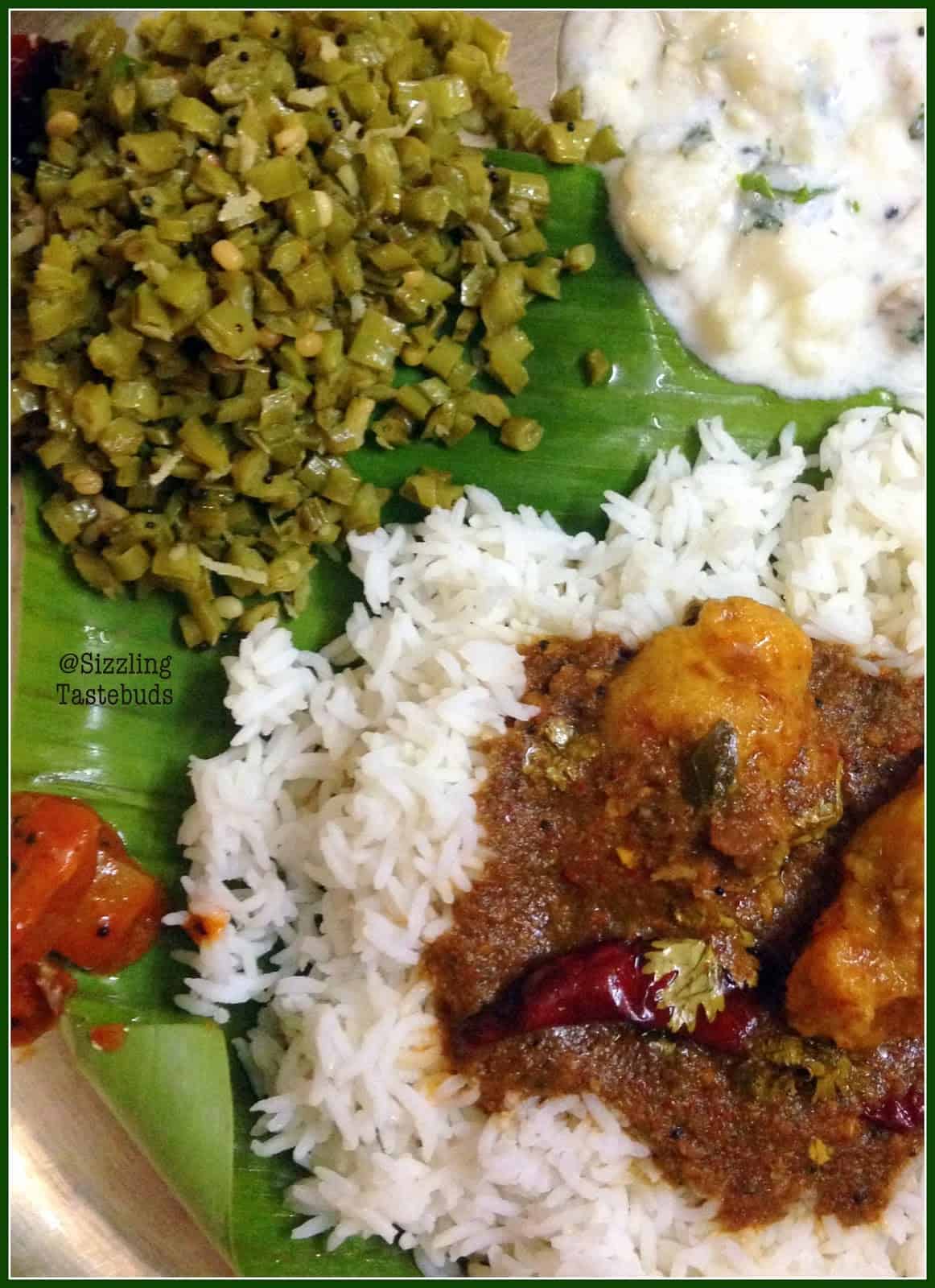 Pin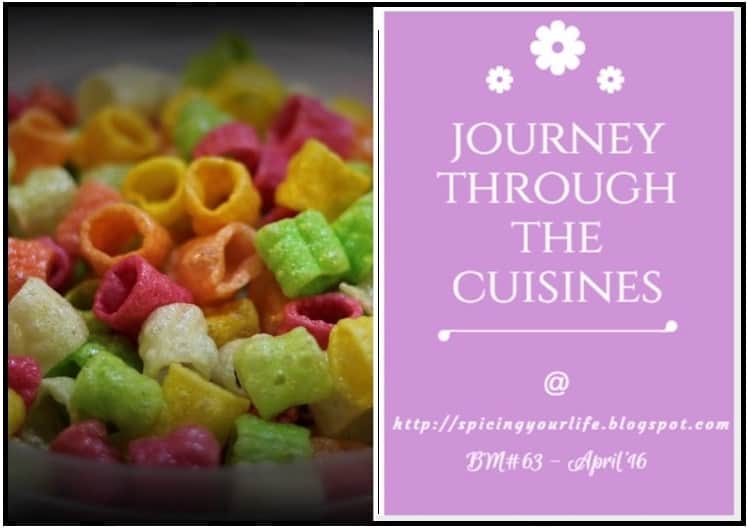 Pin
Check out the Blogging Marathon page for the other Blogging Marathoners doing BM# 63