Kids do teach you a thing or two about life. Last week,while surfing channels on television in what was a rare "I-me" moment,I came across a Tamil Cookery show that showed this easy way to make wraps and rolls for kids. My daughter who had been deprived of her daily quota of Chota Bheem (a popular kids show) remarked "You just watch these things, never make it." Although she had mentioned this earlier in the past, her steely determined eyes said she was serious this time. And what better way to prove "Actions are better than words" than to make these yummyPanner Tikka Frankiefor her lunch – she was speechless as Paneer is truly her favourite, in any form !!
So, both the battle and the war won.Happy faces ensure happy moms, don't they?JYou can play around with the filling for this and also use Maida / APF (which I didn't) for the outer covering. Makes for a healthy, filling snack and a great option for lunchboxes too. Who said healthy can't be tasty ?
A tad late for the BM # 18 day 3, but this dish goes under "Stuffed Dishes". The last 2 days saw me dishing out –Mooli-Paneer Paratha & Grilled Sandwich with Oven roasted tomatoes. Off to the recipe now.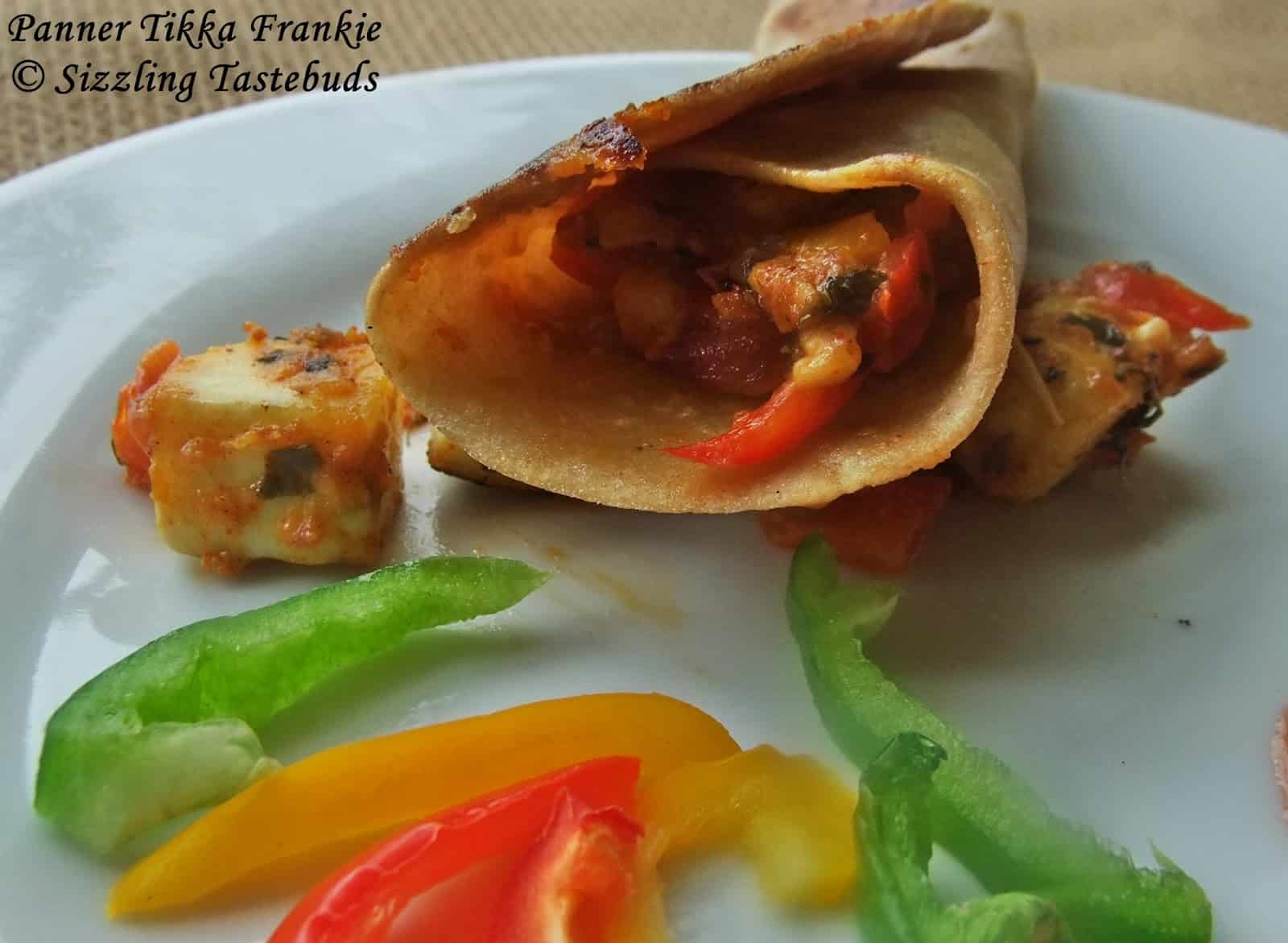 Pin
—————————————————————————-
Prep time – 15 mins + Marinade time – 10 mins
Cook time – 15 mins
Serves – 2
Difficulty level – Medium
—————————————————————————-
Ingredients:
For the covering:
Wholewheat flour – 1 cup
Ghee / clarified butter – ½ tsp
Salt – a pinch
Warm water – as required
Oil – to pan roast – about 2 TBSP max
Filling:
Panner cubes – ½ cup
Besan / Gram flour – 3 TBSP
Bell pepper – ½ cup (juilennned) – I had all 3 colours so used them
Onion – ½ cup – finely minced
Olive Oil – 1 TBSP
Salt – to taste
Tomato Ketchup – 1 TBSP (optional)
Dry masala powders – each ½ tsp :
Chaat masala, Amchur, Garam Masala, Red Chilli powder, Kashmiri mirch powder
Kasuri methi (dried fenugreek leaves) – ½ TBSP – crushed
Yoghurt – 2 TBSP
Lemon juice – 1 tsp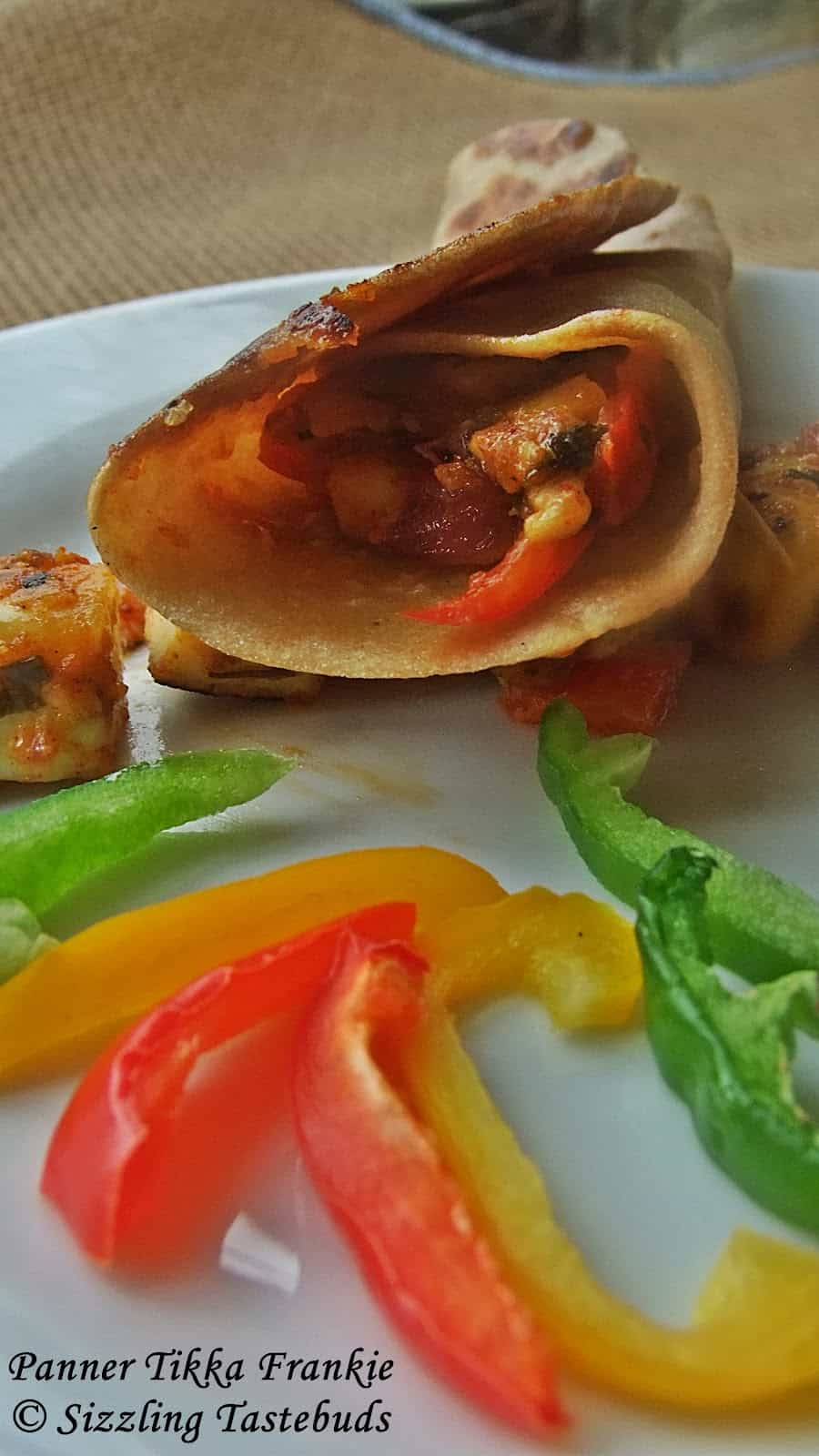 Pin
Method:
To prepare the marinade: Mix Paneer cubes, besan, salt, dry masala powders, yoghurt, kasuri methi well in a large bowl and set aside for 10 mins
For the outer covering: Make a dough of wholewheat flour, salt and ghee with warm water similar to a chapati dough. You may use Maida also or mix APF & Wholewheat if you prefer.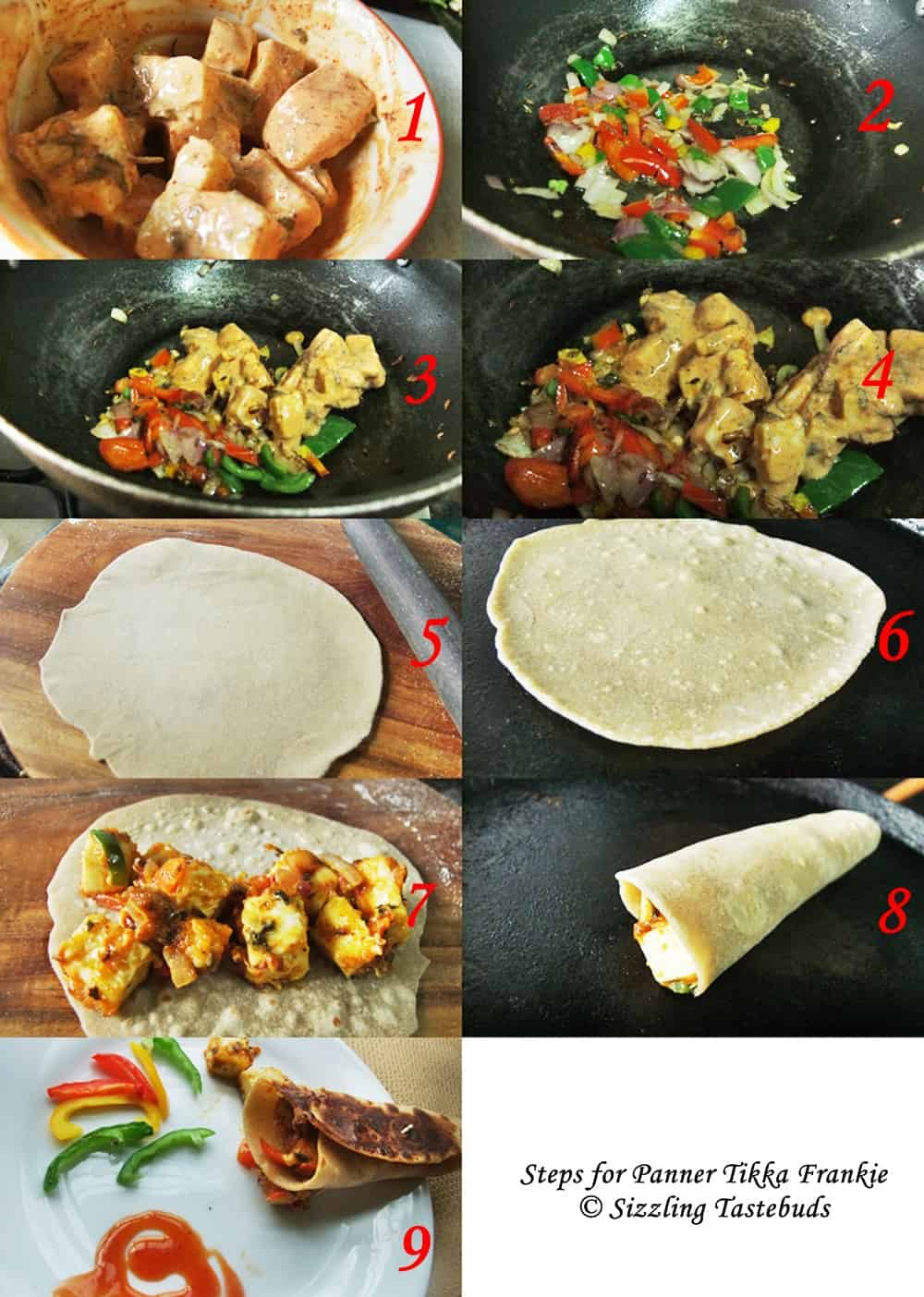 Pin

To prepare the filling: Heat olive oil in a non stick pan. Fry the onions till they turn pink. Saute the bell pepper till they are just crisp. Add salt and the marinated paneer and cook for a further 5 – 8 mins till the oil leaves the mixture and the yoghurt dries up leaving the mixture semi dry. Now add the tomato ketchup and stir for 1 more min. Turn off the flame and finish with lemon juice. The mixture should be dry but not too dry and the paneer cubes (if using frozen) need to have softened now, but not mushy or crumbly.
To assemble:
Pinch small balls of the dough. Roll out like a small chapatti. Roast on a hot tava for 20 secs only on each side withoutoil. Remove to a dry plate. Add 1 TBSP of the filling, quickly seal on both sides and put it back on the hot tava. Drizzle ¼ to ½ tsp oil and roast for further 45 – 90 secs. Flip on to a serving plate and secure with a tooth pick and serve. Repeat for rest of the dough till the filling lasts.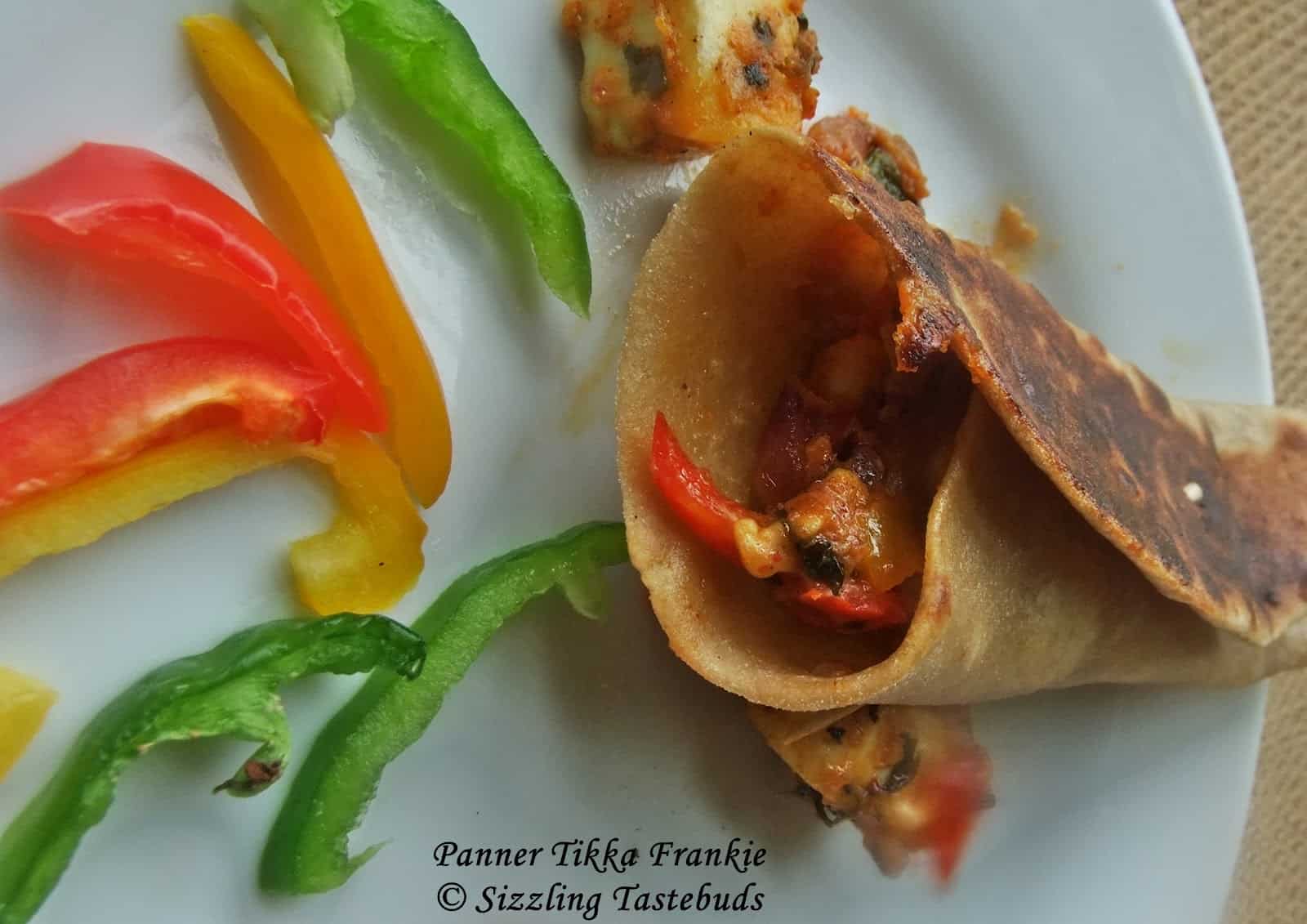 Pin