After yesterdays' Samusa Thouk recipe, today is a speciality street food again from the Eastern part of India. Its made in both Kolkata and Jharkhand with some minor variations, starting with the kind of lentil / legume being used. I read a few versions of Ghugni here, here and here.
There were some differences, but the more I read, the more it seemed to resemble Ragda Patties in most parts, except for the addition of Bhaja Moshla . I was lost in thought for a few days if I should indeed pick this, but as my to-do lists for this Cooking Carnival were assembled, hijacked and restored a million times, I thought to myself : the longer the procrastination, the higher the chance my list will change (again!)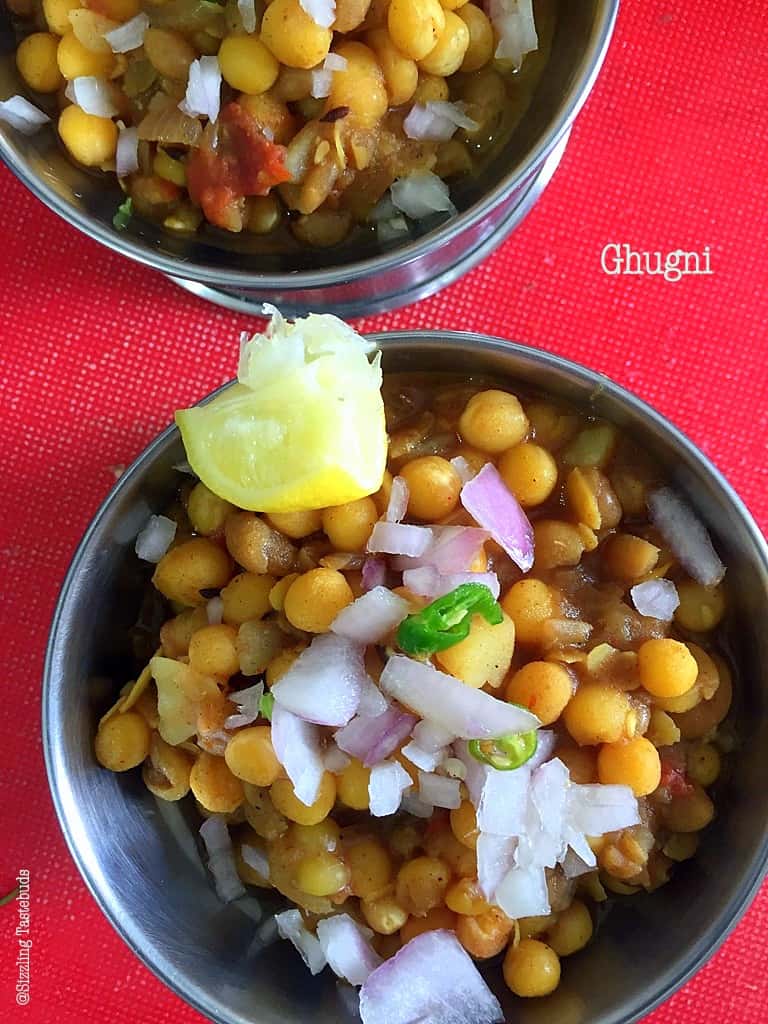 Pin
And the elder kid & the husband know me by now that I would do anything for Ragda Patties ; the rest of the family would crave for a Ghiradelli brownie or a large chunk of dark chocolate post dinner, and I would salivate for Ragda patties :p
Ahem ! I digress. Coming back, I made this over 2 days (was undecided even after I soaked the peas). But once it was cooking, there it was : ready to be made and savoured. It was a weekday off on account of a local festival, so we had this for lunch :-))
And with the leftovers the next day, made some modifications to make Dahi Ragda Chaat :-)) !
It tasted good, and Sandeepa's tips came in handy :-))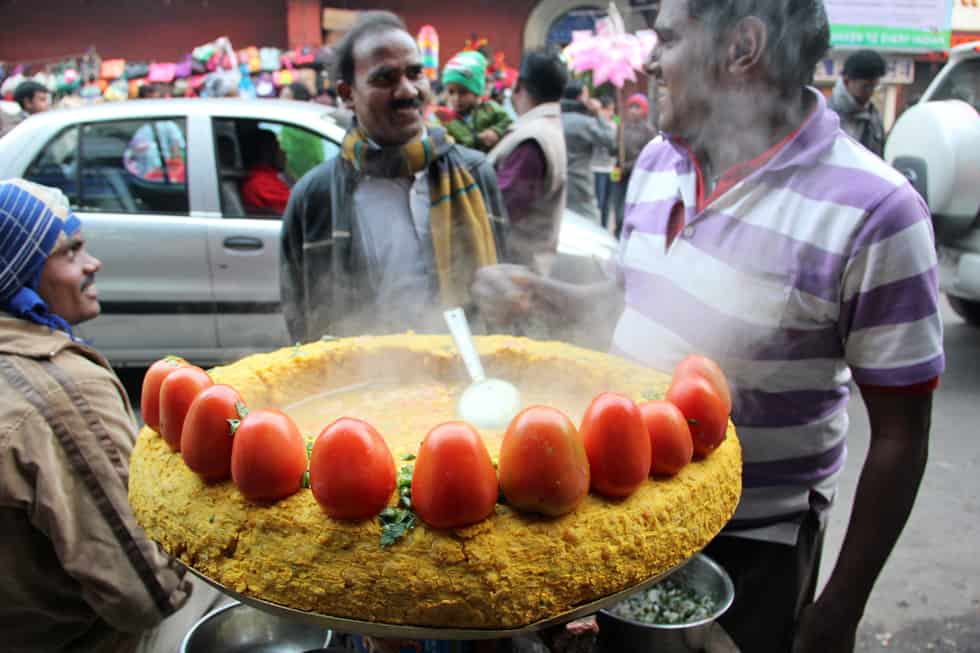 Ghugni seller in Kolkata. Photo Credit : here
Ghugni – dry white peas based street food | Vegan and GF snack


Prep time + soak time : 10 hours + ; Cook time : 30 mins ; Serves : 4-6
Ingredients:
Yellow / White dry peas – 1.25 cups (1 cup = 200 ml)
Salt – to taste
Turmeric – 1/2 tsp
Bhaja Moshla
Cumin powder – 1 TBSP
Coriander seeds – 1 TBSP
Dry red chillies – 3 to 4 (adjust spice)
Other ingredients:
garlic chopped – 1 tsp
Spice powders : Turmeric powder, Red Chilli powder, Kashmiri Mirch (1 tsp)
Green chillies – 2 nos
Onions – 2 large
Tomatoes – 1 large
Oil – 3 TBSP
Cumin seeds – 1 tsp
Tamarind Paste (thinned down) – 1/4 cup
Jaggery – 1 TBSP (opt.)
Potatoes – 1 large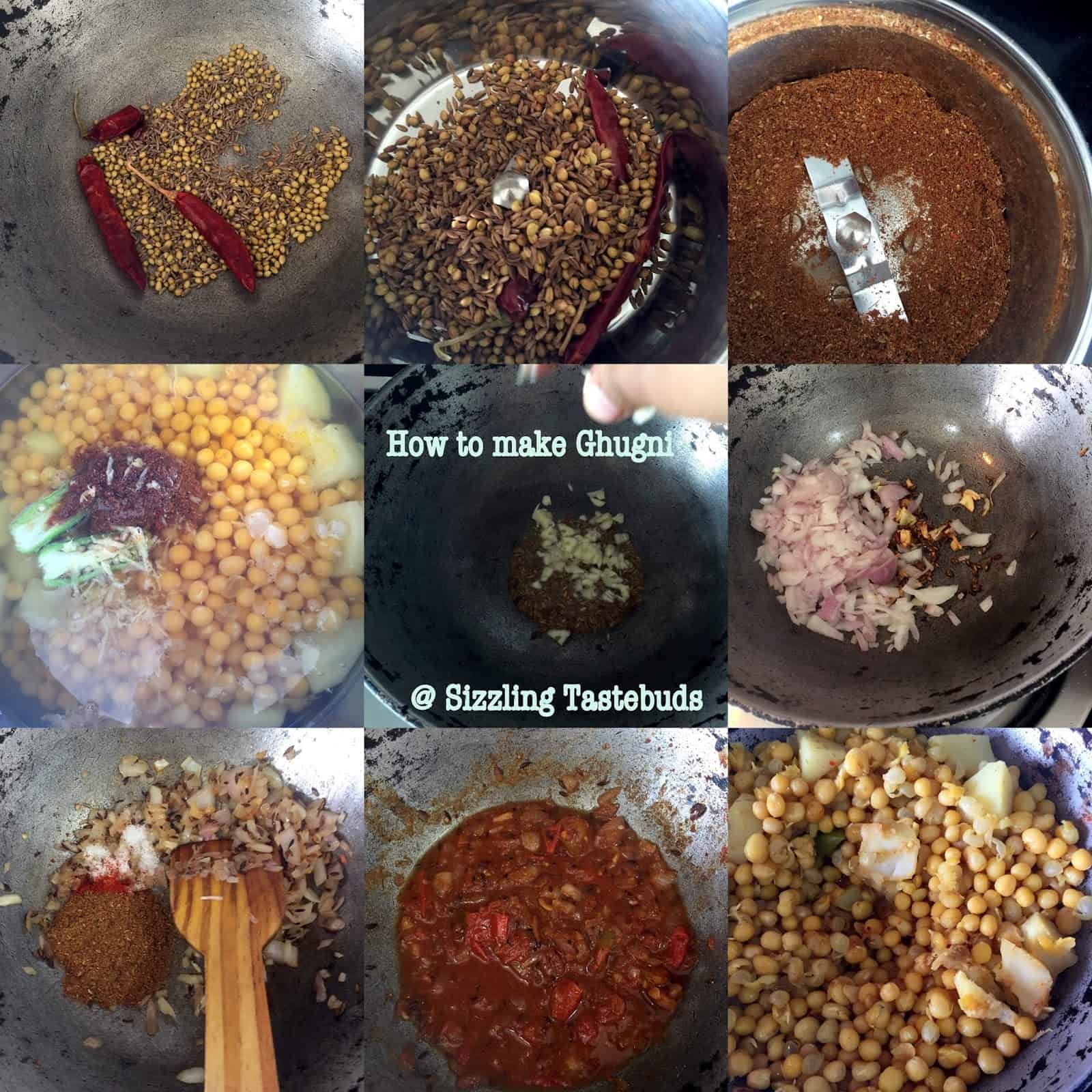 Pin


Method:
Stage (1) :
Dry roast all ingredients of Bhaja Moshla one by one, till fragrant and cool. powder it in a spice grinder and keep aside.
Stage (2) :
Soak and pressure cook the peas (aka Motor in Bengali) for 8 -10 hours (or overnight). Next day, drain all the soaked liquid, wash the peas in running water, and pressure cook it with 1 potato cubed for 4 whistles (you can also cook it in a pot, but I pressure cooked it to save time). Also add the following to the pressure cooker along with the potato : turmeric, green chillies, kashmiri chilly powder, 1 inch grated ginger, 1 tsp of the spice powder (from the stage 1 above). Cook till its done and has a bite but not overcooked. Drain all water and reserve the cooked water.
Stage(3) :
To make the ghugni, heat oil. splutter cumin seeds, add chopped onion. Fry on high heat, then add the chopped garlic, kashmiri mirch and remaining Bhaja Moshla. Now add the chopped tomatoes and saute well till the tomatoes get mushy and oil begins to leave the sides. Now add the boiled peas – potato mixture along with a little of the cooked water. Mash the potatoes a bit to get a starchy texture. Now add the salt, thinned down tamarind liquid, little jaggery and let it simmer on a low flame for 7-8 mins. Now add remaining water if required in batches.
To serve:
Take a portion of the ghugni in a bowl, add chopped onions, a dash of lime, some chopped green chillies and serve hot !!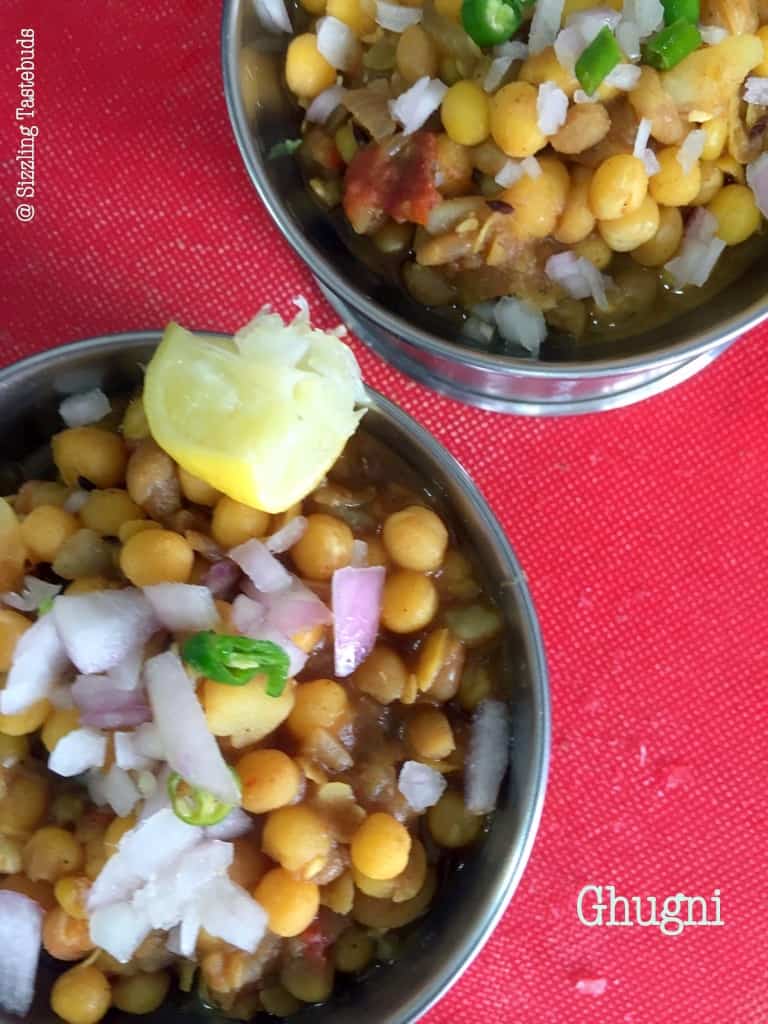 Pin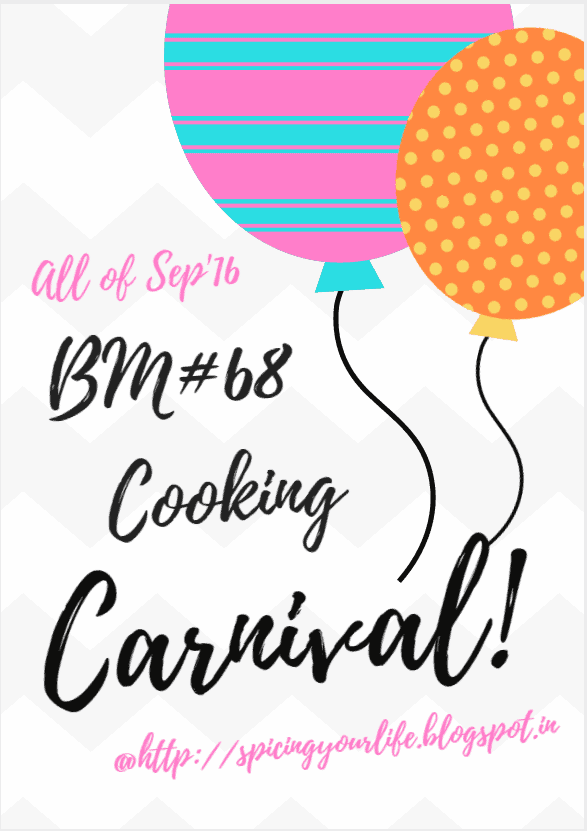 Pin
Check out the Blogging Marathon page for the other Blogging Marathoners doing BM# 68