Kalkandu Pongal is one of
the varieties of Pongal offered as Naivedyam for Pongal festivaland other major
festivals at home. In addition to this we offer Chakkarai Pongal (ver 1 and ver2), Ven Pongal, Thirukannamudhu, Akkaravadisal and Ezhu Kari kootuduring the 5 days of pongal.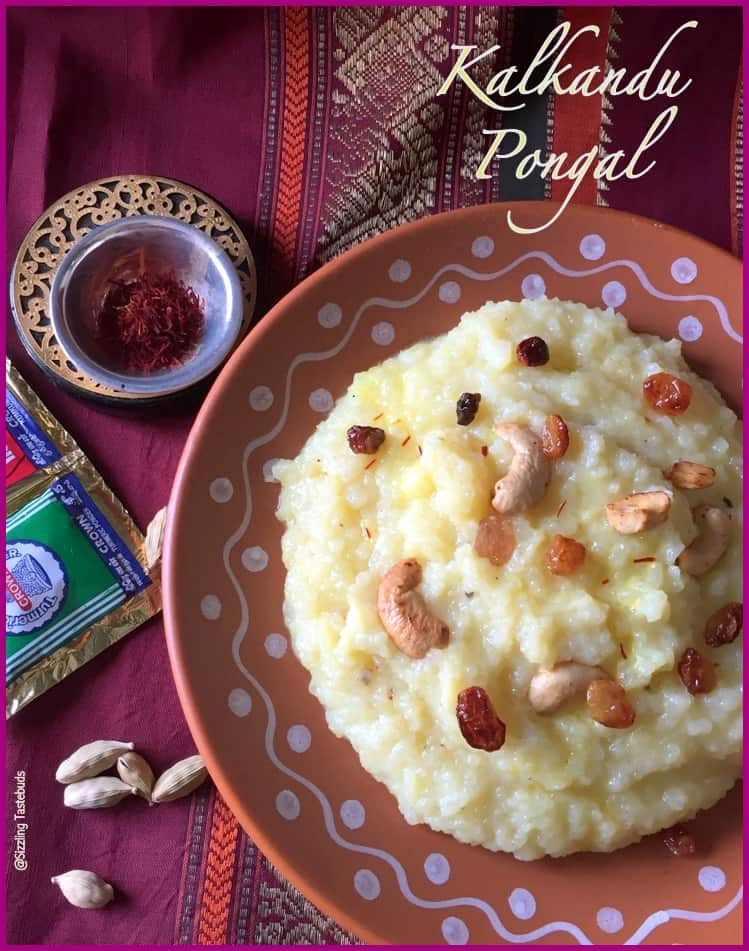 Pin

Today's version is with Kalkandu (or candy sugar aka Mishri or KhaDi Shakkar in Hindi / Marathi) and we prefer a mild
sweetness and therefore used it sparingly. You can increase the sugar
proportion accordingly. 

Sending this to Festival Recipes after yesterday's
Milagu Vadai (Anjaneyar Kovil Vadai)as part of BM 60.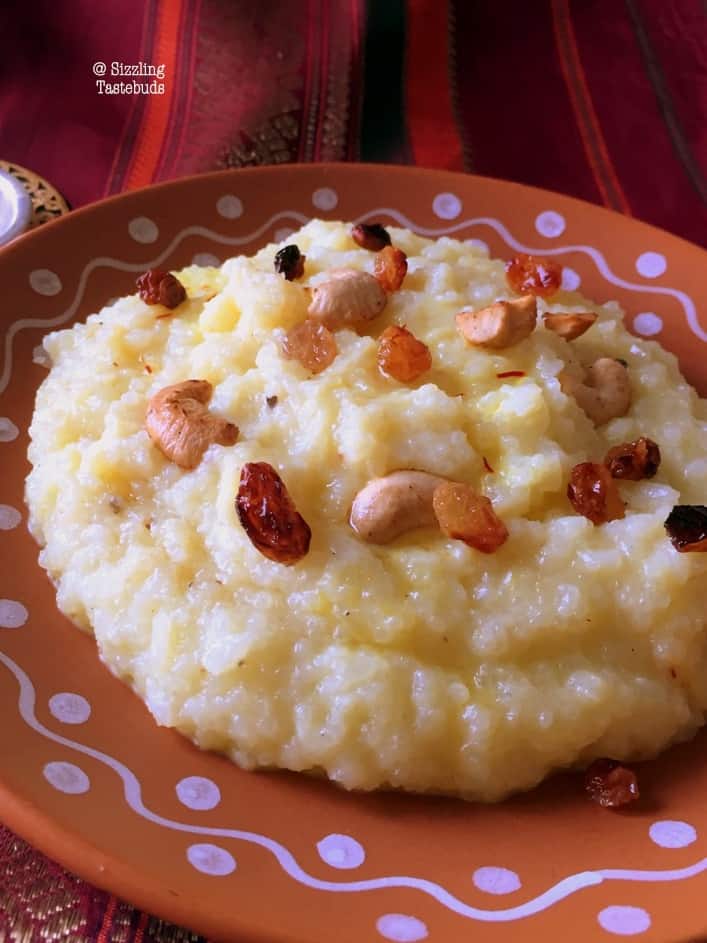 PinPin
Kalkandu Pongal – Offering to God for Pongal Festivals
(Candy Sugar – Rice Pudding cooked in milk and topped with
Ghee)
Prep time :15 mins . cook time : 15 mins. Serves
: 2
You would need:
Raw rice – ¼ cup (I used
Pongal rice)
Milk – 1 cup
Kalkandu (Candy Sugar) –
1/4 cup
Ghee – 4 tsp
Raisins and cashewnuts –
4-6 each
Saffron – a pinch
Pachaikarpooram (edible
camphor) – a teeny weeny pinch – optional, but recommended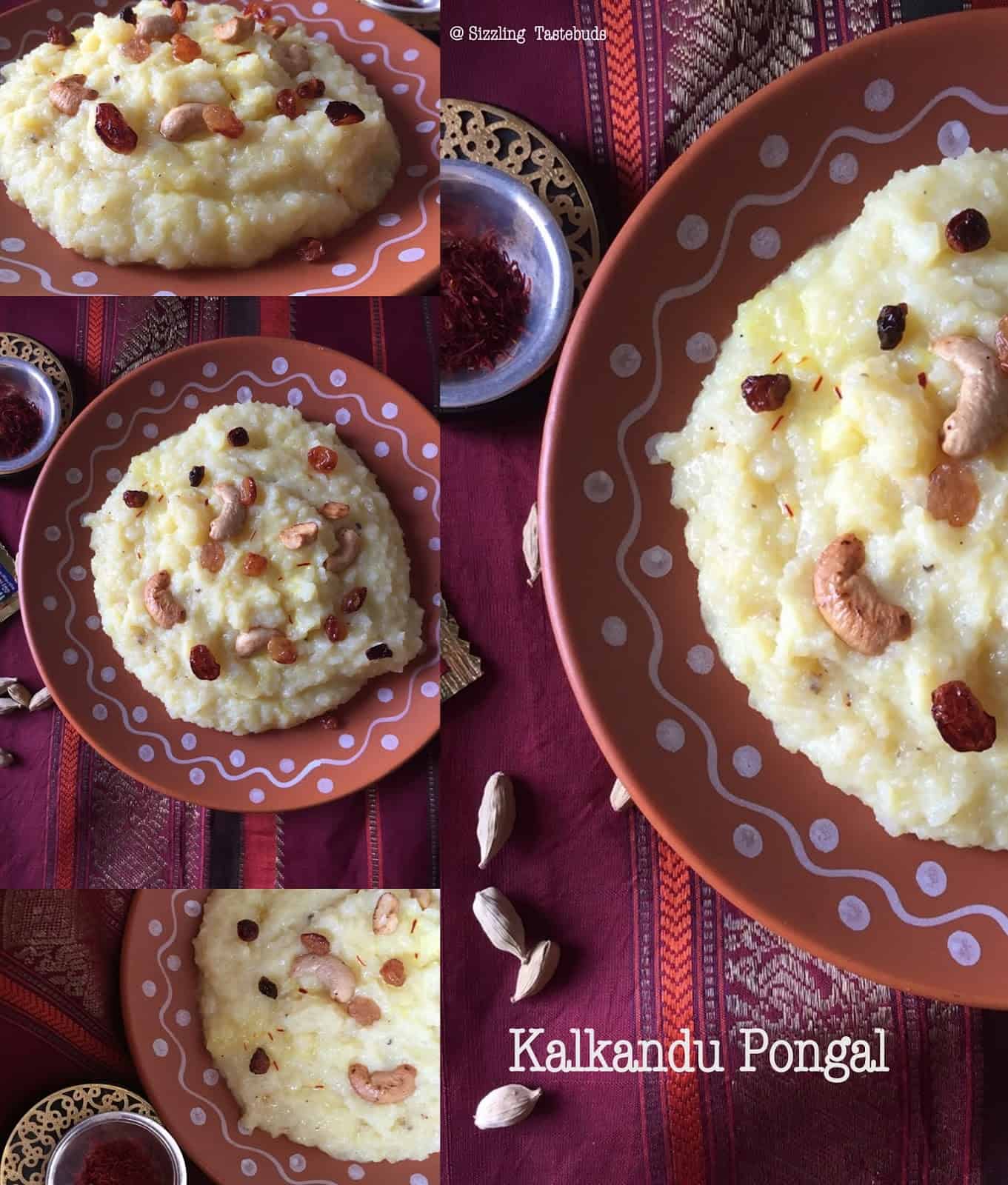 Pin
Method:
Wash and soak rice for 10
mins, pressure cook with the milk for 4-5 whistles.
Once the pressure releases,
mash the rice while still hot.
Fry the cashews and raisins
in 1 tsp ghee till plump and golden brown, reserve.
Soak the saffron in 1 TBSP
hot milk for 10 mins.
In a non stick pan, add the
mashed rice and kalkandu (the sugar will dissolve due to the heat, and don't
worry if it leaves some water in the vessel – the dish with thicken upon
cooling), add half of the ghee , saffron and mix well.
Add the pachai karpooram
and turn off the heat.
Now add the remaining ghee
if any and the fried raisins and cashews
Offer to God as Naivedyam
and serve warm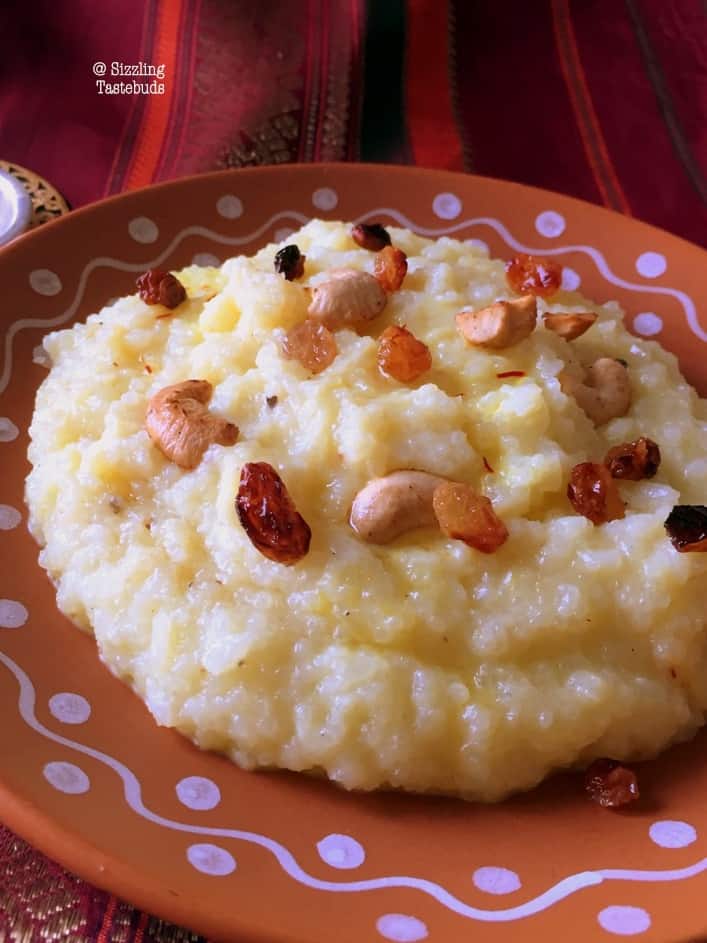 PinPin