Payasam or Kheer is an integral part of Indian Cuisine, especially traditional sit down lunch and dinners at festivalsand celebrations at home. We make today's dish – Kadalai Paruppu Payasam (or Channa Dal Kheer) with both sugar and jaggery. This time around though I made it with Jaggery.  With the Tamil New year around the corner, this is a perfect way to bring in the festive season.
Adapted from my paired blogger – Schmetterling Word's blog here for Blog Hop Wednesdays for this month, I made minor tweaks and came out with this recipe. My paired blogger has a wonderful space and well written and elegant posts thats easy on the eye as well as some great clicks too 🙂 
Few more festival recipes here
Sending this to Bloghop Wednesdays & Gayatri WTML – Festival Special, hosted by Rasya and also my own event – Kitchen Chronicles, hosted by Saras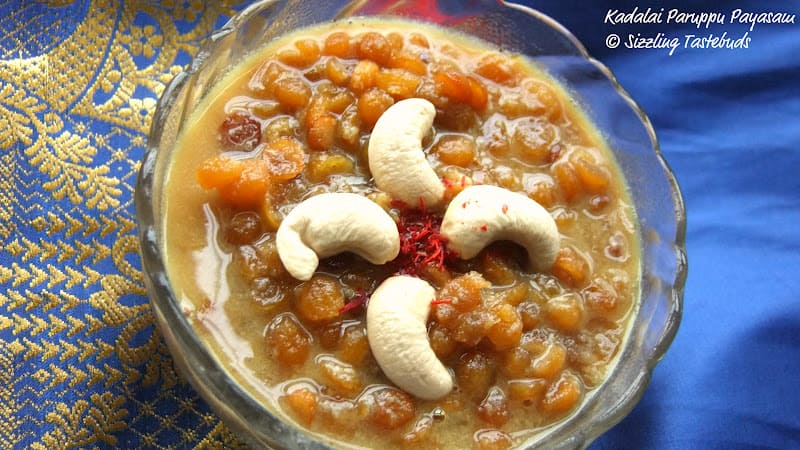 Pin

———————————————————————————————-

Prep time – 15 mins

Cook time – 15 mins

Serves – 2

Difficulty level – Medium

Serving Suggestions – Serve with Paruppu Vadai or Maddur Vade

———————————————————————————————-

Ingredients:
Channa Dal / Kadalai Paruppu – 3/4 cup
Powdered Jaggery – 1 cup
Edible camphor – a pinch
Ghee – 4 tsp
Salt – a pinch
Boiled and cooled milk – 1/2 cup (preferanly not low fat version)
Cashewnuts – a few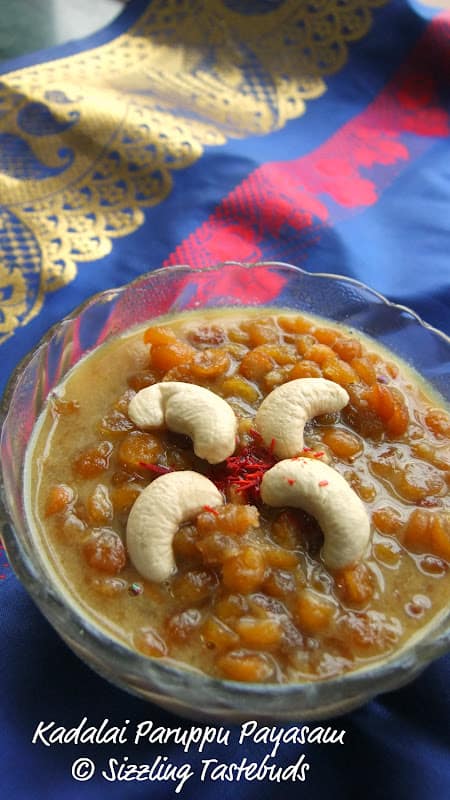 Pin

Method:

1) Roast the channa dal in 1 tsp of ghee till golden brown and cook it for 3 whistles till its cooked but not mushy

2) Dissolve the jaggery in hot water and filter any impurities

3) Heat the filtered jaggery for 5 mins and add the cooked dal till it becomes thick

4) Add a pinch of salt and edible camphor and mix it well

5) Now cool the mixture throughly and add the boiled and cooled milk (do not boil the milk along with the jaggery, else the kheer will curdle)

6) Roast the cashewnuts in ghee and add to the payasam

7) Serve warm with Paruppu Vadai for festive treat.