Growing up in Bangalore, many of our dishes were from local influences of the state- be it Sankranti Ellu Bella (Sesame seeds and Jaggery Trail mix) , Mysore Rasam, Undlige (steamed rice rava cakes) from Udupi cuisine, Smartha Brahmin's Heerehaki Huli Thovve, the popular Darshini Kharabath, Menthye Bataani Bhaath from Bangalore and so on.
Today, we travel to Mangalore – a coastal city of Karnataka – for this lip smacking dry-saute with Ivygourd and Chickpeas. I had posted Mangalorean Sajjige Rotti earlier. 
Called Manoli Kadle or Kadle Manoli Sukka, this goes well with both hot chapatis and hot rice+ghee+rasam / Saaru. We had this dish withJeera Milagu Rasam(cumin pepper rasam),Carrot Kosambari,Tomato Thokkuand piping hot rice. 
I was paired with Lathiya for this month's edition of Recipe Swap Challenge. Its an interesting take on blog hopping where we recreate a post from our paired blogger for the month. Lathiya has an interesting blog replete with eye catching photographs and a lot of dishes for egg lovers. I have adapted her dish- Black Channa Tindora Masala with a few changes to suit my family's palate.  
This dish is usually made with onions and garlic, but as we use them very sparingly I have made it without it. I have eaten both variations growing up and they are equally tasty.  Similarly, both white and black chickpeas are used, and I have used the former.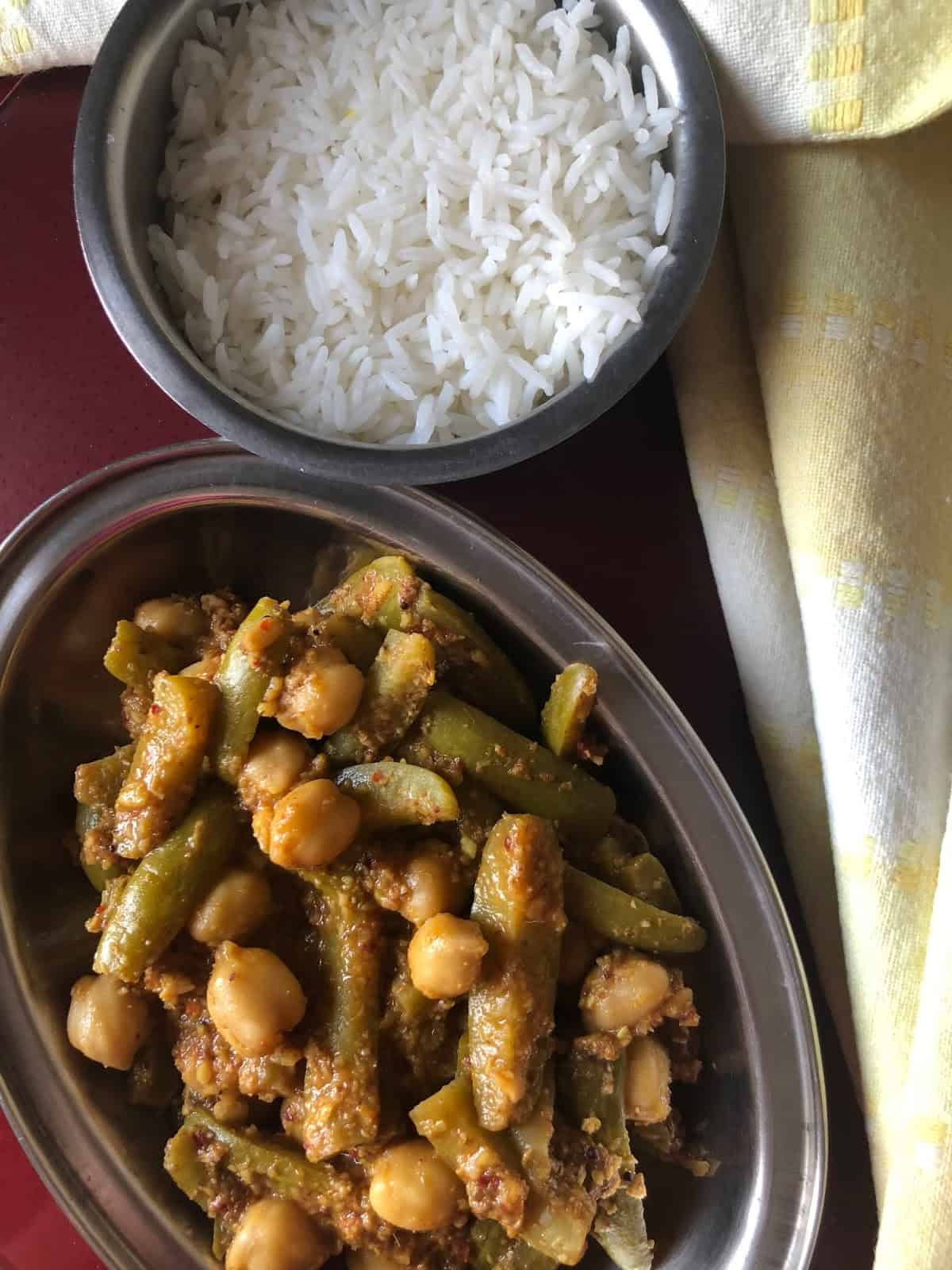 Pin

Off to the recipe now.

Kadle Manoli Sukka – A vegan, satvik, GF side dish from Mangalorean / Tulu Cuisine

Prep time – 10 mins, Cook time – 10 mins, Serves – 2~3

Ingredients: 

White chickpeas  – cooked (I used precooked and frozen chickpeas, which I brought to room temperature) – 1 cup

Ivygourd / Manoli / Tendli / Tondekayi / Dondakaya – 250 grams – slit lengthwise into 2 or 4 slices

Oil – 2 tsp

Tempering : Mustard seeds , Curry leaves

jaggery – 1/2 tsp

Tamarind paste – 1/2 tsp

Salt – to taste

Turmeric-  1/2 tsp

To grind:

Fresh coconut – 1/2 cup

Byadgi chillies / kashmiri variety – 2 nos.

Red chilli / spicy chillies – 2 nos

Coriander seeds – 1 1/2 tsp

Jeera – 1 tsp

Methi seeds / fenugreek – 1/2 tsp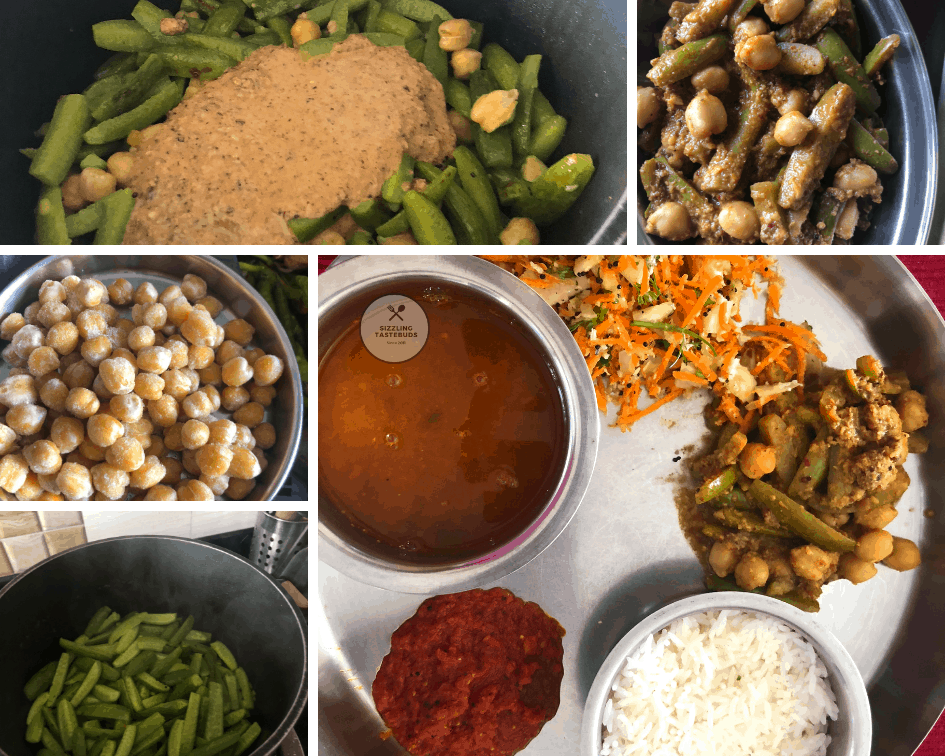 Pin

How to: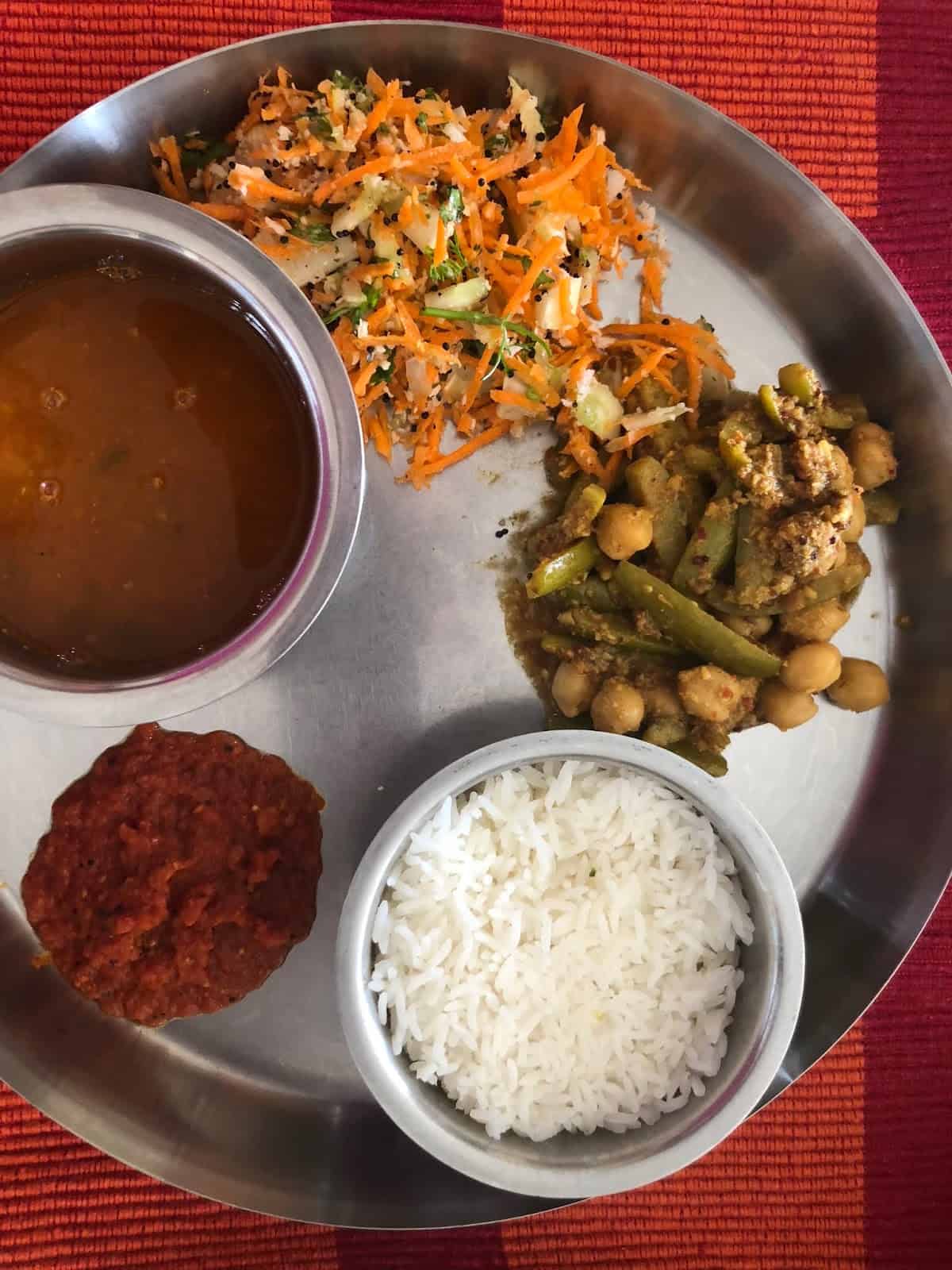 PinSteam ivy gourds with a pinch of salt, turmeric till 80% done. Drain and keep aside. Boil the cooked and frozen chickpeas in salted water for 3-4 mins till soft. drain. If using fresh chickpeas (black or white), soak overnight and cook till soft , drain all water and reserve.  
In a pan , saute all the masala grind ingredients one by one in 1 tsp of oil except coconut. Switch off the flame, add the coconut and saute till the coconut turns slightly brown. Grind to a semi-wet paste without adding too much water. 
Add this to the steamed veggies, saute a bit. Now add the salt, tamarind, jaggery, chickpeas and saute well. Adjust salt, spices
Serve warm with Rice + Rasam for a filling meal.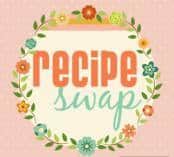 Pin