Poppy Seeds kheer or Gasagasa Payasa is a very popular Kheer (or
pudding) made in Karnataka. Especially on Navratri (or Dusherra) festival and
Ugadi (Lunar year commencement). Mom makes this the best, so I was too happy to
click snaps once it got made. Although it looks easy, mom says the trick is to
a) use the freshest batch of poppy seeds available, b) saute the poppy seeds to
the right colour and aroma and also use fresh coconut.
If you want to read about the benefits of Poppy Seeds, head here
If you are fond of Jaggery based desserts like Sakkarai Pongal, Obbattu (Poli) or
Akkaravadisal, I am sure you will make this. Enjoyed warm or cold, this is sure
to be a winner in any festival spread. However, mom says that if you want to
re-heat this the next day, add a batch of milk and simmer indirectly in a pot
of boiling water. Not to heat this directly as the kheer would split.
Microwaved kheer is not so appealing :-))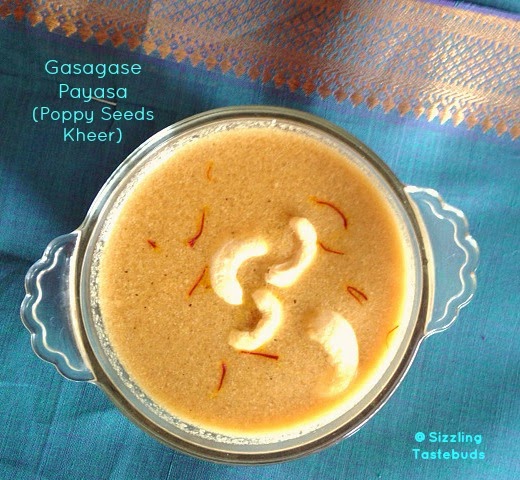 Pin

Prep time : 15 mins | Cook time : 15 mins | Serves : 4

Ingredients:
White Poppy seeds – 3 TBSP
Raw rice – 1 TBSP
Jaggery – 1/2 to 3/4 cup
Milk – 3/4 to 1 litre (I used less than 1 litre)
Fresh coconut – 3/4 cup (dried coconut will not do)
Cardamom powder – 1/2 tsp
Ghee – 3 tsp
Cashewnuts and raisins – 2 tsp
PIN FOR LATER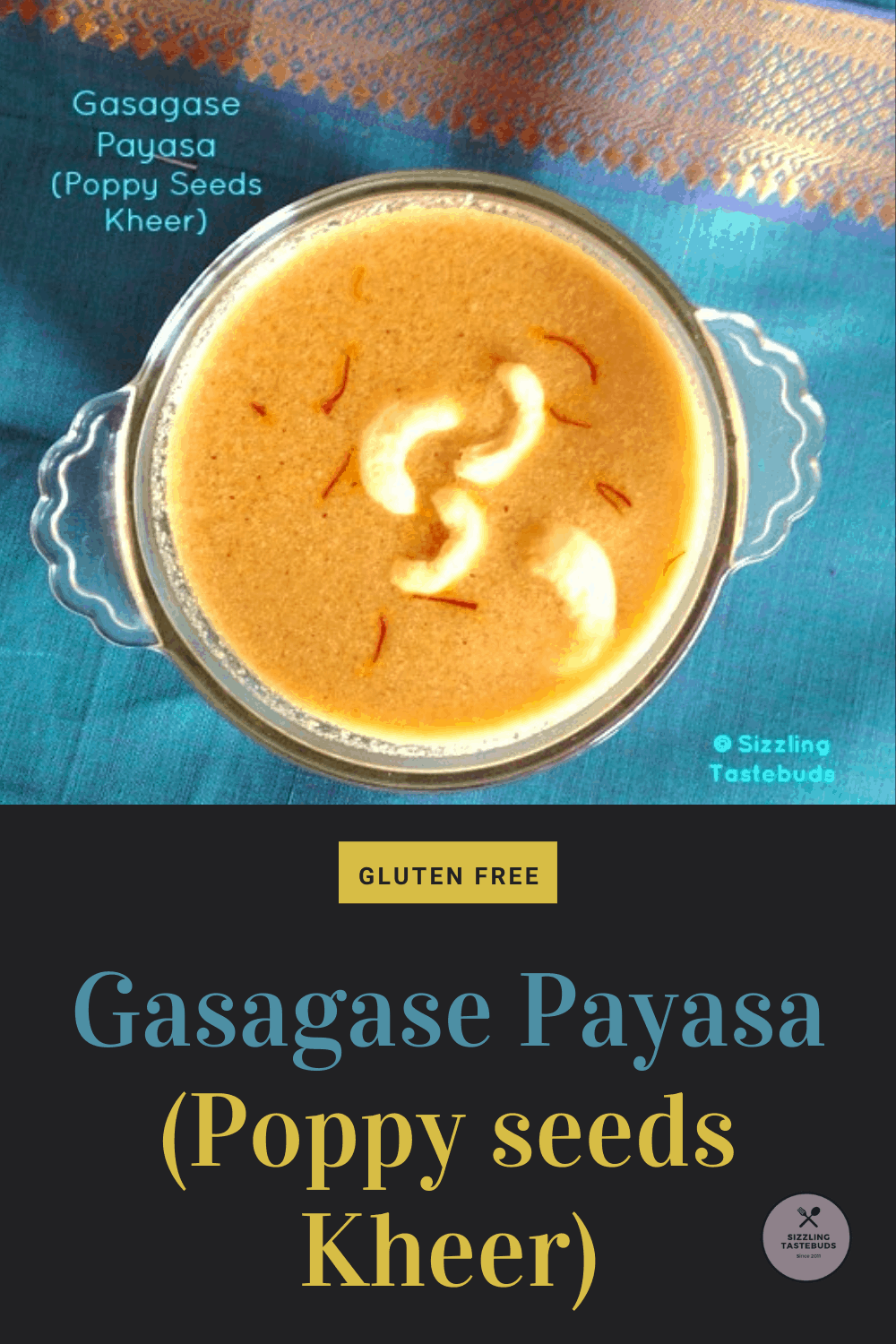 Pin

 

Method:
Roast Poppy seeds in 1 tsp of ghee for few mins on very very low
flame till you get a nice aroma. Take care that it doesn't brown or burn. Transfer
to a plate. In the same pan, roast raw rice for 30-40 secs, remove. Soak the
poppy seeds in warm water for 10-12 mins (soaking is optional, but it helps the
seeds grind better)
In the same pan, add remaining ghee and roast the nuts and raisins
til the raisins plump up and cashews brown a bit (about 30 secs). Remove.
Make a single string syrup of jaggery with 1/8 cup of water and
add cardamom powder to it. Let the syrup cool completely.
Grind the soaked and drained poppy seeds with fresh coconut and
rice without any additional water to a smooth paste. Add the jaggery syrup to
this paste and slowly simmer for 4-8 mins. Turn off the stove.
Now add boiled
and cooled  (lukewarm milk) to the kheer in batches till you get a
thickish consistency, due to the retentive heat and the warmth of the milk, the
kheer might give a nice little dance around the edges of the pan, but dont be
tempted to put on the stove now. Let it cool to warm / room temperature. Serve
hot or cold.
Notes:
If you want a richer and creamier, roast and grind a handful of cashews along with the poppy seeds. This is totally optional.