Sometimes, there comes along
a recipe which you want to make, but due to some mental hangups you dont make
them : be it for health, family preferences, low calorie, egg based etc.
Cookies n biscuits fall into that category : I love gorging virtually on these
goodies, but perhaps (read almost) due to the high butter and refined flour I
usually give these recipes a skip.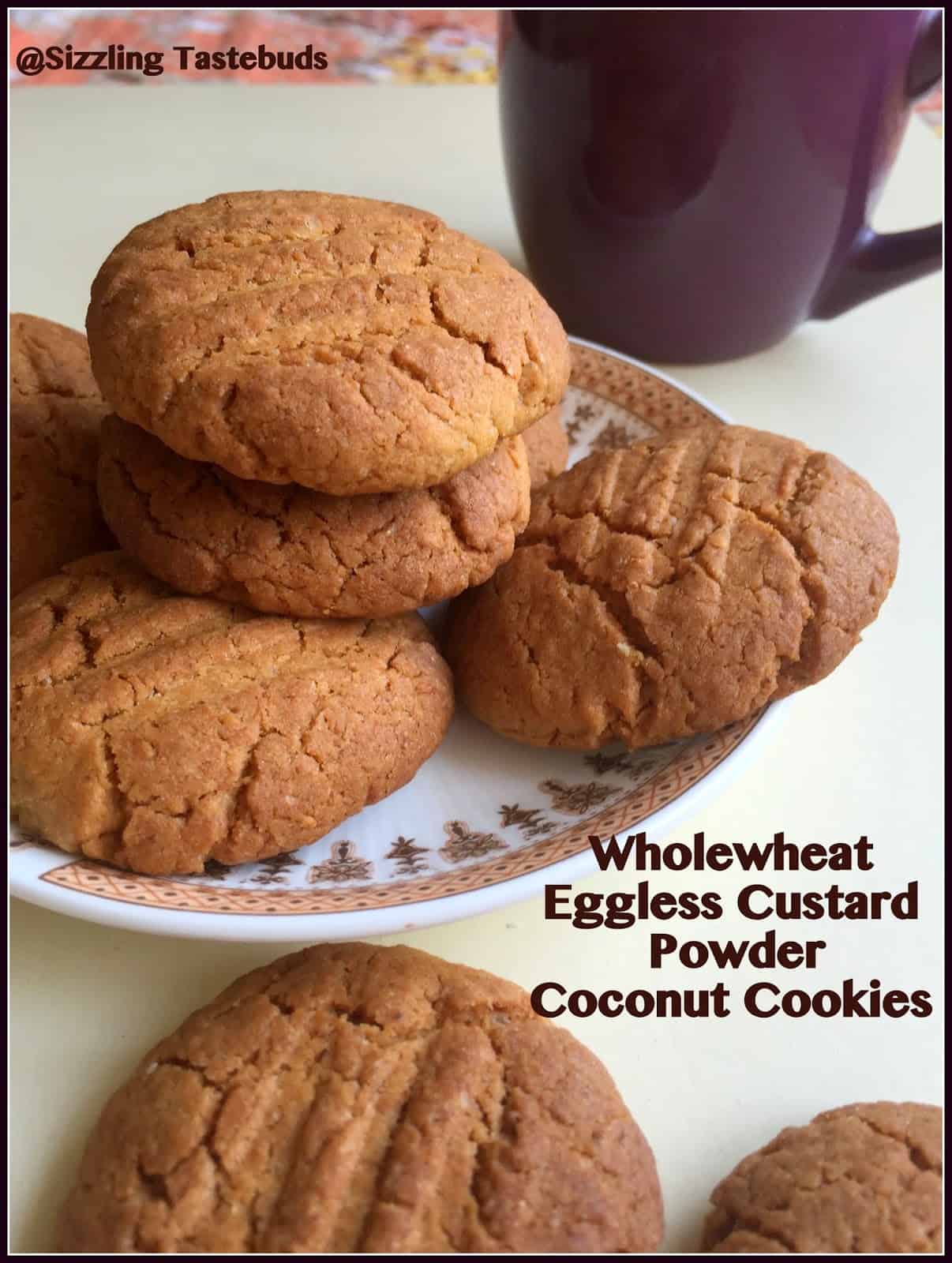 Pin

Till I started clearing my
bookmarks for the baking marathon and saw Aarti's recipe.
Not only is it eggless, it also was wholewheat and no butter. Guess I couldnt
wait any longer… Made some minor changes, and it was a super hit. Generally,
sweet bakes are not preferred at home, but these were very well received. Thank
you, Aarti. I am sure I shall keep making this.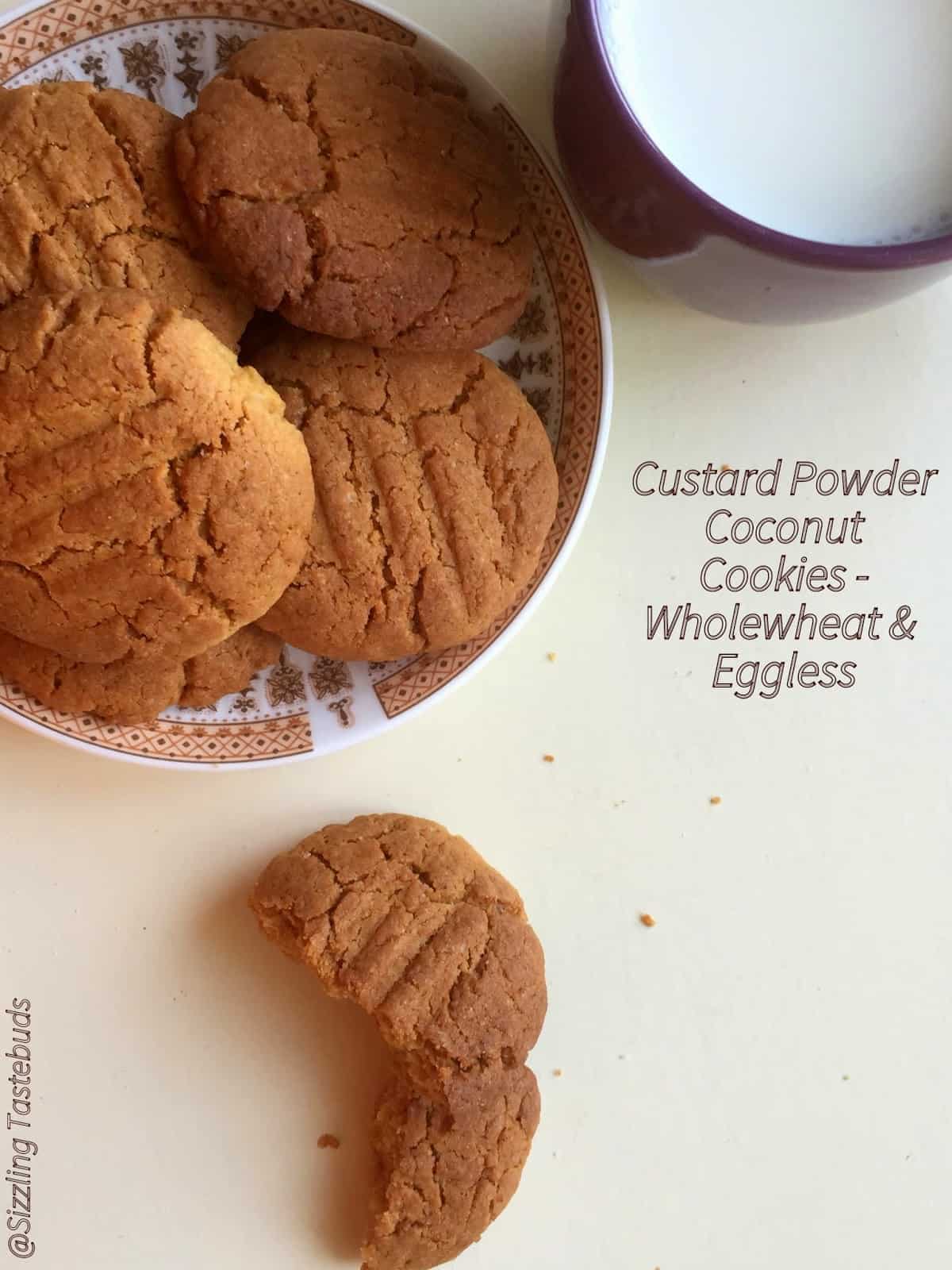 Pin

Sending this to all the
action at Baking Marathon – Fire up your oven. We are on Day 6 today and hope
you are enjoying the series till now…

Day
1: Egglesss
Wholewheat Orange Cake with Almond Meal

Day
2: Veg
Au Gratin

Day
3: Baked
Onion Crackers

Day
4: Coriander
pesto Pull apart Rolls

Day
5 : Grilled
Kabab Platter

Baking Marathon Day 6 : Eggless
Wholewheat Custard Powder Coconut Cookies

Recipe Source : Aarti's recipe

Recipe type : Cookies

Cuisine : American

Makes : 15 medium sized cookies

Prep time: 15 mins | Bake time : 12-14
mins (varies from oven to oven)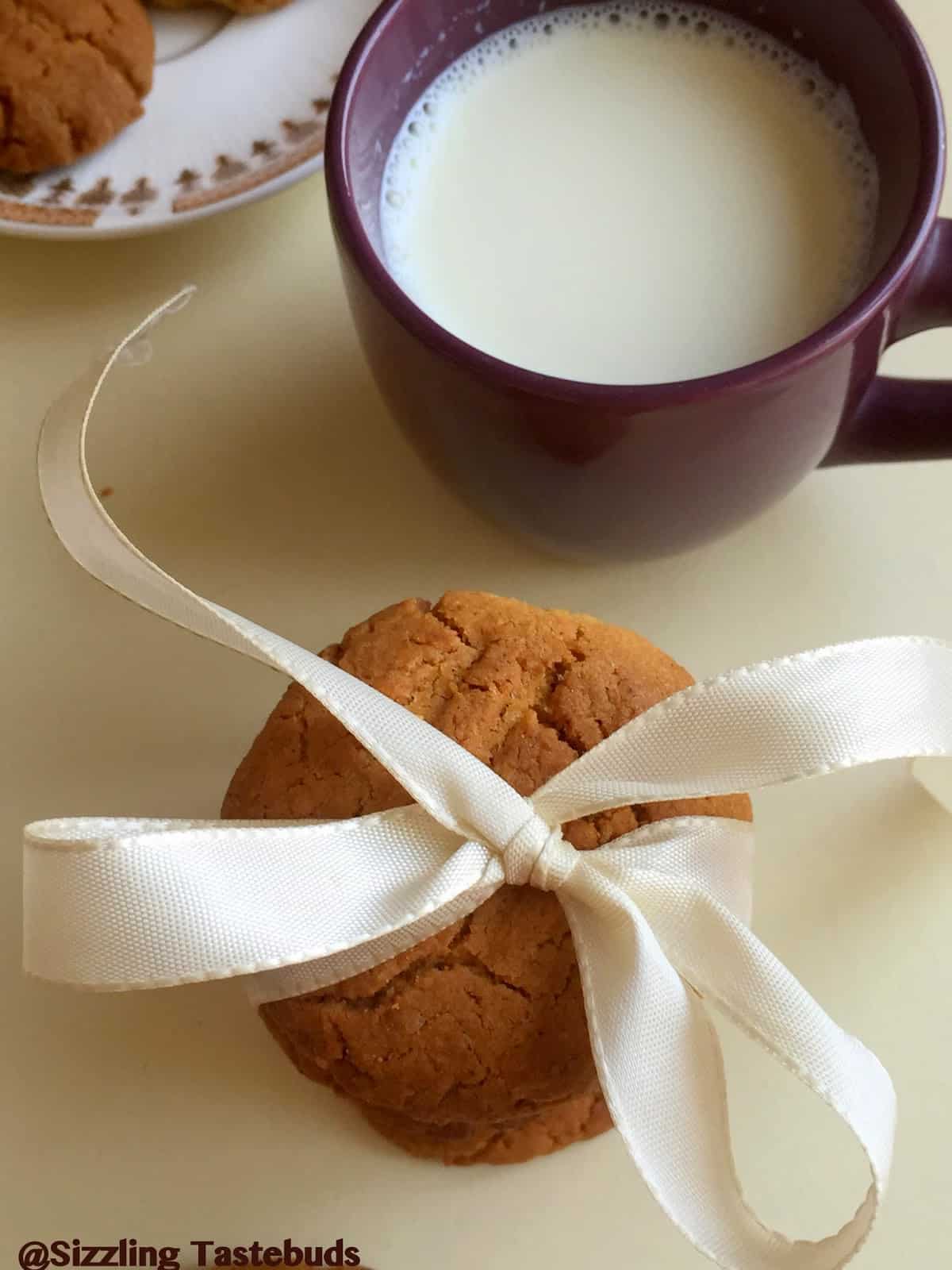 Pin
#Cookies #Eggless #Wholewheat
#Butterless #Snacks #Vegan
What you need:
Wholewheat flour – 1.25 cups
Custard Powder – 3 TBSP (about ¼
cup)
Oil (I used canola) – 1/3 cup
Dessicated Coconut – 3 TBSP
Vanilla Essence – ½ TBSP
Sugar – ½ cup (I used about 1/3
cup of powdered brown sugar)
Salt – a pinch
Baking soda – ¼ tsp
Baking powder – about ¾ tsp
Milk – needed for binding (I didn't
use)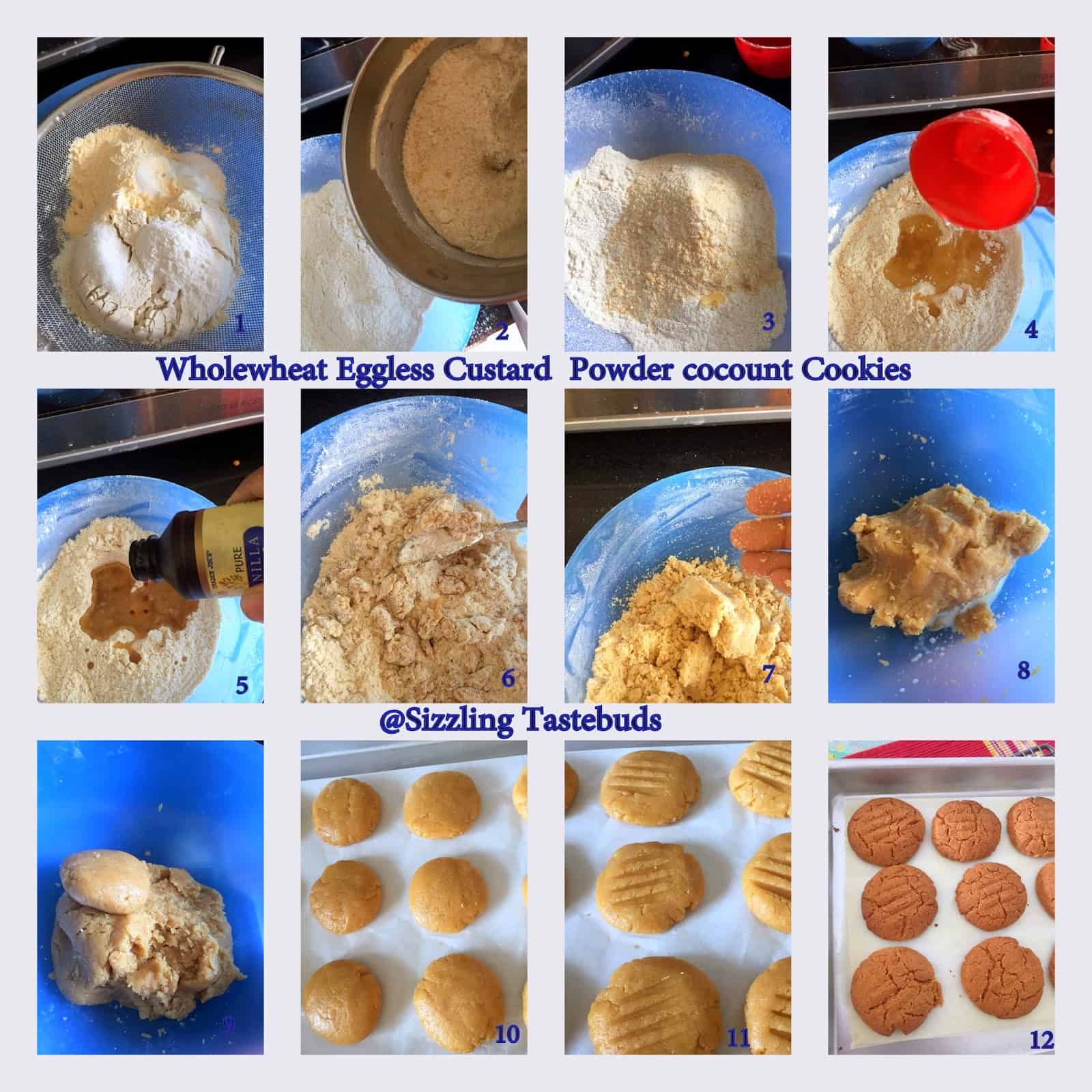 Pin
Method:
Sieve the dry ingredients :
Wholewheat flour, custard powder, salt, baking soda, baking powder. To this add
dessicated coconut and mix well.
Add the powdered brown sugar (I
used brown sugar cubes and powdered). Now add the oil and vanilla essence and
bring it to a smooth dough (don't knead)
If its too try, add a tbsp of
milk, and bind it (I didn't use milk). Preheat the oven to 165 deg C . Rest the
dough for 5 mins, covered.
Make small roundels of the dough
and flatten it with fork, place on lined baking tray. Use the rest of the dough
to get similar cookies.
Bake for 12-15 mins (mine was done
at 14 mins) or when they start to crinkle and done at the edges.
They will remain slightly soft
when taken out and harden within 10 mins on a cooling rack.
Store in a airtight container once
completely cooled and serve with milk.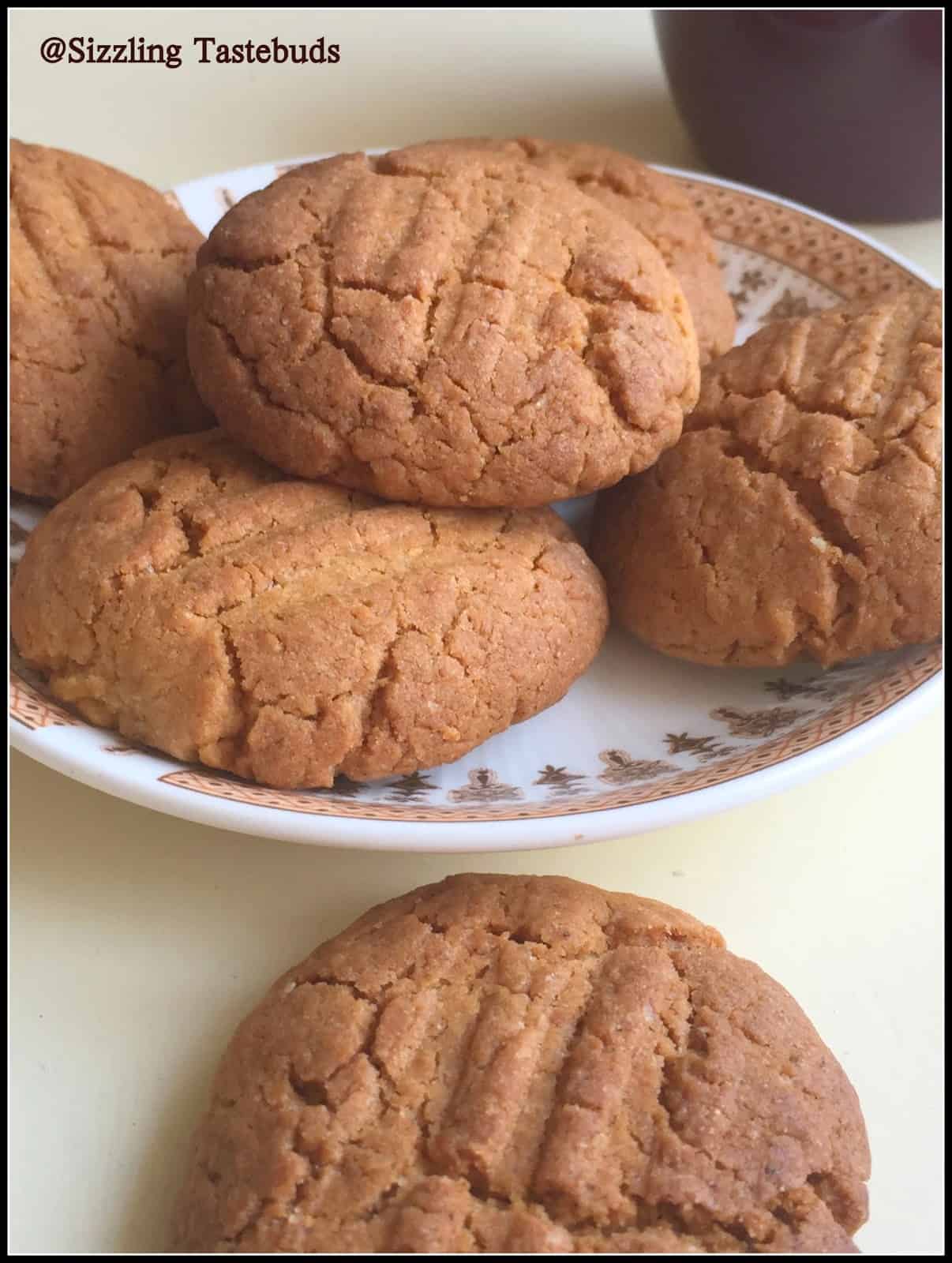 Pin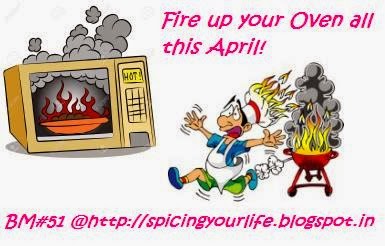 Pin
Check out the Blogging Marathon page for the other Blogging Marathoners doing BM# 51