After a series of savoury lemony dishes, its time for Lemony
cupcakes. And to be honest, I have never been fond of citrusy bakes…. till I
found this awesome combo of almonds and lemon (why almonds – thats a different
story).. But till then, me and my family loved this citrusy cupcake with a hint
of almond… with or without glaze, this works perfectly well for hi-tea or
even as a pick-me-up after a light dinner. I used brown sugar as I am fond of
it, you can use jaggery or even normal crystalised sugar. I took inspiration
from this recipe and made some changes, which turned
out very good.
You can also make it vegan by replacing the milk and yoghurt with
vegan options. Its a very forgiving recipe and you can easily double or triple
the quantities. This recipe made 10-12 medium sized cupcakes. As it was for my
kiddo (who loves lemons), I frosted half the cupcakes that I was serving the
kiddo. Rest of the cupcakes were equally good even without the frosting.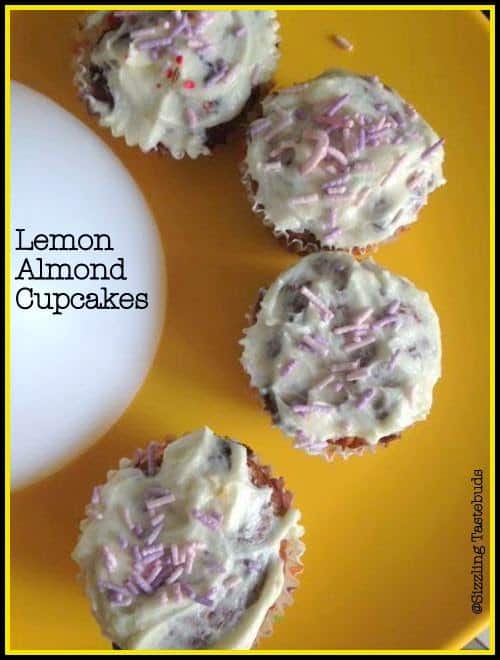 Pin
Sending this to BM 46 under Lemon Dishes. Hope you enjoyed the
series with Lemon Sevai, Lemony Broccoli stir fry and today's dish – Eggless
Lemon-Almond Cupcakes. Will be back with a different theme next week.
Prep time : 15 mins | Bake time : 20 mins | Cooling and frosting :
1 hour
Ingredients:
Maida / APF – 3/4 cup + 1 TBSP
Whole wheat flour – 3/4 cup + 1 TBSP
Baking Soda – 3/4 tsp
Baking powder – 3/4 tsp
Oil – 2 tsp less than 1/2 cup ( I used olive oil)
Packed Brown sugar – 3/4 cup
Milk – 1/3 cup
Lemon juice – 1/4 cup
Lemon zest – 1 TBSP
yoghurt – 1/4 cup
Vanilla essence – 1 tsp
Ground almonds (I used home made almond meal) – 1/3 cup
Lemon frosting:
Butter – 3 TBSP (softened)
Icing sugar (or powdered sugar) – 3/4 cup
Lemon juice – 3 TBSP
Lemon zest – optional – 1/2 tsp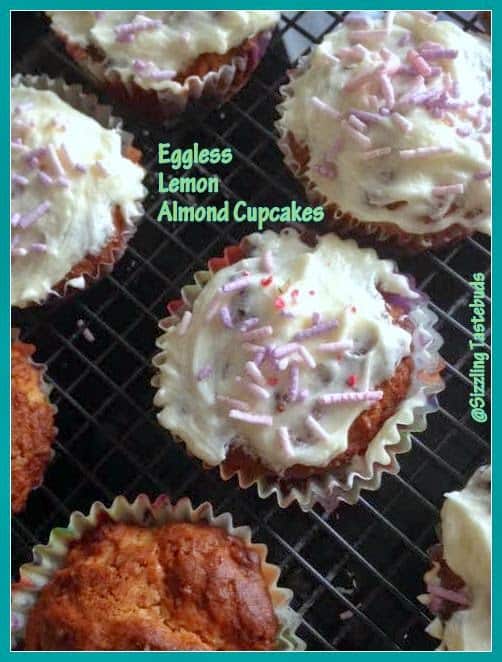 Pin
Method:
Sieve the flours, soda and baking powder in a large bowl.
In another bowl, whisk together milk and lemon juice. Set aside
for 3 min till it slightly curdles
Now add lemon zest, vanilla essence yoghurt and brown sugar and
stir well till the sugar dissolves.
Add wet to dry ingredients and slowly blend in the almond meal.
Pre heat oven to 180 deg C / 375 F
Spoon mixture into lined cupcake / muffin pans
Bake for 18-22 mins till a skewer comes out clean
cool completely on wire rack for 40-45 mins (if you plan to frost)
Frosting:
Beat butter and sugar till creamy. Add the lemon juice and zest as
much as you need it to be tangy. Cool the cupcakes thoroughly and then spread
the frosting. If you are piping over then you need to double the frosting. Mine
was a very light glaze as I cut down the butter.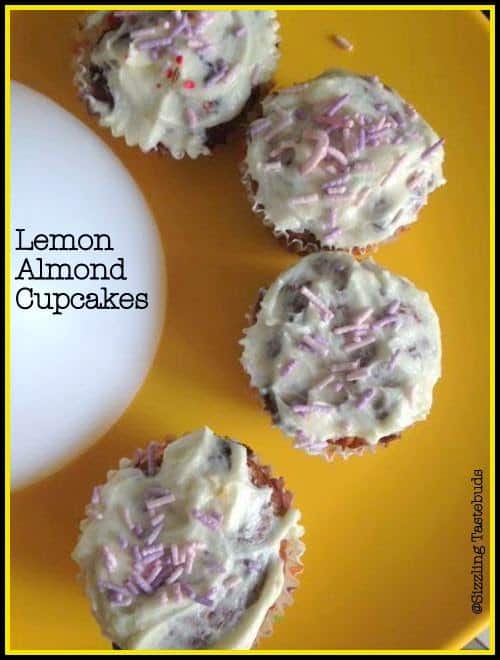 Pin