Jamun or Gulab Jamun is a favourite Indian Sweet amongst kids. I have made Paneer Gulab Jamoon, and today I present Stuffed Dry Jamoon. I used to love this and Kala Jamoon (another variant of Jamun), and while the traditional Gulab Jamun was always tasty, the drier versions appealed more to me. Both the kids also enjoyed this while I made this again for mom's birthday this week.


This can also be made for Diwali or any other festive occasion or even as a party pleaser. We are sure that kids and adults alike would love these cute pick me ups.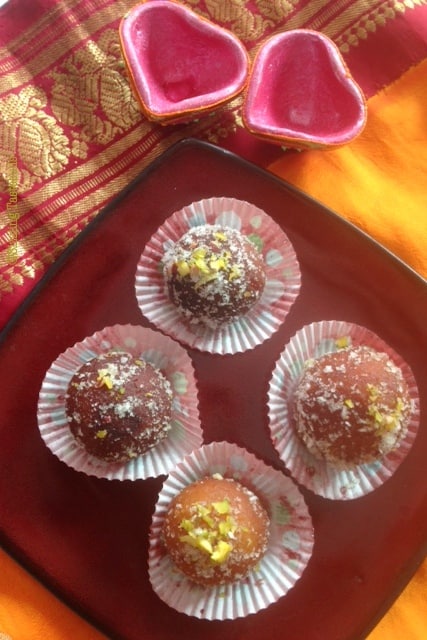 Pin



I had bookmarked Prema's recipe, and made some changes. Thanks Prema for a very detailed video.



Hope you enjoyed the Indian Mithai spread this week at Cooking Carnival. In case you have missed out any of the Indian Sweets treat, here's a quick recap.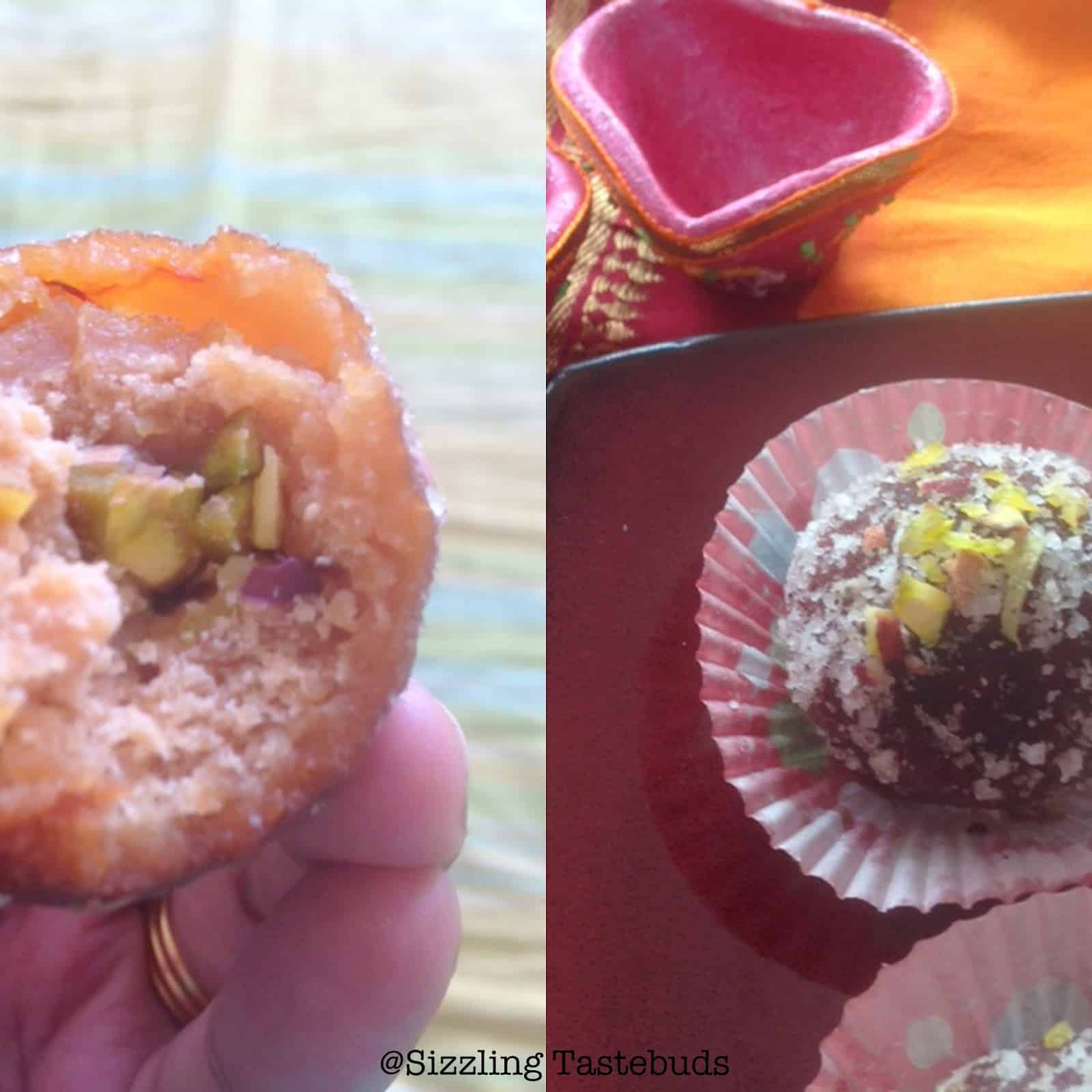 Pin



Stuffed Dry Gulab Jamun – Indian Sweet made from scratch



Prep time : 15 mins ; Cook time : 15 mins ; soak time : 1 hour

Makes : 18-20 Small sized Dry Jamuns



You would need:
Maida / All Purpose Flour – 1/4 cup
Fine Rava (fine sooji) – 1 tsp
Milk Powder – 1 cup ( I used skimmed version)
Baking soda – 1/8 tsp
Salt – a pinch
Ghee / Oil – 3 tbsp
Curd / Greek yoghurt – 2 TBSP
powdered Sugar – 1 tsp
Roasted, peeled & finely chopped pistachios – 2 TBSP (for stuffing)
Oil – for frying
PIN FOR LATER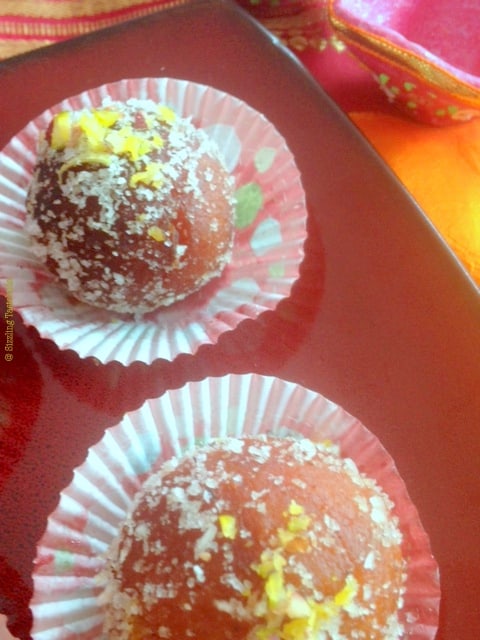 Pin


Sugar Syrup:
1.25 cups fine sugar
1/2 cup water
Vanilla essence – 1 drop (opt.)
Saffron strands – few
Elaichi powder (Cardamom pwdr) – 1/2 tsp
Topping:
Sweetened dessicated coconut powder – 1/4 cup
(or mix unsweetened dessicated powder with little powdered sugar)
Pistachios (sliced) – 1 tsp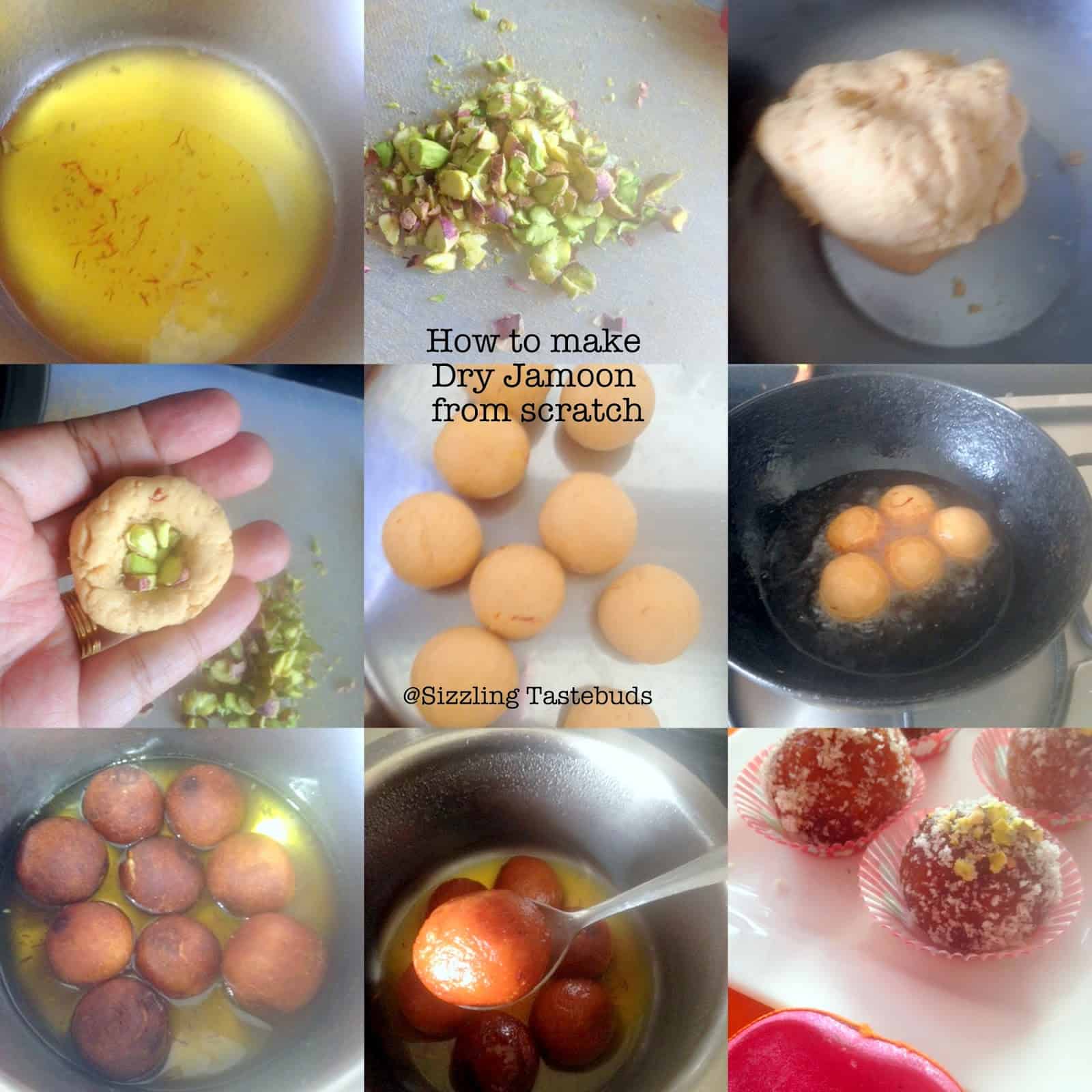 Pin


Method:
First make the sugar syrup :
Dissolve the sugar in the water and boil till you get a sticky syrup (approx 1 string consistency) .
Switch off add the saffron, cardamom powder and the essence (if using). Cool to room temperature.
To make the Jamuns :
Mix all the ingredients for the dough, adding very little water/ milk if required to bind to a semi soft dough, rest covered for 10 mins. Pinch out small roundels , make smooth balls , stuff each of the roundels with roasted and chopped pistachios.
Cover to a smooth ball again, and fry in oil on low-medium flame till golden brown. Add the warm jamuns to the sugar syrup. Let them soak for an hour or two and swell in size considerably. Keep the syrup warm itself and then add the roundels in cold climates to aid the jamuns to swell.
To make the dry jamun:
Drain all the syrup (this syrup can be used to sweeten tea / coffee or even make some Sheera / Rava kesari – you can refrigerate this for upto 15 days).
Roll the drained jamuns in sweetened coconut flakes, serve individually in paper cups, with some sliced pistachios on top.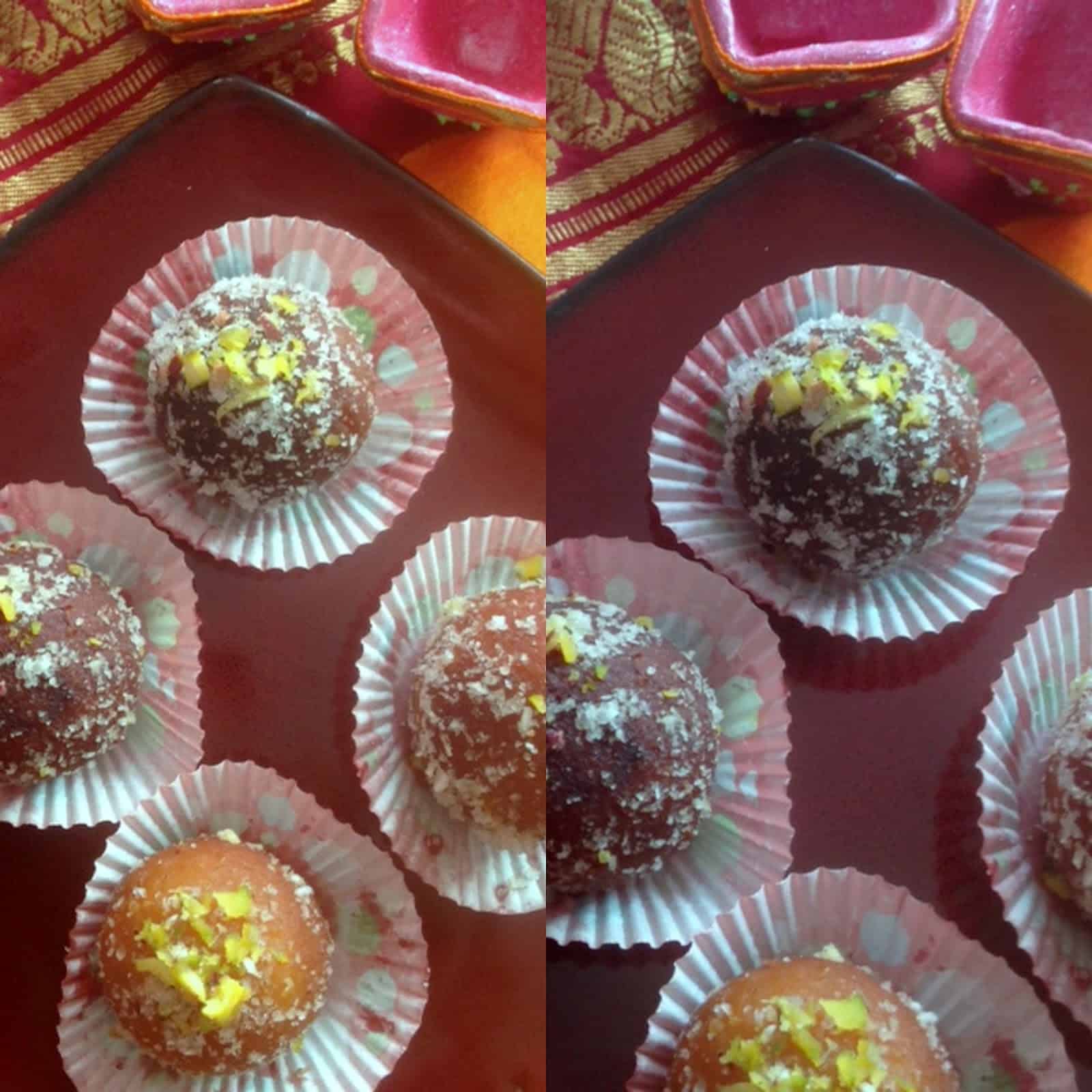 Pin