These Mini Spinach tarts (aka tartlets) were made for a kiddies party and we all liked them very much., I generally detest using APF and butter and cheese, but feeding a crowd of enthu kids was a breeze and a pleasure too 🙂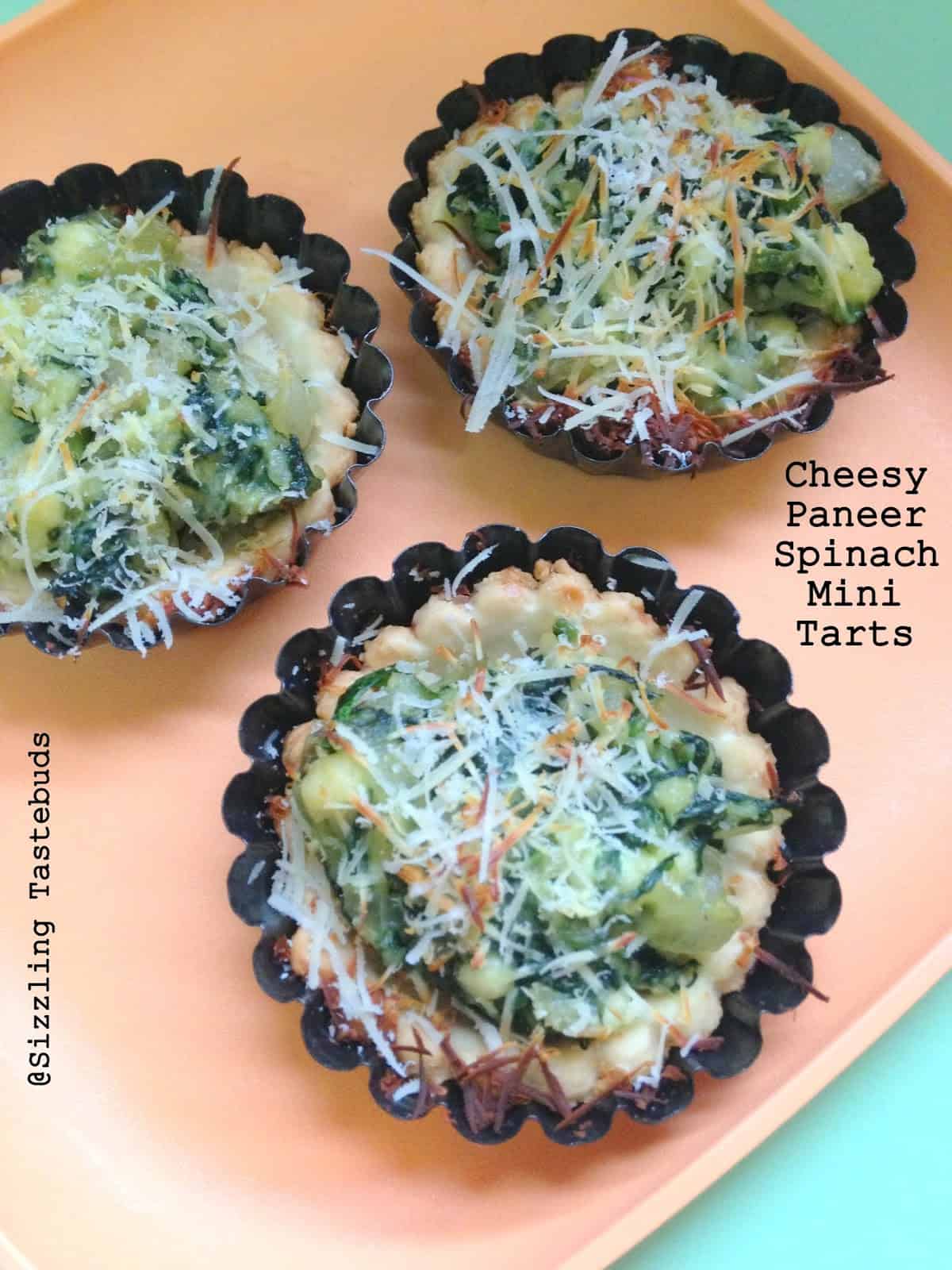 Pin
And these buttery cheesy mini tarts with a hint of garlic and paneer and spinach : what can I say ? Super happy kids !!
Although my elder one has been asking me to make it again, I have been putting it off. Maybe for the forthcoming Xmas – New year party that we hope to host / participate in, will make these again.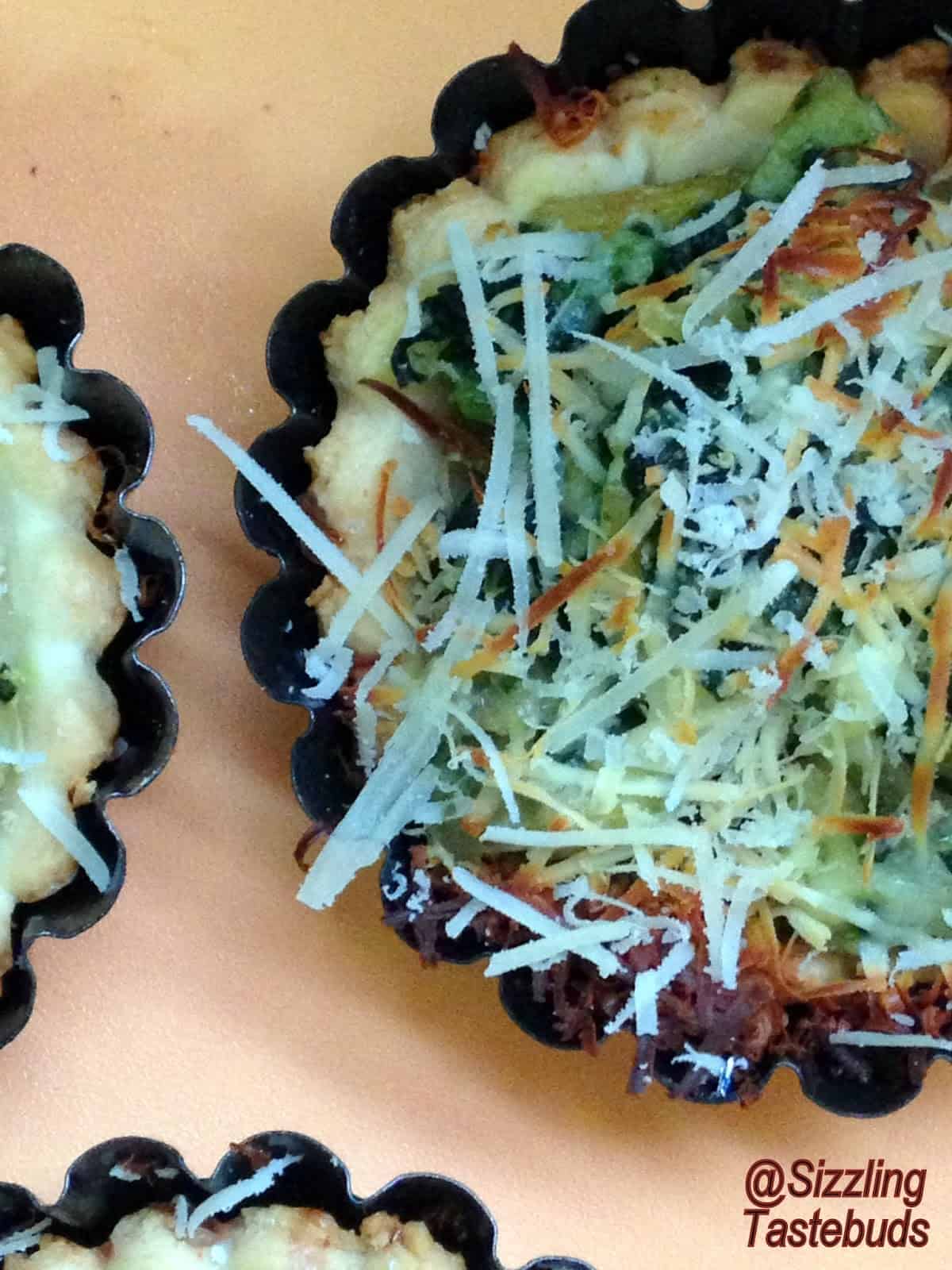 Pin
Pardon me for the pictures as they were taken just before they were served. Promise to update the post when I make this again. However, the step by step process is quite comprehensive !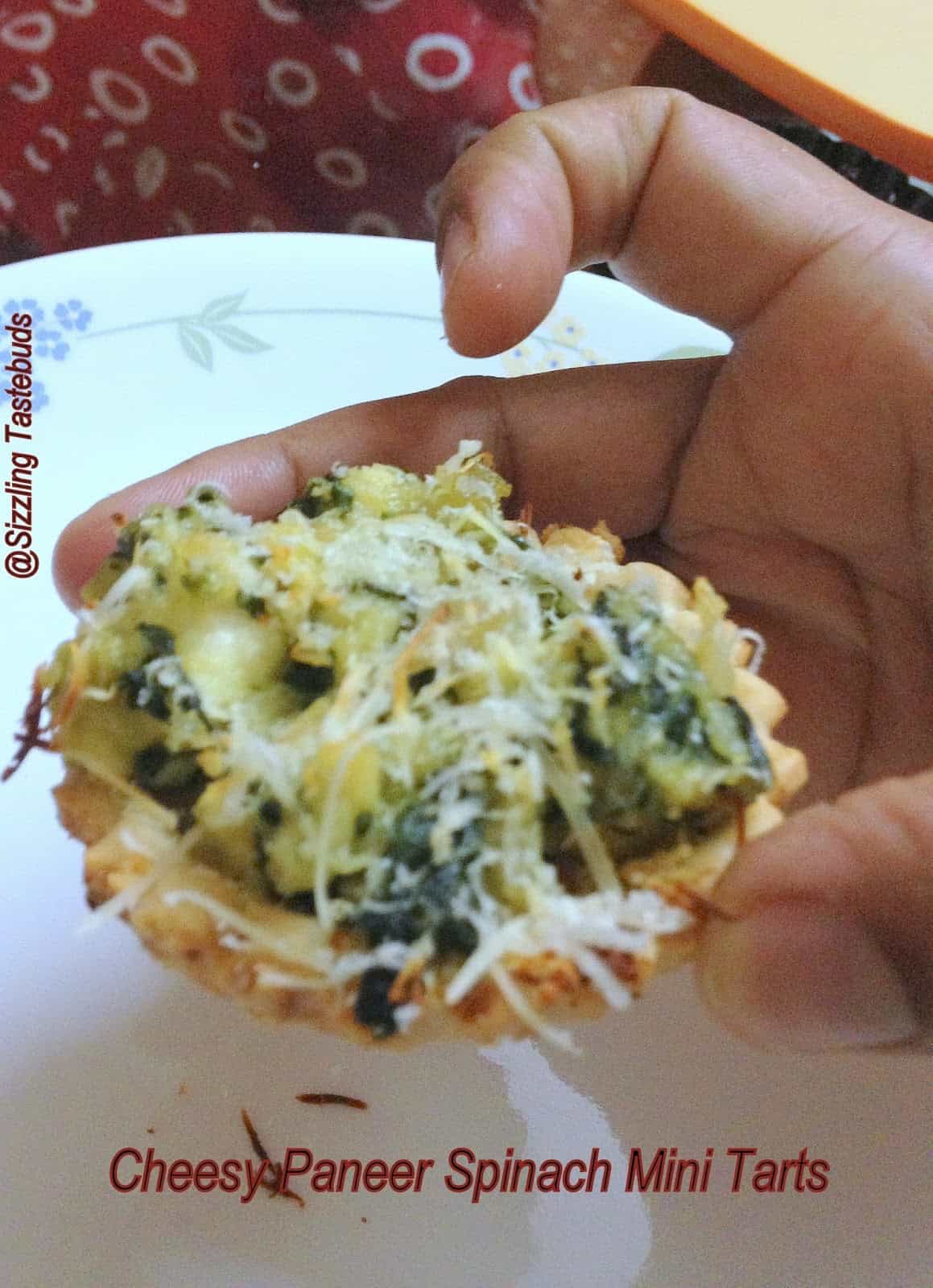 Pin
Meanwhile join me as they make way for Day 7 of the Bakeathon. If you have missed any posts all this December on this baking fest, check out older posts here.
Prep time : 20 mins, Standing time : 15- 20 mins , Bake time : 12-15 mins ,
Makes : 8-10 Mini Tarts (Medium sized)
Course : Snack, Cuisine : French.
Ingredients:
Crust:
Maida / All Purpose Flour – 1 cup + 2 TBSP
Cold Butter – 65 gms (I used about 5-10 gms lesser)
Salt – 1/4 tsp scant
Baking Powder – 1 tsp
Cold thick Buttermilk – 1/2 cup (or as required)
Filling:
Olive Oil – 2 tsp
Chopped Spinach – 1/2 cup
Onions – 1 medium (finely chopped) – optional
Crumbled Paneer / Cottage Cheese – 1/2 cup
Grated Cheese – 1/4 cup + 2 tsp for topping
Salt – as reqd (please note cheese is salted too)
Pepper – 1/2 tsp (crushed)
Finely chopped Garlic – 1 tbsp
Red chilli flakes – 1/4 tsp (adjust to taste)
Pin

Method:
Lets make the crust first :
Sieve APF, salt and baking powder twice over.
Add in the cold butter and with a fork or a pastry cutter incorporate it into the flour till they are the size of peas.
Now add buttermilk little by little and mix gently with your fingertips till you are able to make a slightly soft but pliable dough.
Clingwrap and freeze for 15-20 mins while you make the filling.
For the Filling :
Heat Olive oil in a pan, splutter the garlic and saute till browned, add onions and saute well. Add the spinach and let it sweat a bit.
Sprinkle little salt, and add the crumbled paneer (cottage Cheese). Adjust seasoning with red chilli flakes and black pepper.
Let the mixture cool to room temperature.
To prepare & Bake the Tarts :
Preheat the oven.
Roll the refrigerated dough on a slightly floured surface, cut into desired shape (I had Mini Tart Pans, so cut it to that size), gently lift the cut out portion and lay it on the tart mould.
Make small pricks on the surface with a fork or a sharp pointed knife.
Cover with pieces of parchment paper, and blind bake it with some beans in a preheated oven at 165C for 8-10 mins
Now gently brush it with some oil (optional), and spoon in the filling till 2/3 of the baked tart. Top with Cheese , any other seasoning and bake further for 6-7 mins till cheese has melted
Cool on wire rack, gently un-mould and serve warm.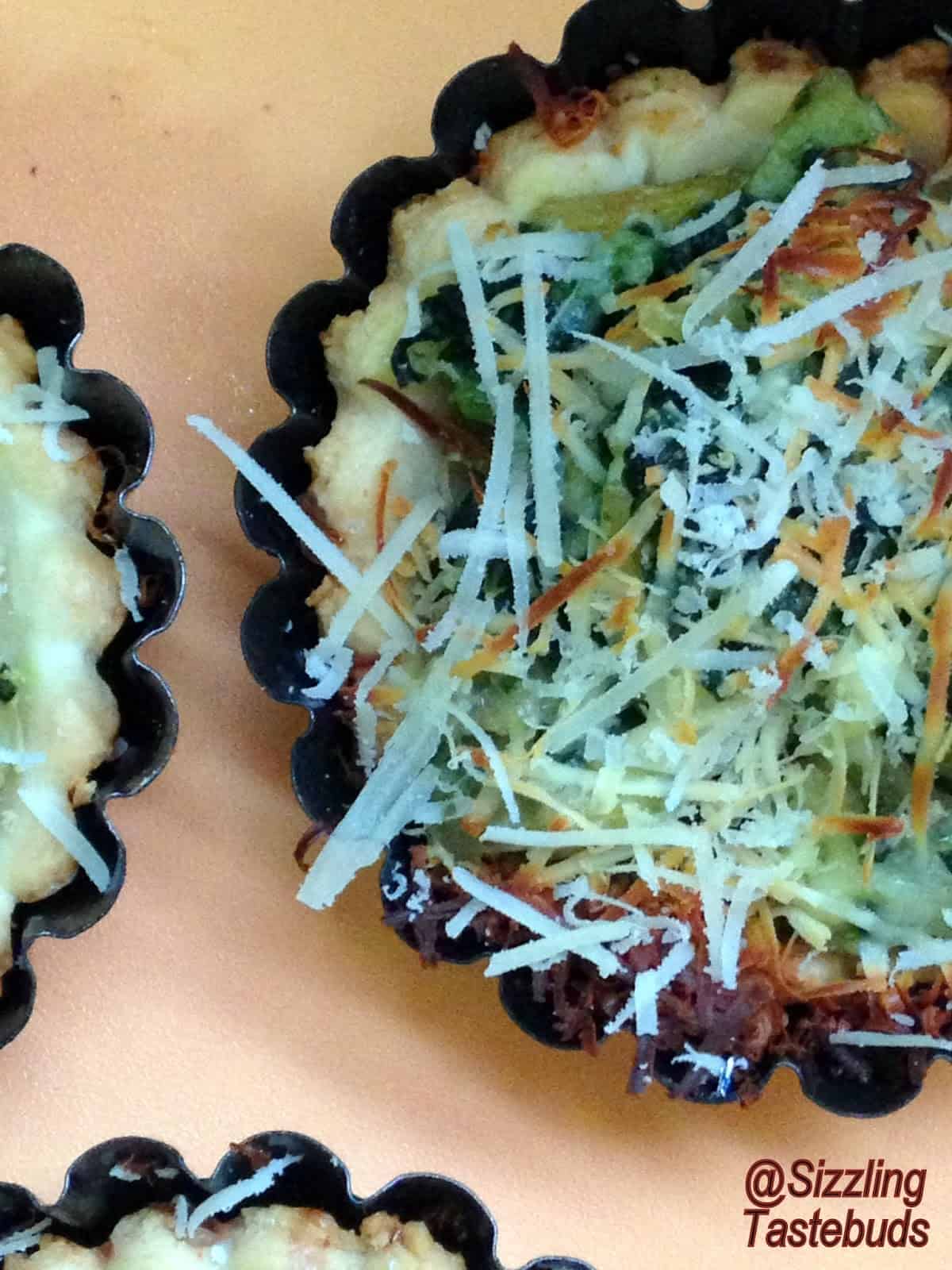 Pin
This is part of the
Bake-a-thon 2015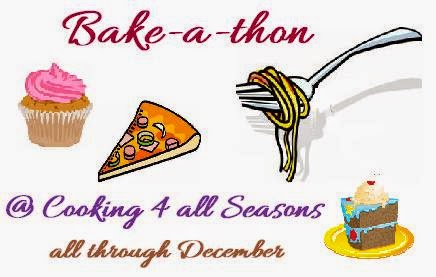 Pin