Cabbage is one of the veggies which have a love-hate relationship in most families, mostly belonging to the latter category. My kids aren't picky but cabbage is not a veggie greatly appreciated at home although the elder one does eat the cabbage stir fry with Rasam . I do disguise it in many ways – Cabbage Kofta curry, Cabbage Dhokla , and three more dishes featuring cabbage will be presented this week under BM # 71 theme "One ingredient, 3 dishes". 
First of this is a cabbage pakora. I make it similarly to Onion pakora. and this time it was shallow fried rather than deep fried, which the family liked a lot. Next time I may even try baking this but for now lets check the recipe. 
Stay tuned for two more cabbage dishes next two days ! 
Cabbage Pakora – Vegan, gluten free snack with Cabbage 
Prep time: 15 mins, Fry time : 15 mins, serves : 3
Ingredients:
Shredded cabbage – 2 cups
Besan / gramflour – 1/2 cup (or as needed)
Rice flour – 2 TBSP
Salt – to taste
Oil – 3 tsp + 4 to 5 TBSP for shallow frying
Spice powders : Red chilli powder, turmeric, jeera powder – to taste
Crushed ajwain (carrom seeds) – a large pinch
Asafoetida – a pinch (opt.) – skip for GF version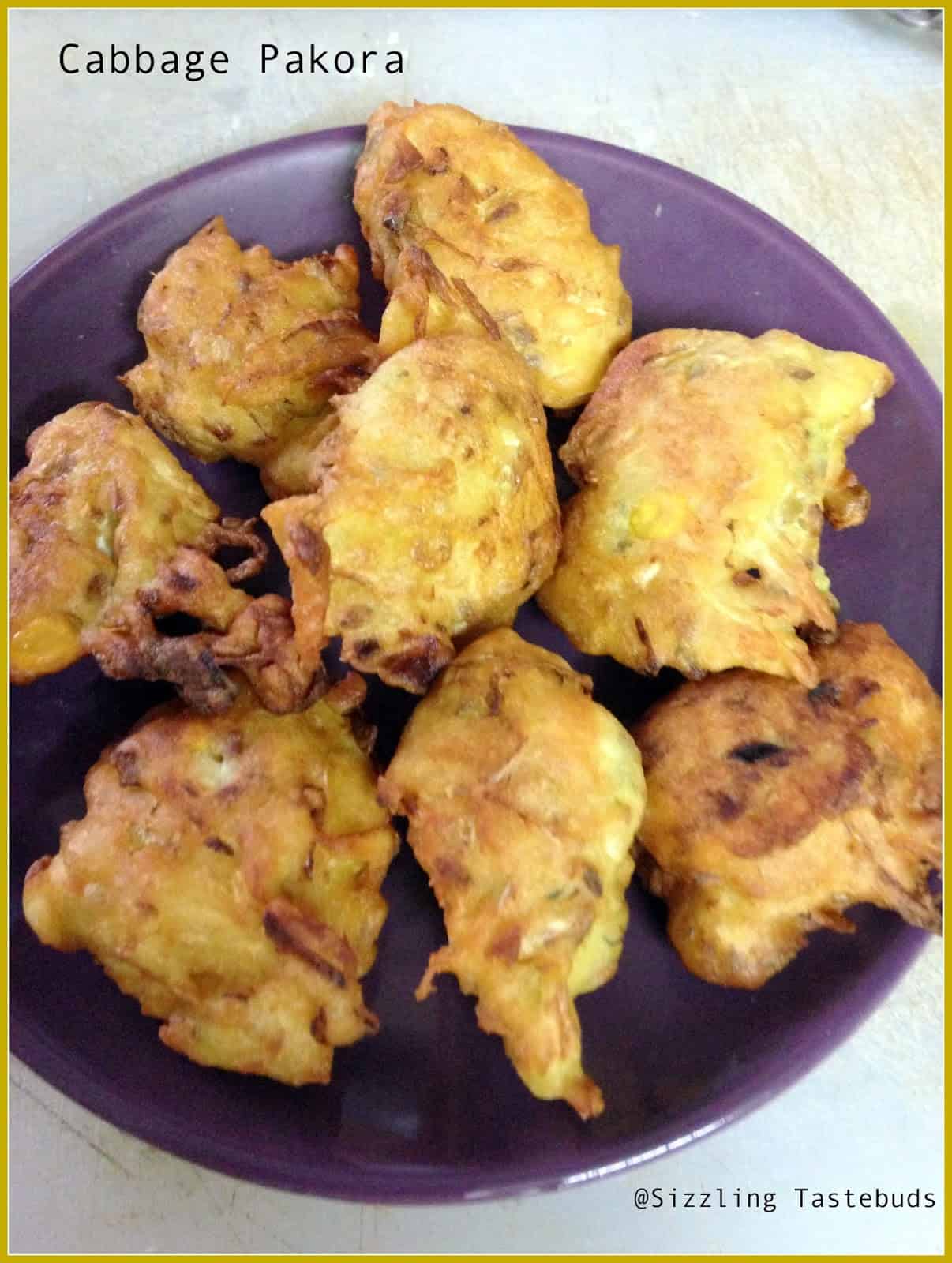 Pin

How to make:
Wash and shred cabbage into thin shreds (I used a mandolin to shred cabbage into super thin thread like texture). Sprinkle little salt and leave for 5 mins. Squeeze out all the water. 
Now add the rest of the ingredients (and do check for salt), including the 3 tsp of oil (except that oil for frying) and mix well with your hands.
Sprinkle 1-2 tsp of water if required to bind it to a rather thick mass (not flowing / dripping consistency). 
Heat a shallow pan and grease with oil. Take small portions of the cabbage pakora mixture, flatten it out and shallow fry drizzling a little more oil, on medium heat on both sides till crispy. 
Serve immediately (gets soggy on storing these for more than 2-3 mins)
PS : you may also deep fry these, in which case it can be served upto half an hour after which it will turn soggy. 
Sending this to BM # 71 under "One Ingredient – three dishes" Theme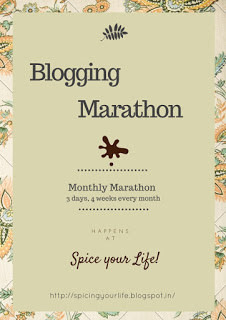 Pin