My husband has strongly believed that anything packaged well, sells. Even for the humble Idli. For a South Indian family, there's hardly a week that goes by without dishing out Idli (or any of its batter offspirings like dosa / Paniyaram / Adai / Idli upma etc).
However, my elder one strongly believes that Idli is not for breakfast (or lunch or dinner) and is considered not worthy of human consumption. Contrast this with the younger one who HAS to eat her Idli-Vada – sambhar whenever we go out for a quick treat in the udupi restaurants that dot our city or ensures it's on her daily breakfast ! (I think she favours the Idli ONLY coz of the crispy Vada).
Be it as it may, I had to find ways of making the elder one eat idlis (moms don't give up, do they!?)
No one would touch idlis made in the morning and Idli upma was Anyways out of the question (no wonder it's not on the blog, and perhaps will never be- we all dislike it with equal gusto).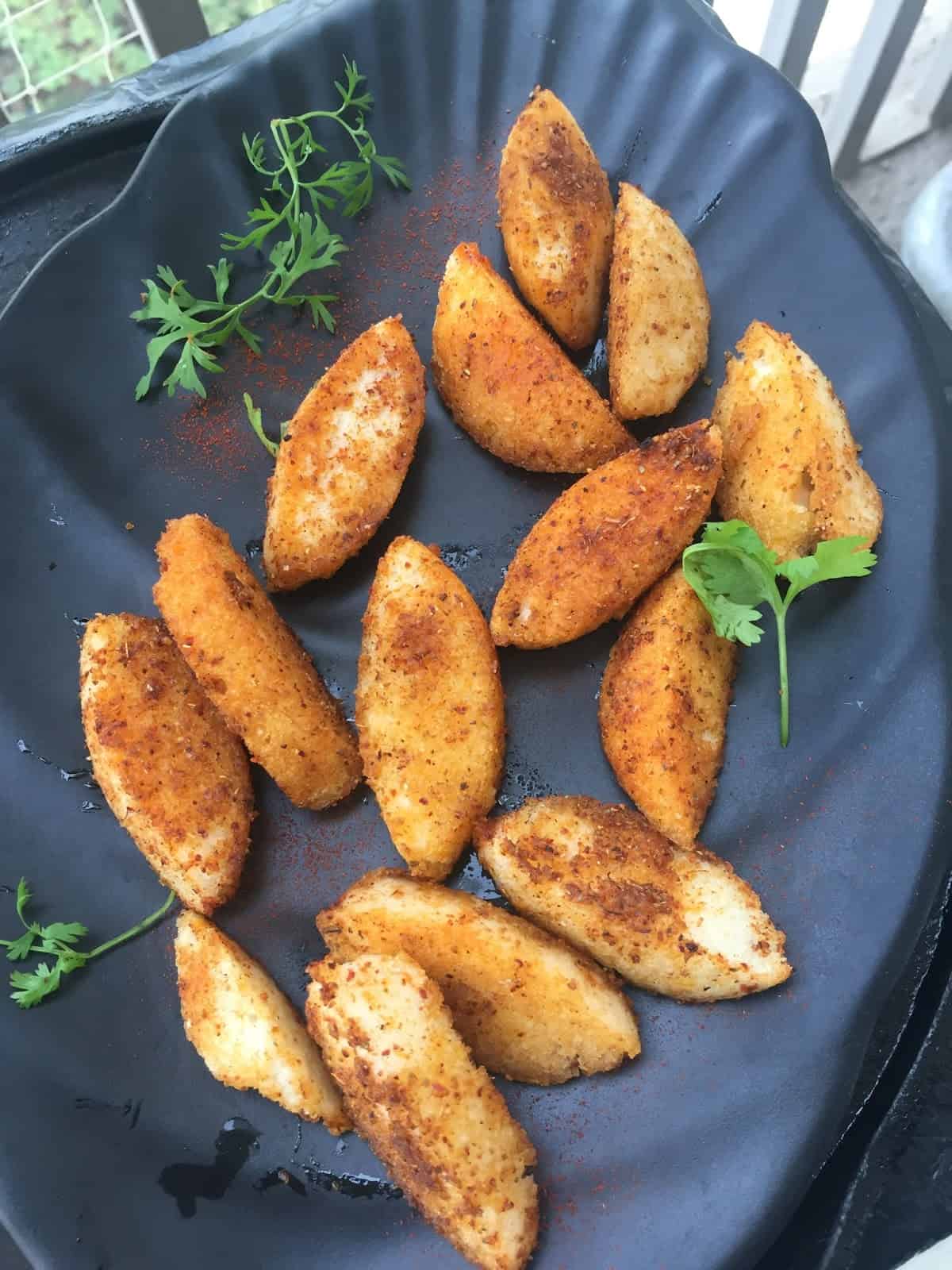 Pin

And so when the baked chilli Idli appeared as a snack, the elder picked up one piece grudgingly , ate it …… and pretty much polished the plate with yummmm, oohs and aahs.

That's saying a lot for 'disliking' Idli. And ratifying that marketing theory that my husband believes in : packaging !

Amma also liked it so that evening I made two batches back to back and yay !! no more left over idlis (secretly speaking, I think I will make and store extra idlis ONLY to

Bake this earth to addictive snack)

Gluten free. Vegan. Spicy. Low cal. Crunchy. Crispy. tasty – checks all the boxes .

If you are an Idli lover (or not), check out this yummy n quick snack.

PS – I am told the deep fry version tastes good too. But who's gonna try when we have so many baked-not-fried dishes on this blog.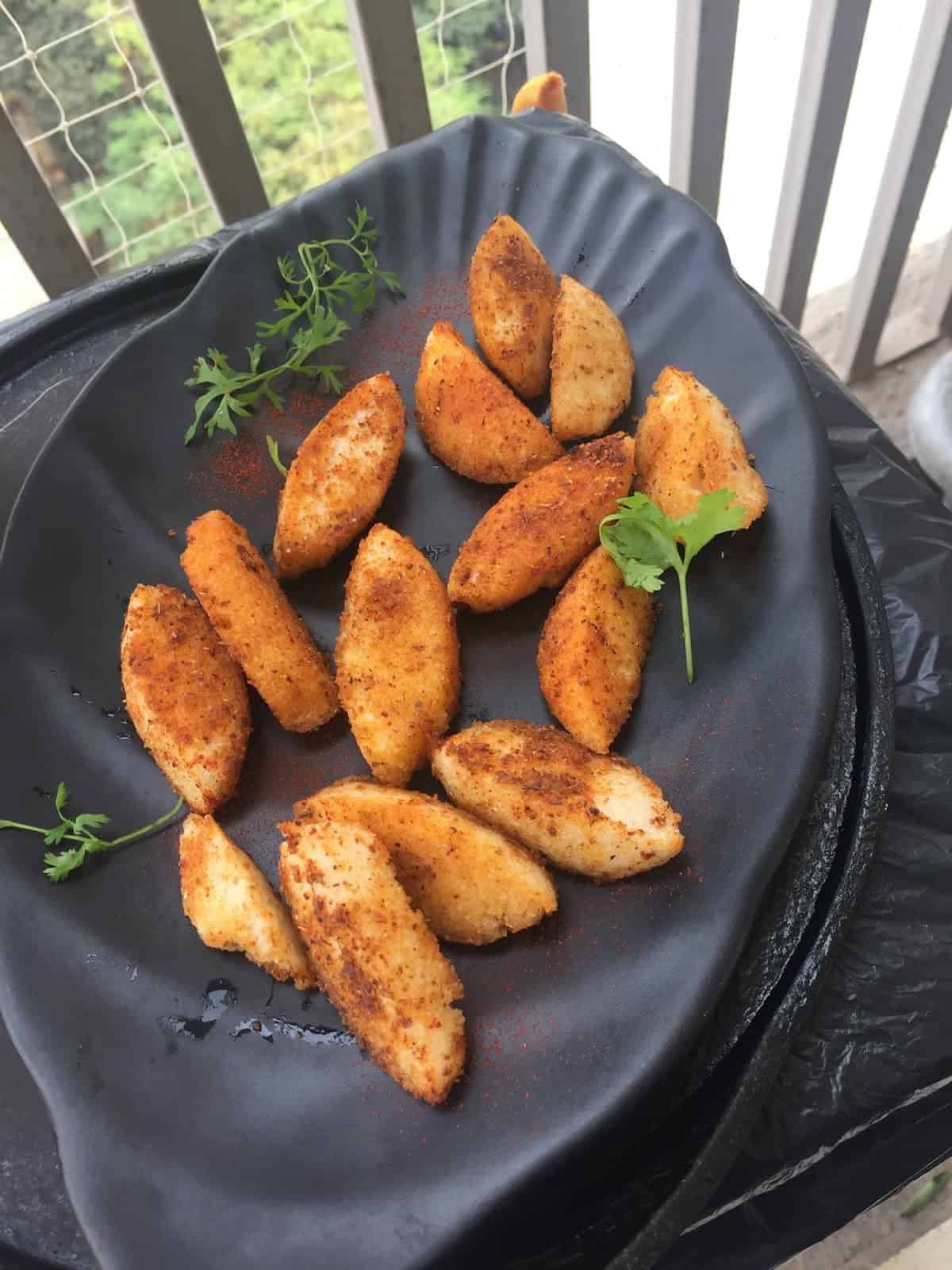 Pin

Notes
Day old idlis (refrigerated of course) works best. If using fresh idlis, chill for an hour atleast.
Spice levels is totally your preference . For the first batch I used red chilli and garam masala.
Second batch has Idli molagapudi and black pepper powder. Both tasted equally yum.
Other Idli varieties on this blog –
Baked Idly Fry – GF and Vegan Snack
Prep time – 10 mins, bake time – 12-15 mins per batch. Serves – 2~3
Ingredients:
Idlis– 10 nos ( I used the Toor Dal Idli orThuvaram Paruppu Idli)
Oil – 2 tbsp + 1 tsp for basting
Red chilli powder, salt, garam masala, pepper powder, or Idli Molagapudi (fiery lentil spice powder) (gunpowder), thecha (garlicky spice powder)- to taste
Salt to taste (note the idlis also would be made from slightly salted batter)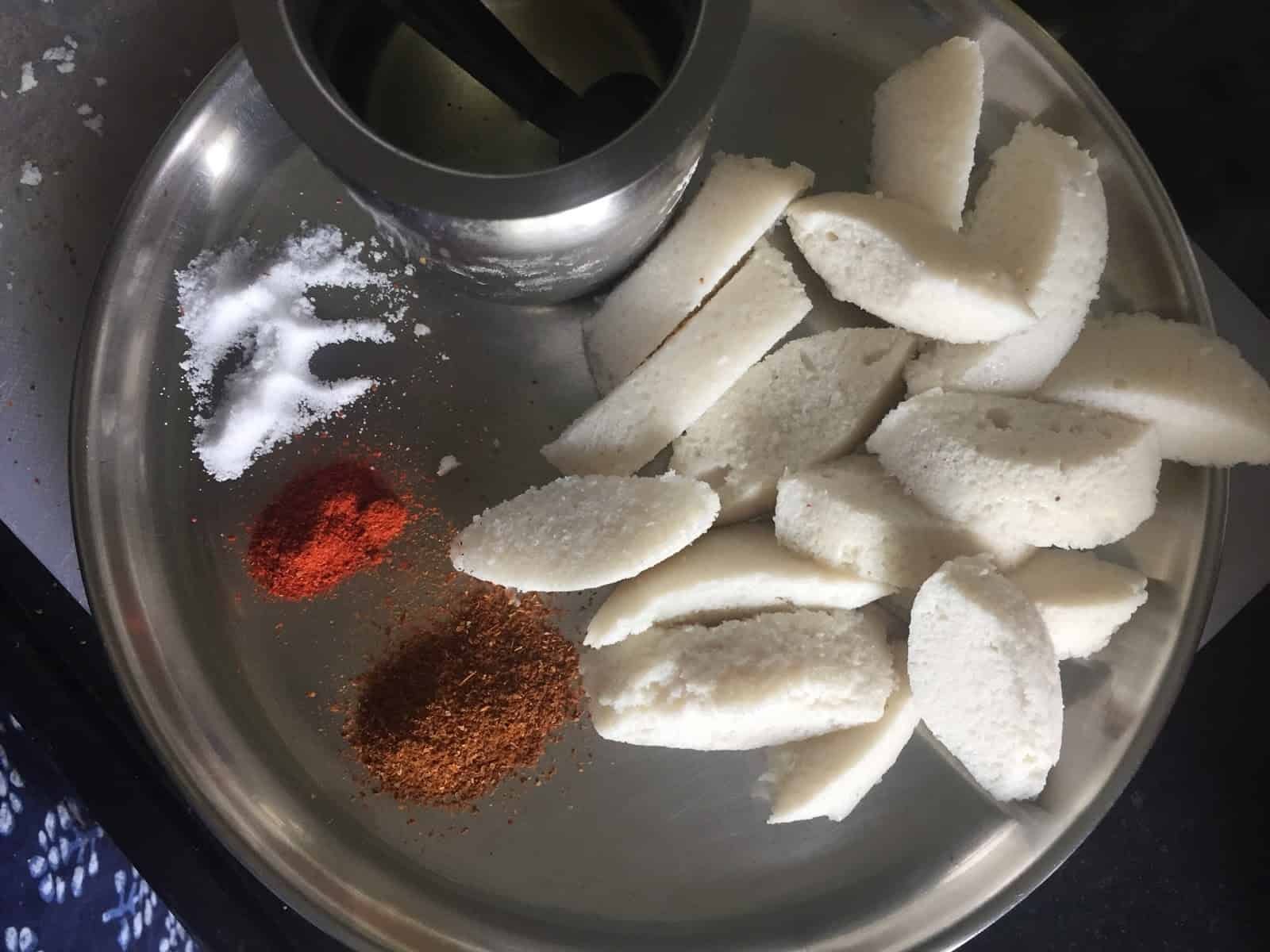 Pin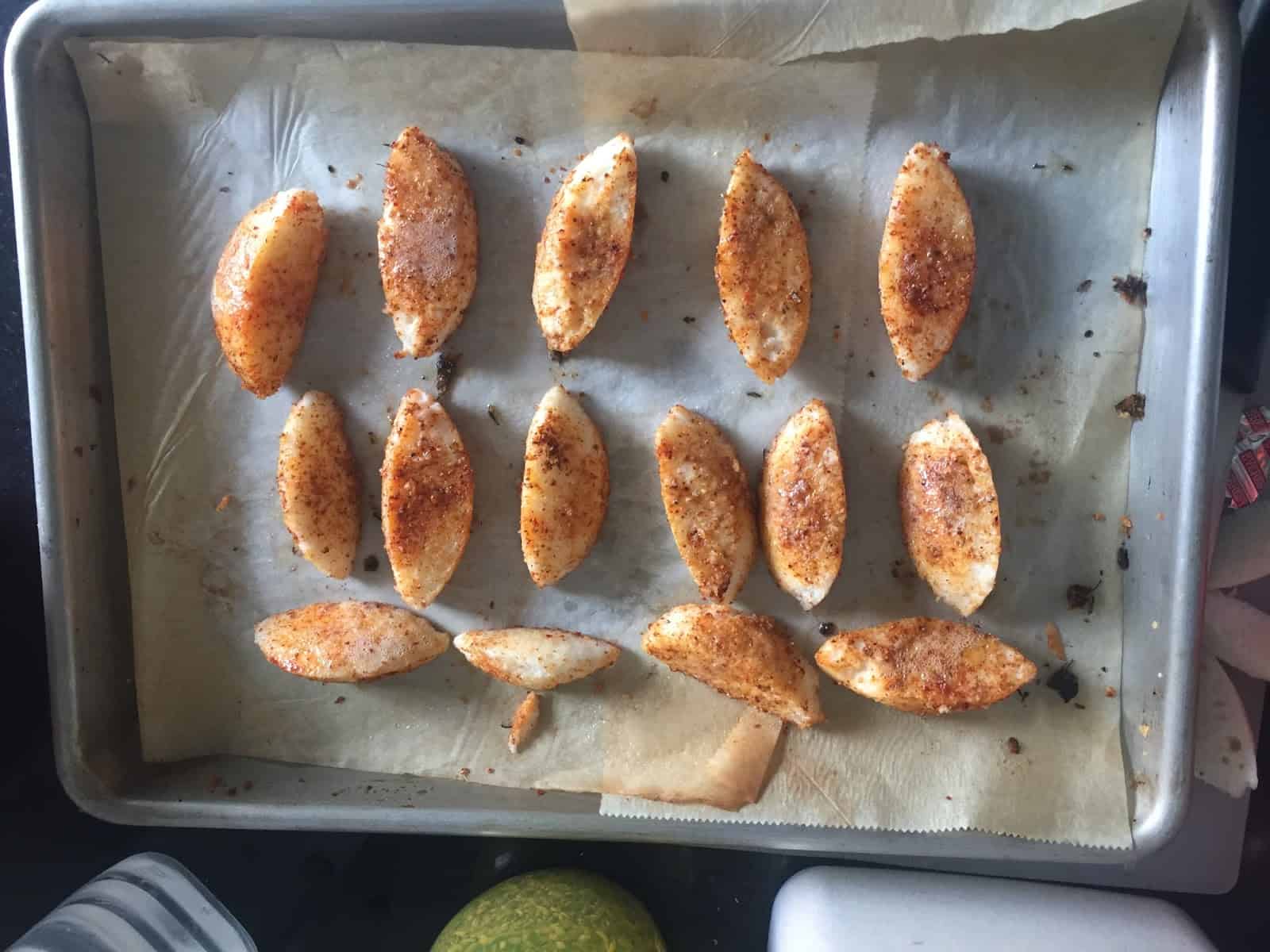 Pin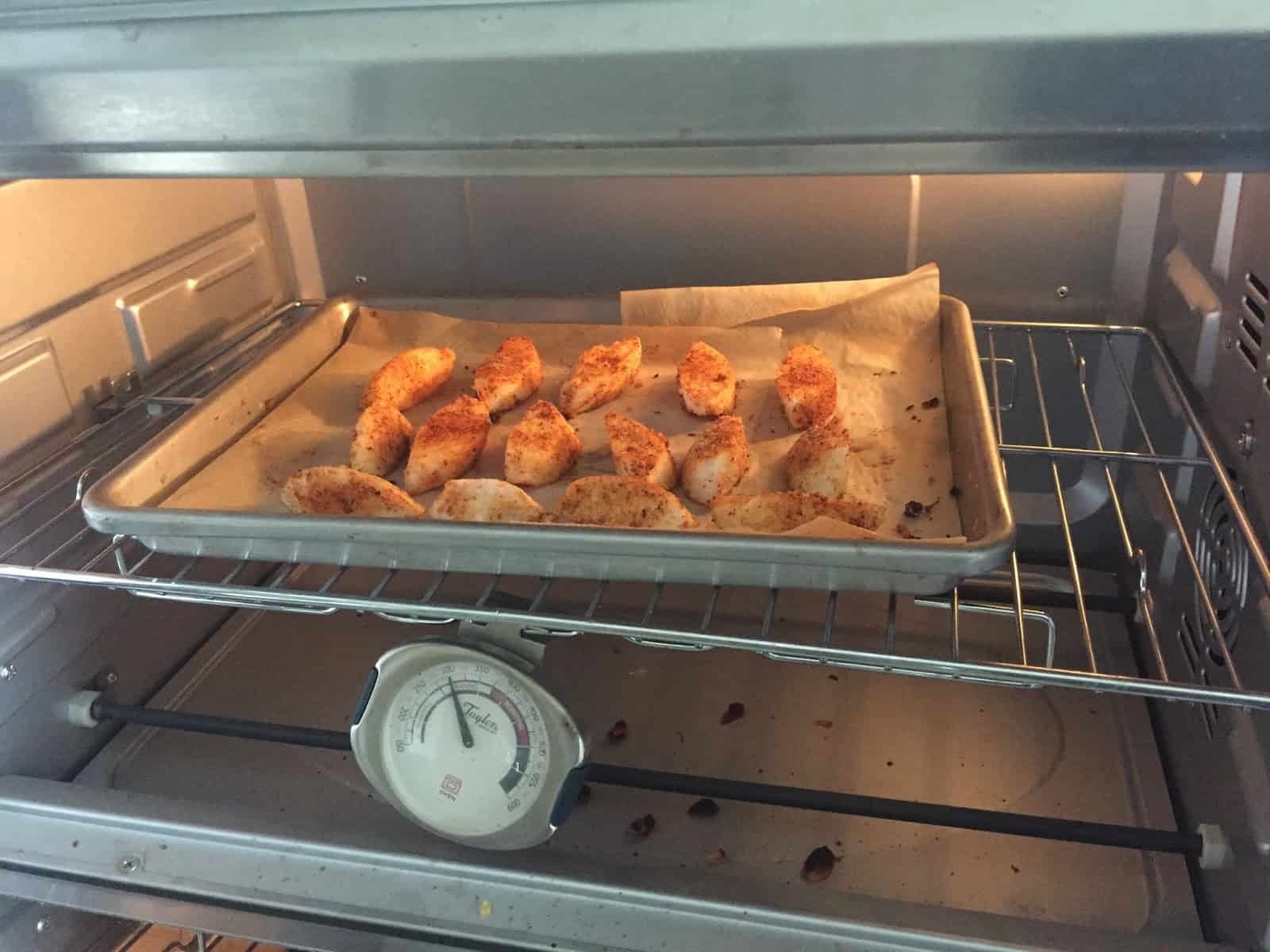 Pin


Method
Pre-heat oven to 180c / 365F. Line a baking tray.
Cut the Chilled idlis with a sharp knife into thick wedges. Make equal sized wedges
In a bowl, add the Idli wedges, salt, oil , mix of whatever spice powders you want. Mix and Marinate for 1-2 mins (over marinating makes them soft and soggy quickly)
Place the wedges in a baking tray. Spray some Oil over the top.
bake for 8-9 mins, flip over and crank up the oven by 5 degrees more and bake for an extra 3-4 mins or until crispy. Keep an eye lest they burn or turn brittle.
Take out from oven and serve warm and crispy, as is with some ketchup or sauce.
Pin
This is part of the Bake-a-thon 2017