I have been a fan of this Kannada Youtube Channel – Swayampaaka for a long time now – perhaps the language used (Kannada) is a familiar throwback to my Bangalore days and childhood, perhaps the dishes dished out is familiar, while some unusual dishes are also a revelation & a new recipe 🙂
One of the few dishes which caught my fancy was today's recipe – Undlige (aka Akki Thari Kadubu). Akki Thari or broken rice is a versatile ingredient- and Upma with field beans, Buttermilk Rice Rava Upma, Idli etc are made with this Rava. You can see how to make this Cracked Rice here on my blog.
The original recipe used rava made of slightly red rice, but I used normal white rice rava. Guess the taste would vary slightly, but we loved it a lot. The husband, Amma and me are great fans of steamed food like Upma Kozhukattai, Nuchinunde, Palak Muthia, Ammini Kozhukattai, Faraa, Wholewheat Momos and the like. Pepper Idly – another staple in our breakfast menu is a favourite amongst the entire family too.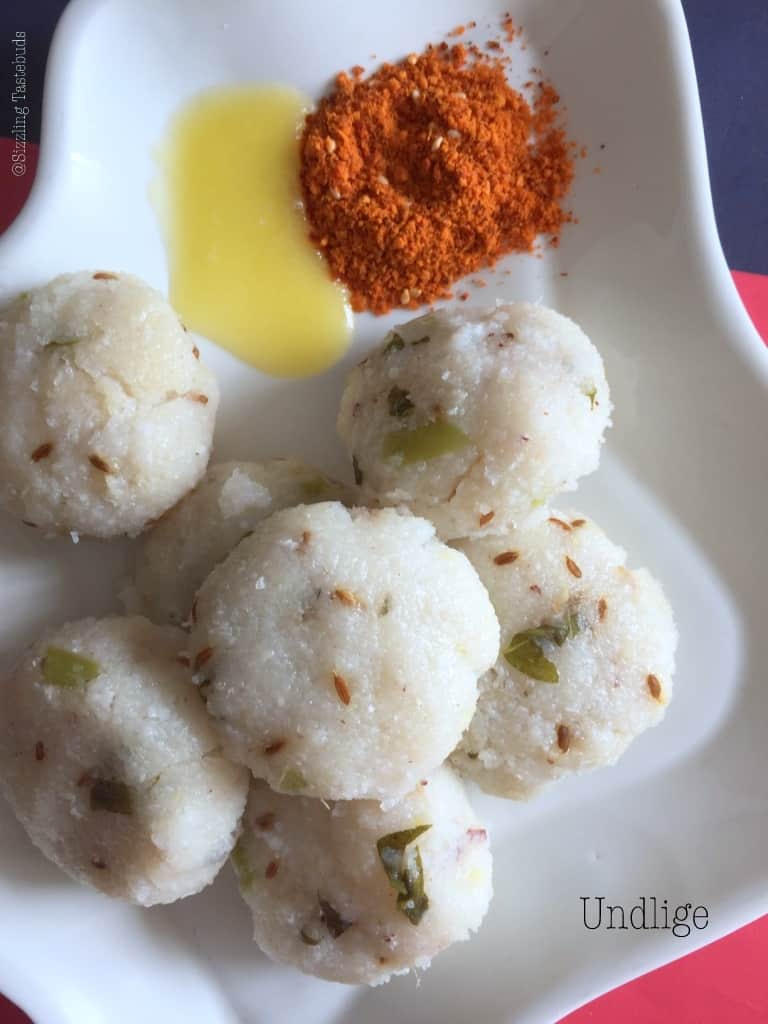 I followed the recipe with some minor modifications. It goes well with Coriander Coconut Chutney or Eerulli Gojju (onion in tamarind gravy) too, but we had it with Chutneypudi and homemade Ghee – thats so typical of Karnataka Cuisine. It was hearty, filling and most importantly healthy as it was steamed.
Undlige – Cracked Rice steamed with spices : a vegan, glutenfree healthy steamed snack
Served with Chutneypudi and homemade Ghee
Prep time : 10 mins | Cook time : 8+10 mins | Makes : 12-14 medium sized Undlige
Ingredients:
Rice Rava (homemade) – 1 cup (220 ml)
Oil – 2 tbsp
Jeera / Cumin – 1 tsp
Chopped green chillies – 2 nos (adjust spice)
Freshly grated coconut – 3 TBSP
Hing / Asafoetida – 1/6 tsp (skip for GF version)
Chopped coriander + curry leaves- 1 tsp
Salt – to taste
Water – 3 cups (same cup as rice rava)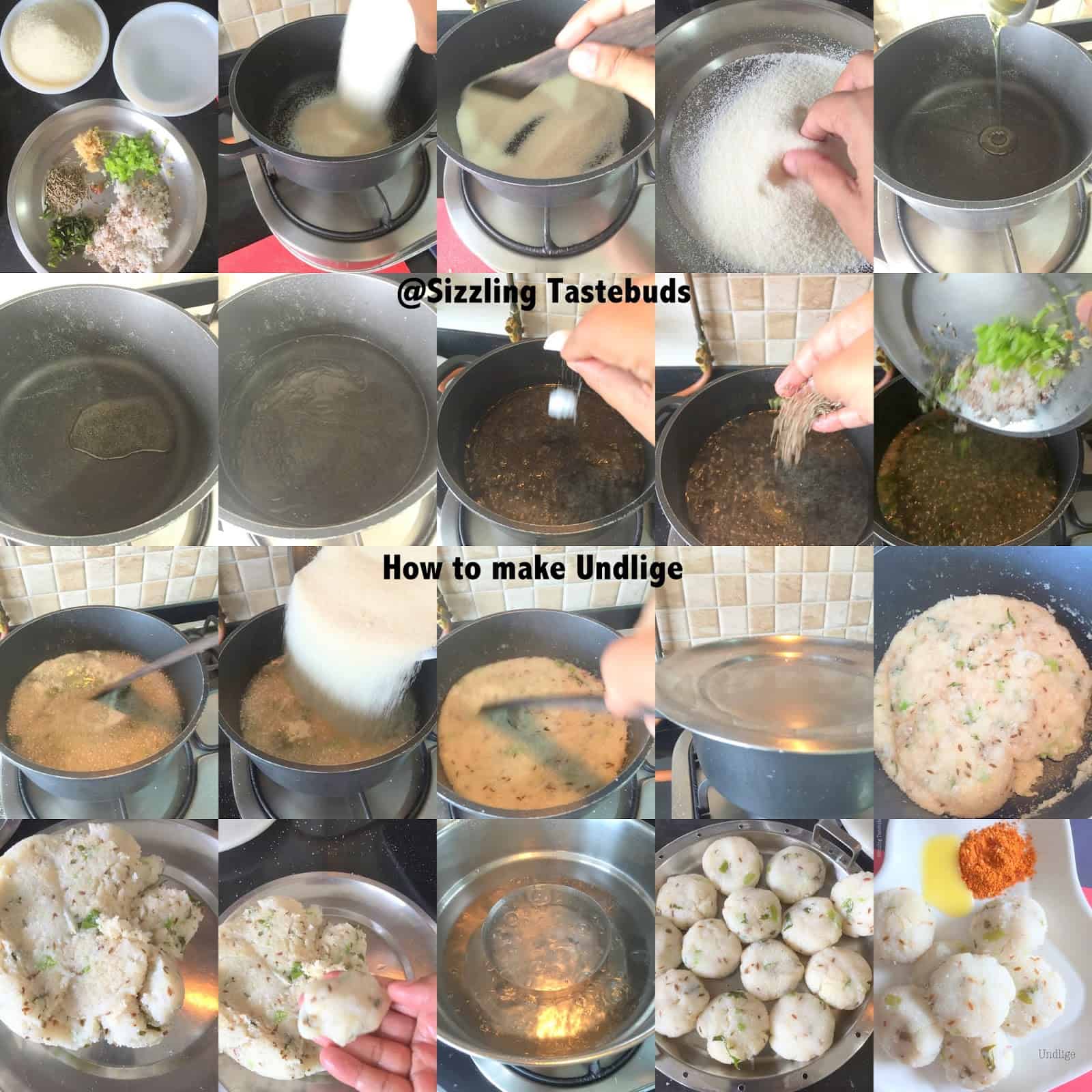 Method:
Grind fresh coconut and chillies coarsely – I skipped this and used them as is.
In a non stick pan, dry roast the rice rava for 3-4 mins on low flame till really hot (making sure u dont burn it or it doesnt change colour. Remove to a flat plate.
In the same pan, add oil. Once oil is hot, add the water (3 cups totally), let it come to a rolling boil, add cumin, coconut, green chillies, hing, salt, coriander and curry leaves (If grinding the chillies and coconut, add that first into the boiling water, stir well and add rest of the spices etc).
Let the water continue to boil. Pour the roasted rava in a steady stream into the boiling water, stirring all the time. Stir well for 1-2 mins. Cook and cover for 5-6 mins till its cooked to a upma kind of consistency. Transfer to a flat plate, and let it cool slightly (but not fully).
Meanwhile, heat a steamer with lots of water. grease a steaming plate with 1-2 drops of oil.
With slightly wet hands, pinch out a roundel from the cooked rava, quickly working with your hands make a ball and slightly flatten out and place on the greased plate. Work thru the rest of the cooked rava quickly else the rava will dry out & harden and wont steam properly.
Once all the Undlige are made out on the plate, place in a steamer and steam for 14-18 mins (you may use a cooker also but dont add the pressure weight, invert a small stainless steel tumbler over the pressure valve).
Once done, cool for 2 mins, gently de-mould from the steaming plate and serve hot with Sambhar / Chutney / Chutneypudi of your choice.