The name sounds long. But its filled
with yummy goodness and is a favourite with kids in a birthday party as well for school lunchbox. Easy to
make ahead, all you need to do is assemble the stuff to serve. You may grill
the same to slightly melt the cheese, else even warm the bread just before
serving. . Addition of mayonnaise is optional, but as we dont eat even the
eggless version at home, I skipped it.
Also, to make it more spicier you may
add in Red and Green Chilli Sauce and anything else that fancies your palate. So, what are you waiting for? Try this out once,and am sure
you will have your kids come back for more. Makes for a perfect birthday party
snack that even adults can enjoy 🙂 Sending this to Blogging Mega Marathon – Day 3
under "Birthday Treats" theme.
Prep time : 15 mins | Grill time : 5
mins | Serves : 2
Difficulty level : Easy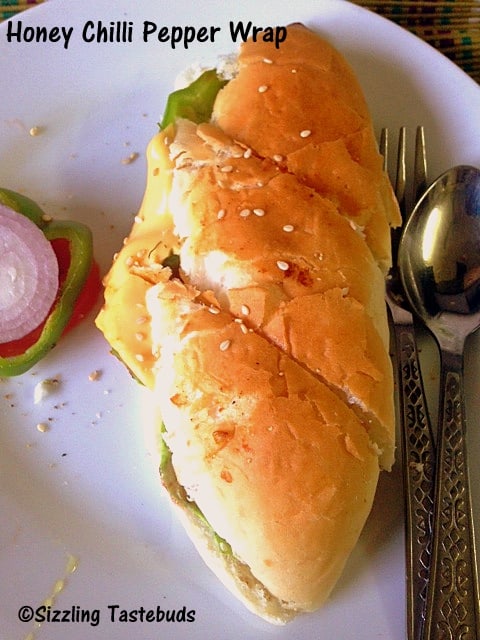 Pin

Ingredients:

Long Sub bread / Bread roll – 2 nos

Butter – 1 or 2 TBSP – melted

Cheese – 2 slices

Lettuce leaves – 2 to 3 nos
(washed and wiped)

Tomato slices – 4 to 6

Bell Peppers roundels – 3 to 4

Cucumbers – slit flat and thin – few
pieces

Black or green olives – diced thin
(optional – I didnt add)

Honey – 2 TBSP (you could alternatively
use Golden Syrup)

Crushed Black Pepper – 2 TBSP

Salt – to taste

Tomato Ketchup – 2 TBSP + to serve with

Notes: To make a great wrap, ensure all veggies are cut before hand and chilled adequately under a cling wrap – use only as much as required per wrap and refriegrate the rest. Add salt to the sub just before grilling to prevent soggy wraps.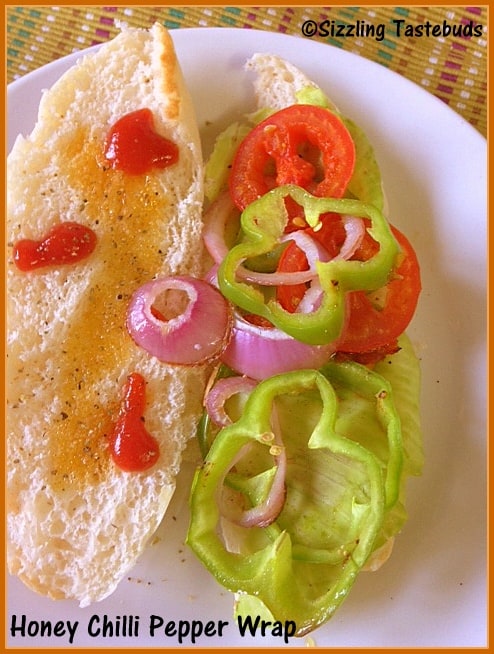 Pin

Method:

Slice the bread roll or sub bread
lengthwise along one side without separating the halves.

Drizzle honey on the upper half of the
cut portion.

Apply melted butter on the cut
portions.

Add tomato ketchup on the same.

Now add the lettuce leaves, tomato
slices, bell peppers and cucumbers. Drizzle adequate salt and black pepper (remember the cheese and tomato ketchup are both loaded with salt, so use moderately).

Now place the cheese slice

Close the roll

Grill slightly on a tava (skillet) or
oven for 4-5 mins till cheese melts a bit

Slice up into bite sized portions and
Serve hot with tomato ketchup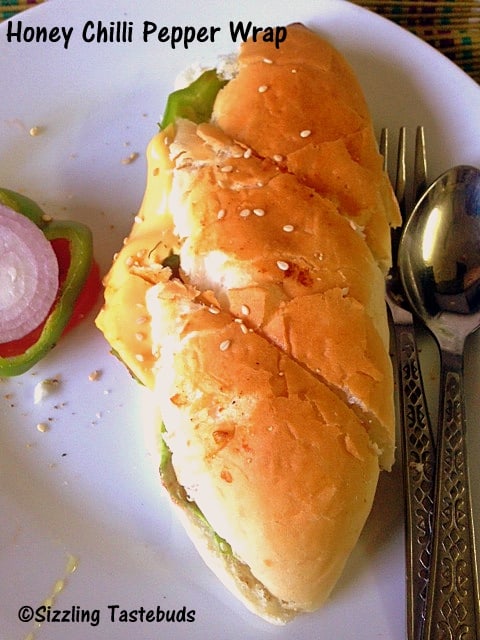 Pin