We begin September with 26 dosas (Indian Crepes) this month. As a family, we are slowly exploring GF and Vegan options so a month-long blogging as a challenge with 26 dosas appealed to me, both for the versatility that dosas present as well as a filling breakfast / brunch option that it provides. The month long Challenge to post 26 dosas in alphabetical order (A-Z) starts today with Azhagar kovil dosa.I hope that you would enjoy this journey as we discover dosa varieties from across India's repertoire.
All of these dosas were tried for the first time exclusively for this challenge I set myself including some bookmarks that also got cleared. With some dosas, it was a trial and error and the error(s) have also been noted and worked upon. And some others, I have halved or quartered down the original recipe to make 2-4 dosas as a trial too !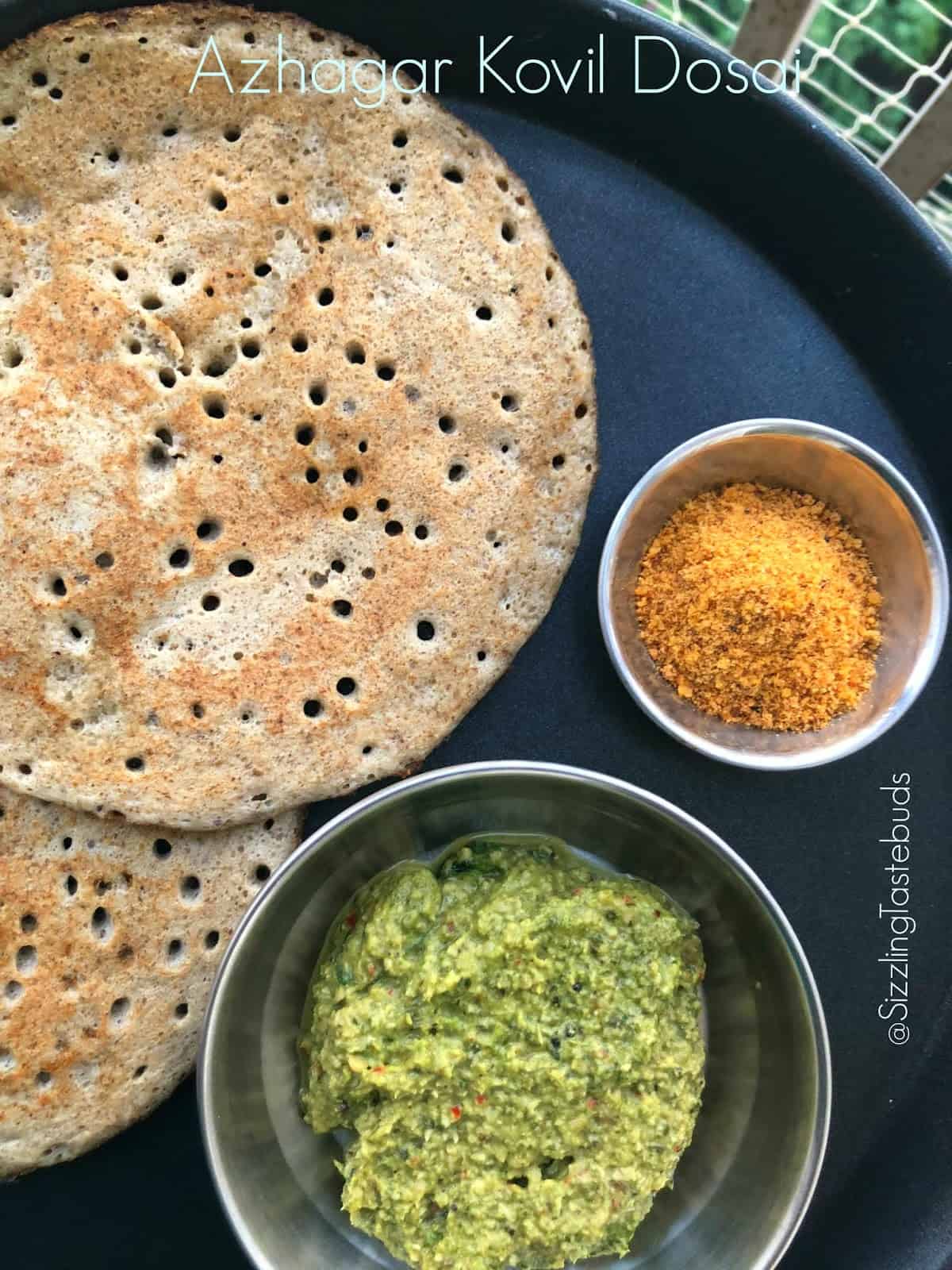 Pin

I have a mix of both Instant and fermented Dosas. As far as possible, they are GF and Vegan. But in the recipes that required them as an essential ingredients, they are presented the way they ought to be.  

So, for all those dosa lovers (and those are yet to be converted into one), join me in this journey of 26 dosas all this September featured in A-Z alphabetical order

Azhagar kovil dosai was on my to-do list for a long time! Adapted from Shanthi Krishnakumar's recipe, this was a delicious addition to the breakfast rotation and actually keeps u full with just 1-2 dosas

Prep time – 5 Mins , soaking time – 4~6 hours, grinding time – 15 Mins ; fermentation time – 10~12 hours

Makes – approx 8-9 dosas

GF, Satvik and vegan whole black gram n rice pancakes served with Flaxseed Molagapudi and Pudina Thogayal. 

Ingredients:

Whole black gram – 100 ml

Raw rice (any short grained rice) – 100 ml

Methi seeds – 1/2 tsp

Oil – to pan fry

Salt – to taste

Topping / addons (must add) :

Dry ginger powder , crushed fresh black pepper – 1 tsp each

Hing / asafoetida – 1/3 tsp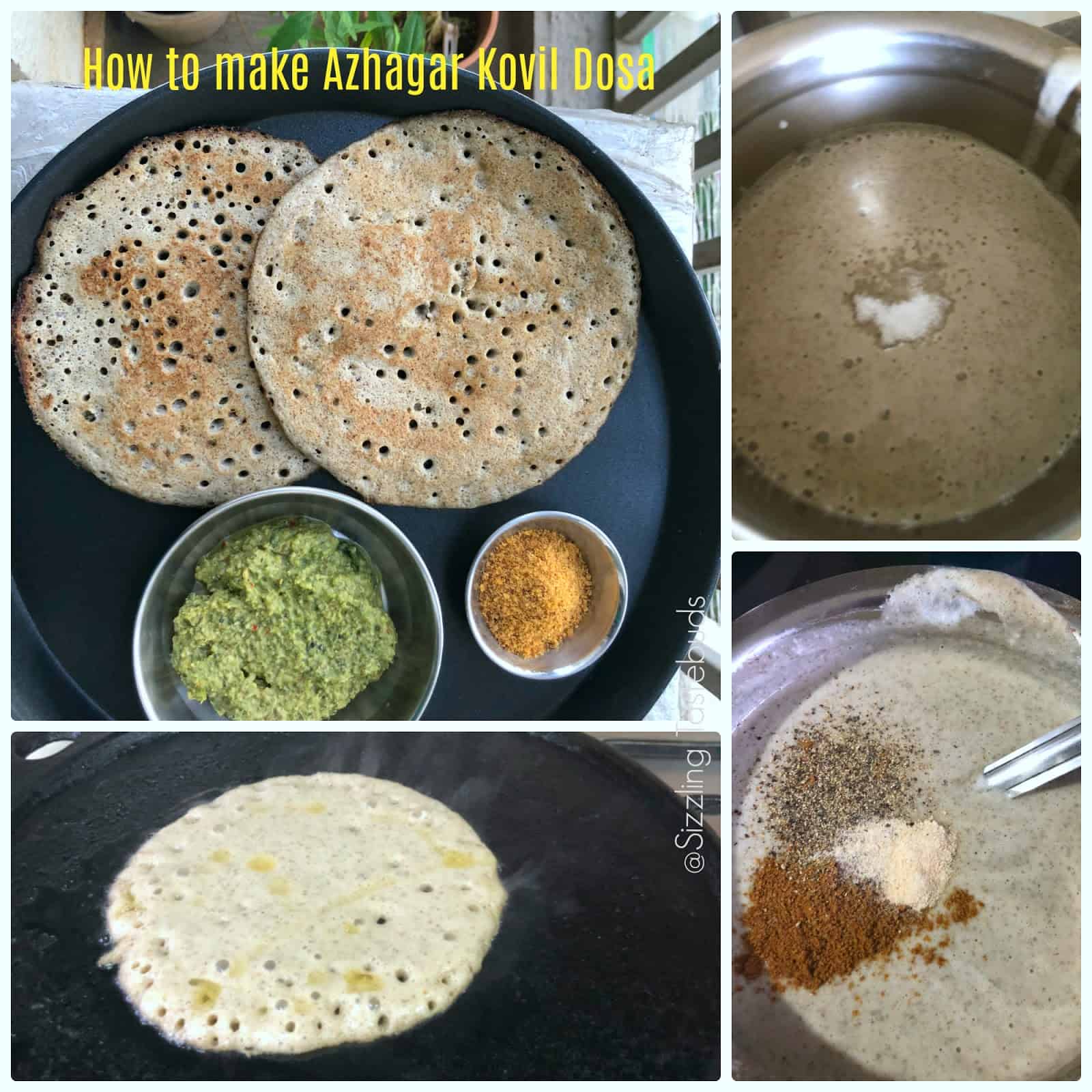 Pin
Method:
Wash and soak the rice and dal separately for 4 hours or even overnight. Soak fenugreek seeds with the rice
Grind both the rice and dal to a smooth paste. Add requisite salt and mix well.
Let it ferment for 10-12 hours or overnight .
After fermentation, mix in the toppings / add-ons indicated below. Check for salt and spice and mix thoroughly. 
To make the dosas –
Grease an oil Skillet (tava). Mix the well fermented batter and pour a deep ladle full of the batter onto a medium-hot tava . Do not spread, let it be like a thick Dosa, ~ 6 / 7 inches in Diameter. Drizzle Oil or ghee (or even a mixture of both if you are not vegan) around the sides. Let it cook well and turn slightly crusty. 
Flip on the other side and let it cook again for 1 min.
Serve immediately with any chutney or Sambhar. 
We had ours with Flaxseed Molagapudi and Pudina Thogayal.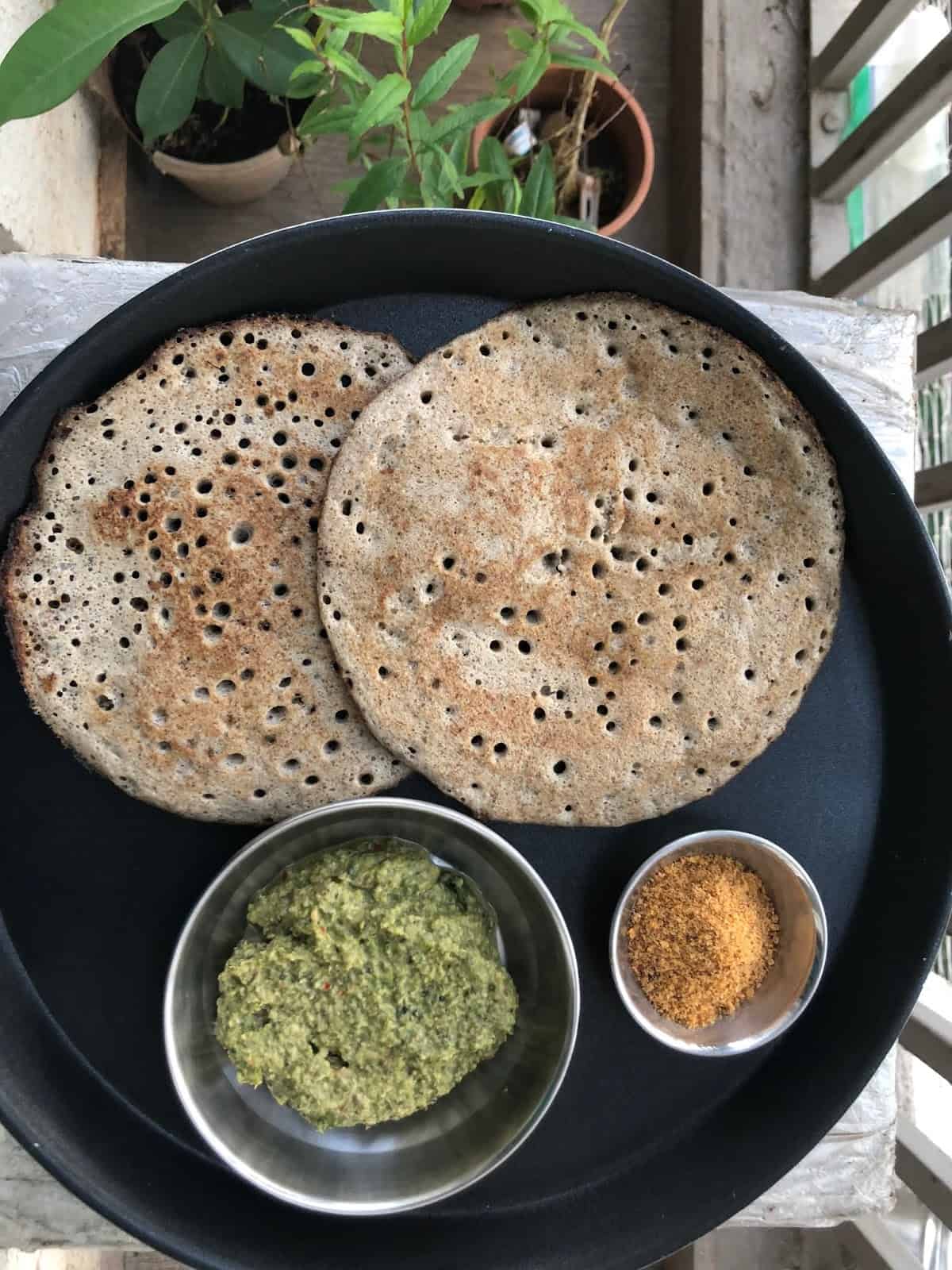 Pin