One of the finest breakfasts in South Indian Cuisine has to be Ven Pongal (Tamil) / Khara Pongal (Kannada) .. We love to have Pongal – Avial combo on Sundays and make this almost twice a month. A typical Tamilnadu breakfast, tomes have been dedicated to Saravana Bhavan's version of Ven Pongal. 
My best memory of some amazingly good Ven Pongal is at this non-descript village shack somewhere between Madurai and Coimbatore at 6am while I travelled between these two cities.. The glistening pongal with fiery hot coconut chutney was too good to resist, and I did help myself to, well a second helping !! 
Well, I almost (?) got carried away in the poetry of food, rather share the ingredients with you.. Although the ingredients of this dish stay the same across households, the method (process) of making it varies along with the ratio of dal to rice.  
Pin

What is Pongal ?

Pongal is a South indian Breakfast dish made with a combination of lentils and rice -its trademark taste and consistency is gooey creaminess redolent with the mild spice and ghee (clarified butter) that's used . Ven Pongal is also served as Prasadam (Prashad ) in a few South Indian temples. Usually only Moong dal (split green gram) and short grained rice is used. Other variations that are now the rage are millets in place of rice. Furthermore, Rava / Semolina or godhuma rava (broken wheat / lapsi) are also used sometimes, with varying ratio of rice:lentils and dfferent taste.  




Ven Pongal can be had with Tiffin Sambhar/ anychutney or even Avial (mixed veggies in a spiced gravy).

 PIN FOR LATER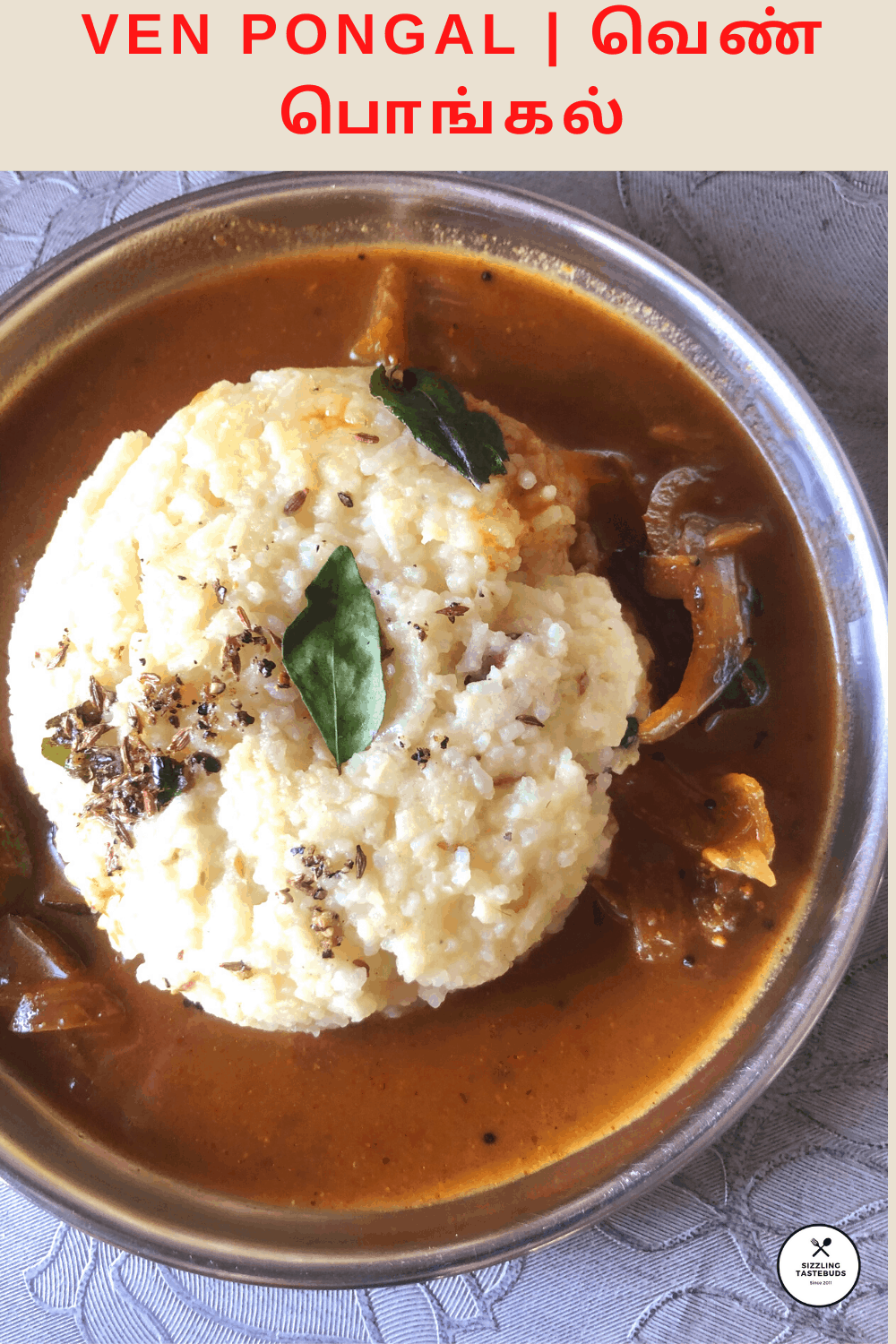 Pin
Other savoury and sweet Pongal varieties you may like. 
Rava Pongal (Semolina – Moong dal Pongal) 
Kalkandu Pongal (rock candy sugar pongal)
Chakkarai Pongal – ver 2 
Thinai Khara Pongal (foxtail millet Pongal)
Oats Pongal (savoury version)
Oats Chakkarai Pongal
Chakkara pongal  – ver. 1
Preparation time : 10 mins. Cooking time : 10 mins. Serves : 3
Ingredients:
Pin
Raw Rice (short grain rice)  – 1 cup 
Split Yellow Gram / Moong Dal – 1/3 cup + 2 TBSP
Ghee – 4 tbsp (if vegan, sub with 
Cashew – 2 tbsp (broken into bits)
Minced Ginger – 1/2 tbsp
Salt – to taste
Asafoetida – 1/4 tsp (simply skip for GF)
Cumin / jeera – 1 tbsp
Black Pepper / Milagu – 1/2 tbsp
Curry leaves – 2 or 3 sprigs
Turmeric – a dash (opt)
For Avial, please refer Recipe here.
Method:
1) Wash Dal and Rice separately in several changes of water. Drain.
2) In a pan, fry the dal in 1 tbsp of ghee till fragrant.
3) Cook this mixture with 5 cups of water and a pinch of turmeric for 5 whistles.Cool.Mash this up with a wooden ladle till mushy.  
4) In a pan, heat ghee.Prepare tempering of crushed jeera, black pepper, ginger, asafeotida, curry leaves, turmeric one by one.
5) Add the cooked dal mixture and adjust salt. Garnish with fried cashew.
6) Serve hot with a dollop of ghee along with Coconut Chutney / Gothsu (Tamarind spicy gravy)/ Avial.
Pin
Updating this post for Foodies_Redoing Old Posts#22 where we revisit / revamp old posts with new pics / recipe updates etc.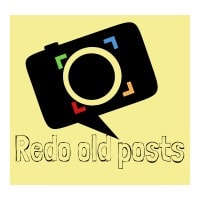 Pin

Pin