Instant Ragi Oats Dosa
Ragi –Finger millet, Nachni, kezhvaragu, Mandua. So many names, yet one defining quality that endears us to it is the high calcium content which makes it perfect for growing up kids, convalescent moms and even the elderly.
Ragi or finger millet can be used in grain form – Hurittu or popped ragi "flakes" is a popular breakfast / porridge in Bangalore .. or flour form where back home in Bangalore ragi rotti or ragi muddhe (kali a.ka ragi sankati in telugu). there are two much preferred ways to consume the millet.
Today's dish is about introducing ragi to kids (& kid like adults ????) who can't be coaxed to eat ragi in a new form, as Ragi is an acquired taste. This dosa is enhanced with the addition of oats to add some fibre too.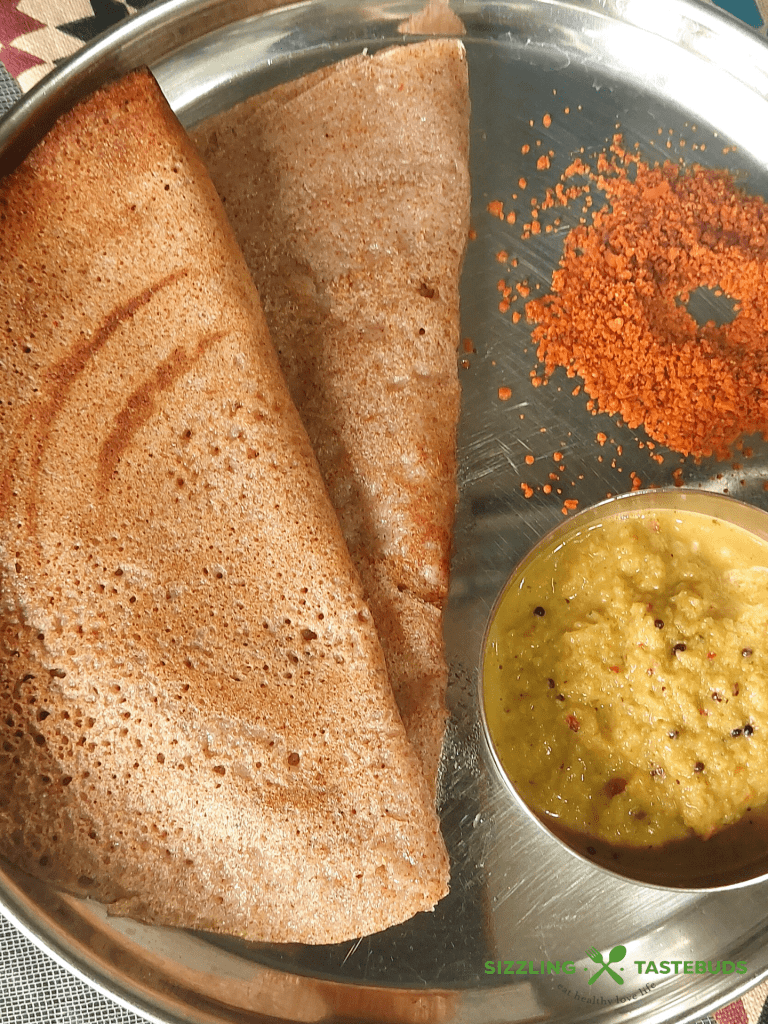 Ragi in Indian Cooking..
Ragi (or finger millet) was never my favourite grain. Amma used to try to feed us the Ragi Mudde aka Sankati (finger millet roundels) or Ragi rotti (flatbread of finger millet). While the latter gained acceptance slowly (thanks to her packing the rotti religiously every week for our school lunch boxes, where you had no option but to…errr..eat), I still found every excuse under the sun to avoid Ragi Mudde. No amount of entreaties or threats worked for this – its quite an acquired taste to eat Ragi. Now, I do eat this with some grudge and my waistline thanks me for this versatile and calcium rich grain, although my favourite would remain Ragi Sevai (or Finger Millet String hoppers).
All this blabbering for what, one might wonder. Mom made this amazing steamed Ragi Dosa (with very very little oil) . Contrary to popular preferences of eating crispy Dosas, I somehow prefer my dosas soft and fluffy (like th eSet Dosa or even Poha Dosa– another two of my favourites) and this Steamed Ragi Dosa fit the bill perfectly. Served with a generous helping of chutney and Molagapudi, this dosa has my vote on the perfect morning breakfast.
How else can you customise this Instant Ragi Oats Dosa?
Chopped onions, green chillies , grated carrots can be topped
Maida (or all purpose flour) can be used in place of oats
Whole wheat Flour can be used in place of Jowar / oats if you are not picky about it being 100% gluten free.
If you don't wish to use rice flour (that's highly recommended to make this crispy), increase sorghum by 1/3 cup. Water proportions would slightly vary then .
Tips to get the perfect Ragi Oats Dosa
Dry Roasting the oats, cooling and then powdering is key, don't add the oats directly, the batter will be gooey
Make all dosas on medium-high flame, too low, and it will stick, too high and the dosa would burn
Customisations can be made to this based on the notes above
This ragi dosa can be made soft and spongy (or crispy) based on personal preference. If making crispy dosa, increase the oil by another 1/2 -1 tsp per dosa and cook till crispy.
As this is a Gluten Free batter, Resting time for the batter before making the dosa is very critical. If you are running short of time, make the batter the previous day, refrigerate and then bring it to room temperature before making the dosa.
PIN FOR LATER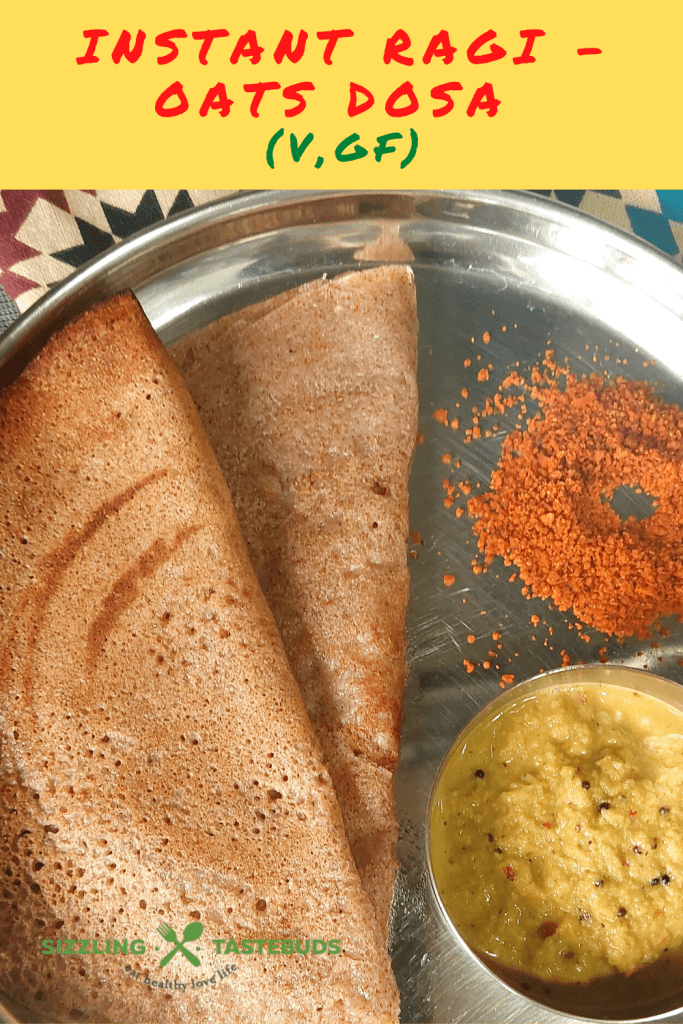 Other Gluten Free Dosa varieties you may like on the blog…
Kadamba Dosai | Instant Breakfast Dishes
Instant Multigrain, Gluten Free, vegan Indian Savory Pancake. Served for Breakfast or evening Tiffins.
Check out this recipe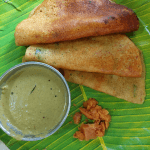 Farali Dosa | Rajgira Dosa | Amaranth Flour Crepes
An Instant Gluten Free Indian Crepe (Dosa) made with mixed flours. Served as breakfast / snack especially for Indian Fasting Days with peanut Chutney.
Check out this recipe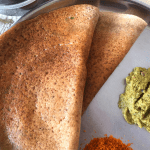 Watermelon Rind Dosa | Kalingana Polo | Kalingada Polo
Watermelon Rind Dosa | Kalingana Polo | Kalingada Polo is a Gluten Free + Vegan soft and spongy Dosa made with Watermelon rind and basic pantry essential. No lentils added 
Check out this recipe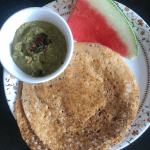 Prep time – 10 mins, resting time -30 mins, cook time – 15 mins ; makes – 10 dosa
Cuisine – South Indian, course – breakfast / snack
1 cup finger millet flour
1/2 cup oats
1/3 cup rice flour
1/3 cup sorghum flour (jowar)
1 tsp cumin (jeera)
1 tsp black pepper
1.5 tsp salt
2 dry red chillies
2 cups Water (or as required)
1 tsp oil (per dosa)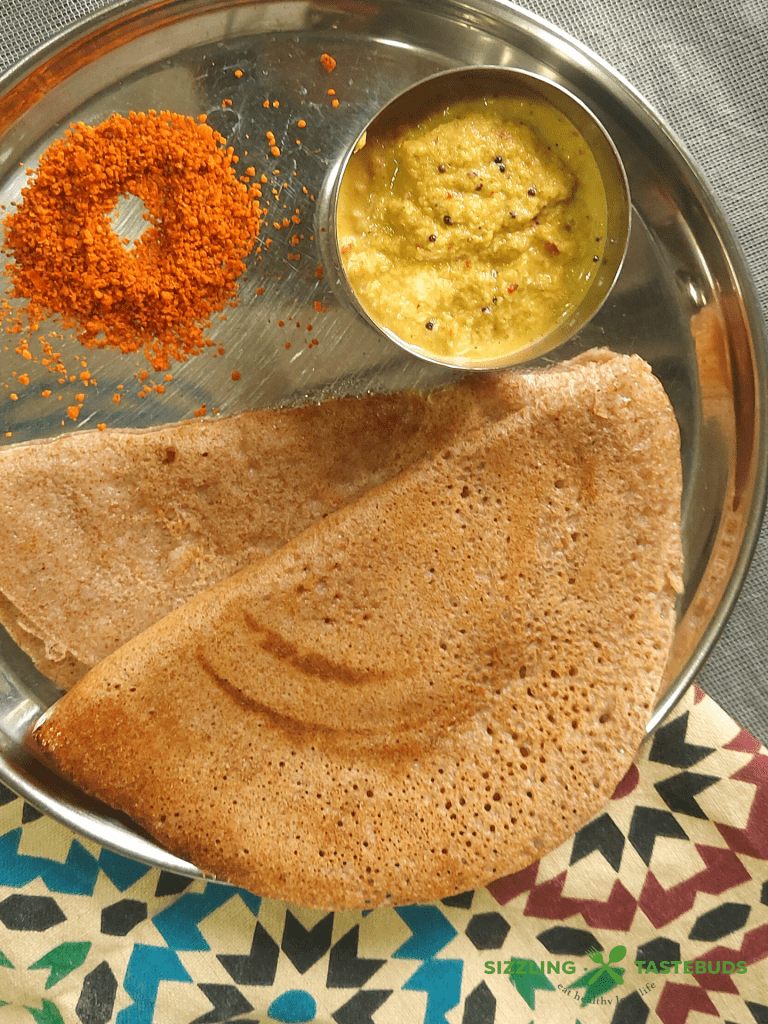 Click to see a quick preview of how the batter looks, shared on my Instagram feed!
How to make Instant Ragi Oats Dosa
Dry roast oats till warm – remove to a plate in the same pan, add the cumin , dry red chillies and pepper and roast for 30 seconds seconds. Cool
In a dry blender / mixer grinder, Grind all flours, oats, cumin pepper to a fine mixture.
Add salt and required water and bring to a pouring consistency.
The batter should be neither too thick or thin.
Rest covered for 30 mins
After 30 mins, heat a tava / cast iron skillet .
Mix the batter well and check for salt and spice once.
Pour a ladle or two of the batter and spread it slightly thick (or thin as preferred).
Drizzle oil around the sides
If you like soft ragi dosa like us, cook covered for 30-40 seconds
Else cook without lid
Flip and cook on the other side for 30-40 seconds
Serve hot with chutney / sambhar . We relished it with veg peel chutney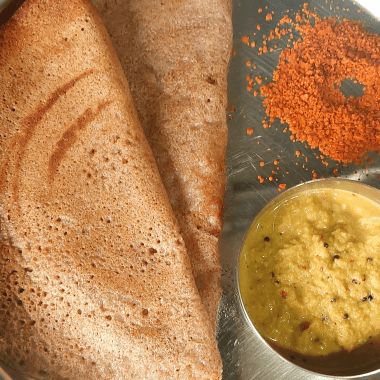 Instant Ragi Oats Dosa | Calcium Rich Dosa
Instant Ragi Oats Dosa is a quick and filling Gluten Free Vegan dosa made with finger millet and Oats. Can be served for breakfast or snack, even dinner.
Ingredients
1

cup

Finger millet flour

Ragi / Nachni flour

1/2

cup

Oats

1/3

cup

Rice flour

1/3

cup

Sorghum Flour

jowar

1

tsp

Cumin seeds

jeera

1

tsp

Whole Black Pepper

1.5

tsp

salt

2

Dry Red Chillies

2

cups

water

or as required

1

tsp

Oil

per dosa
Instructions
Dry roast oats till warm – remove to a plate in the same pan, add the cumin , dry red chillies and pepper and roast for 30 seconds seconds. Cool

In a dry blender / mixer grinder, Grind all flours, oats, cumin pepper to a fine mixture.

Add salt and required water and bring to a pouring consistency.

The batter should be neither too thick or thin.

Rest covered for 30 mins

After 30 mins, heat a tava / cast iron skillet .

Mix the batter well and check for salt and spice once.

Pour a ladle or two of the batter and spread it slightly thick (or thin as preferred).

Drizzle oil around the sides

If you like soft ragi dosa like us, cook covered for 30-40 seconds

Else cook without lid

Flip and cook on the other side for 30-40 seconds

Serve hot with chutney / sambhar . We relished it with veg peel chutney