Paneer is often a
very favoured ingredient in my pantry, thanks to my daughter loving it
immensely. Blogging Marathon with the challenge of "Zero Oil Cooking"
brought out this popular dish in a zero oil avatar. We found absolutely no
difference in the taste, and in fact loved it more thus. Traditionally paneer
is shallow or deep fried and added to the simmering spinach gravy. But I just
tossed the cubes on a dry pan (you need to keep flipping them from time to
time) and also dry roasted the blanched tomatoes for the gravy.
I experimented with a mixture of baby spinach and normal spinach
for this and used a handful of peas, and the dish was totally filling with Chapatis and some salad. With
the winters upon us, am sure more greens and fresh veggies along with crunch
salads would appear at our dinner table. Now, lets get to the recipe.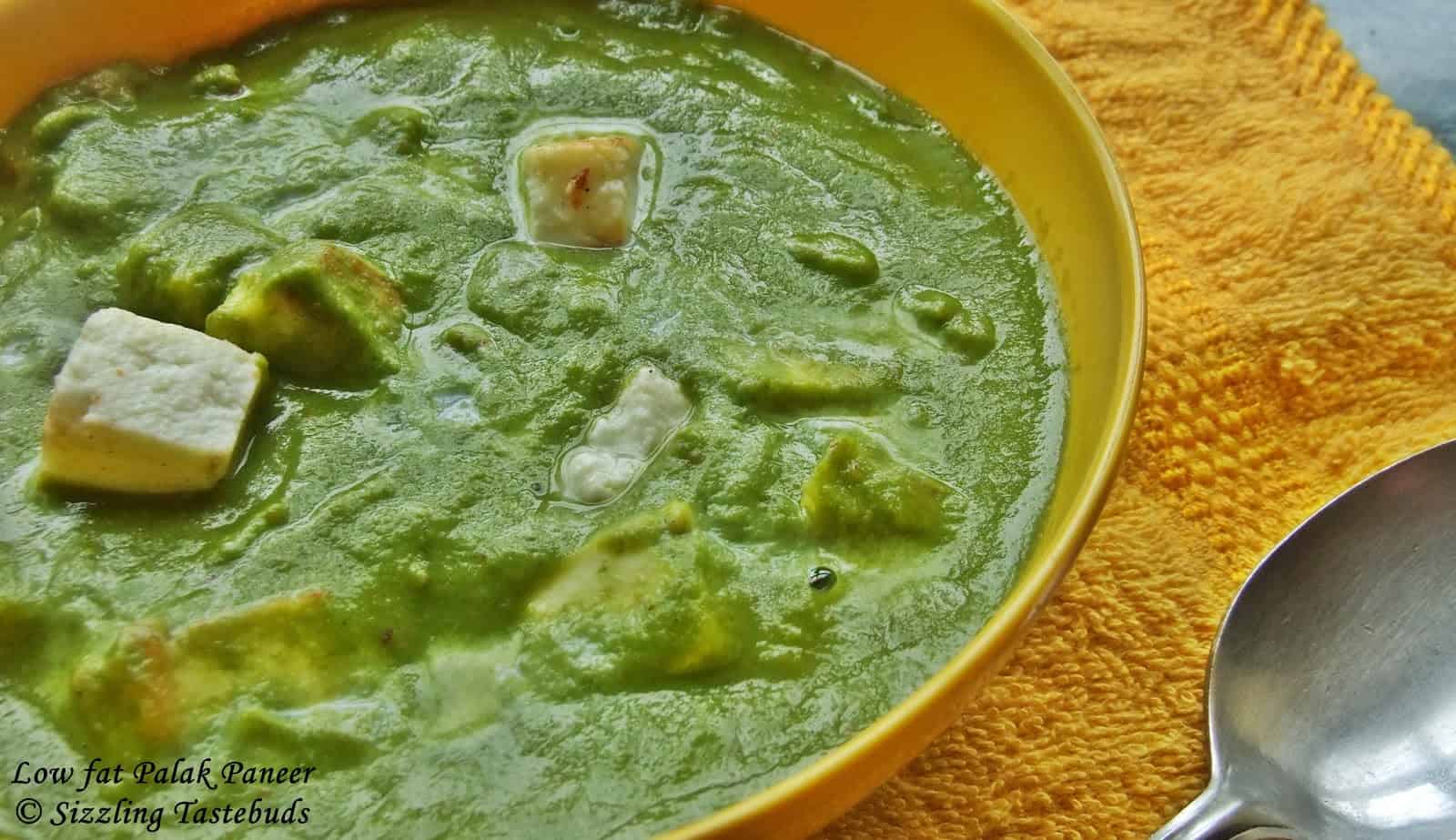 Pin
Click here for Printable Recipe
Prep time : 20 mins | Cook time : 15 mins | Serves : 4
Difficulty Level : Medium
Serving suggestions : Kalonji Naan / Butter Kulcha / Phulka or any Indian
bread.
Ingredients:
Baby Spinach – 1/2 cup (packed loose)
Normal Spinach – 1.25 cup (packed tight)
Panner / Cottage Cheese – 200 gms – cubed
Fresh or frozen peas – 2 handfuls
Salt – to taste
Turmeric – 1/4 tsp
Dry masala (Each 1 tsp) : Amchur (Dry mango powder), Garam Masala, Red
Chilli powder, Kitchen King, Jeera Powder, Coriander powder
Gravy:
Onions – 2 medium
Tomatoes – 2 large
Cashewnuts – 5 to 6
Garlic – 2 pods
Ginger – 1/2 inch
Shahjeera – 1/4 tsp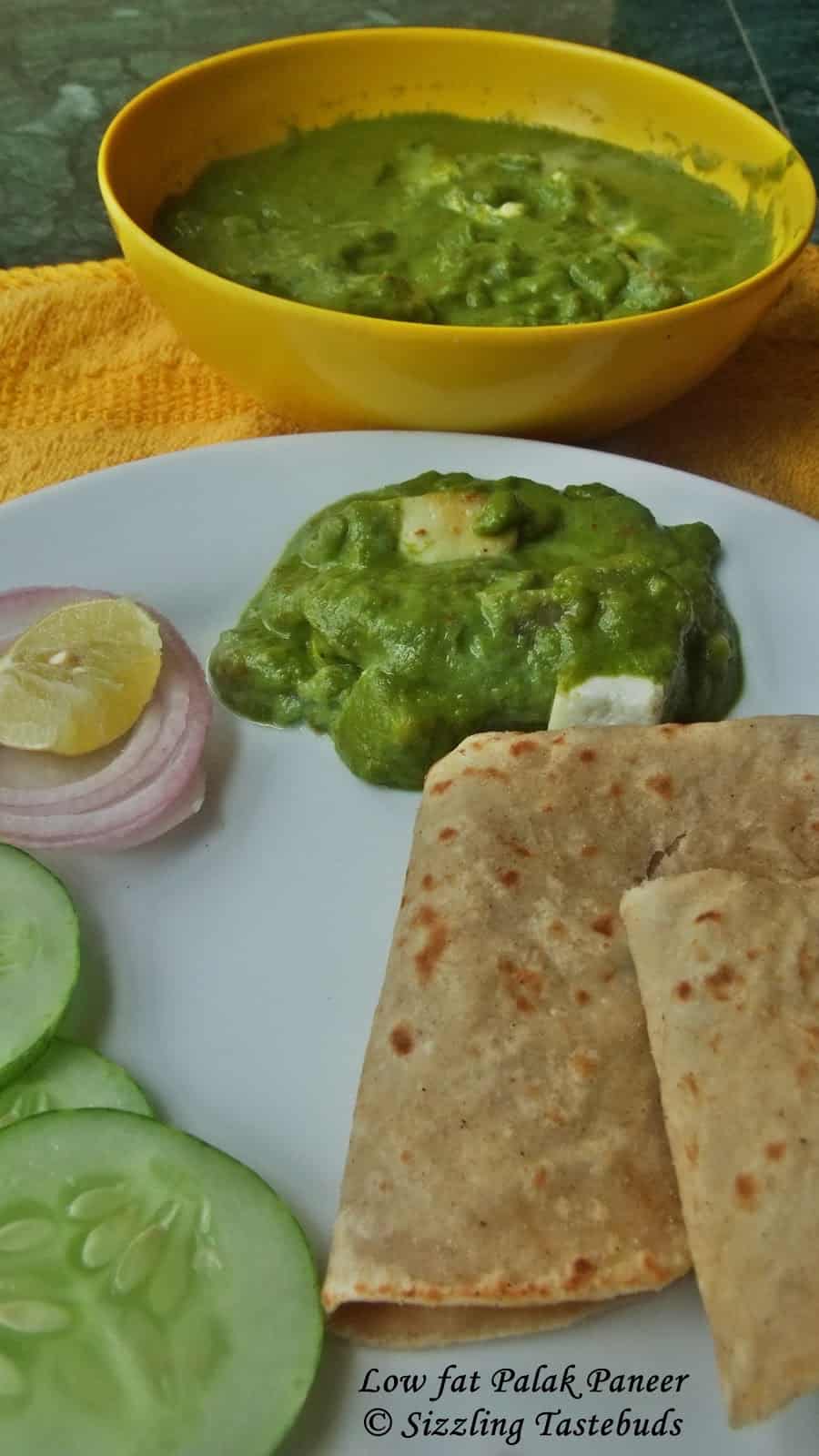 Pin
Method:
Clean and blanch spinach leaves for 3 mins in boiling water.
Remove to a dish with ice cold water. Let it remain there for 5 mins. Drain.
Similarly blanch and peel the tomatoes & peas. Roughly chop tomatoes into medium chunks
Soak cashews in warm water for 5 mins
In a dry pan, saute onions, garlic and ginger till the onions turn
pinkish brown (about 5 mins). Ensure you do this on a medium-low flame. Cool.
Grind the sauteed onions, garlic, ginger with the cashew, tomatoes and
shahjeera to a fine paste.
In a non stickpan, toss the paneer cubes till they slightly brown
on the sides, about 4 – 6 mins.
Again heat a non stick pan, add the gravy, salt, dry masala
powders and let it simmer till the raw smell disappears. Gently slide in the
sauteed paneer cubes, check for salt. Let the gravy simmer for further 2 – 3
mins.
Serve hot with Rotis / Naan or Kulcha for a complete protein rich
experience.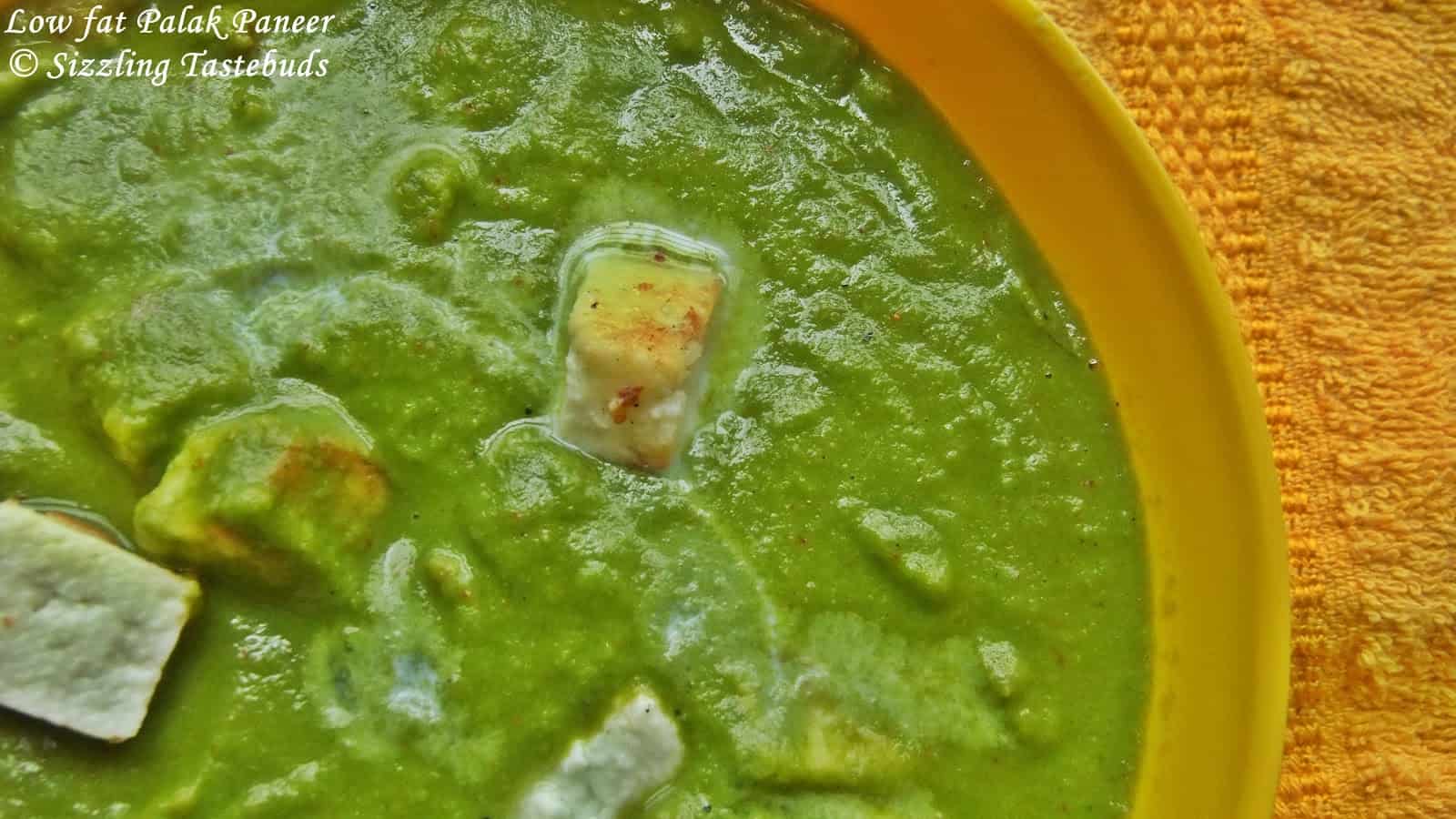 Pin
Linking it to Blogging Marathon # 23 under "Zero Oil Cooking". Check out other Marathoners here. Also linking to Cook n Bake Spinach by UK Rasoi & Quick n Easy Recipes by Ammaji