I read recently that Manchurian is not only one of the favourite
Indo-Chinese items ordered at most Indian restaurants, but also that Manchurian has nothing
to do with authentic Chinese cooking. It was perhaps made popular by street food carts
and Quick Service Restaurants (QSRs) and even those with take away menu cards
serving fast food. Whatever the reason, this dish is very popular and has come to stay in various forms – in both gravy and
dry form – tickling the Indian palate with hot-sour-spicy options like Veg
Manchurian, Gobi Manchurian under veg, and Chicken and Prawn Manchurians in the
non veg stable. 
Today's meal for Sunday dinner was kiddo's favourite with Hakka Noodles and
Veg Manchurian which was lapped up with gusto. After yesterday's Thai Green Curry from South East Asia, this is an Indo Chinese Main Course option…
Off to the recipe as this
travels to BM # 31 under Main Course. The recipe for Low Cal Manchurian is
given here,
and it remains our family's favourite 🙂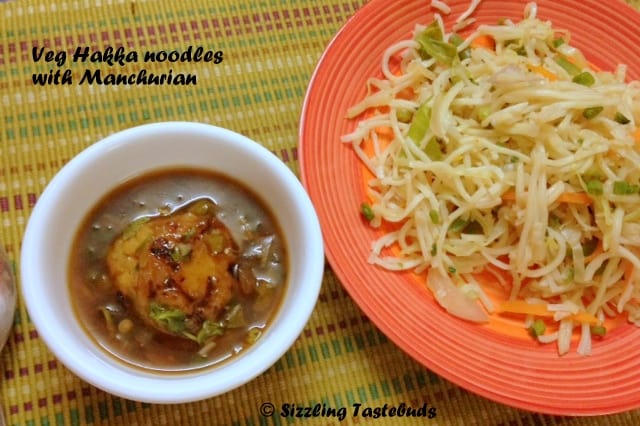 Pin

For Hakka Noodles:

Prep time – 10 mins | Cook time – 10 mins | Serves – 2

Ingredients:
Hakka Noodles (eggless) – 1 packet
Olive Oil – 2 TBSP
Juilenned vegetables – 1/4 cup (carrots & beans)
Capsicum / Bell Pepper – 1 medium
Red Onions – 1 large (finely minced)
Spring onion greens chopped fine – 2 TBSP
Salt – to taste
Ginger garlic paste – ½ tsp
Soya sauce -1/2 tsp
Green chilli paste – 1/2 tsp
Vinegar – 1/2 tsp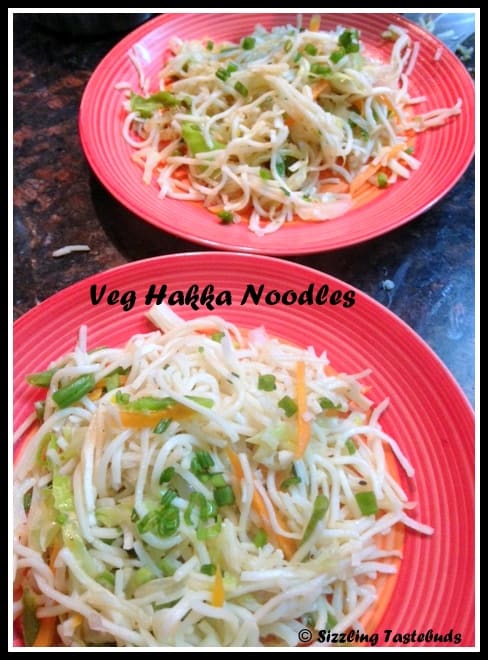 Pin




Method:

Boil Noodles as per packet instructions. Once done, rinse under
running water and mix through a TBSP of oil. 

Blanched the juilenned veggies in salted water for 3-4 mins and
drain into ice cold water. Drain and keep aside

In a large wok, heat the remaining oil. Add the onions and
ginger garlic paste and fry. 

Once the onions turn translucent, add the diced capsicum and fry
till it turns crunchy.

Then add the blanced veggies, salt, soya sauce, green chilli
paste and vinegar and toss well. 

Add the noodles and toss again till well coated

Garnish with spring onions and serve hot with Manchurian

Low cal Veg Manchurian recipe is here.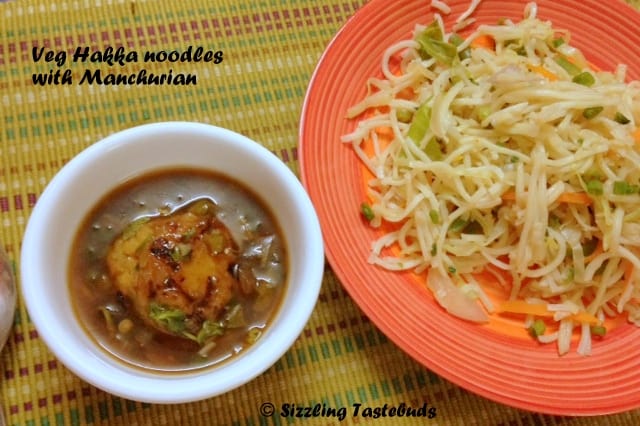 Pin