To end on a sweet note !
Zafrani Little Millet Apple Phrini is the last dish in the A-Z Grains marathon that concludes today. From doubting myself gravely to finishing off this with barely hyperventilating (like the previous mega BMs), this has been a very satisfying ride for me, personally. The history of Phirni is largely unknown although according to this interesting link, it may have originated during the Mughal Empire.
Little Millet was a new found winner in my kitchen, thanks largely to this series. I had bought a huge packet last month not knowing what to make (apart from Idli / Dosa, Khichdi,which also we made :p). but today I can confidently say that this millet is as versatile as foxtail (Thinai) which is more popular as a rice substitute. The Pongal made from this was my favourite in the entire series 🙂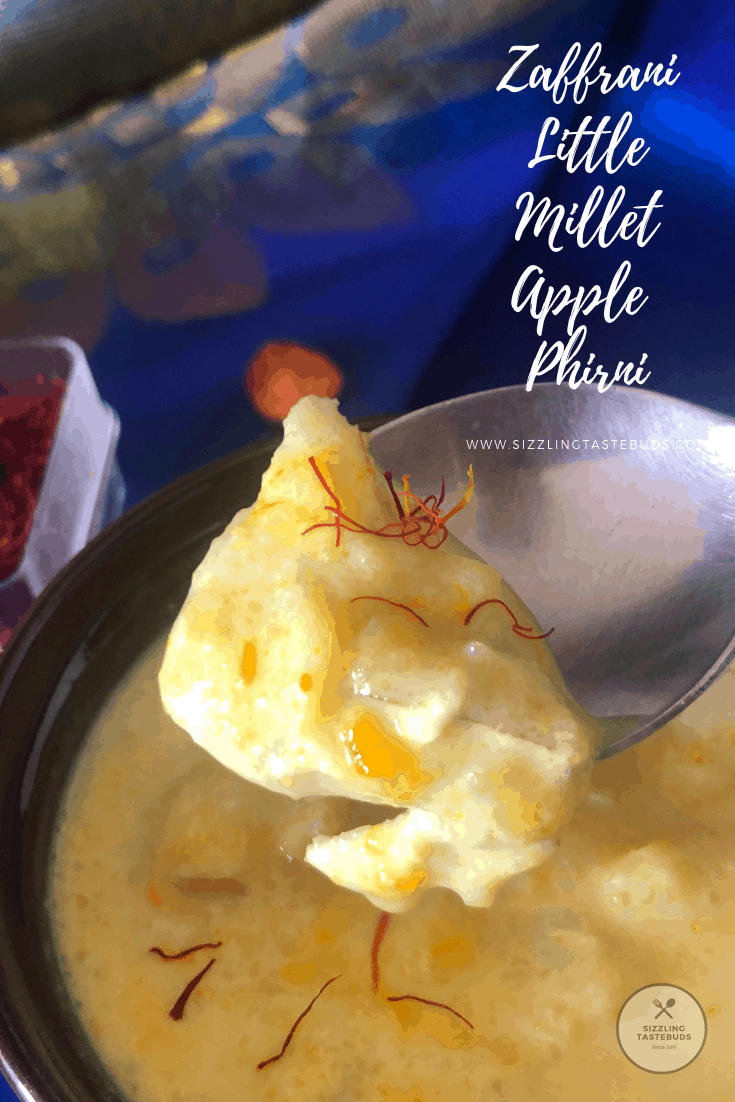 Pin
When I had planned to make Zaffrani Phirni (saffron in Persian) for this, adding apple and subbing the rice with phirni happened perchance and I am so glad to have this on my Indian Sweets tick marked list. Needless to say, the chilled Phirni that accompanied a punjabi meal (thali) last Sunday was the toast, with even the husband (who's totally sweet agnostic) giving a thumbs up ! Mom and the elder kid loved it a lot, and I had a portion whittled away for the blog shot 🙂
So, let's make this and I hope you have enjoyed the journey with me on this Grains BM as much as I did !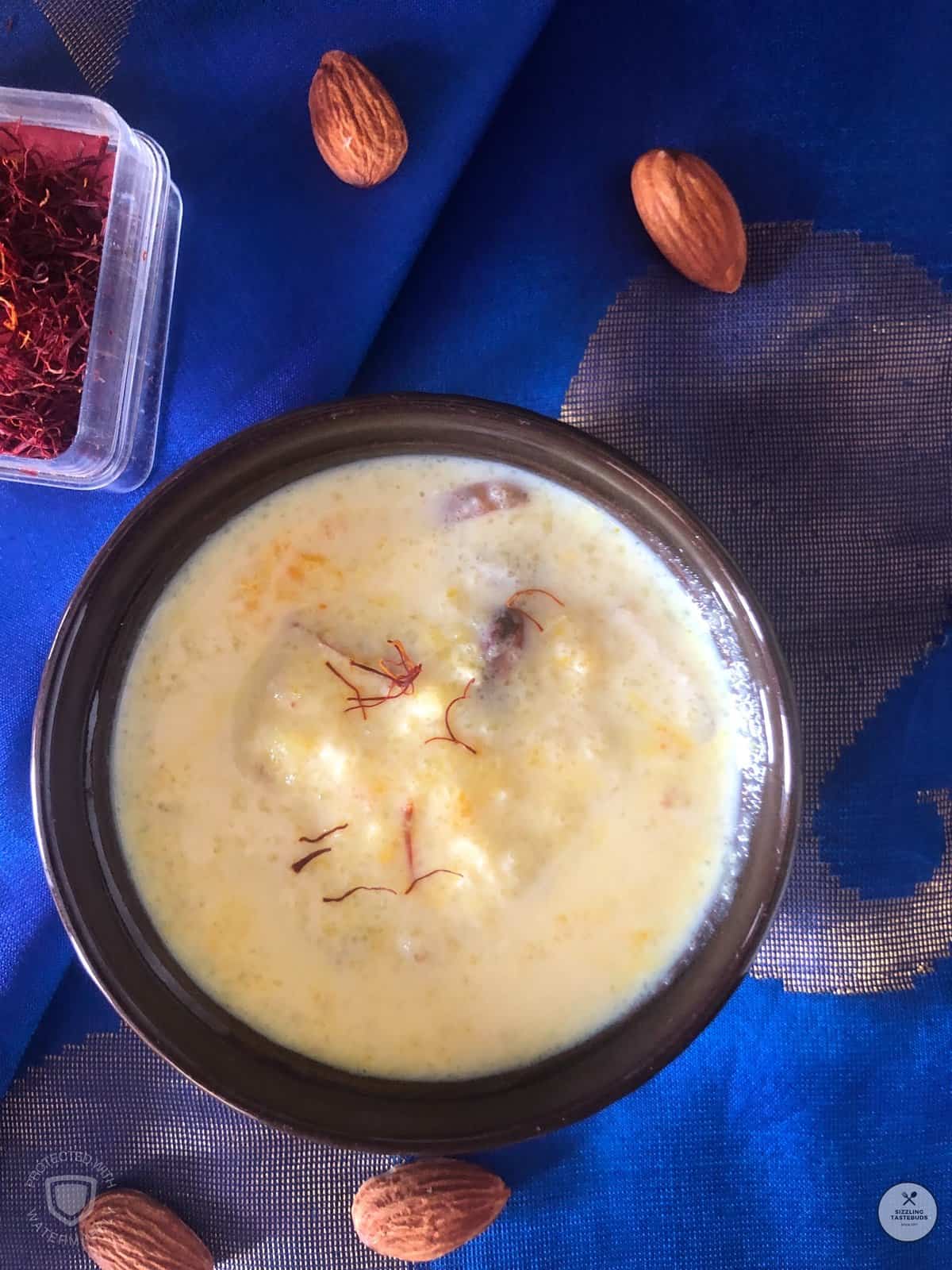 Pin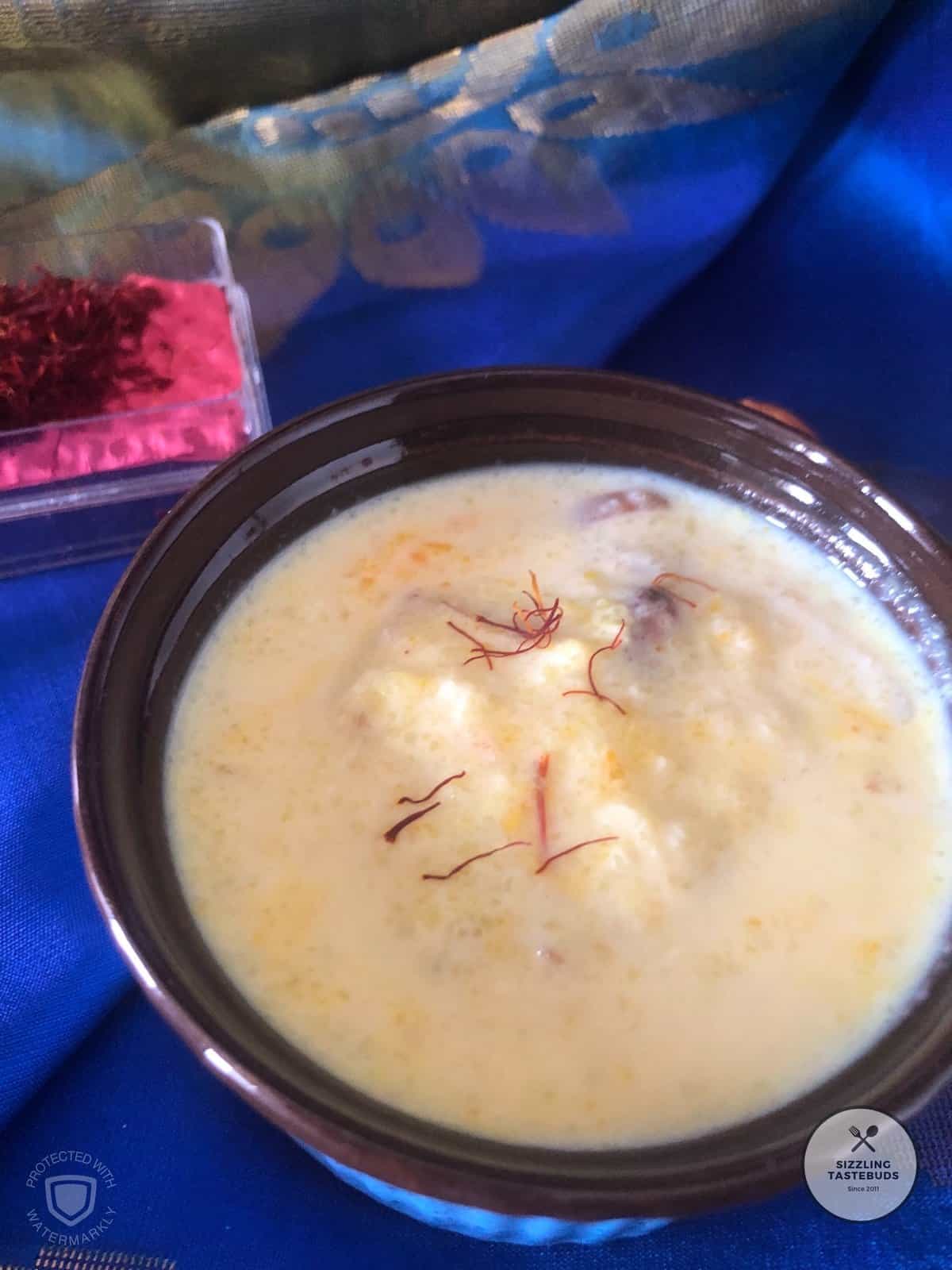 Pin
Prep time – 15 mins , Cook time – 20-25 mins, Serves – 4 generously
What you need:
Little Millet – 1/3 cup (1 cup = 200 ml)
Full fat milk – 1 litre
Homemade Badam Mix – 3 heaped tablespoon
Red / Cooking Apple – 1/2 (diced fine)
Zaffrani / Saffron – a generous pinch
Castor Sugar – approx 1/2 cup (adjust to taste)
Powdered cardamom powder – 1/2 tsp (optional but recommended)
Toasted almonds – for garnish (opt.)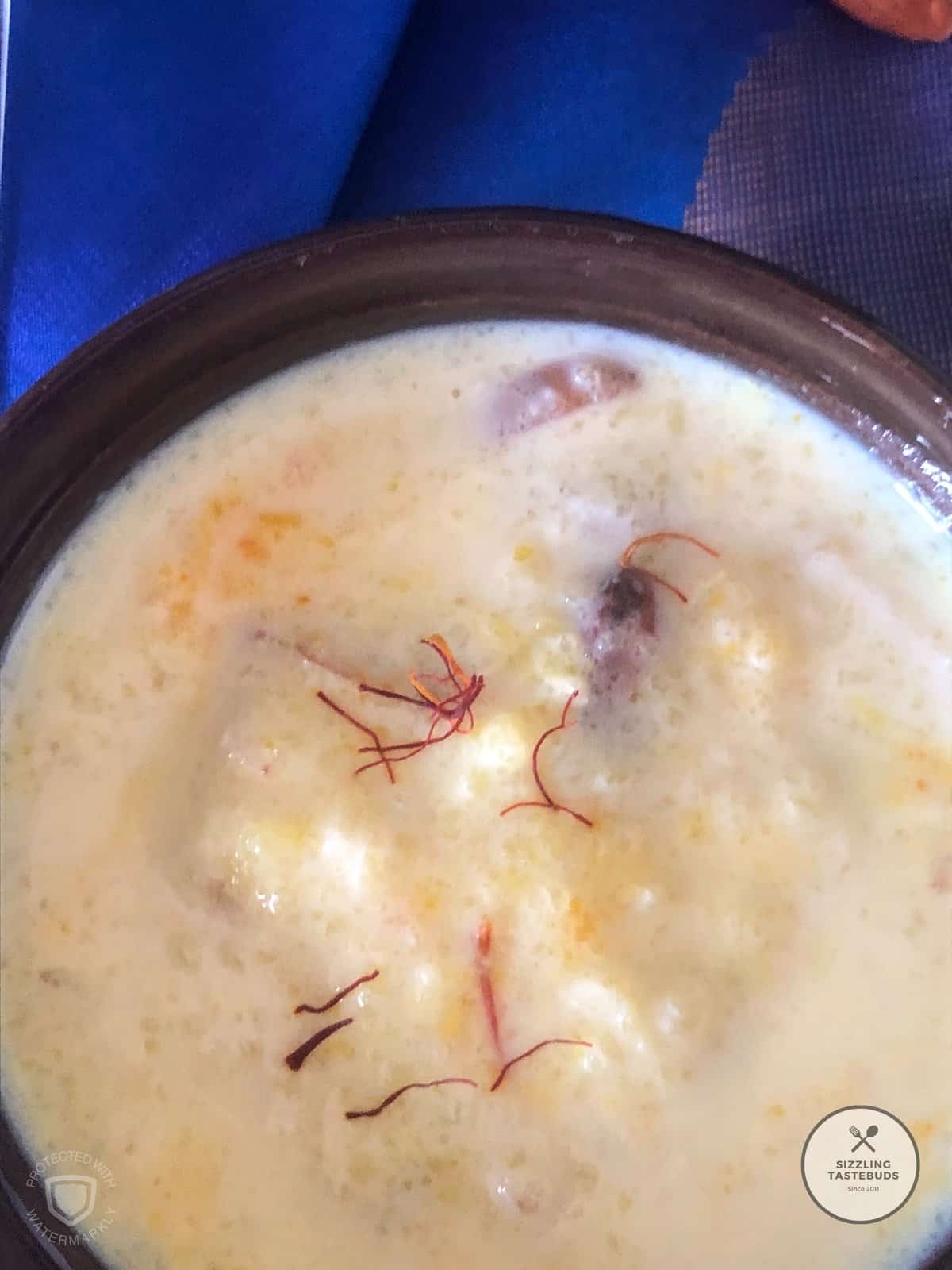 Pin
How to:
Wash and soak the little millet for 20-30 mins. Soak the saffron in 3 tsp of warm milk.
In the meanwhile, in a deep bottomed non stick pan, boil the milk on low flame, stirring often to prevent scalding, and let the milk reduce to half. Now add the homemade badam powder and the soaked (and drained samai / little millet) and slowly mix.
Cook and cover for 15-20 mins (stirring once in a while). Keep an eye for any milk spills. Now when the millet is almost cooked, add the castor sugar and the saffron soaked along with the milk.
Let it slowly simmer and the millet will help thicken the Phirni. Once it comes to a porridge consistency, switch off the flame and add the apples (do not add the apples while its on the flame lest the milk would split). Add the cardamom powder if using.
Fold the diced apple gently into the phirni. Top with sliced and toasted almonds and add any
Chill well for 2-3 hours and serve.
PinCheck out the Blogging Marathon page for the other Blogging Marathoners doing BM#99 An InLinkz Link-up