Today's post is somewhat of a nostalgic post from our trip to a Bangkok a few years ago. We have been quite fond of Thai cuisine and the husband prefers Asian cuisine next to Indian with continental / cheesy dishes coming a distant last.
I don't share his penchant for Asian but have developed a liking for Thai cuisine in particular probably coz the veggies dishes feature ginger, chillies , pineapple and certain other tropical ingredients.
Like mango for instance.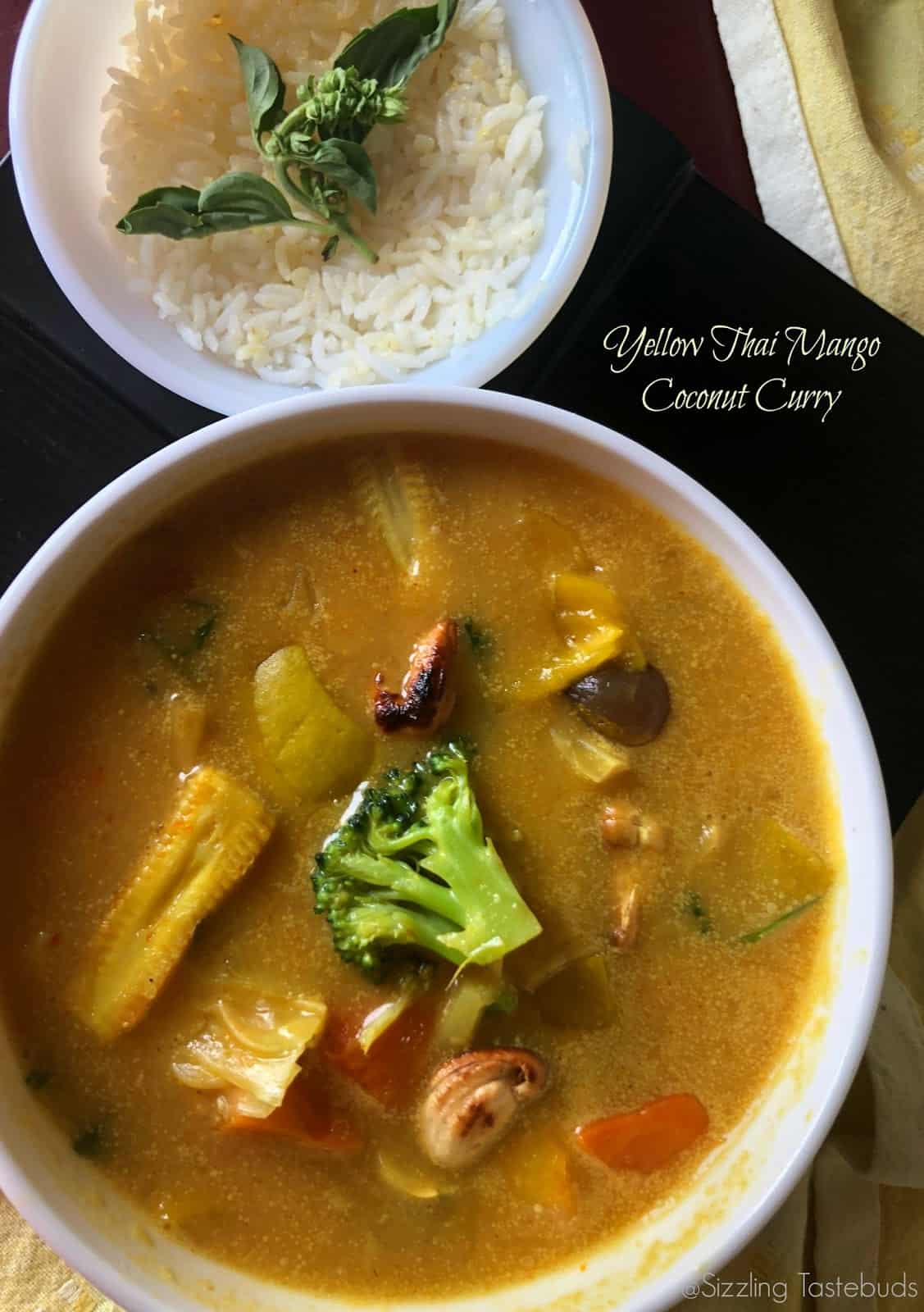 Pin

This dish takes us back to our short trip where , starved for vegetarian food, we had this little little cafe (almost a hand cart) selling this fragrant mango – coconut curry with sticky rice.

Even the rice smelt a tad strange and when I told the vendor so, she said she had used the local sticky rice.

But having no other go, we downed this rice – curry combo feeling happy to have discovered a bowl of vegetables that finally made sense without any fish / oyster sauce 🙂 I also remember my husband teaching me how to eat with chopsticks & his grin while I struggled to get a hang of that. I had posted some pics from our Bangkok trip here on Thai Mengluck (Thai Basil Seeds drink)

I was browsing through my trip photos album and suddenly this memory from Bangkok popped and I landed on this vegan and GF recipe from Minimalist baker and was one of the first few dishes bookmarked and finalised. I was only waiting for the mango season to begin to make it this week.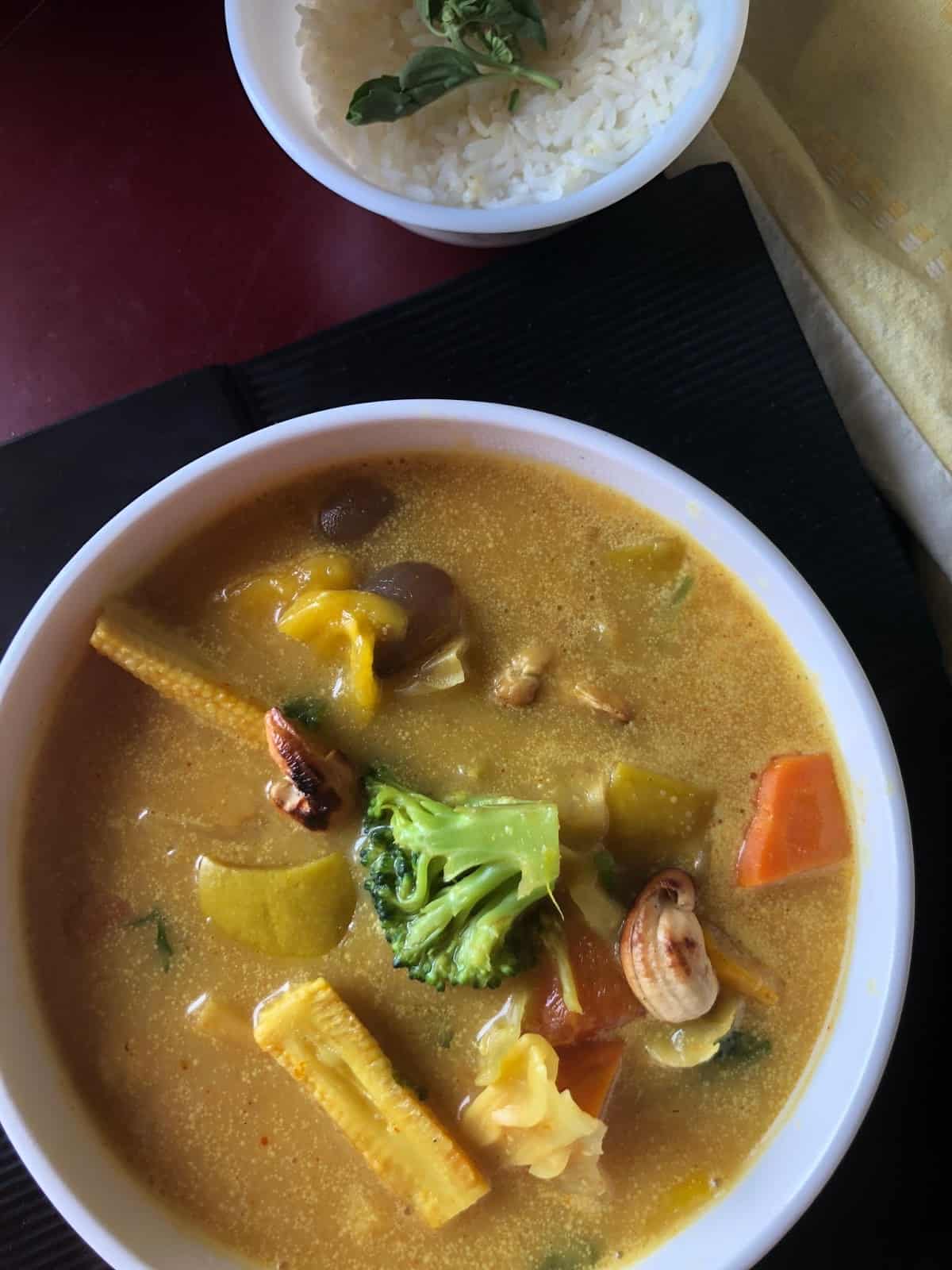 Pin

Making some subtle changes, I made a portion just enough for two and my neighbour who I shared this with rather loved the curry – rice combo.

Next time perhaps (& before the mango season melts away), I am sure to make jasmine rice or sticky rice with this. The short grained rice that I served this with fit the bill but I have a feeling it might go well with sticky rice better.

You can play around with most Asian veggies but I used what I had. Having conquered the Thai Green Curry and now thisYellow Thai curry, the next destination is the Red curry which is the husband's favourite .

Till then keep watching this space and check out today's recipe 🙂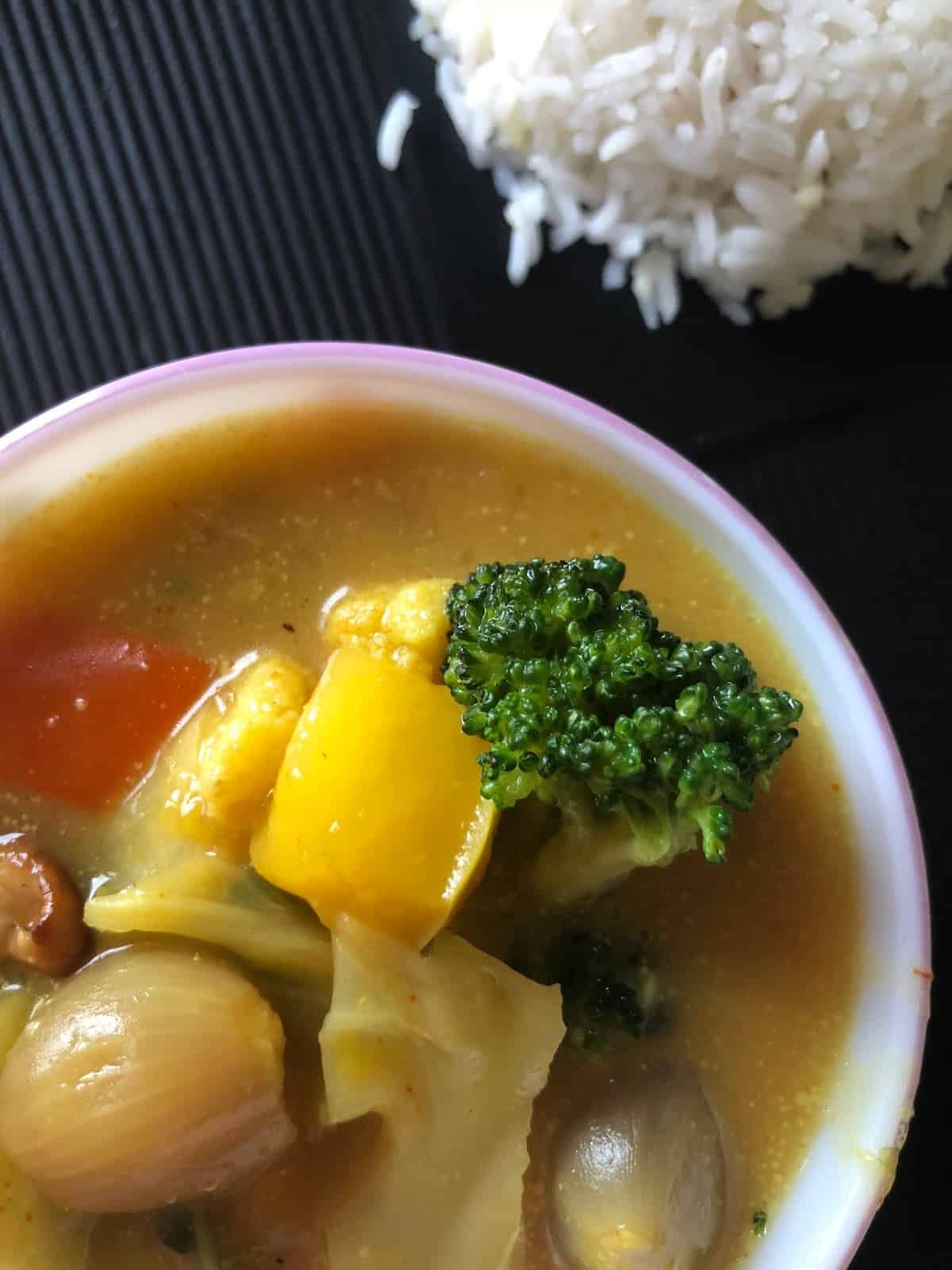 Pin
Prep time – 20 Mins ; cook time – 15 Mins ( serves 2~3)
For the curry , you would need-
Veggies – 2 cups (I used a mix of cabbage, zucchini, baby corn, broccoli, bell peppers, shallots, carrots) – all equally cut
Thin coconut milk – 1 cup (btw would prefer 1/2 cup thick milk next time)
Ripe , sweet mango cubes- 2/3 cup
Peanut oil – 2 tbsp
Turmeric – 1/2 tsp
Coconut sugar / palm sugar – 1 tbsp
Thai green chillies – 1 no
Lemon juice – 2 Tbsp
Salt – to taste
Red chilli Thai paste – 1 tsp
Roasted , salted cashews – 8 to 10 nos.
Minced ginger and garlic – 1/2 tsp each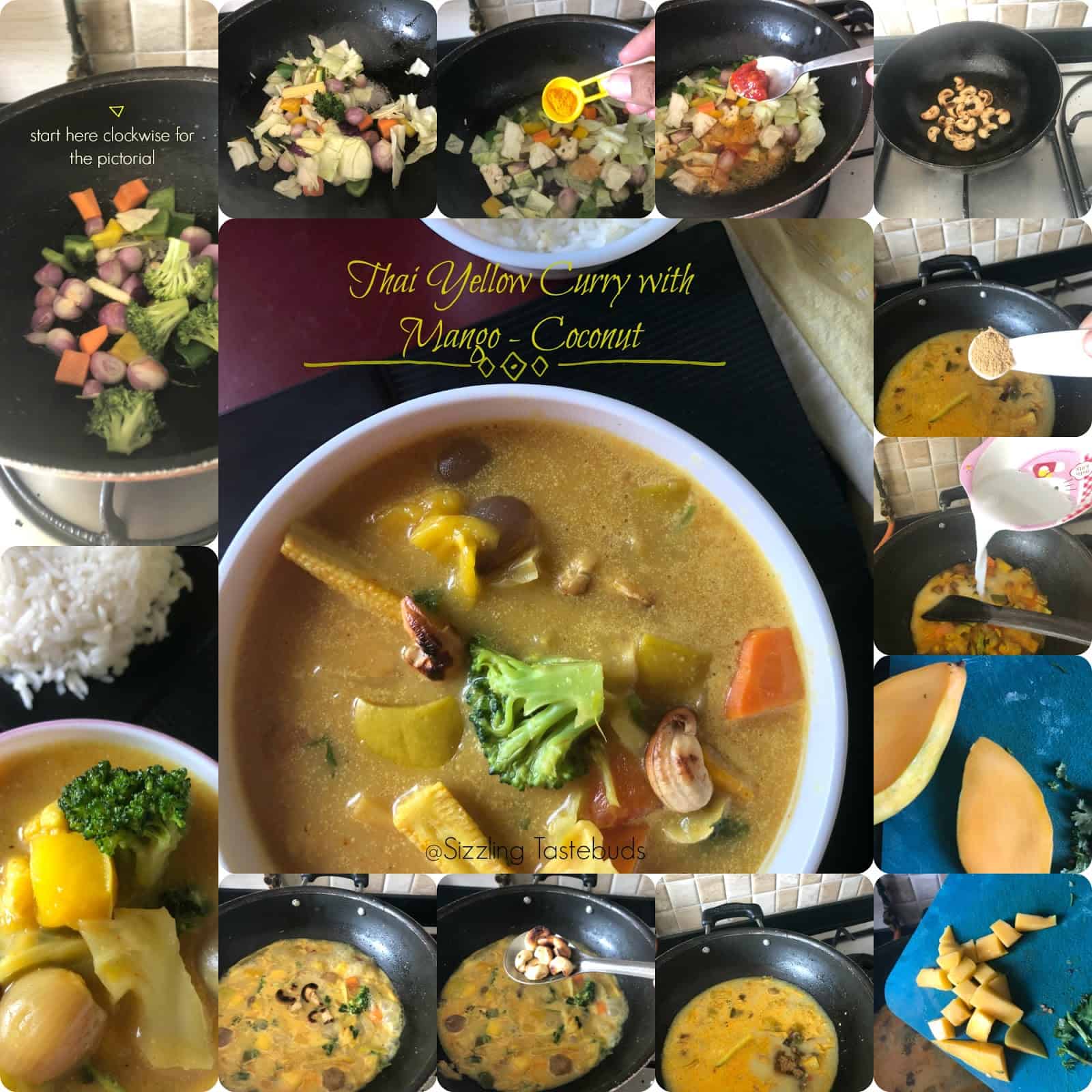 Pin


Method–
In a wok, heat oil. Sauté shallots, ginger garlic till onions slightly turn translucent.
Add all the veggies, turmeric , salt and sauté till they are cooked 2/3 of the way yet have a bite
Now to this add 1/4 cup of water, kepis manas, red Thai paste, palm sugar , chillies and slightly simmer till veggies are almost cooked.
Now lower the flame , add the mangoes, coconut milk and simmer for 2-3 Mins.
Finish with roasted cashews and lemon juice
Serve hot with any sticky rice or steamed white / brown rice.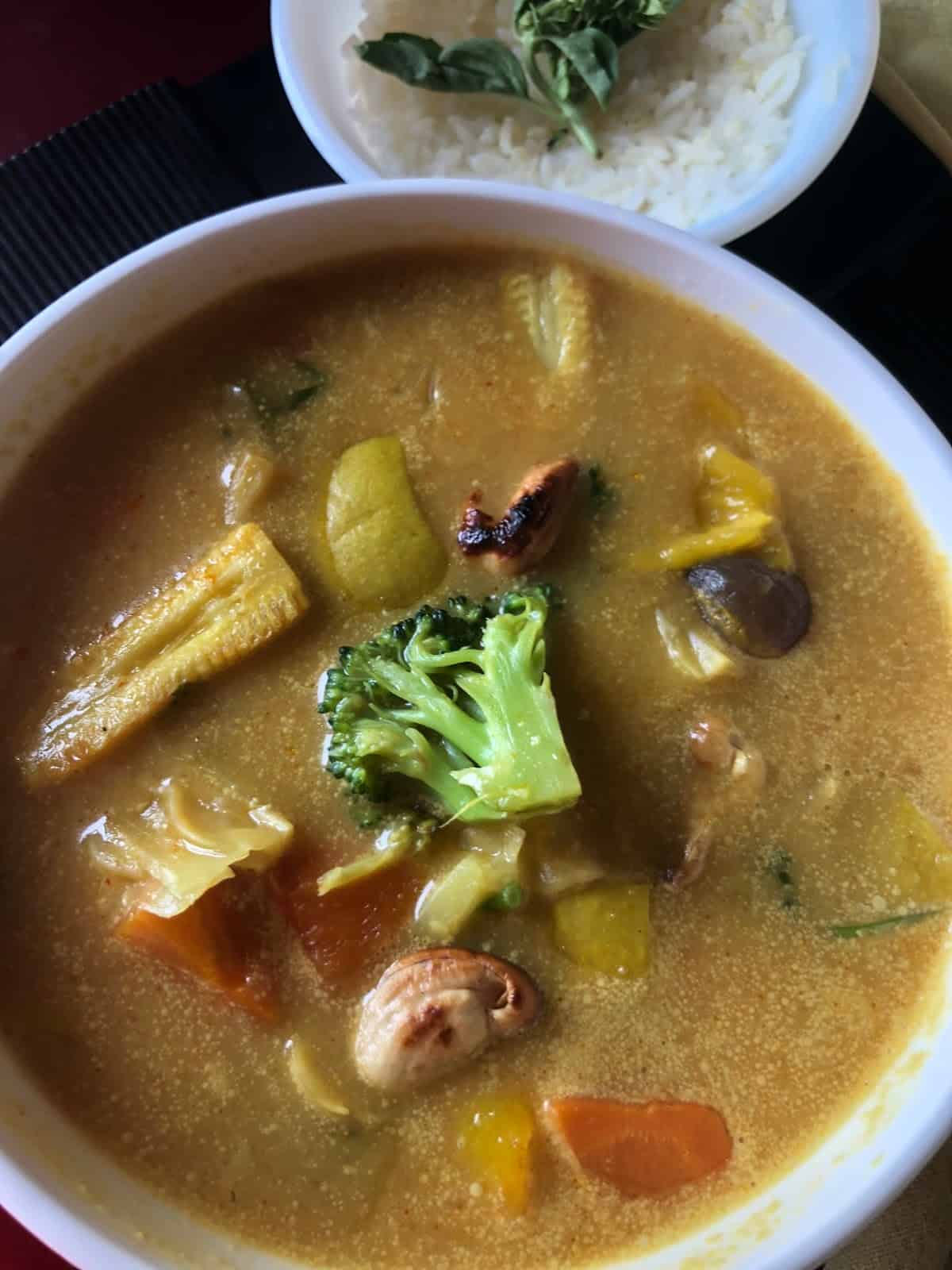 Pin
Pin
Check out the Blogging Marathon page for the other Blogging Marathoners doing BM# 87