Paneer (Cottage Cheese) is a favourite with the elder kid, and we make Paneer based dishes often at home.. Kulcha (or leavened flatbreads either baked or mostly fried on griddles) are another favourite at home.
I combined the two and made these fluffy, pillow soft and healthy Wholewheat Paneer kulchas at home. Can be paired with most North Indian Gravy dishes, but best known paired with Amritsar Chole / Black Channa / Chickpeas Gravy. We made this for a Sunday Brunch with vegan Tomato Chutney and these mini Kulchas were relished by all. Makes a wholesome meal.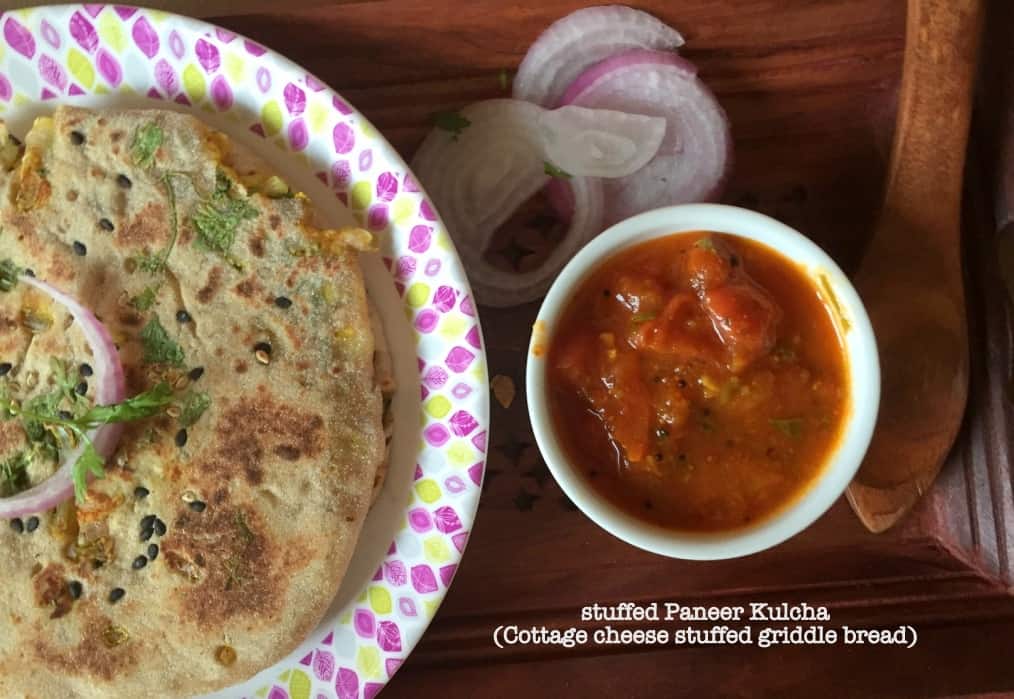 Pin
The Kulchas (or flatbreads) can also be made with All purpose or even bread flour. Yeast is also sometimes used to make these, but I prefer a combination of Baking Soda + Baking Powder as leavening agent. If you are vegan, you could sub the yoghurt and milk here with vegan almonds (I am told soya / almond milk and vegan cashew curd make a great substitute). Tofu makes an excellent substitute for paneer too 🙂
Either way, if you are a fan of savoury grilled Indian breads, look no further. The wait time (for rise n bake) is truly worth it. …
Pin
Prep time : 15 mins + rise time (2 – 10 hours / overnight if preferred).
Cook time : 20 mins ; Makes : 7-8 mini Kulchas
Serving suggestions : Dal Tadka / Chole + Onion Salad
Main Course, Indian.
Ingredients:
Wholewheat flour (atta) – 1.5 cups (200 ml = 1 cup)
Warm milk – 1/4 cup
Yoghurt – 1/4 cup (or 2 TBSP)
Warm water – 1/3 cup
Salt – 1/2 tsp
Sugar – 1/2 TBSP
Baking powder – 3/4 tsp
Baking Soda – 1/4 tsp
Ajwain / carrom seeds – a big pinch (1/8 tsp)
Oil / Butter – 2 tsp
Stuffing:
Panner / Cottage Cheese – 100 gm – crumbled / grated
Onions – 1 medium – finely minced
Seasoning : Salt, chilly powder / paprika, Cumin powder, Coriander powder , Coriander leaves, Mint leaves
Topping:
Sesame seeds – 1/2 TBSP
Kalonji / onion seeds – 1/2 tsp
Chopped coriander leaves – 1/2 TBSP
Oil / butter – for basting (vegans could use oil)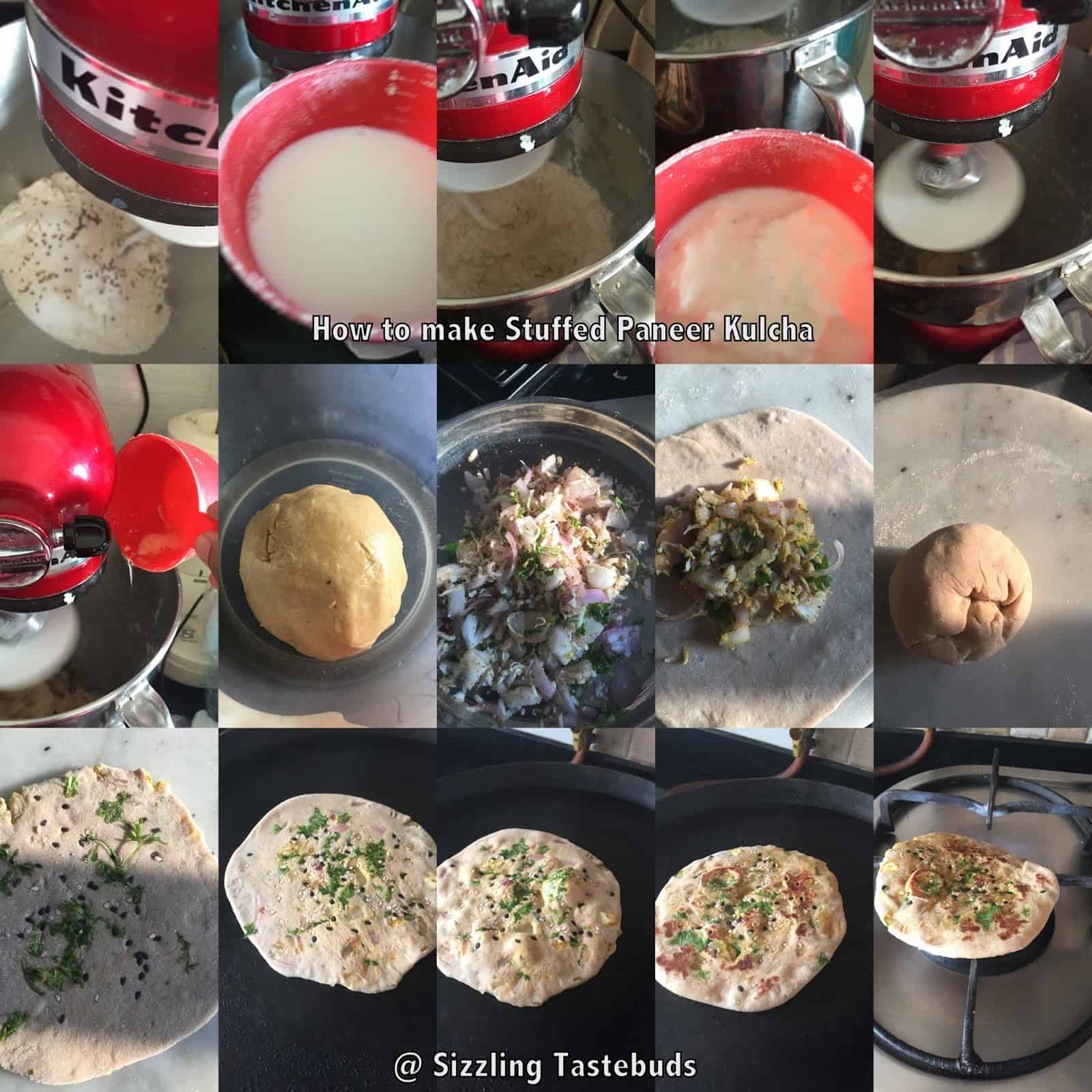 Pin
Method:
In a stand mixer or large bowl add all ingredients except oil and make a soft dough (it took 8-9 mins in my stand mixer). Depending on the quality of the flour, you may need more or less 1/3 cup water. Add oil and knead for further 2-3 min on a countertop. Place in a greased bowl for minimum 2 hours (or refrigerate overnight if using the next day).
Next day or after 2-3 hours (if using the same day), punch down the dough. Divide into 6-7 equal portions and make it into round balls. Rest them in the same bowl under a muslin cloth / kitchen towel.
For the stuffing : Mix the crumbled / grated paneer (cottage cheese).. Add the finely minced onion, seasonings and mix well and keep aside.
øn a lightly floured surface, roll out a portion of the dough into a 7-8 cm disc, place 1-2 Tbsp of the filling and wrap this up and seal the top (as shown). Gently, roll into a thickish disc (as I was making mini Kulchas, I didn't roll out very flat discs). gently press in a portion of the topping onto the rolled kulcha.
Apply water on one side of this kulcha, place the wet side down on to a heated griddle. Let it cook on medium heat and bubbles would start appearing on the top. Now gently flip and let it brown on both sides. Quickly take it on a naked flame and let it roast for 5-10 secs (this is optional, but gives a smoky flavour).
Take off flame and let it cool a bit. While still hot, brush a little butter to make it softer. Serve hot with Chole or any accompaniment.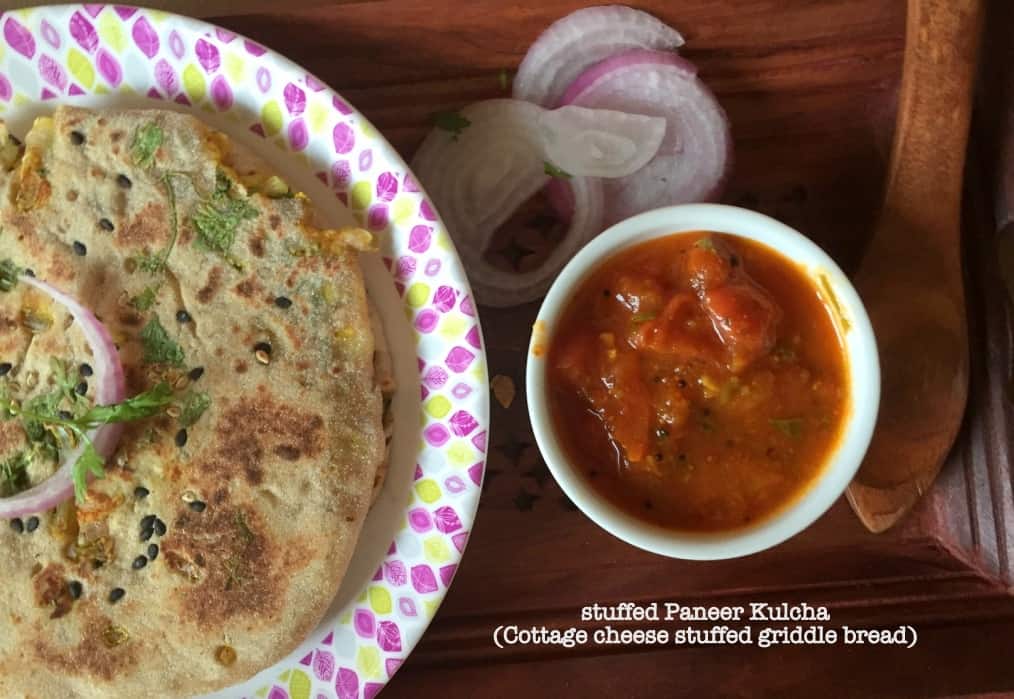 Pin
#BreadBakers is a group of bread loving bakers who get together once a month to bake bread with a common ingredient or theme. Follow our Pinterest board right here. Links are also updated each month on this home page.
We take turns hosting each month and choosing the theme/ingredient.
Griddle Breads
If you are a food blogger and would like to join us, just send Stacy an email with your blog URL to [email protected].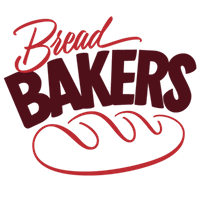 Pin