Why Instant Pot Asian Style Veg Noodles?
Instant Pot Asian Style Veg Noodles is a delicious One Pot meal. Makes for a great lunch / dinner / brunch option. The Indian Chinese is a far cry from the real Chinese served at , well, Chinese restaurants. Yet there are classics that are adapted (well not always in an indo Chinese fashion) and the Instant pot (IP) has been a boon to do so.
If you had told me a few months ago I could make Asian style veg noodles in an IP, I probably would have scoffed at the idea ! But thanks to a huge learning curve, IP has been a life saver when the last few months have been chaotic and the IP truly is a life saver to put hot meals on the table, well literally hot & steaming !
Another Indo Chinese meal we love at home is this Hot and Sour VEggies in a flavourful Umami Spicy sauce
Instant Pot Carrot Almond Soup | GF,Vegan
A delicious Vegan and Gluten Free Soup made with the goodness of carrots and almonds. Served best when hot with toasted bread or dinner rolls
Check out this recipe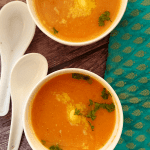 Instant Pot Vegetable Biryani
A delicious Veg Biryani made in Instant Pot. Biryani is usually served with Raita or Salna as a Main Course in Indian Cuisine
Check out this recipe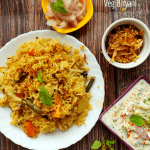 Instant Pot Godhuma Rava Pongal
A savoury pongal (or pudding) made in Instant Pot with broken wheat grits and lentils. Served as breakfast with chutney and sambhar
Check out this recipe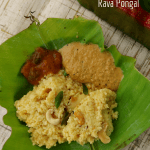 Akkaravadisal (Instant Pot Recipe)
Akkaravadisal is a Iyengar (Tambrahm) festival delicacy made as an offering to the God . It is a decadent rice-lentil pudding made with jaggery and ghee
Check out this recipe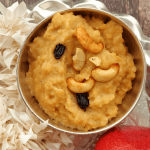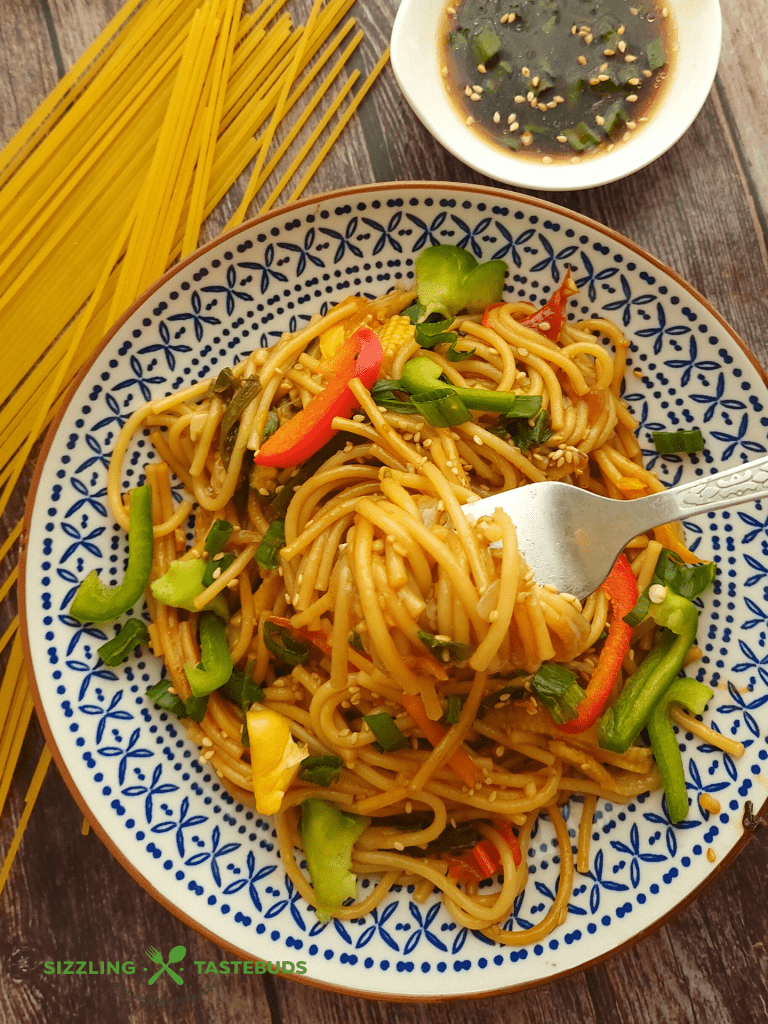 More reasons to make the Instant Pot Asian style veg noodles?
✅ a super delish crowd pleaser
✅ easily triples or multiplies based on the crowd
✅ totally customisable – add shrimp, prawns , chicken to make it a non veg fare
✅ add air fried tofu to add a protein
✅ one pot meal , ergo lesser vessels to clean
✅ can be child friendly, simply skip the ginger or soya if you are allergic to either.
We enter the Chinese year of the Tiger soon and what better way to bring in the new year than celebrating it with Chinese and Asian inspired dishes ..
Mini Vegan Yacheojeon (Vegetarian Korean Pancakes)
Vegan Yachaejeon (Korean pancakes) 야채전 are savoury pancakes loaded with veggies and served with a dipping sauce. Can be served for breakfast or snack
Check out this recipe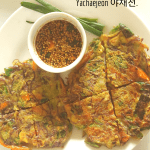 Let's get to make this instant pot Asian veg noodles
Prep time – 20 mins , cook time – 15 mins Serves – 3 generously
Cuisine – Asian, Vegetarian ; Difficulty level -Easy
PIN me NOW!!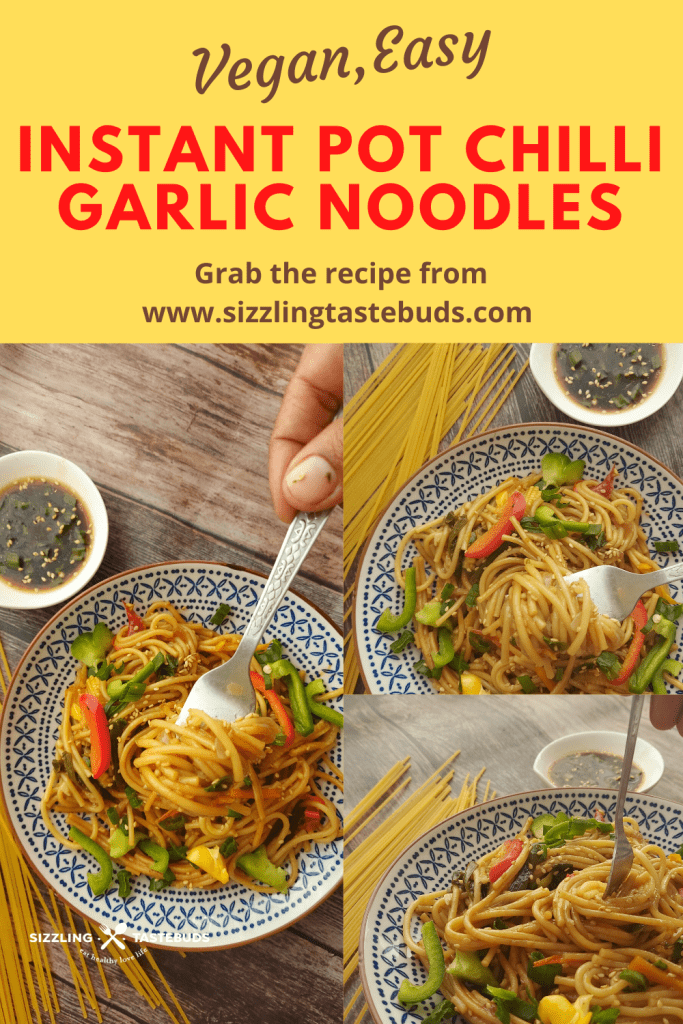 tips to make the BEST Asian veg noodles in the Instant pot
Keep all ingredients handy and cook on a high heat
Let the noodles used be of a good quality. We used wholewheat Durum sphagetti, as we don't prefer ramen or the instant type Hakka noodles at home
Quantity of water depends on the noodle quality.
Do not cook for more than the indicated time for durum sphagetti (as indicated on the packet)
Do a quick pressure release once cooking time is done .
Cut the veggies into thin strips to cook easily, use as many veggies you think you would like.
What do you need to make this IP Asian style vegetable noodles
125 grams raw Noodles (I used durum wheat sphagetti)
2 Tbsp sesame oil
1 tsp green chillies, minced
1 tsp red chilli, minced
1 tsp ginger, grated
1 Tbsp garlic, minced
1 tsp salt
1/2 tsp pepper powder
1 Tbsp sesame seeds (roasted)
Veggies
1/2 cup shredded cabbage (opt.)
1/4 cup Baby corn, sliced thin
1/2 cup onions, sliced thin
1/2 cup bell peppers, sliced lengthwise
1/4 cup scallions, minced
1/4 cup spring onion whites , minced
Sauce mix
1 Tbsp dark soya sauce
1 Tbsp red chilli sauce
1/2 tsp green chilli sauce
1/2 tsp white vinegar
1/2 tsp brown sugar
How to make Instant Pot Asian style vegetable noodles
Have put together a small video for you to check it out. Click on the video embedded below to get the full recipe and instructions how to make this delicious recipe. If you are visiting our channel for the first time, please do take a minute to like and Subscribe !! Thanks much 🙂
Instant Pot Asian Style Veg Noodles
Instant Pot Asian Style Veg Noodles is a delicious One Pot meal. Makes for a great lunch / dinner / brunch option.
Equipment
1 Instant Pot

1 Knife

1 Grater

1 Ladle

1 cup
Ingredients
125

grams

Noodles

I used durum wheat sphagetti

2

Tbsp

Sesame oil

1

tsp

Ginger

grated

1

Tbsp

Garlic pods

minced

1

tsp

salt

1/2

tsp

Black Pepper powder

1

Tbsp

Sesame seeds

roasted

1

tsp

Dry Red Chillies

minced

1

tsp

Green Chillies

minced
Veggies
1/2

cup

Cabbage

shredded fine (opt.)

1/4

cup

Baby corn

sliced thin

1/2

cup

Onions

sliced thin

1/2

cup

Bell Peppers

sliced lengthwise

1/4

cup

Scallions

minced

1/4

cup

spring onion whites

minced
Sauce mix 
1

Tbsp

dark soya sauce

1

Tbsp

red chilli sauce

1/2

tsp

green chilli sauce

1/2

tsp

white vinegar

1/2

tsp

brown sugar
Instructions
Click on the video embedded below to get the full recipe and instructions how to make this delicious recipe. If you are visiting our channel for the first time, please do take a minute to like and Subscribe !! Thanks much 🙂
Video