How can one possibly have a 26-day Street Food Marathon without a Pizza ? One of the most popular street foods (and actually any-time food at home :p), I have already put up several pizzas already (and most with Wholewheat base too). 
But this is special as I have made it with a pizza pan that my husband gifted me this year. It came with a huge promise of making the base more crusty and boy, did it deliver !! I made three different toppings (out of which two were thin crust and the remaining was deep pan variety), and all 3 pizzas vanished between mine and the neighbour's kids in a jiffy. I also have a version with the Lodge Cast Iron , so watch this space for more !


As I have a HUGE pizza lover in the elder kid, I am sure this pizza pan is sure to be used more often. Let's move to check out the thin crust pizzas today. I have my own Wholewheat Pizza base, but for a change I used Sally's recipe and it turned out fabulous. 
Wholewheat flour doesn't rise as much as All Purpose Flour yet we like the nuttiness that it provides.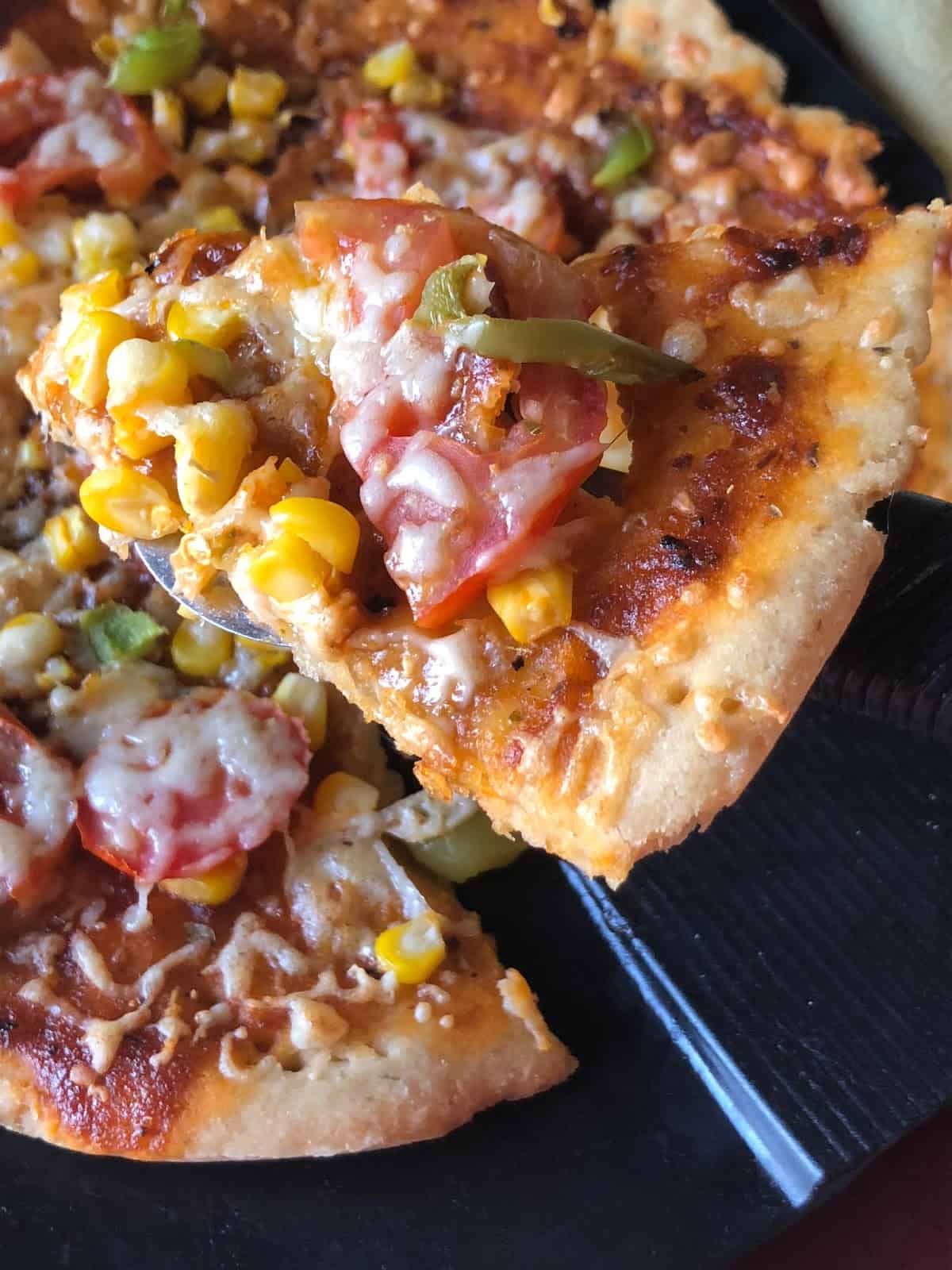 Pin



IMHO, I reckon that once you are used to Wholewheat bases, the commercial pizzas don't appeal (and neither are they value for money). 

So, we had two thin Crust pizzas – one for my little one and her friend with just cheese and Tomatoes, one with Olives – Onions – bell peppers and the last was a Deep Pan variety with extra Cheese and fiercely spicy for my elder one with Jalapeños, Olives and a lot of other stuff that she likes 🙂

So do check out the pics and choose what you liked 🙂 Do let me know what kind of vegetarian toppings you / your family prefers 🙂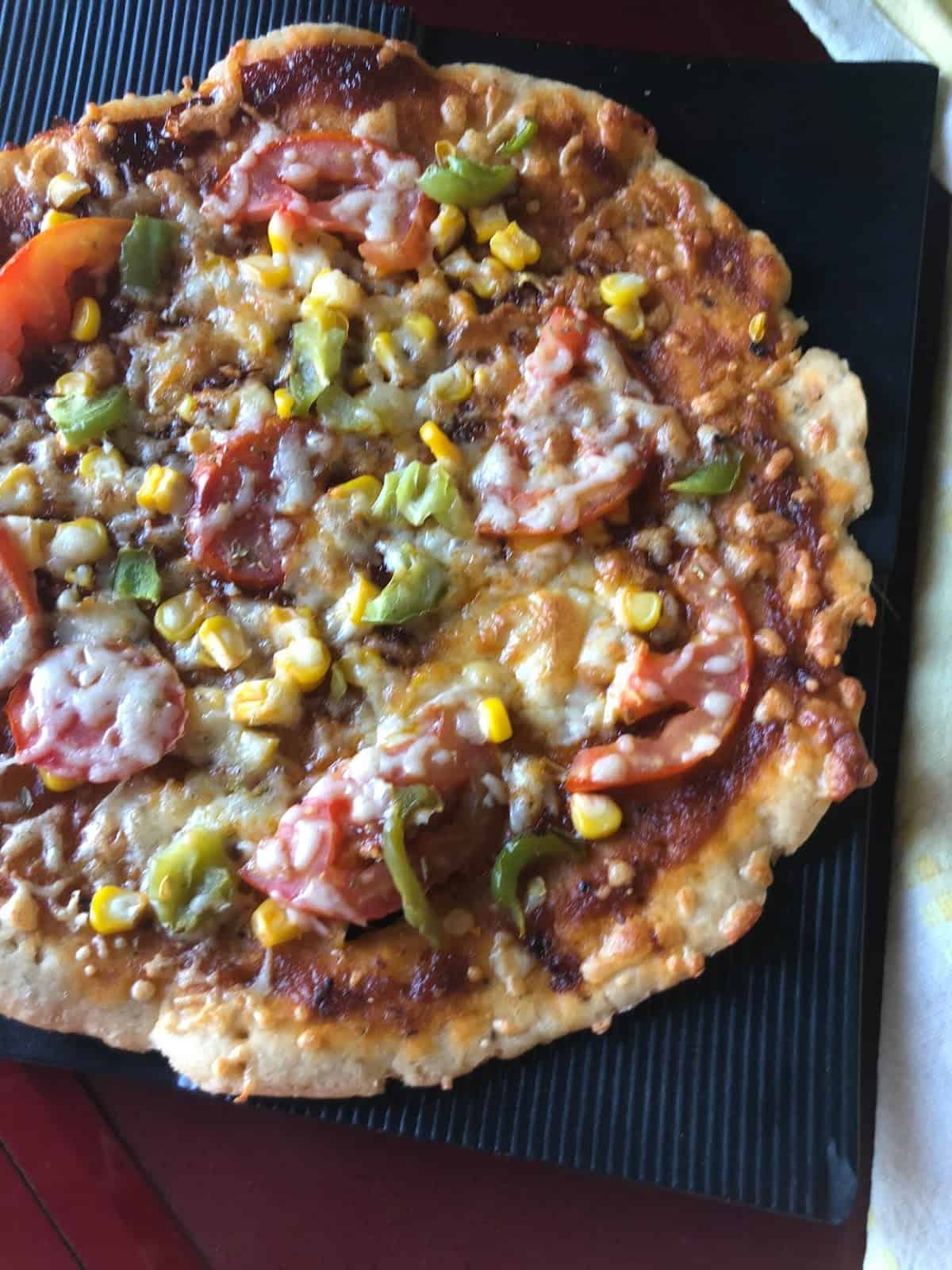 Pin

Other Pizza varieties on this blog so far –

Ingredients for Wholewheat pizza base (fully adapted from Sally'srecipe)
Wholewheat flour – 3.25 cups + 1 TBSP (I used fresh stone groundChakkiwalla Atta, not Ashirwad)
Sugar – 1 tsp
Yeast – 15 g (1 TBSP)
Warm water – 1.5 cups ( you may need more of less depending on the quality of the flour)
Olive Oil – 1.5 T (original recipe called for 1 T) + 1 tsp (to brush the crust)
Honey – 1 T (I didn't use as I wanted to make it a vegan base)
Salt – 1/2 ~1/3 tsp
Red chilli flakes + garlic powder – 1 tsp (I added this , was not in the original recipe)
Vital Wheat Gluten – 3 tsp (optional.)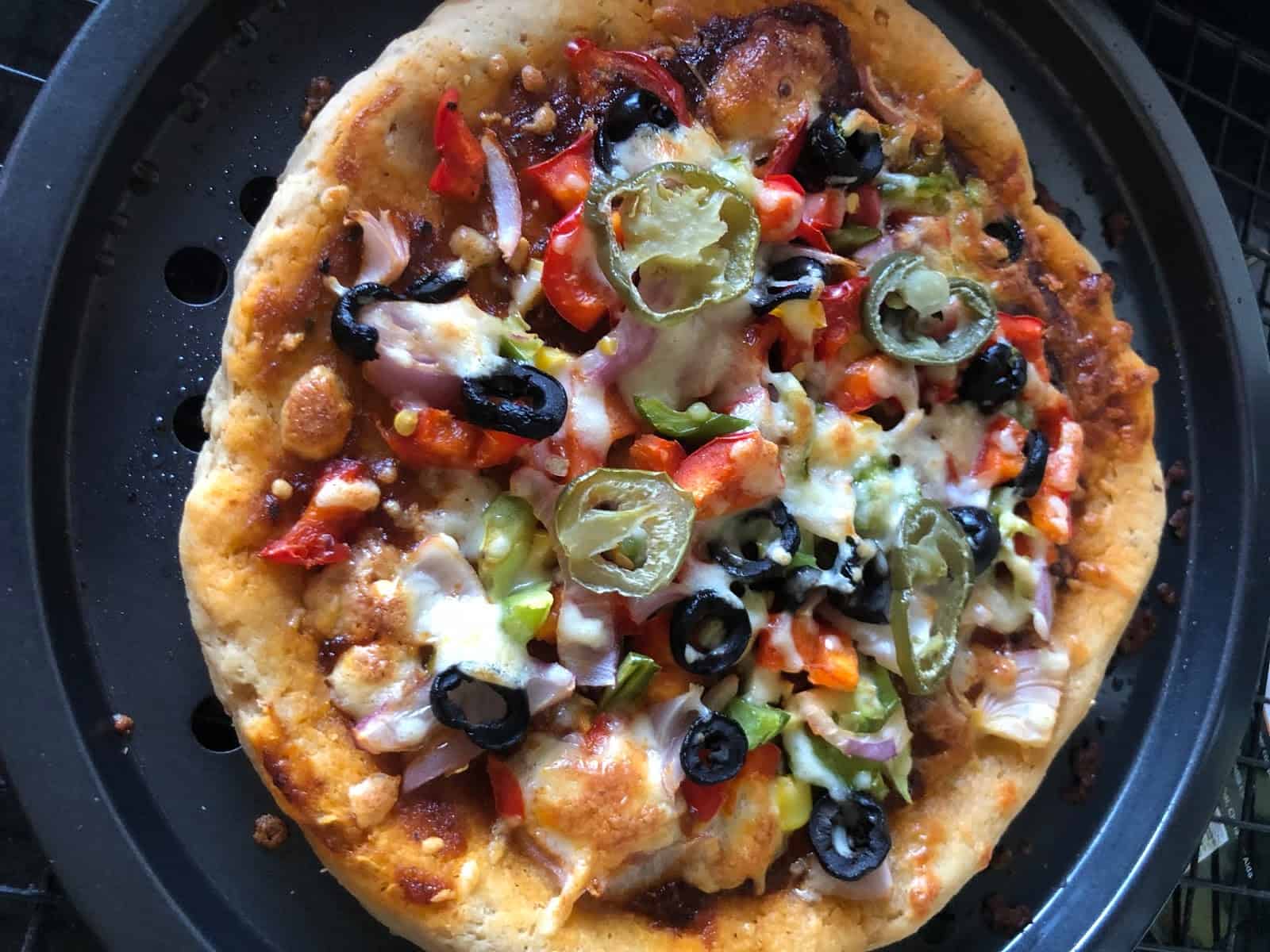 Pin


How to make the dough:
In a kitchen aid stand mixer bowl or any other bowl you are using, Proof the yeast (even if its instant, I still proof it) in warm water + sugar. 
Once it bubbles, whisk in the salt, spice powders, honey (if using), gluten and the flour. 
Mix the flour well in the liquid mixture and let it stand covered for 15-20 mins (this helps in gluten formation). 
Now knead well (adding any little additional warm water or flour or oil as required), till you get a smooth and springy dough.
Place it in a well oiled container with a damp cloth. I kept it in a food grade plastic container with a tight lid. Let it rise till doubled (takes about 2 hours in normal temperature).
Punch it down lightly once risen. Turn the oven on, and let the dough rise by the time the toppings are ready.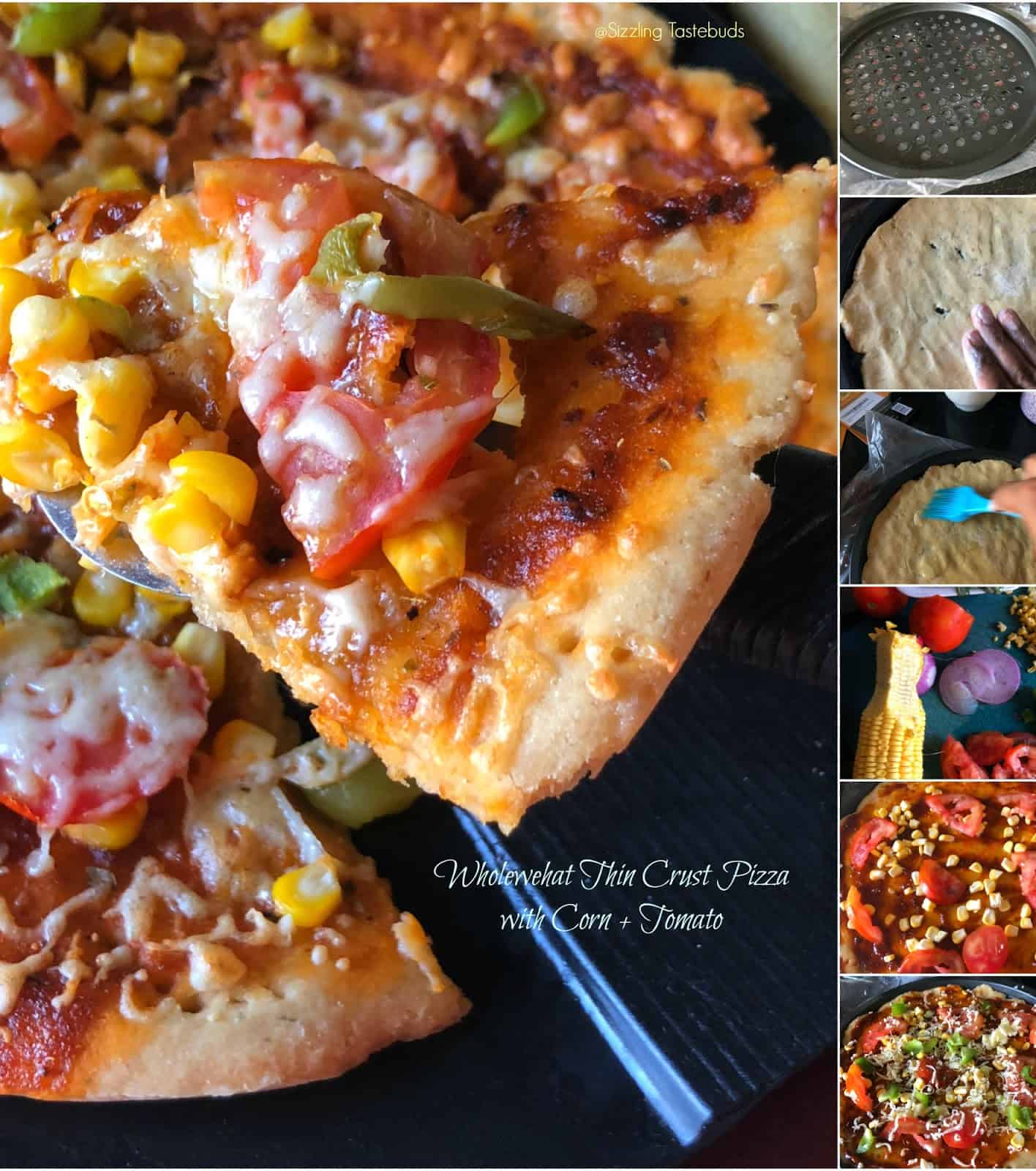 Pin


To assemble and bake:
Spray the pizza pan with cooking spray. divide the dough into 3 portions (My pizza pan was 25 cms, so the above dough makes 2 medium sized 12 inch or three 25-inch pizzas.
Pre-heat oven to 230C for about 15 mins.
Keep the toppings, grated cheese ready.
Spread one portion  gently into the greased pizza pan directly. 
Top with the pizza sauce, the toppings , any spice powders, and the cheese
Bake for 15-17 mins (keep an eye after 13th min) and gently demould the pizza from the pan using ONLY a silicon or wooden spatula.
Cut and serve warm
Pin
 Check out the Blogging Marathon page for the other Blogging Marathoners doing BM# 87