Posting after a brief hiatus, back with #Breadbakers with the "Catch up Theme" hosted by Pavani. As mentioned earlier, my family's love for garlic – especially in bakes – saw me bake the following :
Wholewheat Garlic Monkey Bread
dominos style garlic bread sticks
Coriander-garlic pull apart rolls
Re-visiting the garlic theme (from 2016), here's another quick and yummy wholewheat bake that caught my kids' fancy. The knots could definitely be better, but I was happy with the texture of the bread that came out. The kids had this bread with the Carrot Lentil Soup and that kept them full till bedtime 🙂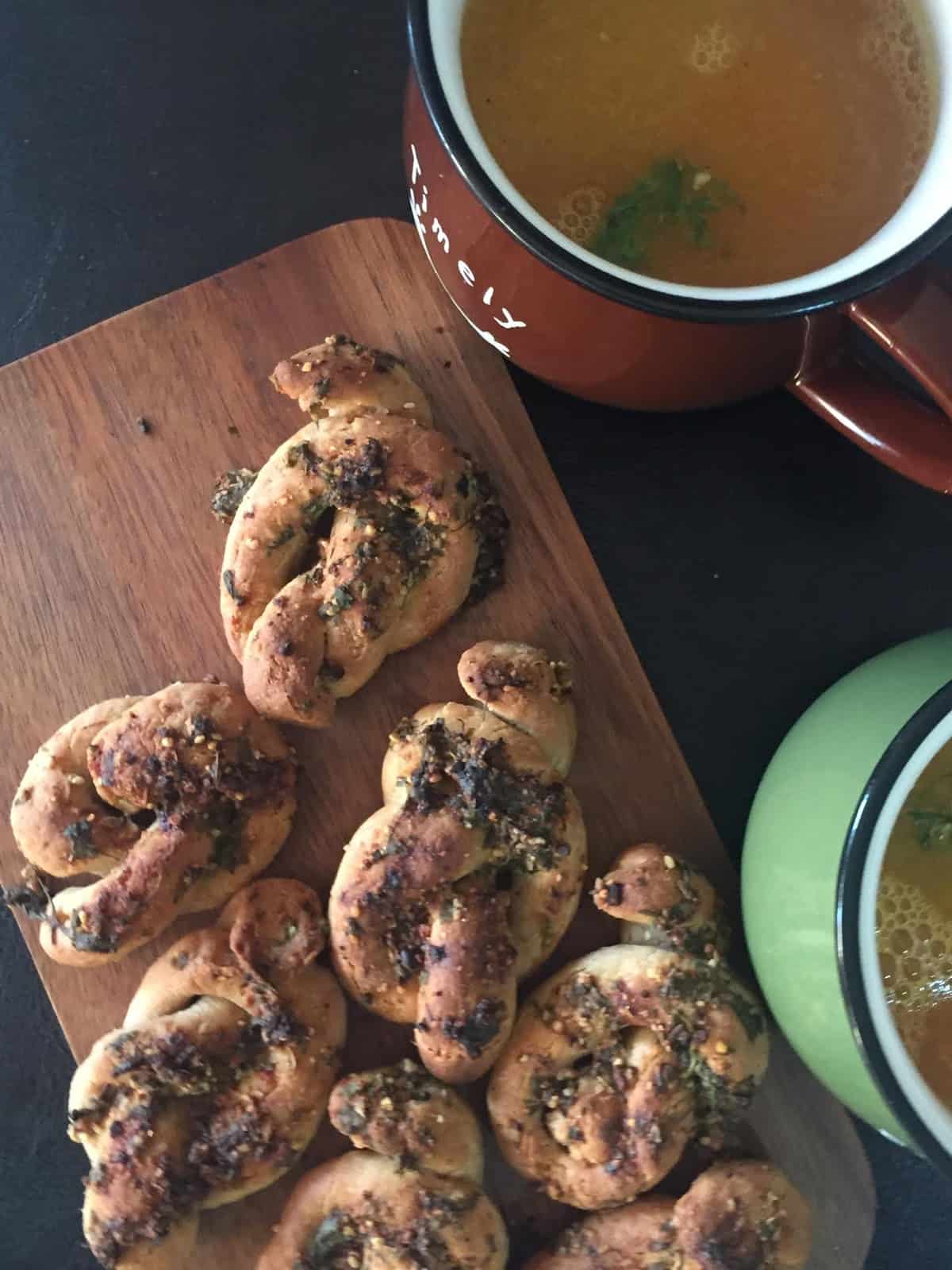 Pin

I used my Wholewheat pizza base  (that was freezing up), brought it to room temperature and made these knots.One could make the dough from scratch using either all purpose flour or wholewheat. I havent really had too much success baking breads with GF flours, but would be glad to know if someone's had a success run with these. ANother family favourite for Holiday baking are these absolutely scrumptious Transylvanian CInnamon Sugar cakes 



Prep time – 15 mins, Rise time – 2 hours+ (if making the dougt from scratch), Bake time – 15 mins per batch.



Makes – approx 8~10 knots.



Ingredients:

Wholewheat pizza base – 1 portion

Garlic powder – 1 T



To brush on top:



Melted butter – 2 T ( I used salted Garlic butter)

Olive oil – 1 T

Crushed garlic – 3 large pods

Finely chopped parsley / coriander – 2 tsp

Italian spices (I used crushed oregano and thyme) – 1 tsp

Salt – to taste (unless one is using salted butter)

Red chilli flakes – 1/2 tsp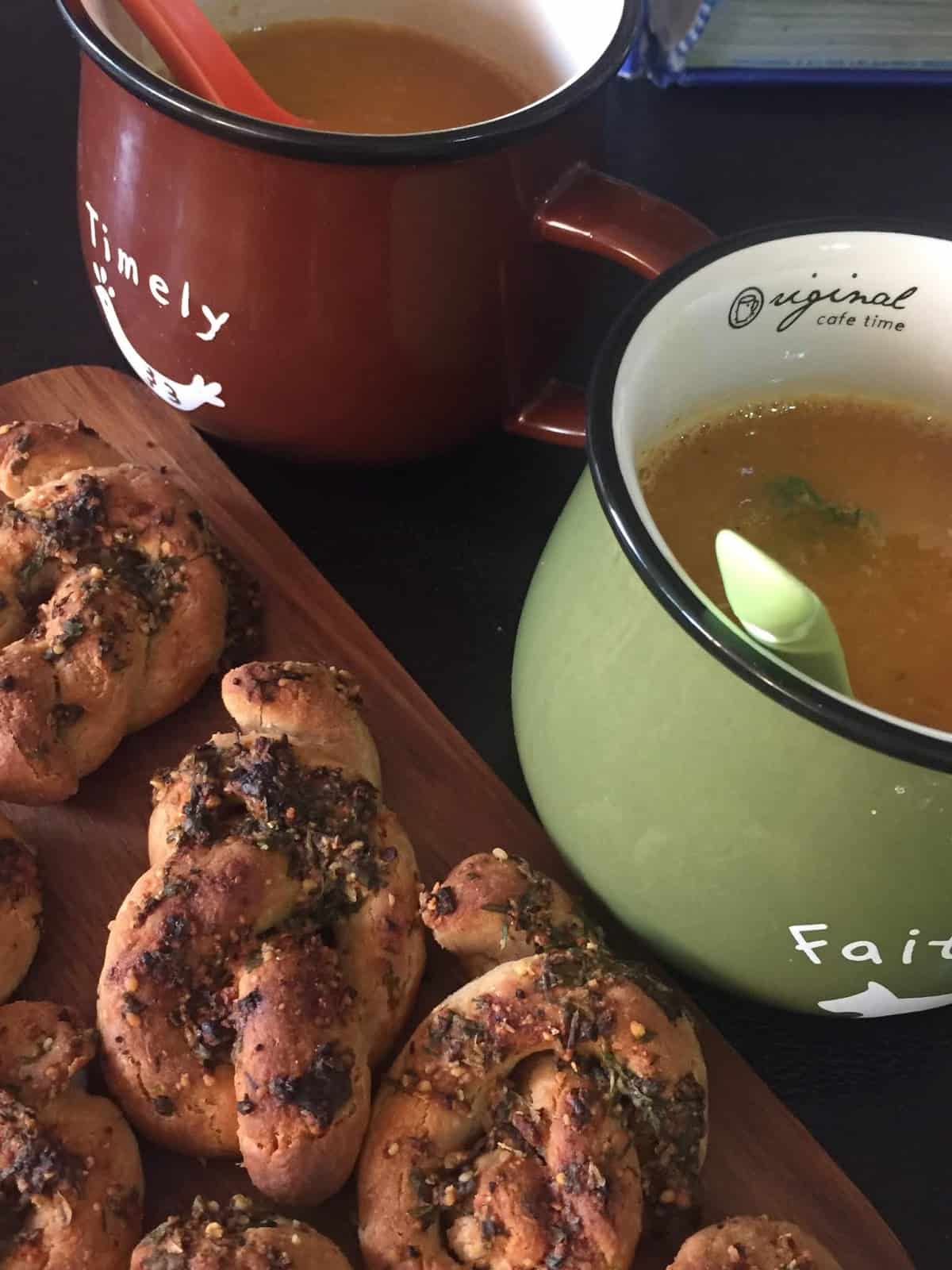 Pin



How to:

Bring the frozen pizza dough to room temperature and knead garlic powder into it . Let it set for 10-15 mins. (if making fresh dough, add garlic powder while kneading itself before the first rise). Meanwhile, in a bowl, mix all the ingredients for the top brush – let it steep for 45-60 minutes.



Divide the dough and make thin long ropes and make a knot (better than mine :p) and lay them gently on a lined baking tray. Use up all the dough to make these knots. 

Cover and let it rise for 20-25 mins. Towards the end of the 2nd rise, pre heat oven to 180C.

Gently brush the knots with the herbed, spiced butter. Bake for 15-16 mins or till tops turn golden brown. Broil for 30-45 seconds if needed. brush them once out of the oven with the herbed butter to keep them soft.

Serve warm as is or with some soup.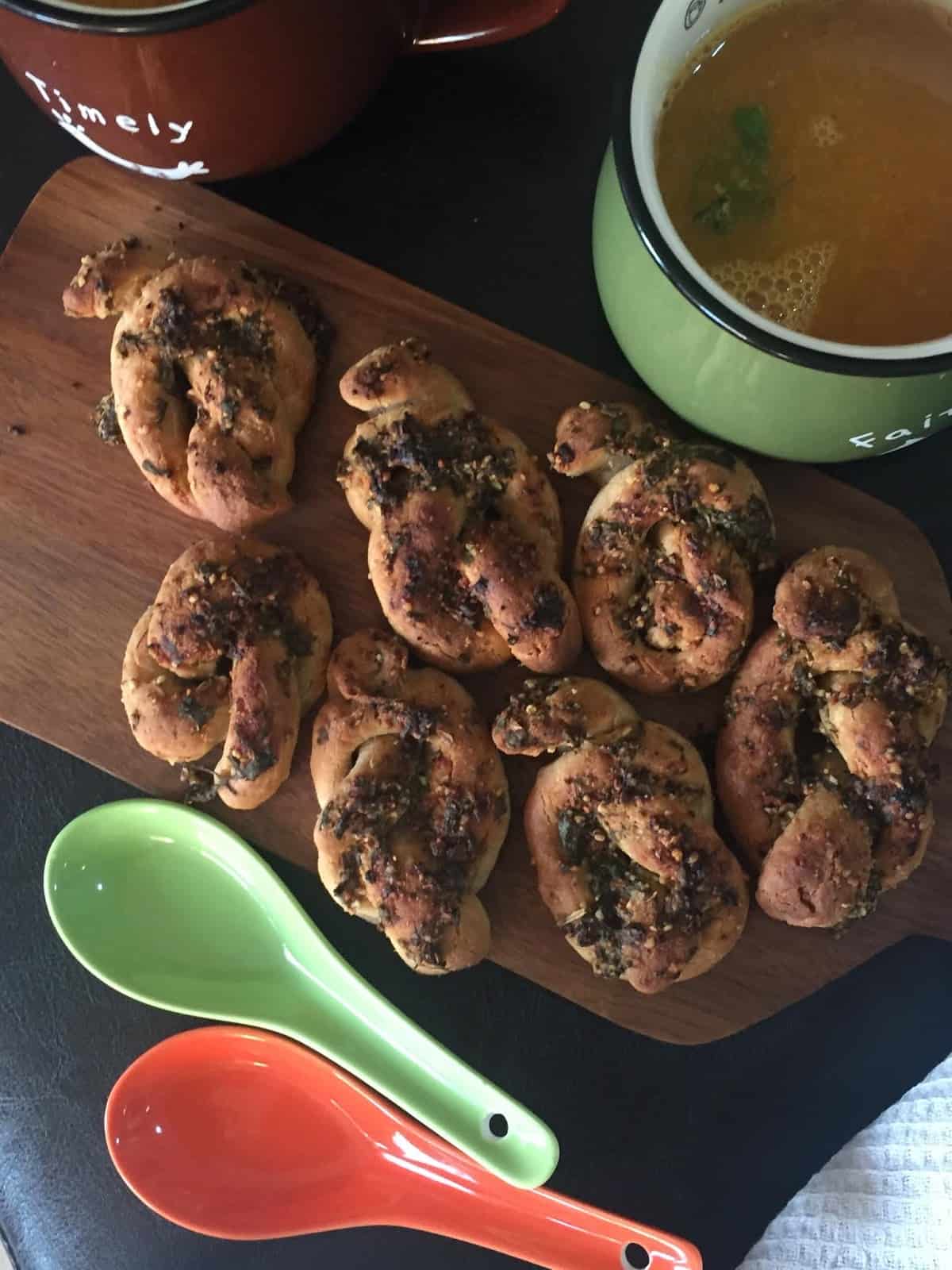 Pin
This month, we are catching up on old 'Bread Bakers' themes we missed out on. Our host of the month is Pavani at Cook's Hideout. Check out what the Bread Bakers have baked up.
#BreadBakers is a group of bread loving bakers who get together once a month to bake bread with a common ingredient or theme. You can see all our of lovely bread by following our Pinterest board right here. Links are also updated after each event on the #BreadBakers home page.
We take turns hosting each month and choosing the theme/ingredient. If you are a food blogger and would like to join us, just send Stacy an email with your blog URL to [email protected].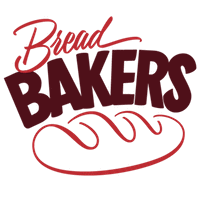 Pin