After yesterday's Urundai Kuzhambu, here's another Kuzhambu (gravy) which was practically my initiation to Tamilnadu cuisine post my wedding.
For the uninitiated, Kuzhambus are tamarind based gravies (with or without any vegetables, but definitely without any dal / lentil), whereas Sambhar was a thicker gravy with base of cooked lentils, with veggies and a little tamarind and sambhar powder thrown in.
I was so used to the latter style on an everyday basis when our 3 course meal meant rice + sambhar, rice + rasam , rice + curd / buttermilk for everyday meals 🙂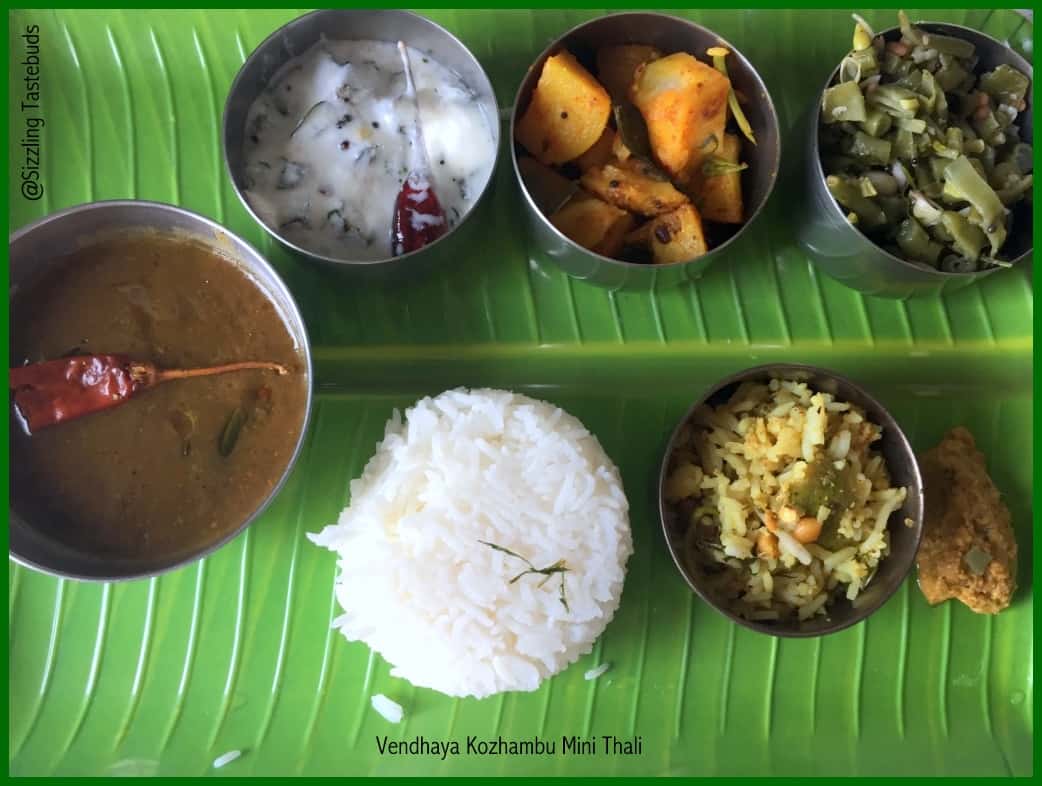 Pin

Coming from the Karnataka side of cooking , these kuzhambus / tamarind gravies not only sounded alien at first, but devilishly difficult to attempt. I should have listened to my paati (grandmom) when she was keen to give out recipes back home 🙂

And it was for me. Today when I think about it, the first time I made this 2 weeks into our wedding (with some vague idea of how it should taste), I made the kuzhambu.

Only the husband called it rasam.

And I cried.

And tried. and Tried.

Till someone pointed me in the direction of some tamil cookbooks, from where I picked up the nuances of these tamarind based gravies.

And this Kuzhambu is made almost every time the husband comes back from a long trip, and soothes his palate from the dry-and-in-your-face airline / hotel food !!

So, this mini meal is basically one of the Sunday brunches, and although the dishes look a lot, with some planning, you can put it together in less than an hour (max 75 mins) for about 4-5 people.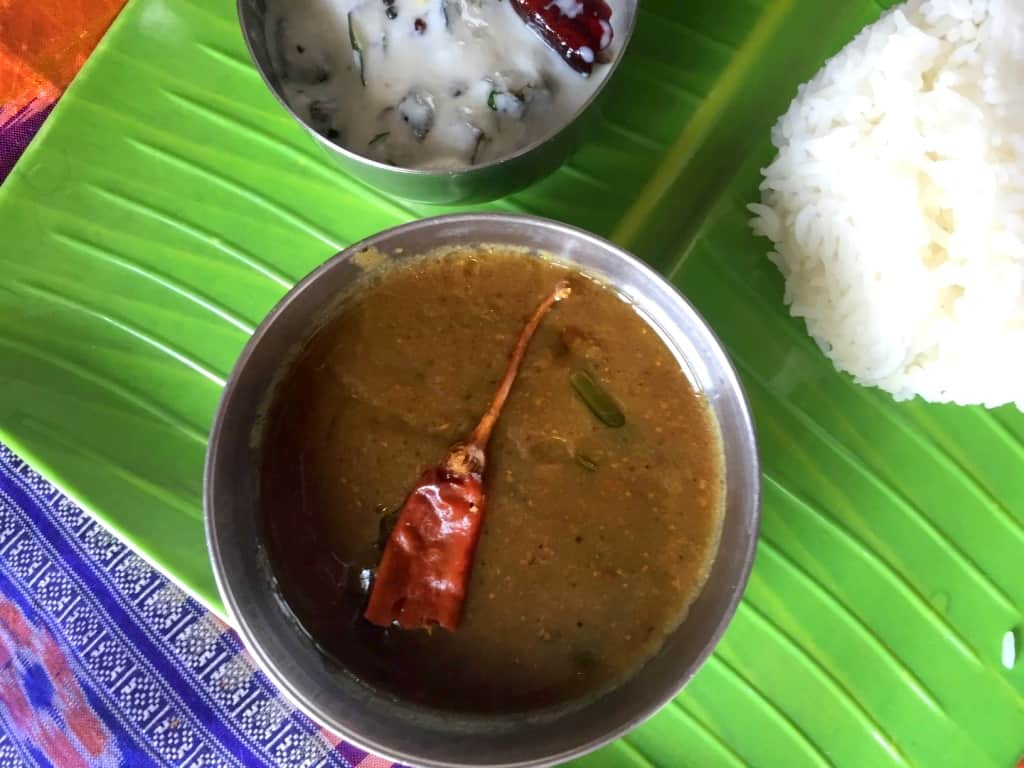 Pin
In the mini meal, we have (as numbered in the pic below):
1. Karivepalai Thogayal / Thuvayal (Thick Chutney made with curry leaves)
2. Maanga Saadam (raw mango flavoured rice)
3. Steamed rice
5. Vendekkai Thayir Pachadi (Okra raita / Okra in yoghurt sauce)
6. Potato fry (which is a staple for our Sunday Brunch)
7. Avarekai Poriyal (flat beans stir fry)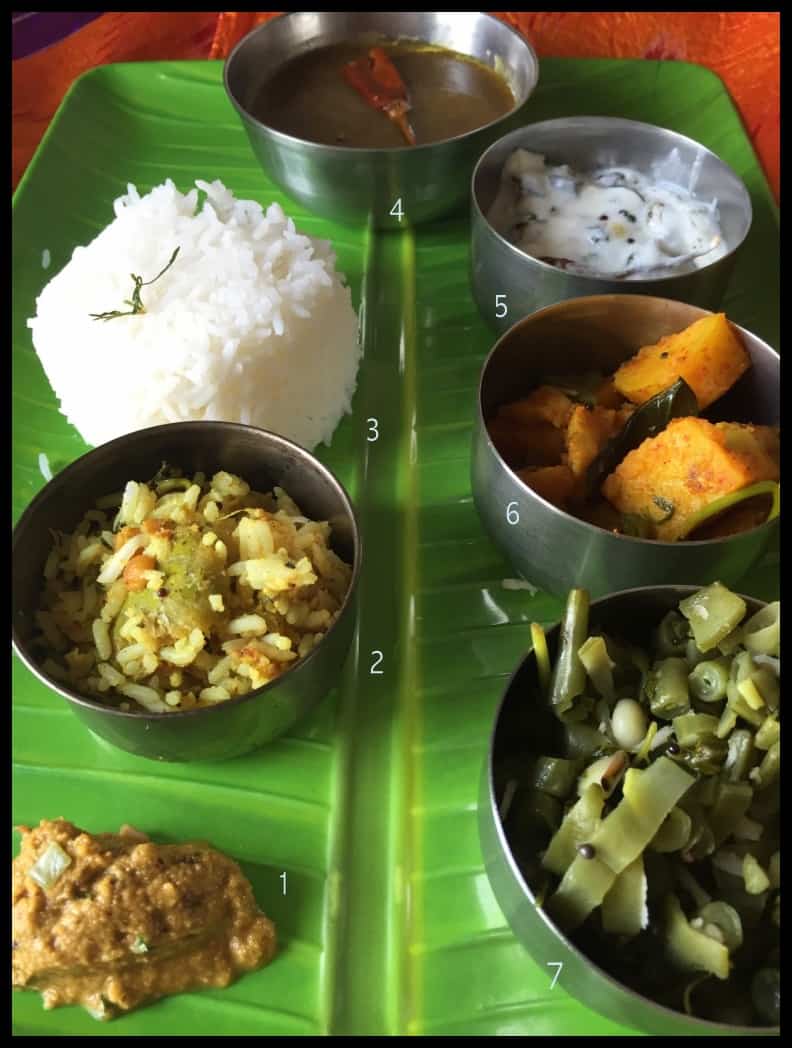 Pin
So, lets get to the Kuzhambu. Vendhaya Kuzambu – Vegan Tamarind gravy 
Prep time : 10 mins | cook time : 15 mins | Serves : 4
Ingredients:
Sesame / gingelly oil – 2 TBSP
Tamarind – 1 large gooseberry size
Hot water – 3 cups
Methi Seeds – 1 tsp
Toor dal / Thuvaram Paruppu – 1 tsp
Turmeric – 1/4 tsp
Rasam / Sambhar powder – 1 TBSP
Jaggery & Salt – to taste
Asafoetida – 1/8 tsp (skip for GF version)
Rice flour – 2 tsp
Tempering : mustard seeds, broken red chillies (2), curry leaves – few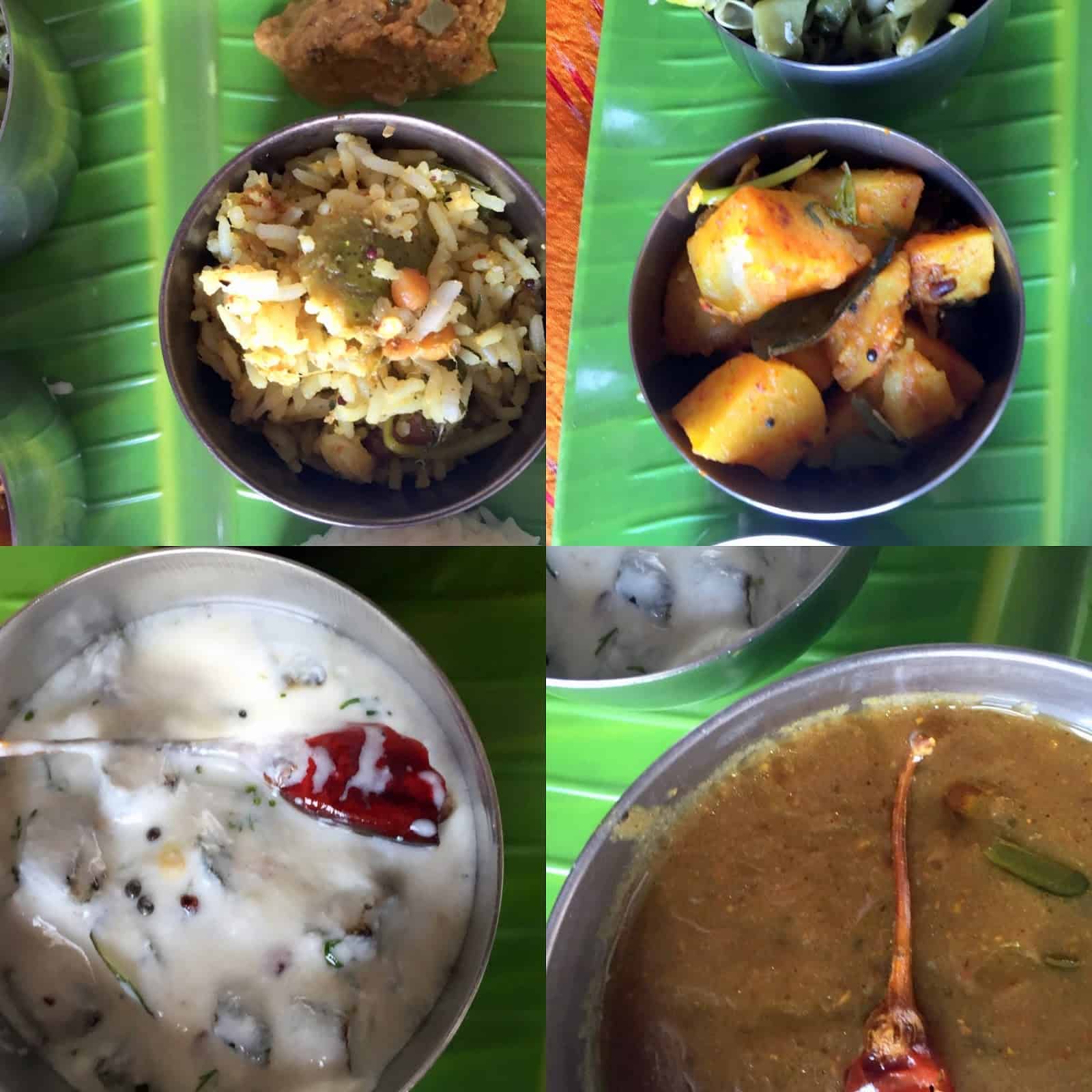 Pin
Method:
Soak tamarind in hot water for 10 mins and extract the thick pulp. In a deep bottomed pan (typically a cast iron one), heat 2 TBSP oil. splutter mustard seeds, methi seeds, broken red chillies, curry leaves. 
Then add the toor dal and fry for 30 secs till it turns golden brown. Add the turmeric and rasam/sambhar powder and quickly stir to fry them but not burn them
Now add the tamarind pulp, requisite salt and let it cook for 10-12 mins. 
Add hing / asafoetida, jaggery and cook again for 1-2 mins till it thickens.
If the Kuzhambu is still watery, make a slurry paste of rice flour with 1 tsp of water and add gently. 
It will be cooked, when the oil starts leaving the sides and its a thick dark gravy
Check for salt and spices.
Serve immediately with hot steamed rice. For a tastier version, drizzle a generous 2 TBSP more Sesame oil once done and let it sit for 2-3 hours before serving. It tastes divine.
Keeps for upto 4-5 days under refrigeration.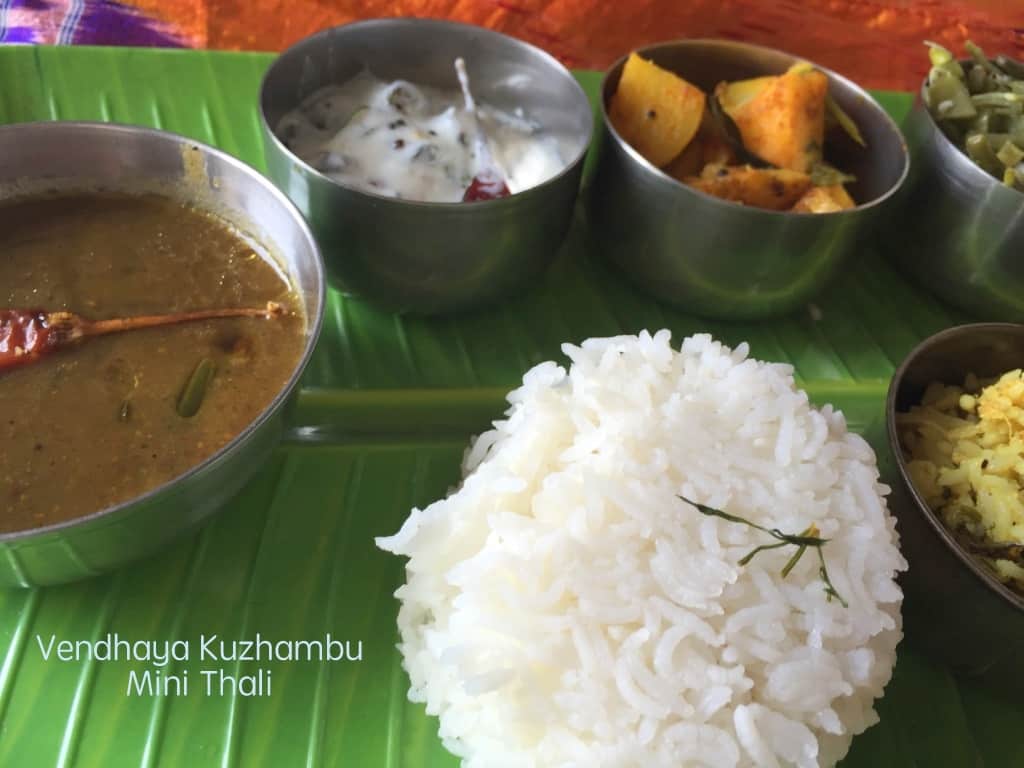 Pin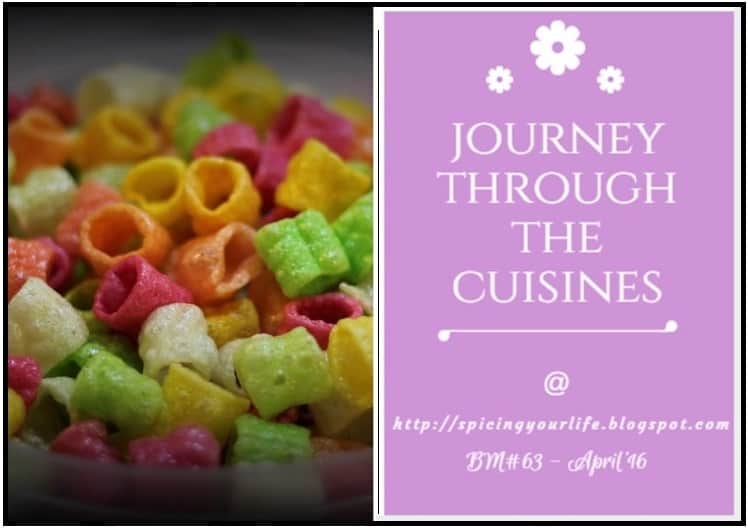 Pin
Check out the Blogging Marathon page for the other Blogging Marathoners doing BM# 63