French Toast and eggless ??!! That's
what S asked me as I went on to prepare this over the weekend. Everytime we are
on a vacation or at a restaurant buffet for breakfast, the strong smell of
Vanilla infused Cinnamon in french Toast never fails to arouse my senses.
Having said so, the non-egg eater in me refused to eat this, till I saw this
recipe recently in a magazine (Good housekeeping, I guess). And got me to make
this over the last weekend along with kiddo.
This is a ridiculously simple recipe
for holiday cooking too;-) A perfect way to begin the day 🙂 Or even as a
warm dessert post a lazy Sunday brunch (what we did)!
Sending this across to Pavani who is
hosting Valli's Kid's Delight – 5 ingredient fix and to BM # 28 too.
Prep time : 10 mins | Cook time : 10 mins | Serves : 3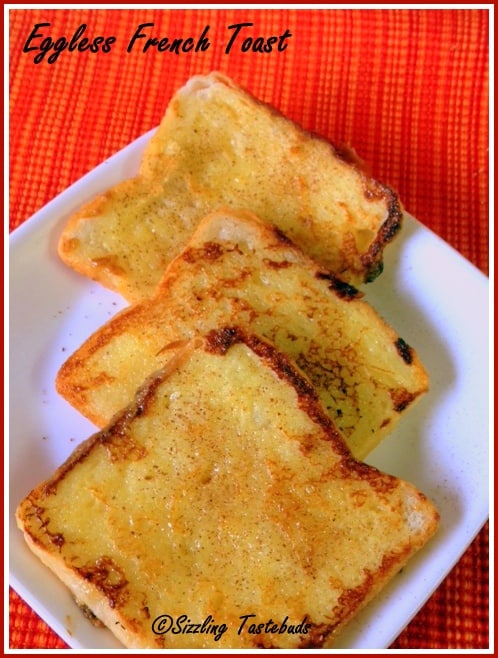 Pin

Ingredients:
Bread slices – 8 nos
Custard Powder – 2 TBSP
Milk – Approx 1/2 cup (low fat version) + 4
TBSP
Sugar – 2 to 3 TBSP (adjust to taste)
Olive Oil – 3 tsp
Method:
1) Boil the milk. Mix the custard
powder in the remaining 4 TBSP milk to a smooth pouring (custard pudding
consistency) and pour to the boiling milk.
2) Switch off the stove and mix well.
Add sugar and set aside. Then add the cinnamon powder and vanilla essence and
mix well.
3) Cut the bread slices diagonally into
half (this is for ease of use – you could use the entire slice if you wish).
Lightly dip the bread slice into the custard mixture and place it immediately
onto a medium-hot tava (skillet). Drizzle olive oil around the bread and flip
and bake for a few more minutes till it turns slightly brown and moist.
4) Serve immediately as it is or with
honey , or even better, dusted with cinnamon powder 🙂