Basic Sponge cakes are a lifesaver
and a great base for snacks like tiramisu, . Although am not much of a
condensed milk – APF kind of person, Tarla Dalal's recipe never fails. And I
was happy to see Priya
Srinivasan have a basic sponge cake. I made some changes, mixed both
recipes, doubled the recipe and divided the recipe into a basic sponge cake and
the rest went to a choco-vanilla marble cake. Two birds in one stoneJKids asked me to make the marble cake more often,
fascinated by the unique designs the twirls that the batter could throw up. For
once, I was happy to use Maida / APF for the kids sake, and kiddo enjoyed with
her friends who had come over for a sleepover night party !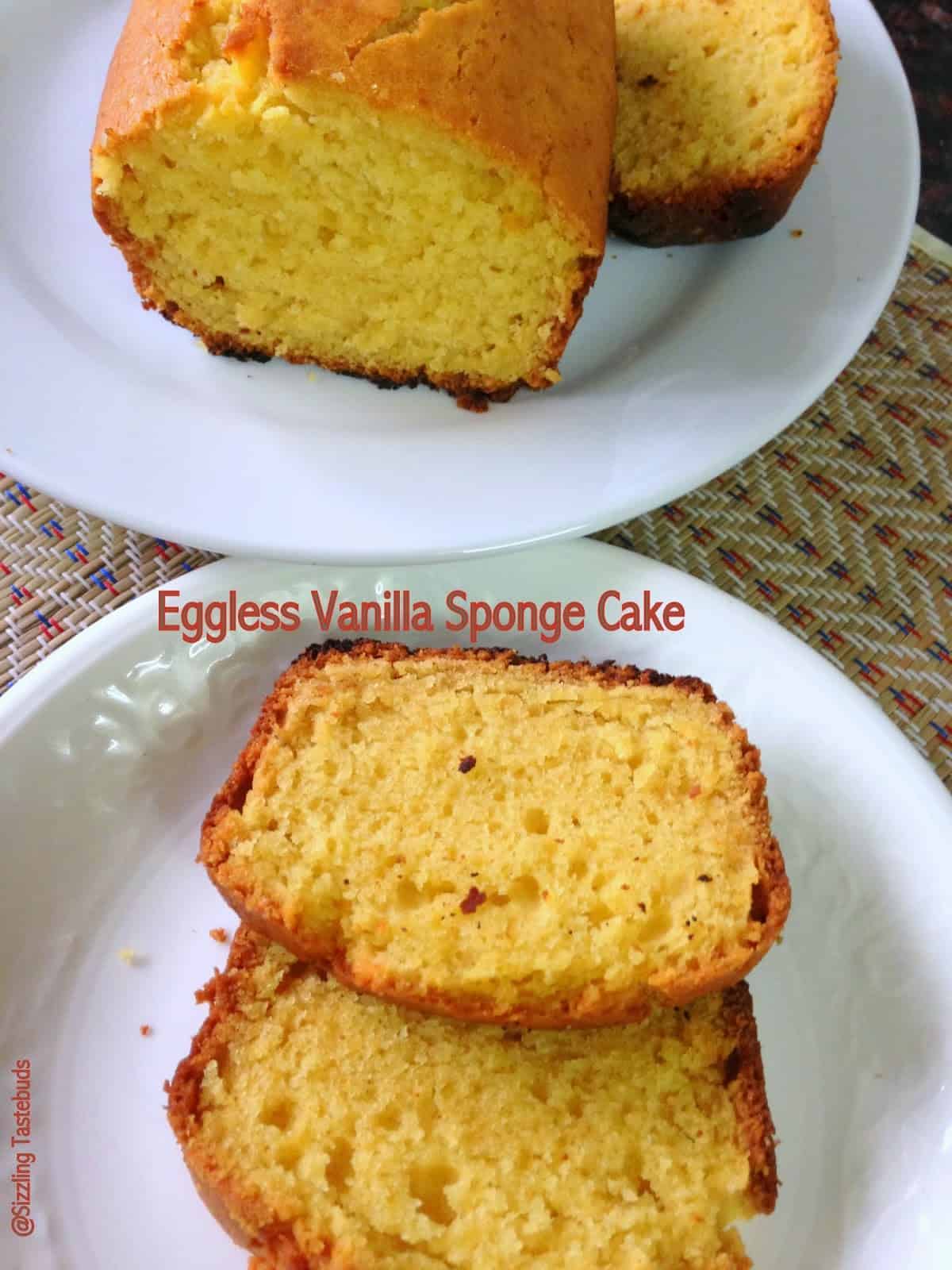 Pin
Baking Marathon Day 10 : Basic
Eggless Sponge Cake and Choco-vanilla Marble Cake
Recipe type : Tea Cakes /
Flavoured Bread
Course: Snack
Cuisine : American
Makes : Two 9*5 Cakes
Prep time: 30 mins | Bake time : 25-28 mins per cake (varies from oven to oven)

Ingredients:
Maida / APF – 1.25 cups
Wholwheat flour – 1.25 cup
Powdered Sugar – 3/4 cup
Baking Powder – 2 tsp
Soda – ¾ tsp
Buttermilk – 2/3 cup
Melted Butter – 4 TBSP
Oil (Canola) – 1/2 cup
Vanilla Essence – ½ TBSP
Extra For the Marble cake –
Chocolate chips (1/3 cup) + 2 TBSP Oil
Pin
Method:
Sieve the flours, baking soda,
baking powders.
Cream Sugar with the butter and to this , combine the oil, buttermilk, vanilla, 100 ml of water and beat well in a separate bowl. Keep
aside.
Add the sieved flours to the above
liquid mixture and mix gently to a batter of dropping consistency. Divide the
batter into one portions.
Preheat the oven to 180 Deg C /
375 F
At this point, gently microwave the
chocochips for 30 seconds with the oil. Mix 4 TBSP of the prepared batter and
mix well.
Pour one portion of the batter
into a greased and lined pan . Tap sharply to settle the batter.
Pour the other portion into
another pan, gently pour in the chocolate-mixed bater and swirl once to get a
mosaic design
Bake both pans (either separately
or together) at 200 C for 15 mins and at 150 for next 15 mins. Keep an eye
after 22nd min (Over temp and time may vary from oven to oven)
Test with a toothpick for doneness.
Cool for 2-3 mins and invert on cooling rack, let the cakes cool completely,
then proceed to cut
* I used a 9*5 for one cake and a smaller for the marble cake and baked them separately. In that case, the temp would be around 22-25 mins for each cake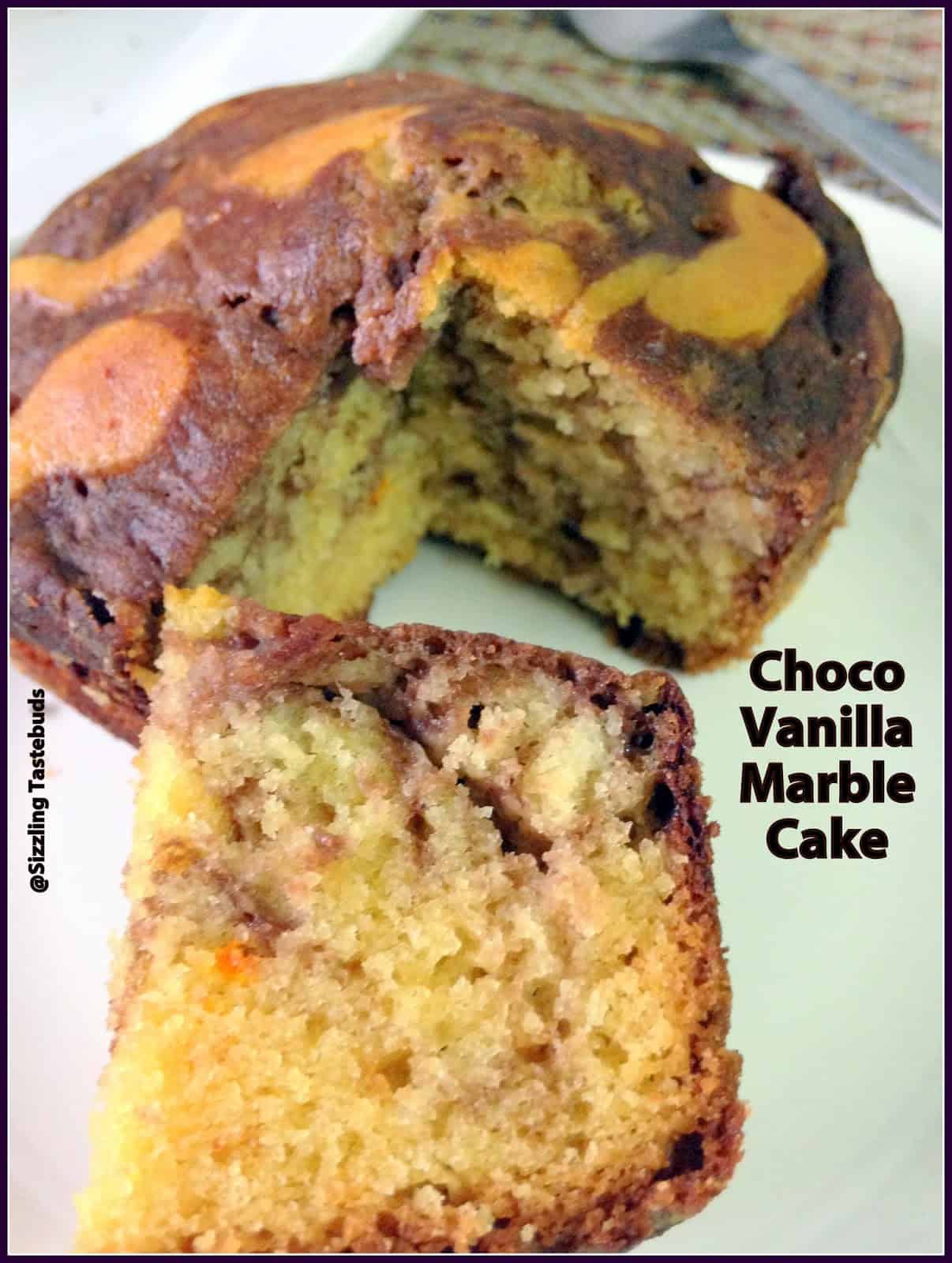 Pin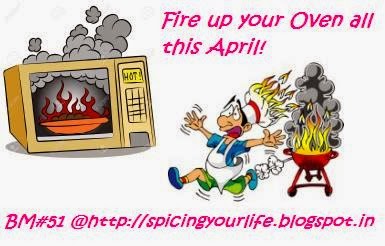 Pin
Check out the Blogging Marathon page for the other Blogging Marathoners doing BM# 51