Sunday Breakfast at our place is a huge deal and although we don't indulge in a mini meal kind of spread every week, it is usually a good spread of either Parathas or South Indian Breakfast with both Chutney (sometimes 1-2 varieties of chutney) & sambhar included (that makes it pretty elaborate!!) along with Idli + Dosa+ Pongal, isnt it 🙂 One such spread we indulge in sometimes is this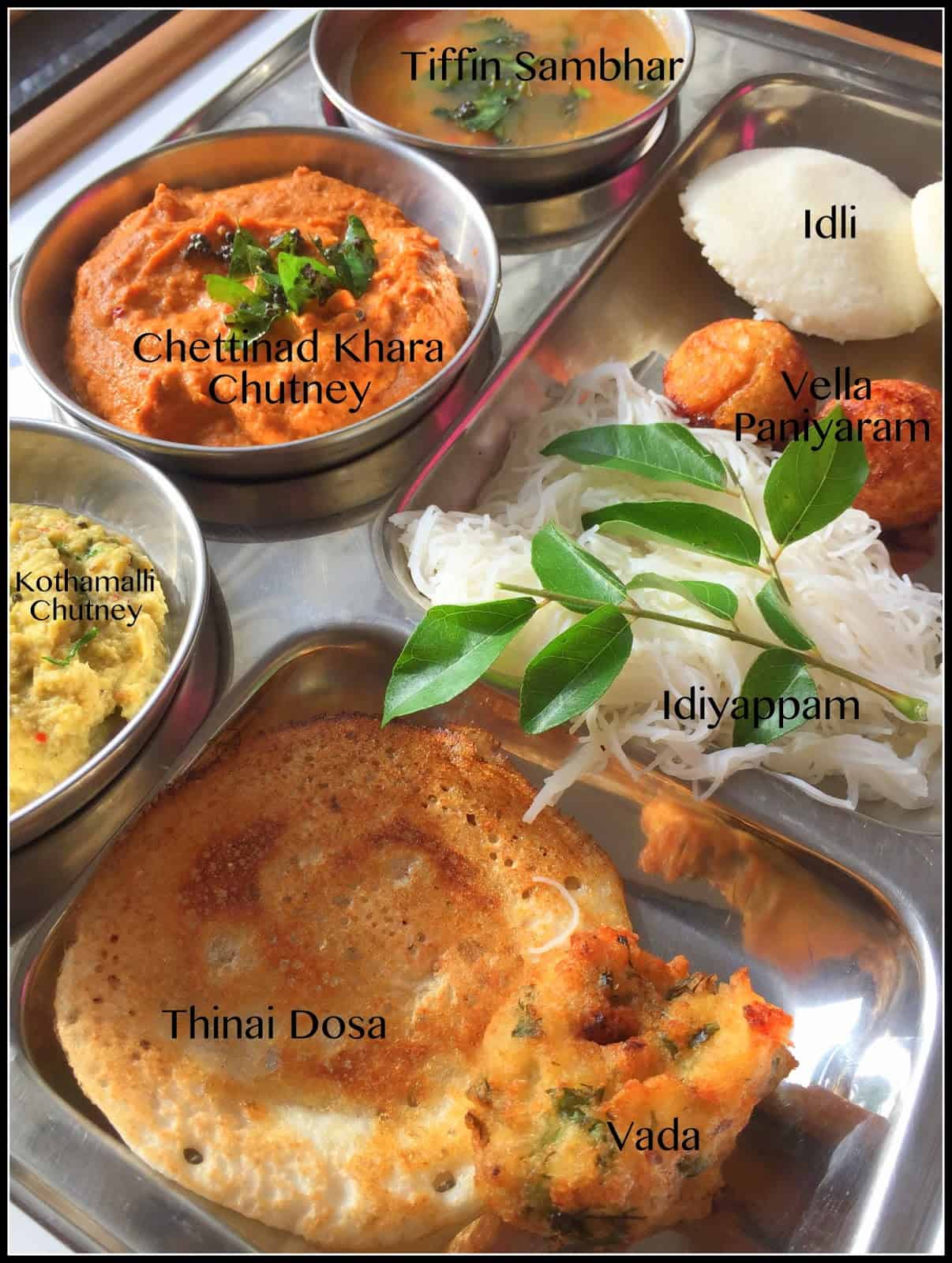 Today we have a rather elaborate Chettinad type breakfast that my family enjoyed a lot. The filter coffee is conspicuously missing in this picture, but it was part of the menu too !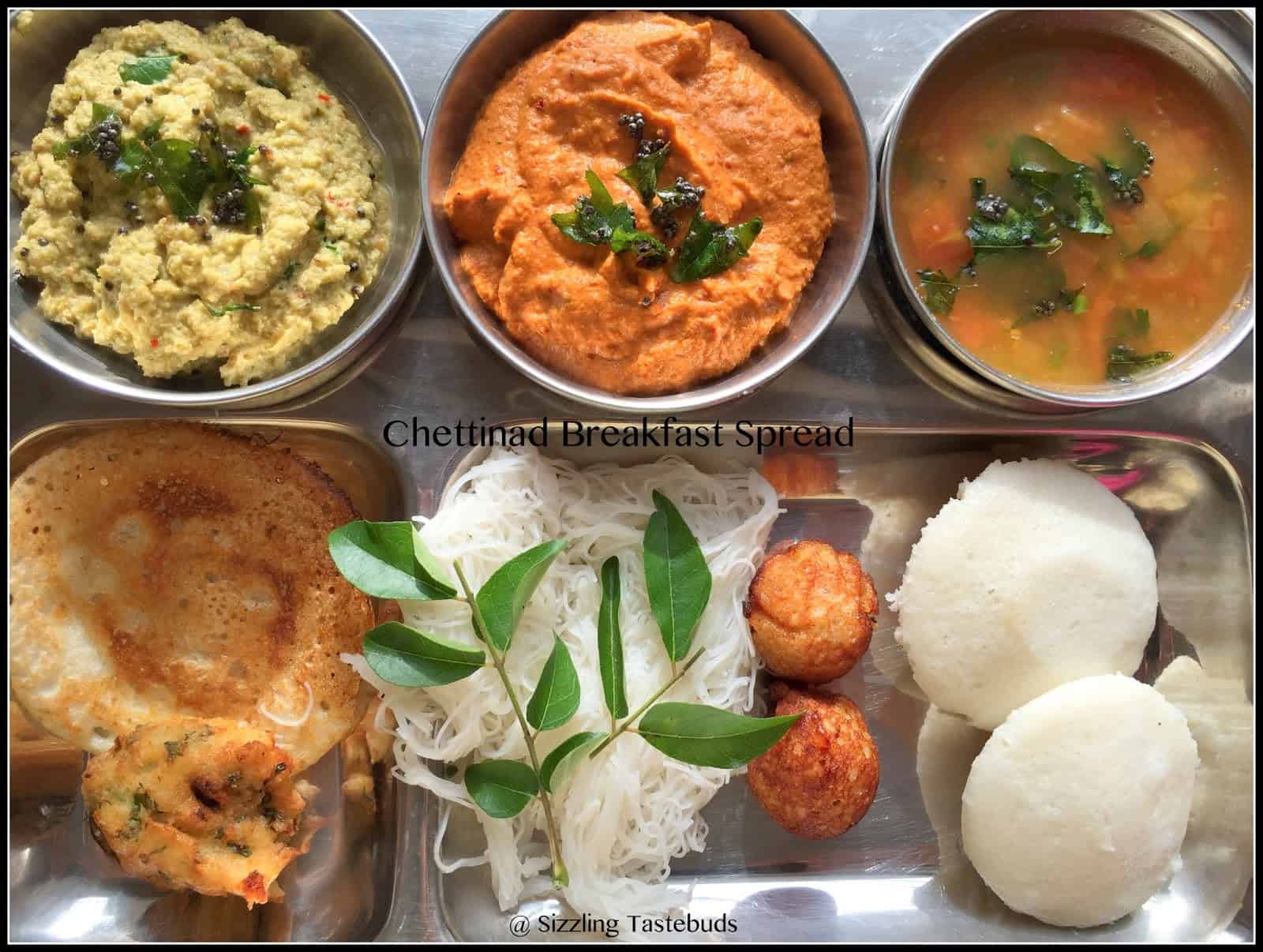 Enjoy this virtual spread with Idli, Vada, Thinai Dosa, Vella Paniyaram (sweet dumplings filled with melted jaggery), Nool puttu (or Idiyappam), Chettinad Khara Chutney, Tiffin sambhar and Kothamalli Chutney.
Today I shall be giving the recipes of only the Vella Paniyaram. Recipes for Idli, Vada are already shared on this blog. Nool Puttu, Thinai Dosa, Chettinad Khara Chutney and Tiffin Sambhar and Kothamalli Chutney are also already shared.
For the linguistically challenged, there is a lot of difference between Vella Paniyaram (aka Inippu Paniyaram or sweet paniyaram) and Vellai Paniyaram (Vellai means White colour) – both are from Chettinad cuisine but are made differently.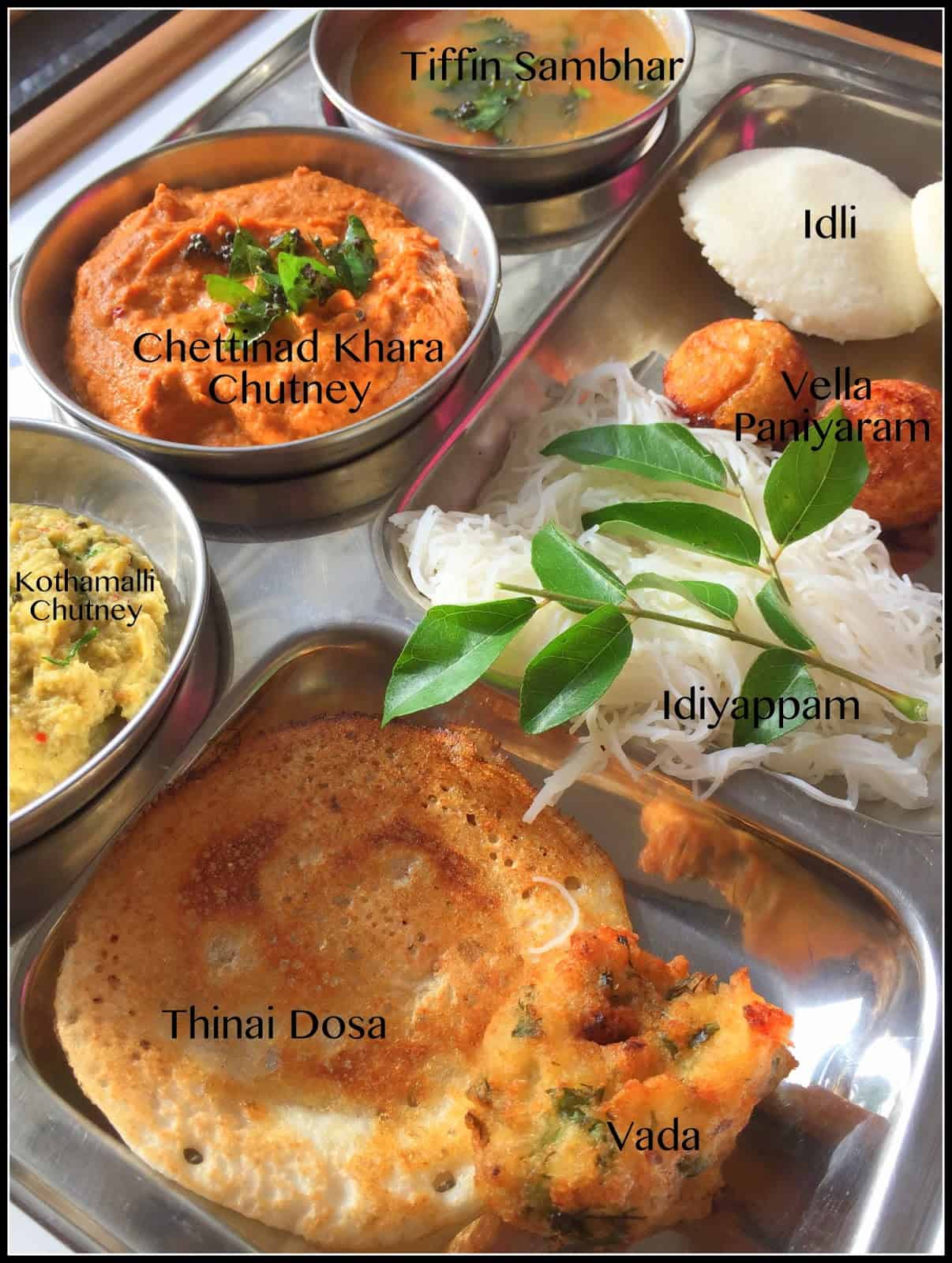 For the Vella Paniyaram (Vellam in Tamil means Jaggery), you would need:
Makes : 16 – 18 paniyarams
Idli rice – 1/2 cup
Normal short grained rice – ½ cup
Urad dal

 

– 1/3 cup
Fenugreek seeds / methi seeds – 1 tsp
Salt – 1/8 tsp
Jaggery – ¼ cup (or little less)
Grated coconut – 1 TBSP
Cardamom powder – ½ tsp
Oil / ghee – to shallow fry the paniyaram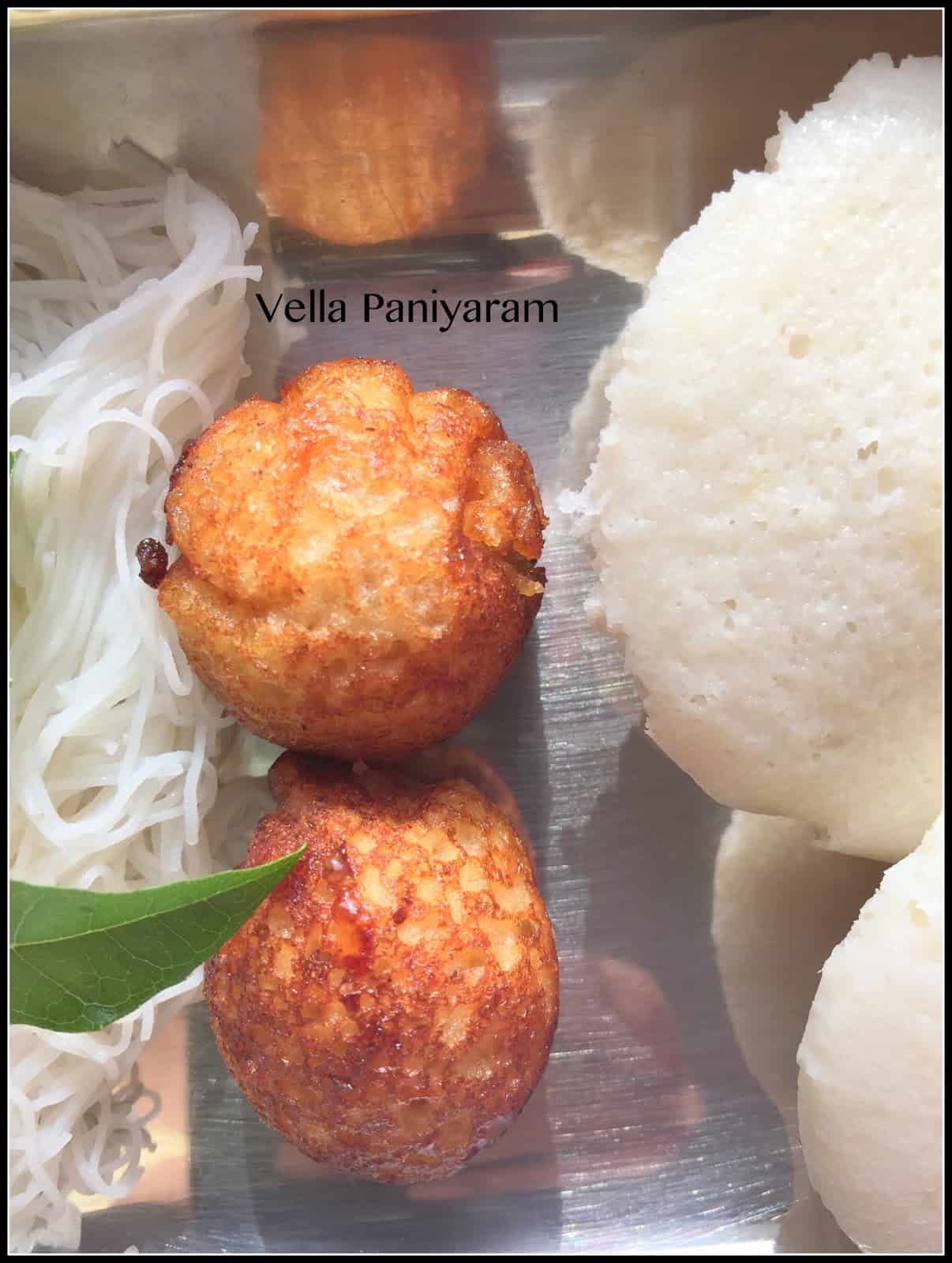 Method:
Soak both rice varieties with fenugreek seeds for 6-7 hours. Soak Urad dal for 3-4 hours. Grind them separately into a slightly thickish dosa batter. Mix well with salt and let it ferment overnight.
 In the morning, beat the batter well and mix to uniform consistency. Take a portion of the batter (about 5-6 ladles for the paniyaram). The rest can be used to make Idli / Dosa
To the batter portioned out, add coarsely powdered jaggery, a pinch of soda (totally optional), jaggery liquid, cardamom powder, grated coconut and mix well. Heat the paniyaram pan well and spoon this into the greased moulds. Let it cook well on one side (I usually cover it lightly to let steam do its trick). Now gently flip over to the other side, and let it cook till slightly browned and crispy. Add ½ tsp oil more if required.  Serve hot.