Its raining off and on here in Mumbai, but not too much to crave for Fried Delights which I shake away with sadness due to health concerns. But surely crave for some warm and hearty meal while I sit by the window seeing the raingod's fury this evening ! Hunger pangs strike,and while the heart says I must reach for the nearest pack of fast food, the mind is dominating today, and sense prevails ! And then I make this amazing combo meal with Veg Fried Rice and a Low Cal Veg Manchurian gravy. Its a mind blowing combo, ordered often at restaurants.
But with the MSG scare and the monsoons, we don't eat out Chinese that often.. Boy,am I glad I made this in slightly larger quantity, while serving it for dinner.Kiddo and S loved it a lot, and am a much relieved person to have fed something healthy from the Indo-chinese stable,restaurant style 🙂 While the ingredients or the method listed below might be a lengthy one, its made with everyday staples available at your house, and is quite easy to put together with adequate preps… Do try this out for a warm, spicy and filling meal, to fill you and your senses on a rainy day !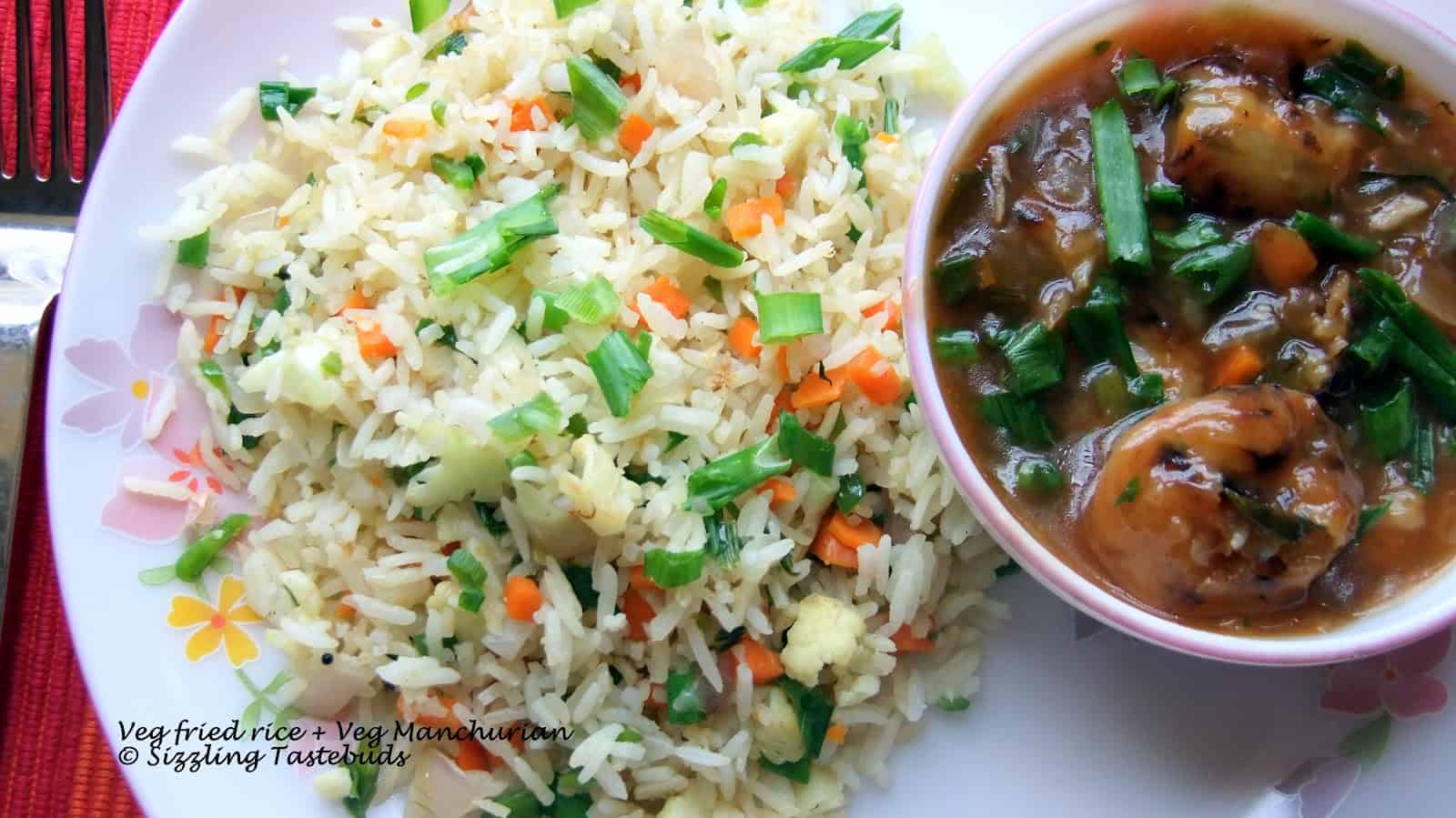 ——————————————————————
Prep time – 20 mins
Cooking time – 20 mins
Serves – 3
Difficulty level – Medium
——————————————————————–
Ingredients:
(A) Fried rice:
Long grained rice – 1.5 cups
Finely diced veggies (carrots / beans / cauliflower) – ½ cup
Red Onions – 1 large (finely minced)
Spring onion greens chopped fine – 2 TBSP
Salt – to taste
Ginger garlic paste – ½ tsp
Olive oil – 2 TBSP
(B) Manchurian:
For Outer covering:
Maida / APF – 2 TBSP
Water – 4 TBSP
Salt – to taste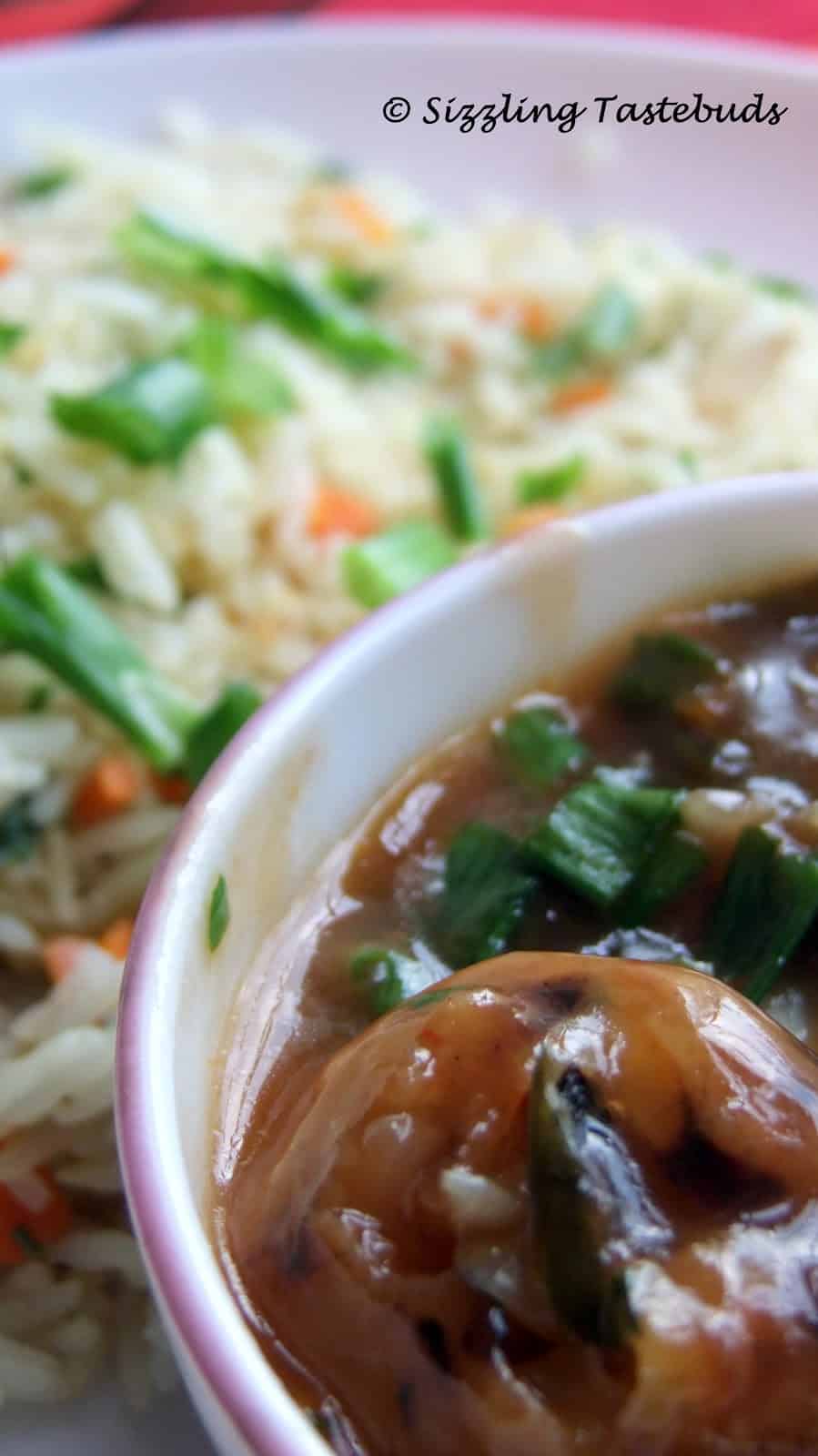 Filling:
Diced cauliflower + beans + shredded cabbage – 1 cup
Salt – to taste
Ginger grated – ½ tsp
Garlic minced – ¼ tsp
Cornflour – 2 tsp
Oil – 2 TBSP (to fry)
For the gravy:
Green Chilly sauce – ½ tsp
Soya Sauce – 2 tsp
Tomato Ketchup – ½ tsp
Cornflour – 1 tsp
Warm water – 3 cups
Spring onions – 3 tsp
Onions – 2 tsp
Capsicum / Bell pepper – minced fine – 2 TBSP
Oil – 3 tsp
Brown sugar – ½ tsp
Method:
(A) To make the fried rice – I followed the same method as Garlic Fried Rice. Replace garlic with chopped veggies as indicated above.
(B) Method for Manchurian + gravy as below…
To make the stuffing for Vegetable Manchurian:
Mix the grated veggies, salt, grated ginger and garlic in a large bowl. Add cornflour and make into equal mini sized balls.
Mix ingredients for covering and keep it ready.
Heat the paniyaram pan (used here to cut down on deep frying) and line with 2 TBSP oil. Dip the Manchurian balls in the APF slurry and fry in the pan on medium flame for 7 – 9 mins, turning them over repeatedly so they cook and have a golden crust on all sides. Drain on absorbent paper. Retain.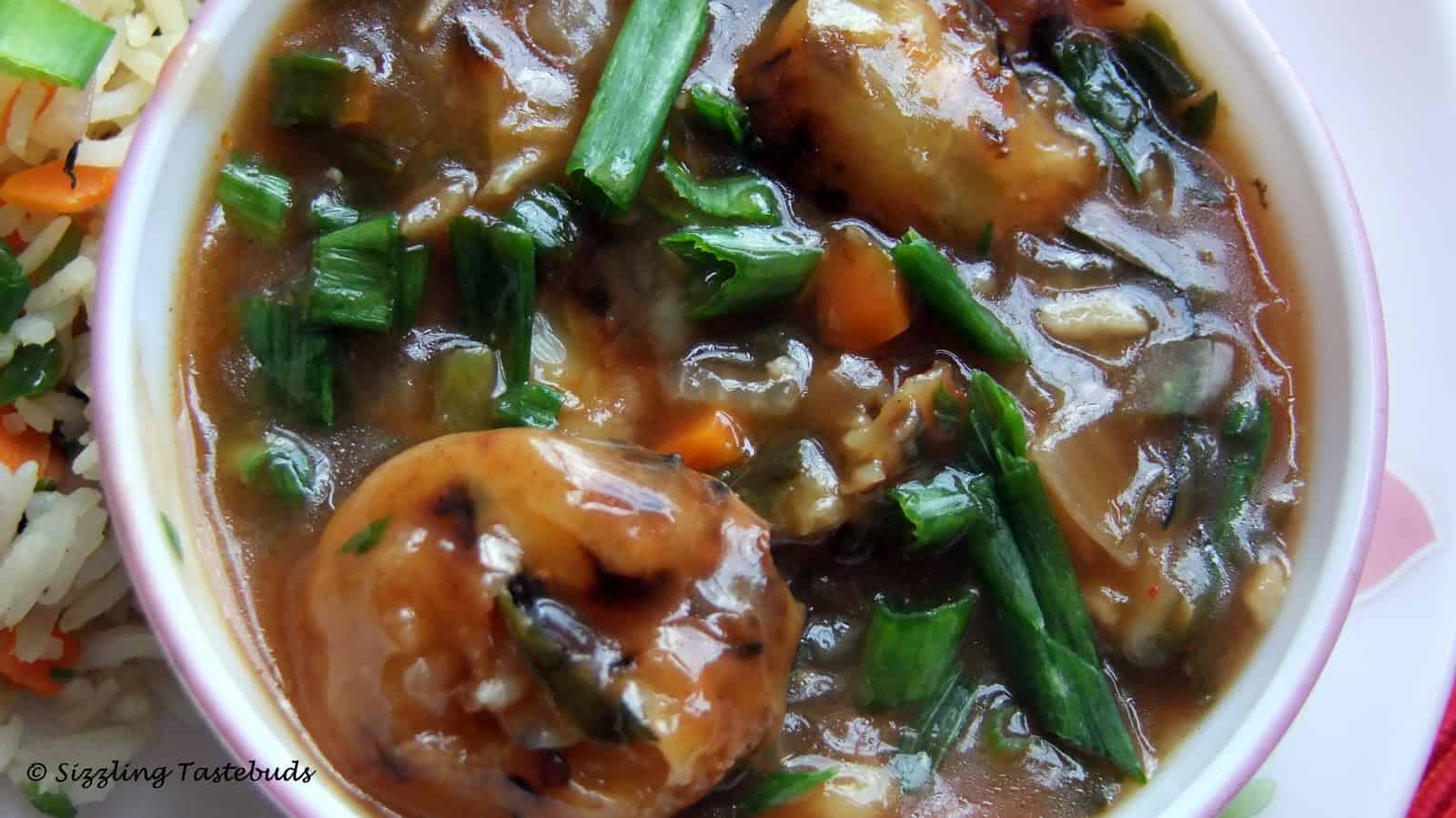 To make the gravy for Manchurian:
Heat olive oil. Fry onions till they turn translucent. Add spring onions and capsicum (reserve a little for topping). Add salt, brown sugar, soya sauce, green chilli sauce and tomato ketchup and the warm water.
Cover and cook for 3 – 4 mins. Now dissolve cornflour in a little water and pour onto the gravy to make it of desired thickness. Add white pepper and check for salt and spice. Addition of capsicum to this gravy is optional.
Jut before serving, add the pan fried Manchurian into the simmering gravy. Let is soak for further 4-8 mins to absorb the gravy spice.Top with chopped spring onions and serve with Veg Fried rice.