Yes, the title is
rather long, but the method couldnt be quicker. For a quick one pot meal, this
is a wonderful variant you can have for parties / potlucks too. The usual
Carrot Rice is flavoured, rather steeped with the wonderful earthiness of
clove, one of my favourite spices. The whole house came alive when I made this,
and  my picky daughter who doesnt take to new dishes that easily asked for
a second helping. That's half the battle won, isnt it 🙂 You can make this with ginger and garlic paste too, but I totally skipped it. However, adjust spice to taste as the clove tends to be overpowered with other spices if used. 
Finish with ghee (clarified butter), and serve it with any Raitha and
you have a rich Nawabi meal by itself that's both flavoursome and filling 🙂 The
addition of clove is totally your choice, for you can make Carrot Rice without
it too, but trust me the winters are quite inviting to use up this spice, and
the sweetness  of Gajar (sweetish carrots, a winter special) was offset
with this combo. Let's get cracking then, shall we?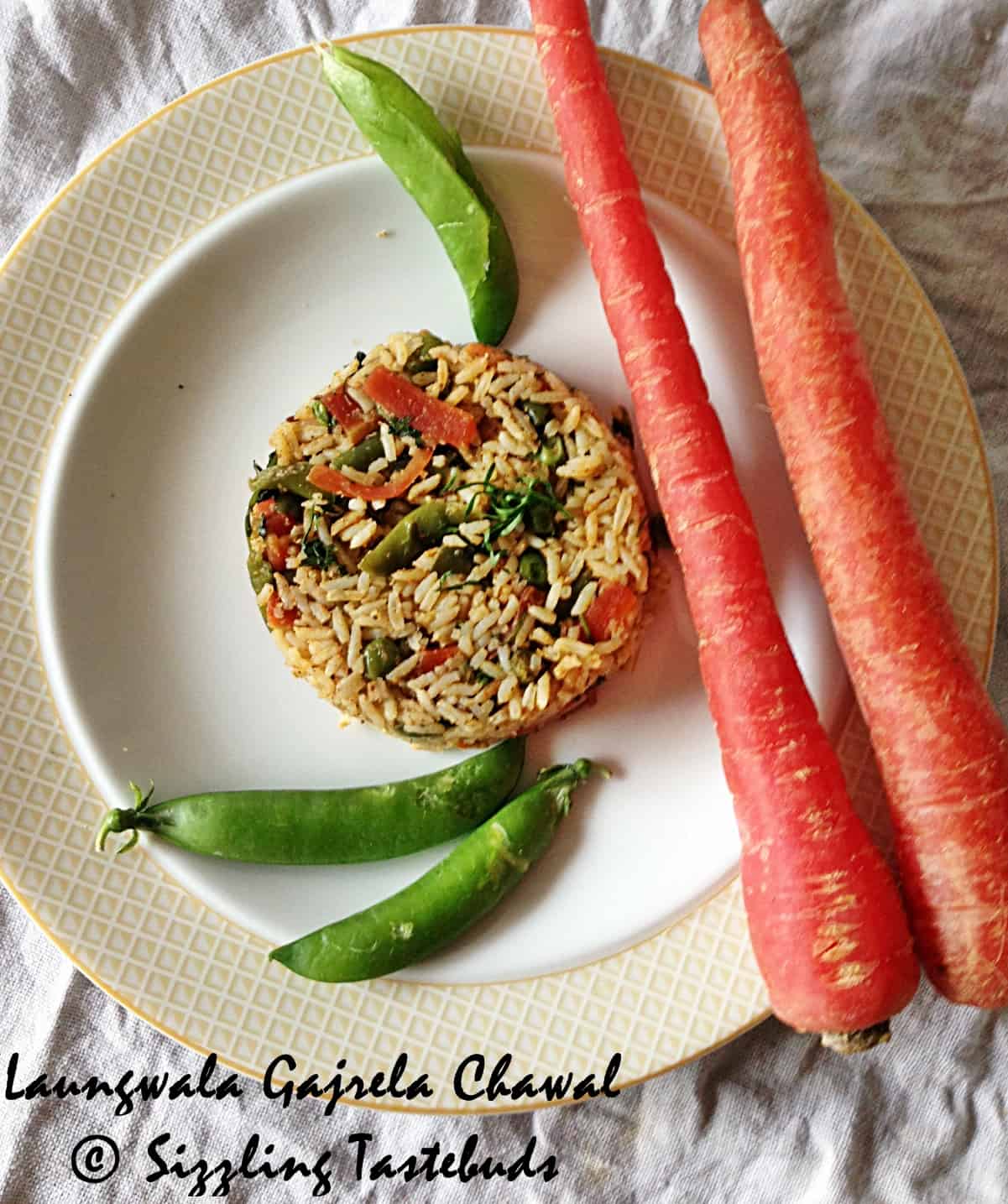 PinPin

Prep time : 20 time | Cook time : 15 mins | Serves : 2

Spice level : Medium

Difficulty level : Medium

Serving Suggestions : Raitha & Papad

Ingredients:

Long Grained Rice – 1 cup

Onions – 1 medium – slit lengthwise

Carrots – juilenned – 1 medium

Green peas (shelled) – 2 handfuls

French Beans – cut into 1 inch long pieces – 1/2 cup

Cloves (whole)- 2 nos, tied in a small muslin cloth

Salt – to taste

Oil – 3 TBSP

Shahjeera – 1 tsp

Turmeric Powder – 1/2 tsp

Dry Masala Powders (each 1/2 TBSP) : Red Chilli Powder, Garam
Masala Powder, Pav Bhaji Masala Powder

Spice Powder : Clove (4 – 6 nos), Elaichi / Green Cardamom – 1,
Cinnamon – 1 inch long

Lemon juice – 2 tsp

Garnish : Fried Cashews, Coriander and mint (I didnt use Mint) & Ghee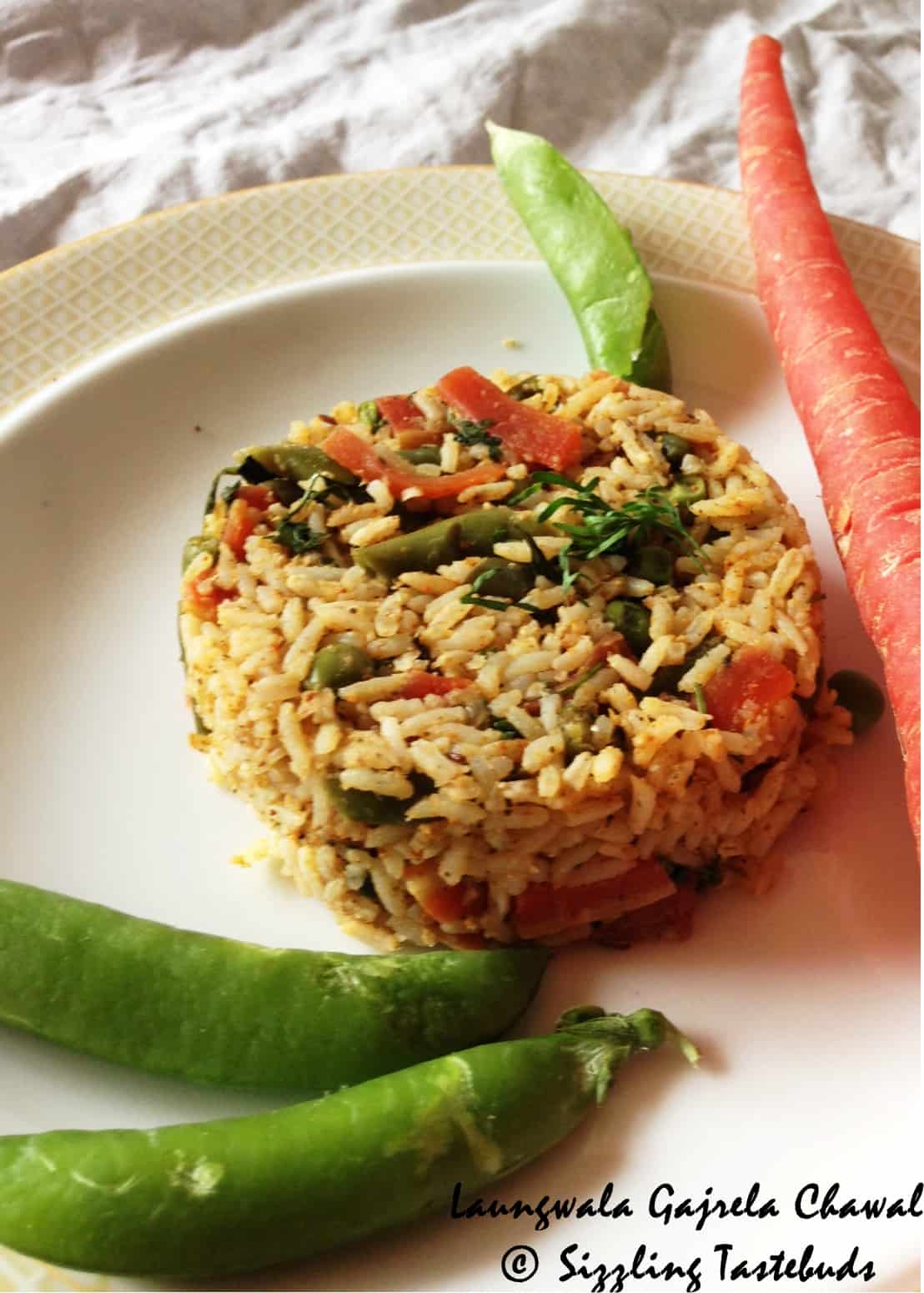 Pin
Method:
Wash and soak rice for 10 mins. Drain and cook with 1.5 cups water
and the whole cloves tied in a muslin cloth till done. Once done, remove the
muslin cloth pouch and fluff the grains till separate in a large wide plate.
Cool.
Dry roast the ingredients and cool. Powder finely. Keep aside
In a pan, heat oil. Splutter Shahjeera, add onions and fry till
translucent. Now add the peas, beans and juilenned carrots, salt and saute.
Sprinkle little water and cook till the veggies are done, but are
mushy.(alternatively, you can blanch these veggies separately with a little
salt and drain and keep ready)
Now add the ground spice powder, turmeric and all the dry masala
powders. Mix till the spice powders coat the veggies well. 
Check for salt and spice, and add the rice and mix gently, taking
care not to break the grains. 
Switch off flame, add lemon juice and garnish with coriander, mint
leaves and fried cashewnuts 🙂
Fit for a royal feast, served with Raitha and papad 🙂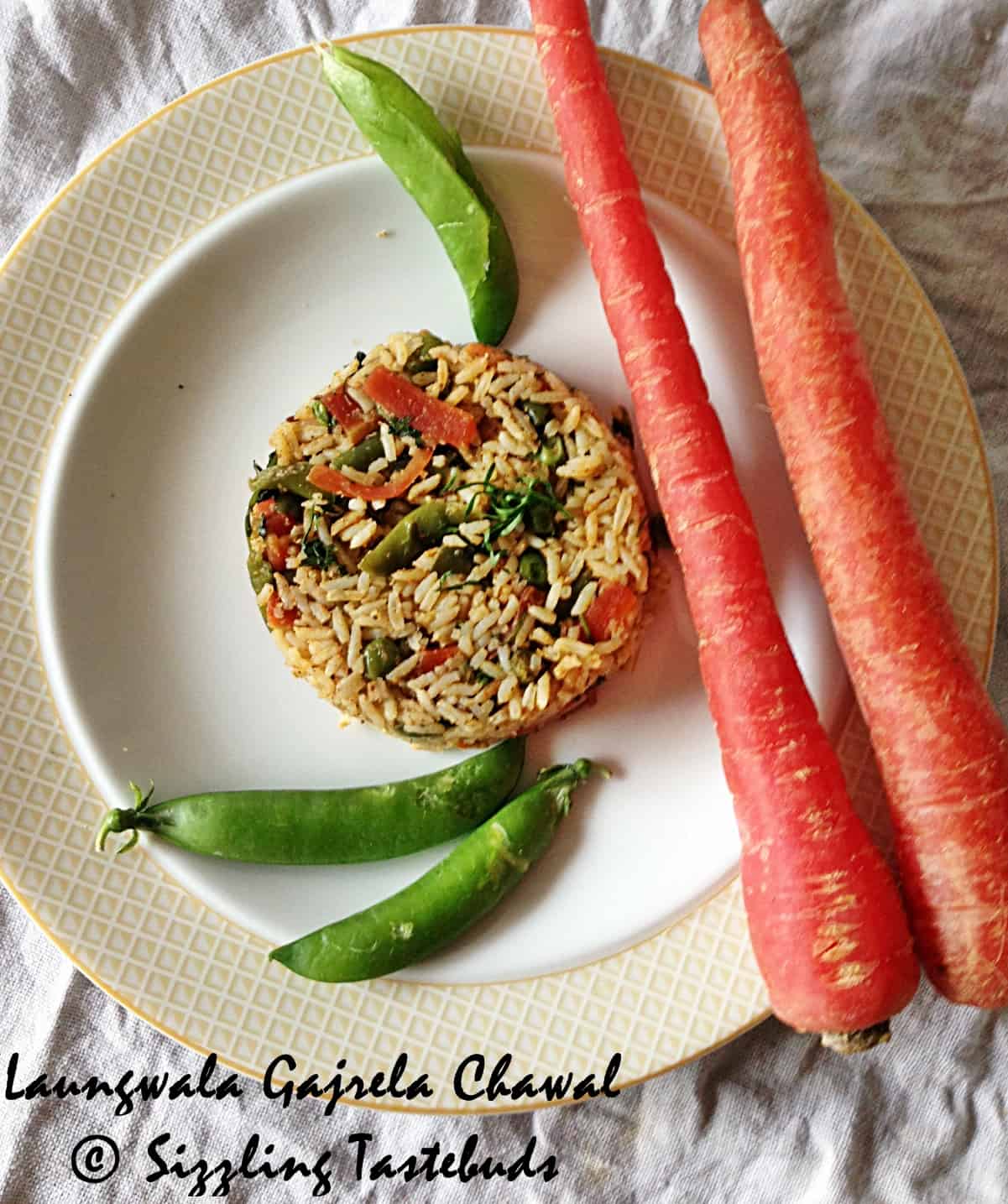 PinPin