Firstly, thanks to all my blogger friends for their wonderful wishes on my 200th post and giveaway ! Another 15 days to go for the giveaway to end..
the 9th edition of Blog hop Wednesdays is here. I am paired with Rudra, who blogs @ Mom's Corner. I especially enjoyed browsing through the Recipe index, and finally zeroed down to her version of Vazhaipoo Paruppu usuli. This is a classic Tamilnadu treat, and Rudra has also explained quite well on how to clean and obtain cookworthy banana blossoms in her post itself. But the twist to this I have given is to use moong dal instead of Toor Dal / channa dal that is generally used and also the method I used to make this an almost zero oil  dish, and this goes very well with Vathal Kuzhambu or even Onion Sambhar. I loved this with Poricha Rasam (another of my comfort foods), and it was a very comforting lunch we had for Sunday. I hope you would also enjoy this version of Vazhaipoo Paruppu Usuli (loosely transalated as Banana Blossom stir fry with lentils).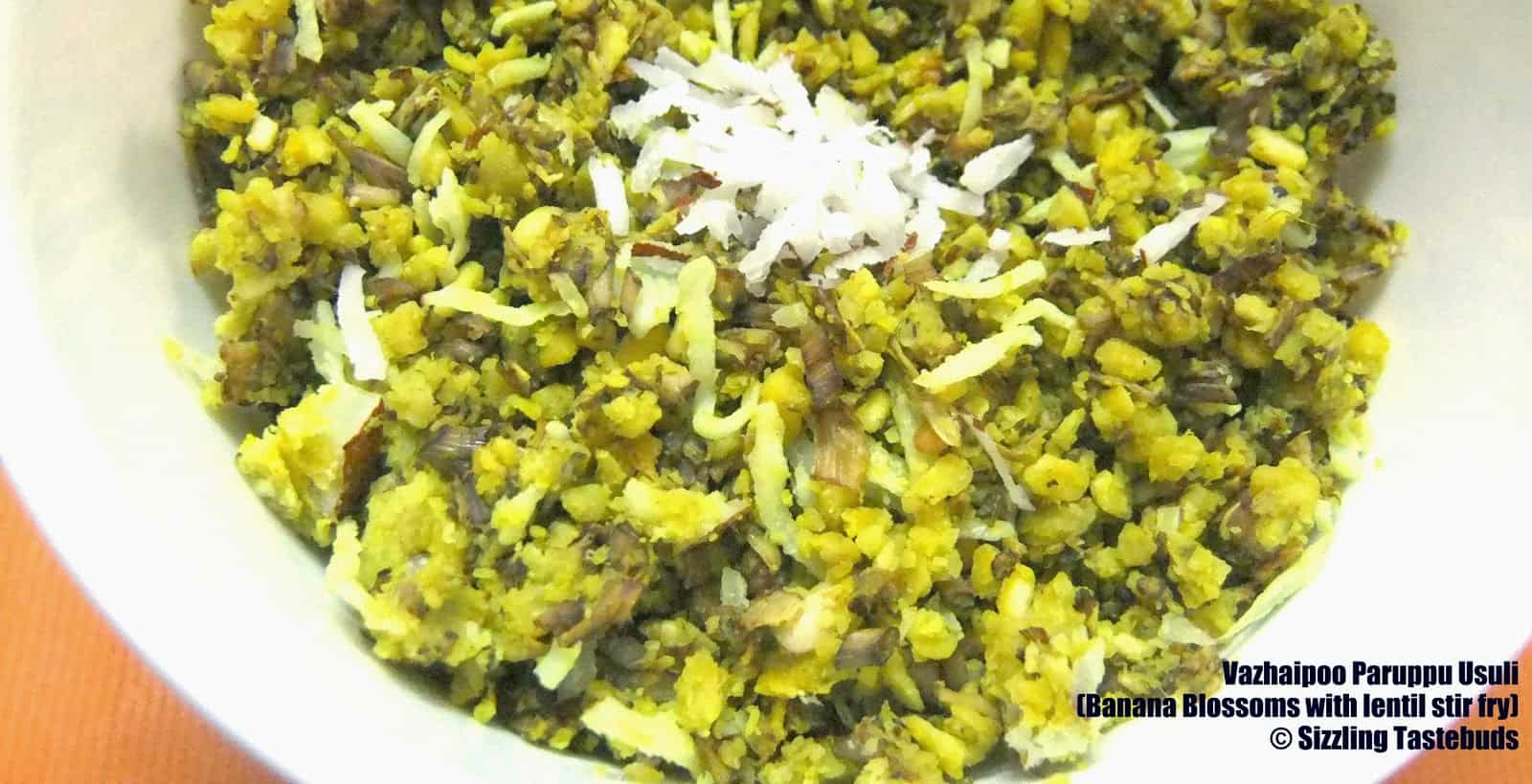 PinPin

This dish goes to the following events: 

Check out other moong dal recipes here and dry curries / stir fry here. Let's now get to the recipe..

Prep time : 10 mins (apart from prep time of banana blossoms). Cook time : 15 mins. Serves : 2

Ingredients:
Prepared Banana blossoms – 1 cup
Moong dal / split moong dal – 3/4 cup
Turmeric – a pinch
Grated coconut – 1 tsp (opt.)
Salt – to taste
Tempering:
Oil – 1 tsp
Mustard seeds – 1 tsp
Red chilli – 1 no.
Asafoetida – a generous pinch
Curry leaves – few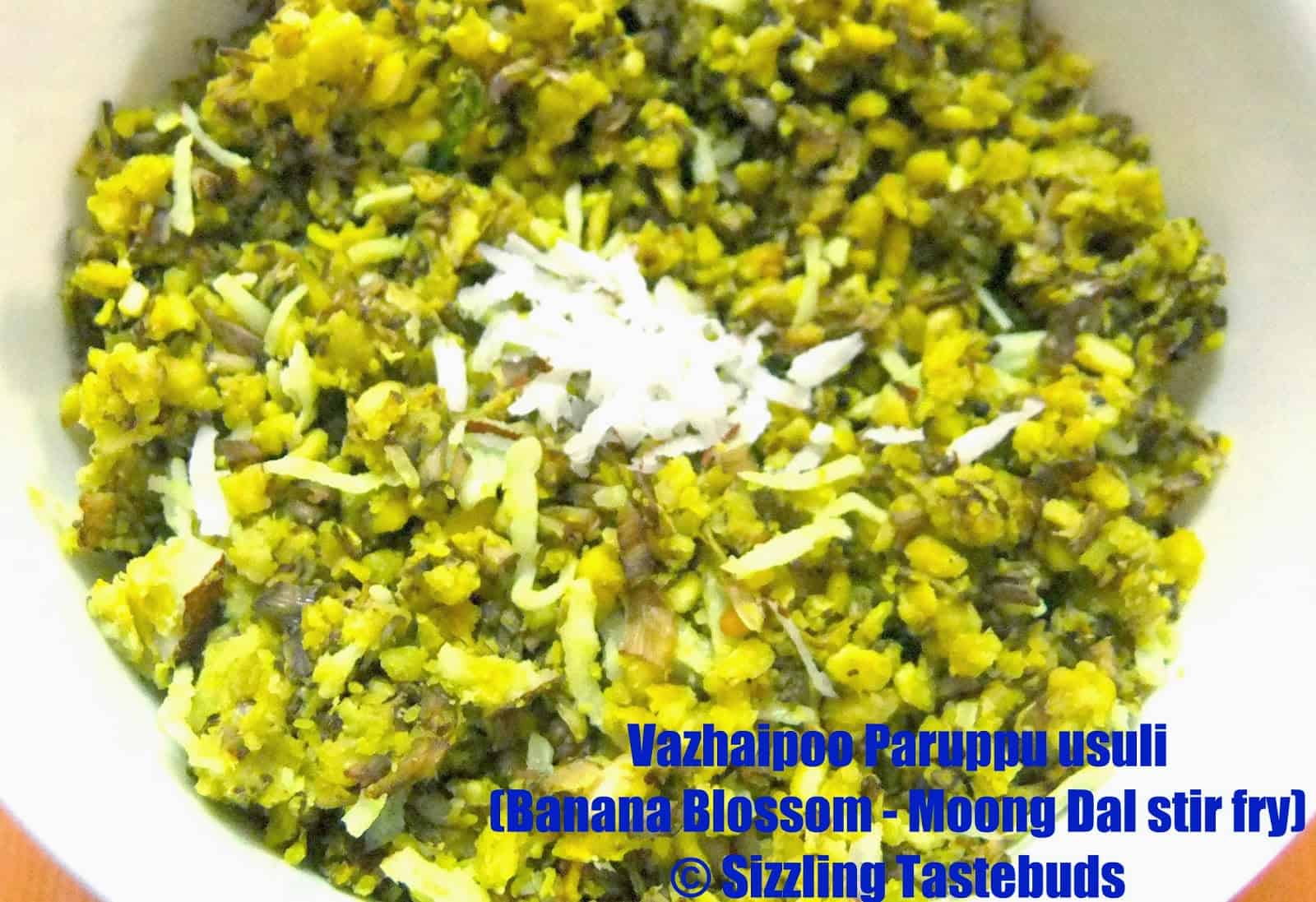 Pin
Method:
1) In a large pot, boil the chopped banana blossoms with a pinch of salt till tender (takes approx 10 mins). Drain thoroughly.
2) Meanwhile, wash the moong dal. Add 2 cups of boiling water to the dal and cover for 10 – 15 mins.
3) Drain the dal and put in a colander (steamer). Pressure cook with no added water for 2 whistles. Cool.
4) The dal would have been just cooked (soft, but not mushy) – it should be dry and firm to the touch – just like the moong dal consistency in my post onMoong Dal Seekh Kebab. 
5) In a pan, add oil and prepare the tempering with mustard, curry leaves, red chillies and asafoetida. Add a pinch of turmeric and stir well. 
6) Now add the boiled banana blossoms, salt and stir well. Then add the granulated and slightly mashed up cooked dal. Stir again for a minute or two to evaporate any more moisture. Add green coriander and grated coconut. 
7) Serve with Rasam or Sambhar and rice for a heavenly delicious saatvic meal 🙂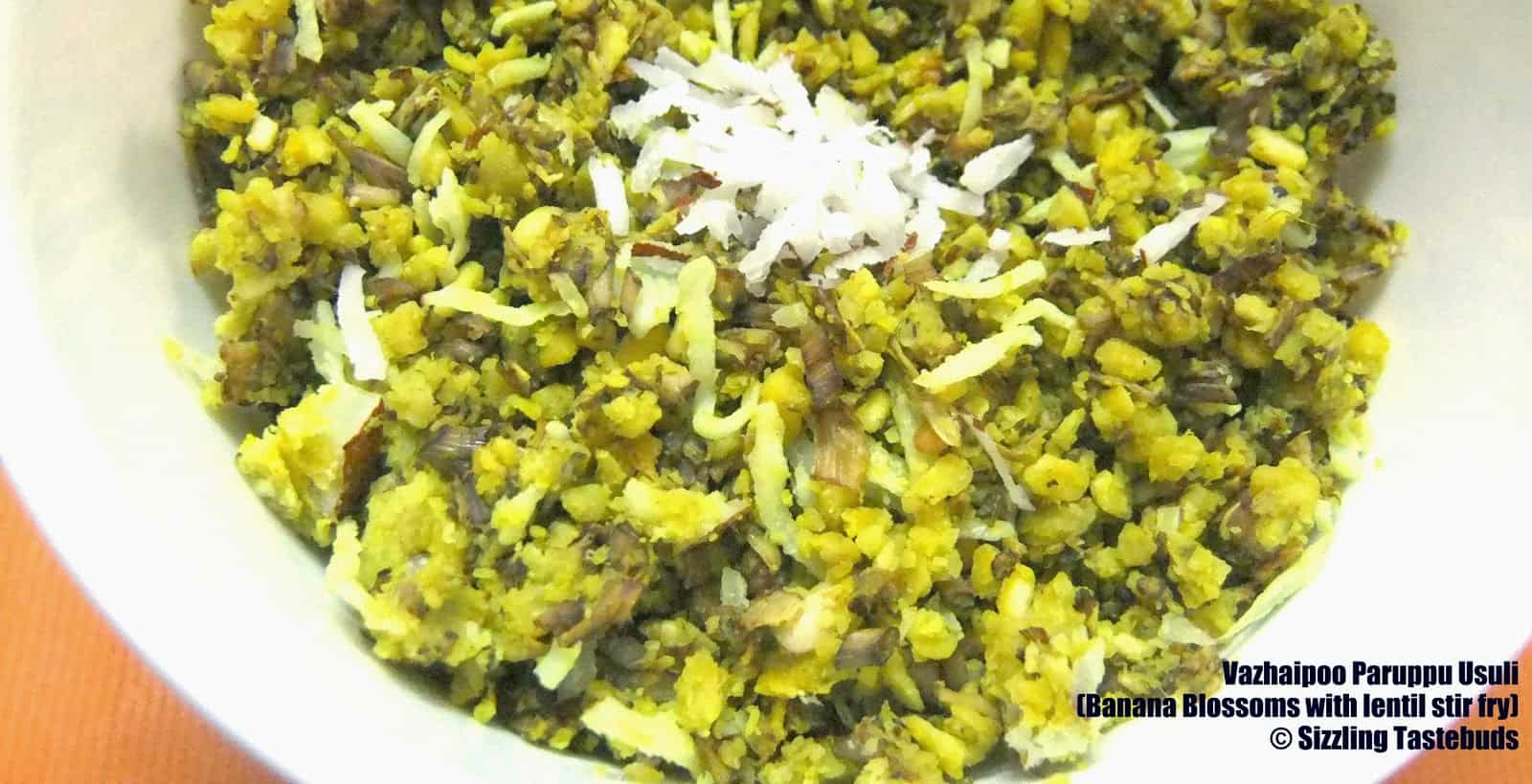 PinPin