I met Usha – who blogs at My Spicy Kitchen – on a Blogging Platform few years ago. Her blog is a haven for #magazinestyle photography. With crystal clear pictures and perfectly coordinated props – one could spend a whole day browsing thru the recipes. She also helped us (read me) getting the nuances of how to use the DSLR as she demonstrated it on few of our Blogger Meets. Her blog is a mix of Andhra and global cuisine. As a person, Usha is utterly soft spoken and a wonderful person to know. Thank you, Usha for this guest post. You have brought us a wonderful dish from your heirloom recipe collection. 
Now over to Usha in her own words, and her recipe.. 
*********************************************************************************
Hello readers of Sizzling Tastebuds.  I am Usha Rao from MySpicyKitchen.  Glad to do a guest post for Kalyani onSizzling Tastebuds.  I don't  remember when I met Kalyani in the blogging world but we two are part of a blogging group and blog together every month.  I also met her a couple of times in person during our BM meets and in NY when she came on a holiday.
I am originally from Hyderabad and now settled in NY.  I love cooking and used to experiment with recipes from cookery shows  since my high school years and those were mostly snack recipes.  It is only after marriage that I started cooking full fledged and like to do it in my kitchen, at my own pace with no distractions.  To me, it is more of me time.  
I started blogging almost 12 years ago as a hobby to document recipes I try at home.  Now the blog has become part of my life and I can't imagine life without blogging.  During this journey, I also developed interest in photography, food photography to be precise.  Now I enjoy food photography more than creating recipes 🙂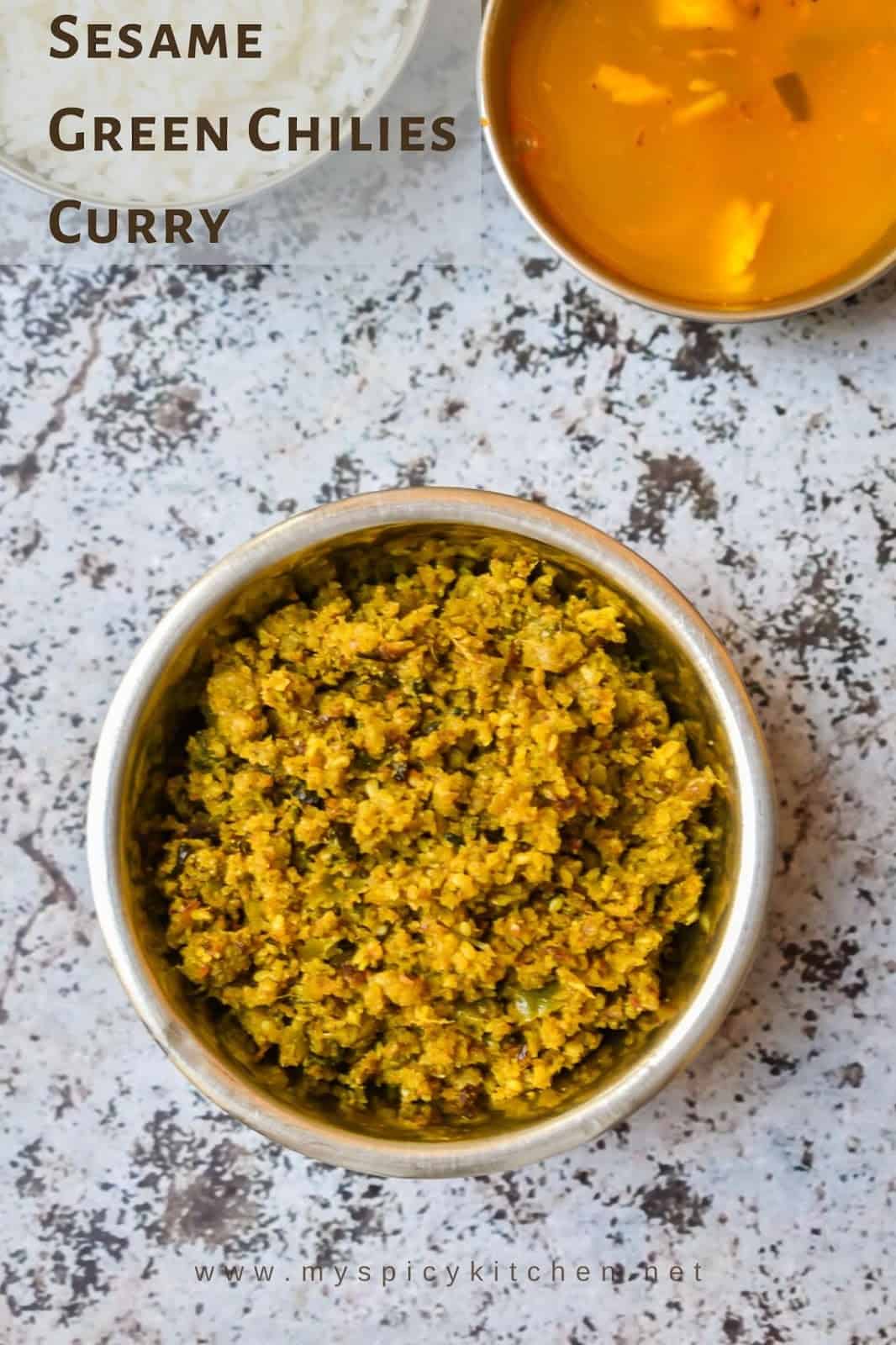 Pin




I usually blog about the food I cook at home, which includes everyday Indian food, bakes and some recipes from  international cuisine.  At home I usually cook Andhra/Telangana recipes and sometimes grilled meats.  I also love baking, though I do not bake as much as I love to, as I am the only one who eats it.    




When Kalyani invited me to do a guest post, I was excited to do it.  She wanted me to share a forgotten / rare recipe that my family cooks.  I had few recipes in mind.  The plan was to cook the recipe at home before I came to India but could not do so.  I eventually ended up picking sesame green chilies curry or mirapakaya ukkera.  




Mirapakaya ukkera was a regular at my maternal grandparent's place and is one of my mother's favorites.  It was regular when we were growing up as well and it is now one of those forgotten dishes.  Sesame tomato curry is also prepared in a similar way and that still is a regular at home, unlike  sesame green chilies curry.  Since I am in India now, I asked my mom to prepare it for today's guest post.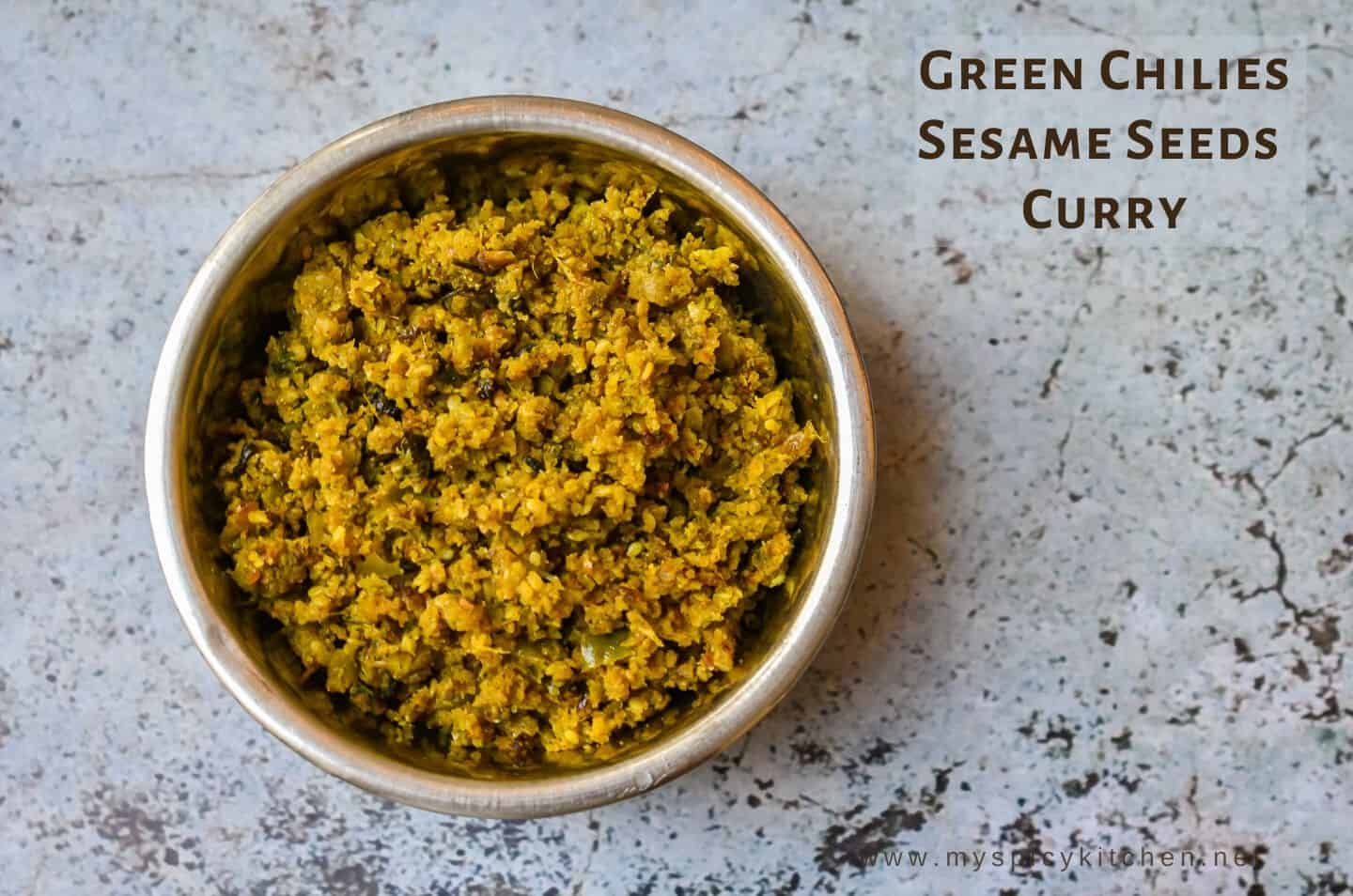 Pin
Sesame mirapakaya koora is a rustic curry prepared with sesame and coarsely crushed green chilies.  It is a side dish that pairs well with rice and even roti.   
Ingredients: 
6-8 spoons Oil
1 cup (200ml) Sesame Seeds (washed and dried)
250 grams long, thin Green Chilies (adjust to heat tolerance level)
1 medium sized Onion

⅓

 

cup chopped Scallions 
2 tsp Coriander Powder 
1 tbsp Ginger Garlic Paste 
Salt to taste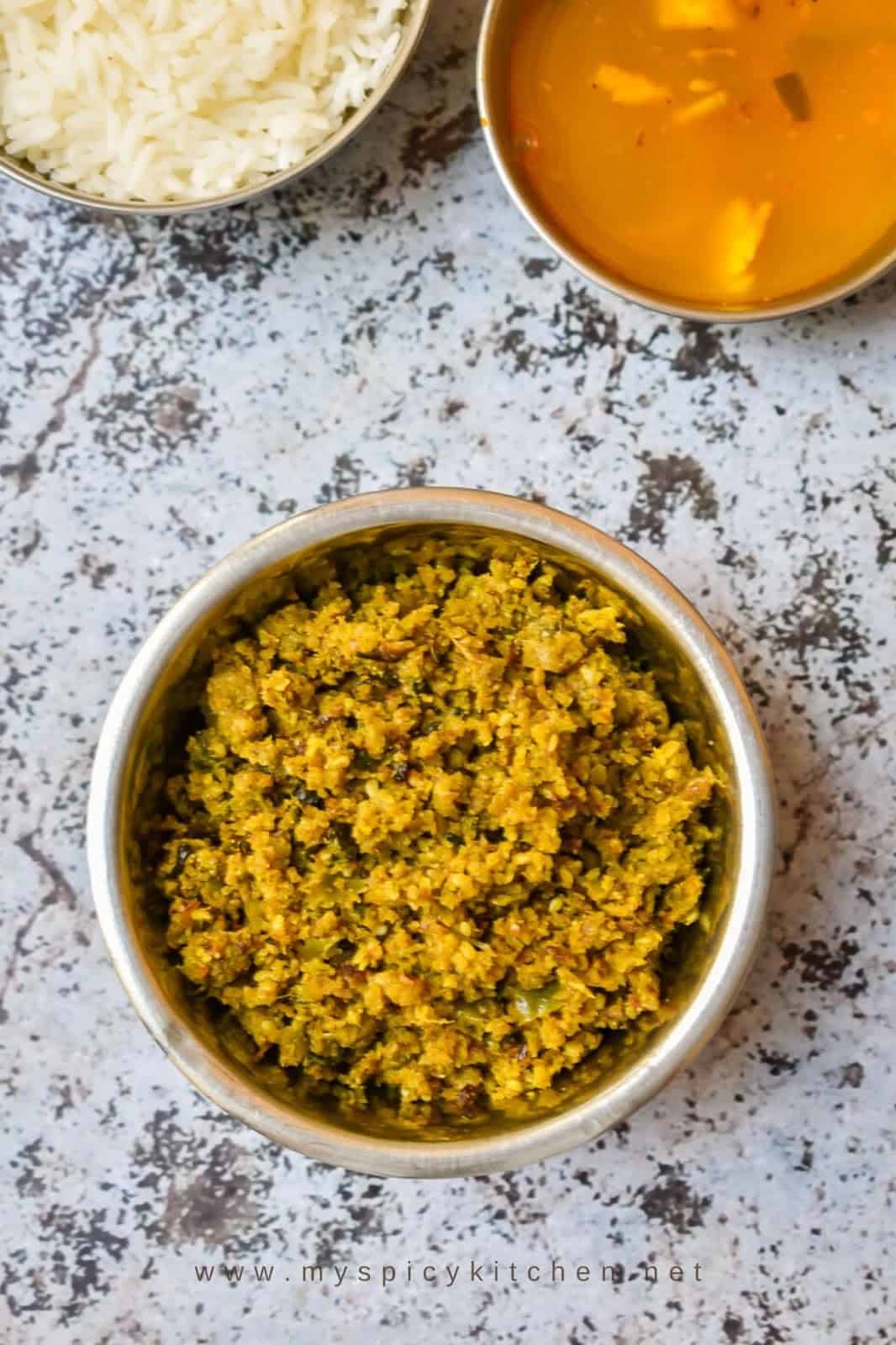 Pin
Preparation:
Wash and air dry sesame seeds. 

 

This is an optional step. Nowadays super markets carry clean sesame seeds. 

 

Use your discretion.

 

 
Take sesame seeds in a jar and grind to fine paste, sprinkling some water if needed.

 

 
Wash and remove the stalks of the green chilies. 

 

Grind to a coarse paste.

 

 
Heat oil in a pan and sauté onions until translucent.

 

 
Add ginger garlic paste and sauté until the ginger smell is gone. 
Add coriander powder, turmeric and mix well.

 

 
Add coarse chili paste, salt and sauté for 3-4 minutes until chilies are lightly roasted. 
Add sesame paste and sauté on low flame until senses and green chilies are cooked. 
This will take a decent 20-30 minutes. We made it in an iron kadai and it took about 45 minutes from start to finish.
Serve with hot rice or roti.