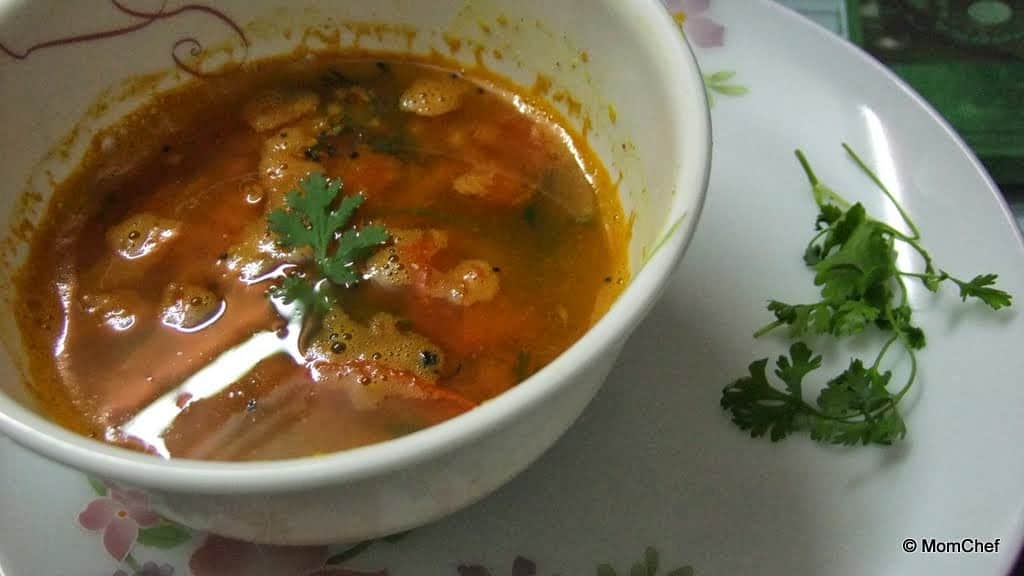 Pin

Soul food after three consecutive heavy meals is truly Tomato Rasam ! Especially great for winter evenings – just that hint of tang, fresh tomatoes and coriander provide that perfect soothing effect .. Great accompaniment to freshly cooked rice with a dollop of ghee (or not!), else it can also be had straight like a light broth ! 🙂 My little one loves this, and therefore I make this almost every other day 🙂

Ingredients (Makes for  2 – 3 persons)

Tur dal – 1/4 cup or less – cooked and mashed

Rasam Powder – 3/4 tsp

Tomatoes – 2 blanched and pureed

Tamarind – ½ lemon sized – soaked in water and pulp extracted

Turmeric – ½ tsp

Salt – to taste

Jaggery – ¼ tsp (optional)

For tempering / tadka:

1 tsp ghee / oil

Mustard Seeds – ½ tsp

Asafoetida / Hing – ¼ tsp

Curry leaves and coriander – ¼ tsp each – chopped

Method :

a)      Pressure cook dal with turmeric and more water than usual . Mash and keep aside

b)      In a pan or skillet, boil the mash dal, water, rasam powder, tomatoes, tamarind and jaggery

c)      Add salt to taste and let it come to a nice boil where the rasam powder froths a bit and the raw smell of the tomatoes and tamarind vanishes.

d)     Add water if you find the rasam too thick.

e)      In another pan, add ghee / oil, once hot, splutter mustard seeds, hing ,curry leaves & coriander

f)       Once they all coagulate into the oil, pour this tempering / tadka into the boiling rasam.

g)      Transfer into a serving bowl immediately

h)      Close the lid so the aroma of the hing-coriander gets absorbed fully till serving time

i)        Serve with hot cooked plain rice or drink as a light broth !

Tips:

a)      You may use Masoor dal also instead of tur dal for a lighter version of the rasam. I have tried this and there is no perceptible difference in the taste

b)      Adding the tadka at the end and closing the serving vessel immediately gives a great aroma.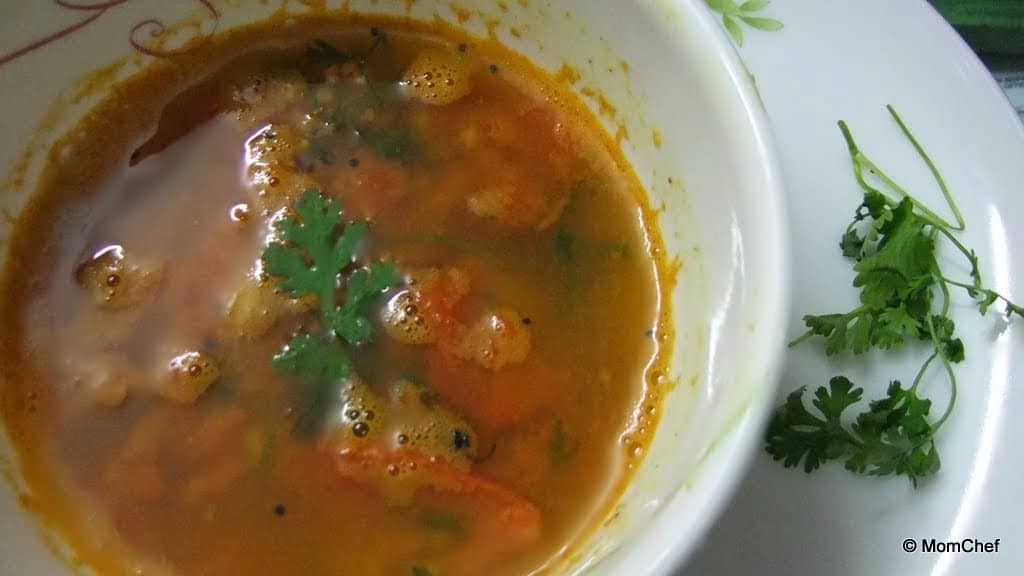 Pin