Sowmya – our guestblogger for the month – is an amazing baker who blogs at Breadanddreams.in  (and that should say a lot about her baking prowess) ! I am always, always in awe of her bakes. 
Having met through a blogging group, we have met personally once / twice. With so many commonalities between our lives (including her brother knowing my husband :p) , we connected instantly as if we had known each other for many years. Sowmya's infectious smile and witty writing are as great as her bakes and I am looking forward to meeting her once again at the BM Meet. 
She has so kindly shared her grandmother's recipe for Kadala Maavu Chutney that she promises to go well with Chapati / Breads etc. It's a completely new recipe for me, and I am sure to try out this quick to make  "Bombay Chutney" (as its also known as).  
Over to Sowmya and her recipe ! Once again, thank you for your kind words, Sowmya and also for doing this wonderful Guest post 🙂
*****************
First I would like to thank Kalyani for asking me to do a guest post on her blog. This is my first guest post and I am so excited about it. 
Kalyani is a wonderful bloggerof traditional dishes with a healthy twist. She cooks with and blogs about delicious dishes using a diverse number of unique ingredients. She is passionate about healthy eating and an interesting conversationalist. I always lose track of time when we meet and start talking about everything under the sun. She is an inspiration as a food blogger and a lovely person.  
This Kadalamavu chutney, though very easy and simple, is a family recipe that has been a staple in our homes for generations.  It was a favourite of my grandfather. I remember my grandmother making it at least twice a week with chapatis during our summer vacations and all of us cousins relishing it. Recently we had a grand family reunion where we specifically asked the caterer to make this chutney but sadly he could not recreate the perfection that was set in our memories and wrapped in nostalgia. I recently discovered that this is also called 'Bombay Chutney' though I have no clue why.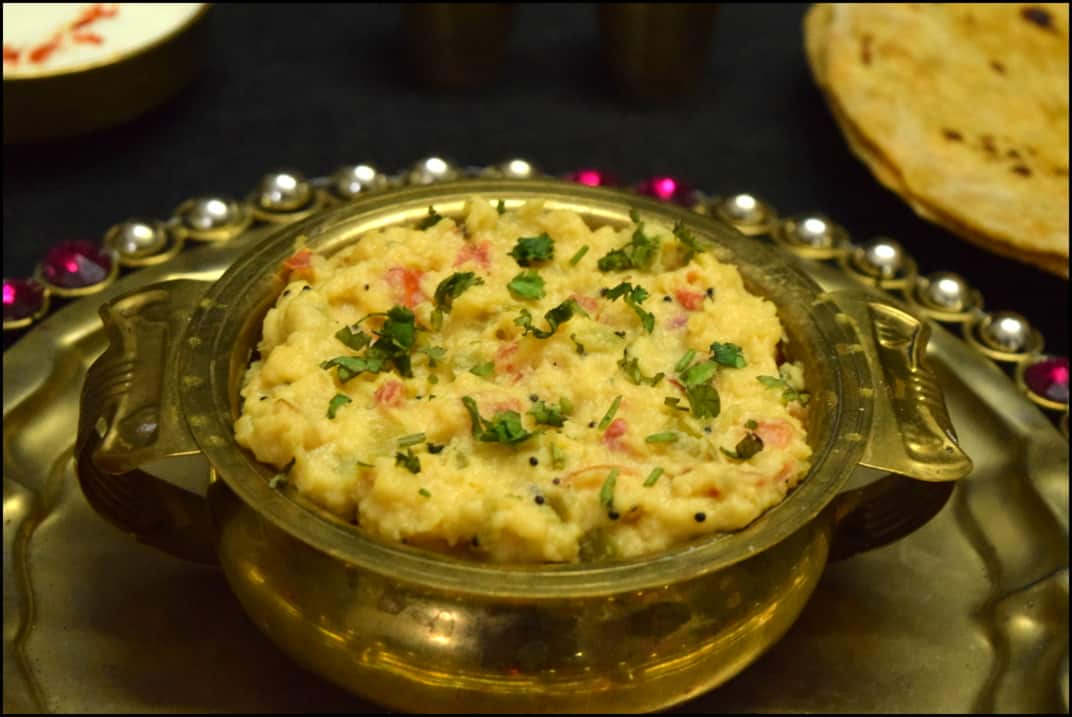 Pin




When Kalyani asked me to do a guest post on heirloom dishes or family recipes, this was my first idea. Since she loves vegan and gluten free dishes, I thought this would work well in keeping with the spirit of her blog. I asked my mother for the recipe and discovered it was so much easier than I thought. The best part is that the husband and daughter loved it and I am so glad to be passing this dish on to the next generation of our family. I think my grandfather will be proud.




This chutney is gluten free and vegan. I have used tomatoes and capsicum but other vegetables can be added or substituted like carrots or peas. It has minimal ingredients and can be made in a jiffy. It pairs nicely with chapatis or phulkas. I also love topping it on toasted bread for a wholesome breakfast or a light dinner.




Makes 2 cups




INGREDIENTS

1 cup Gram flour / Chickpea flour / Besan / Kadalamavu

1 ½ cups Water

½ cup Hot water

3-4 tsp Cooking oil

½ tsp Mustard seeds

½ tsp Urad dal / Split skinless black gram

½ tsp Chana dal / Bengal gram

1-2 Green chillies, chopped

2 tsp Grated ginger

1 Capsicum, medium

1 Tomato, large

Salt

Fresh coriander to garnish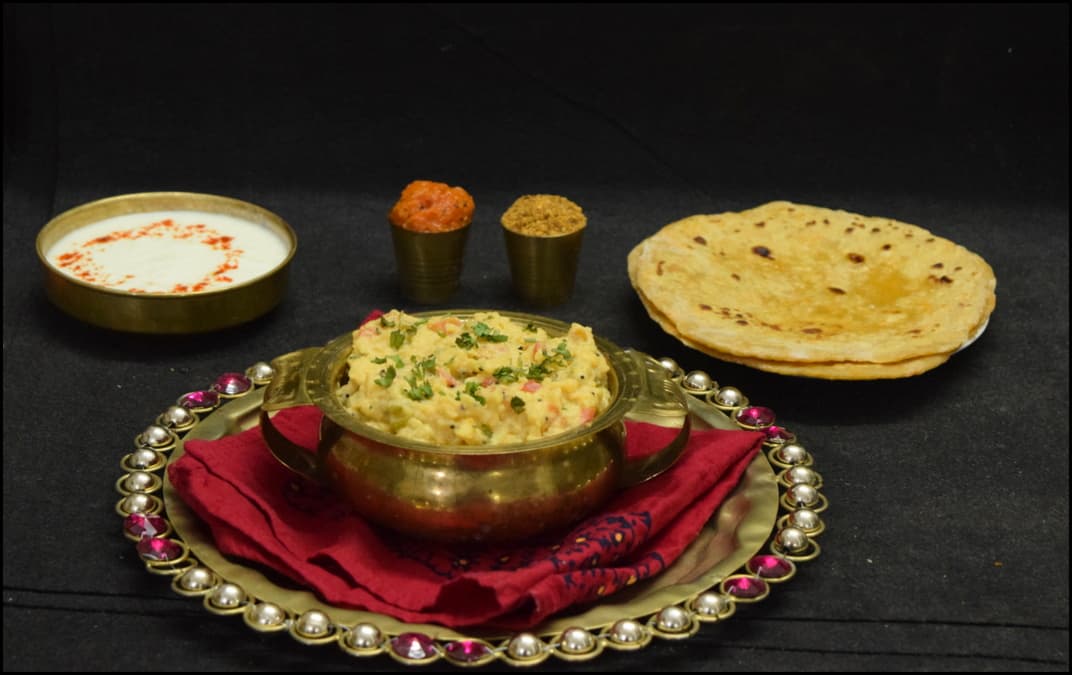 Pin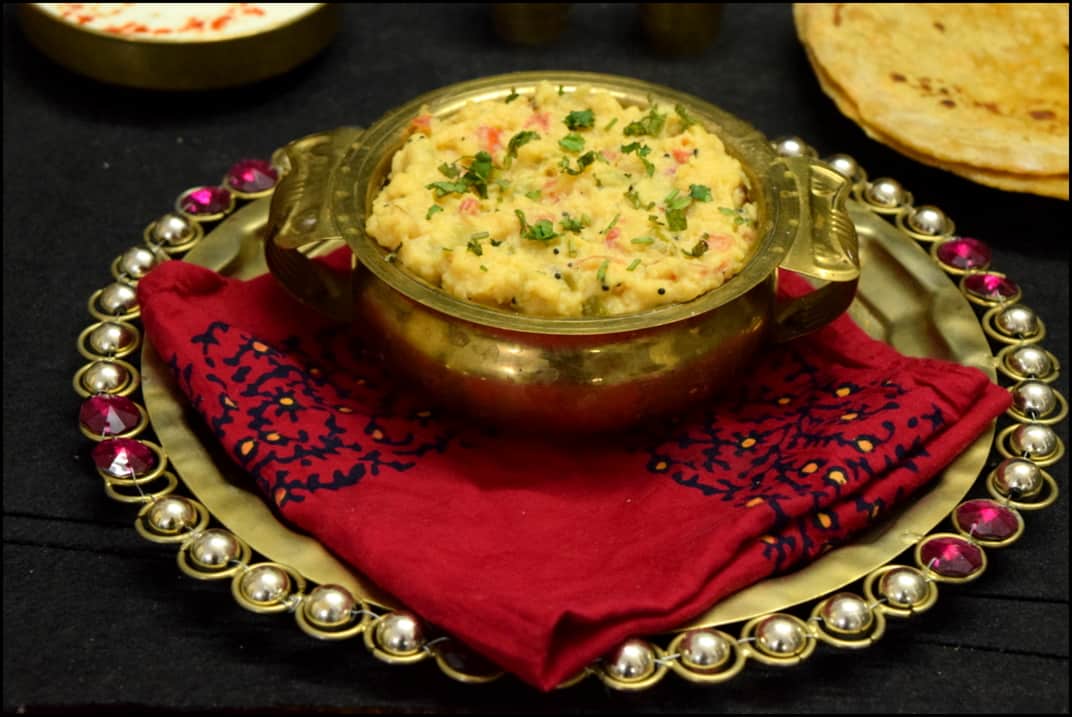 Pin
METHOD
Mix the chickpea flour and 11/2 cups water to a runny batter and set aside
Chop the capsicum and tomatoes

 

Heat a pan and add oil
Add the mustard seeds and allow it to splutter
Once the mustard seeds splutter, add the urad dal, chana dal, green chillies and grated ginger
Fry on low heat till the dals turn light brown
Add the capsicum and cook for 3-4 minutes on medium heat till it is almost done
Add the tomatoes and mix well
Cook on medium heat till the oil separates from the tomatoes, around 5 minutes
Reduce the heat to low and add the chickpea flour batter and start stirring
Stir continuously for 2 minutes till the mixture thickens and comes together
Add the hot water and continue to stir the mixture
In another 2-3 minutes the chutney should be completely cooked
Turn off the heat and cover the pan
Keep the pan covered for about 5-6 minutes

 

Garnish with fresh coriander and serve warm with chapatis or phulkas
Enjoy!
NOTES
If you like the chutney to be drier and less gooey, then cook for a minute longer till it comes to a bhurji-esque fashion.
The water required may differ based on the quality of flour used. If in doubt, add less water initially and then increase it as required
You can add / replace other vegetables like carrots or peas